Hello again, y'all. I am back and attempting to be lots more productive this week. I am off to a good start. I hope all of you are finding some kind of peace in this new week. I know last week, and many months to come, was pretty rough for a lot of us. I try not to discuss politics on the blog because that stuff tends to anger me (and others) pretty quickly. I am a very passionate person and hold very strong beliefs on many subjects. But this is supposed to be a happy place for the most part, so I refrain from discussing matters that could be too polarizing and get my pressure up.
That being said, it is important to me to state that if you are a person of color, LGBT+, Muslim, an immigrant, and/or a woman, you are safe with me. If you need someone to vent to, if you need help, I will do what is in my power to be an ally to you. None of you have ever made disparaging remarks about others here on the blog, so I don't really have to tell you that racism, bigotry, xenophobia, and misogyny will not be tolerated in my little space on the internet. If you see something, say something.
Now on to happier subjects! After many years of convincing myself that I could never wear vests, I have jumped that hurdle successfully. In today's post, I review this
black drape-front vest
from Torrid and
Girlfriend Jeans
from Catherines. Also included is a collection of some of the vested outfits I have worn since I started to test out this style of clothing. Enjoy!

- This is not a sponsored post. -
As I mentioned, I stayed away from vests for the longest time. My friends looked cute in them
.
Other bloggers looked good in them. I just thought they would make me look too boxy or wider. I started trying them on to push my comfort zone farther and farther. Eventually, I found styles and shapes I liked, and started to strut around more in these vests. And you know, sometimes they do make me look wider and more boxy, but I choose not to waste my time worrying too much when they do.
If you keep saying you can never wear vests, I challenge you to start trying them on every time you see them. Think of it as more of an experiment to feed your curiosity if you need help looking at yourself more objectively. It isn't about you or your body or how flawed you think you are, it is just about testing out your comfort zone and seeing what that vest looks like on your particular body. You don't like the way it looks? Oh well, no big deal. You
do
like the way you look in it? Awesome! Now you can wear vests with confidence. Just try it. If I was shopping with you, I would make you try it on.
When I was a kid, I had a teal and pink jacquard vest that I wore a lot. Mostly I wore it with t-shirts and shorts or jeans, and it was covered in New Kids On The Block buttons. When I finally grew out of it, that was the last vest I can remember wearing. I have always been a big girl for my age, so I am sure my "no vests" mentality was placed there by my mom, her own poor self-image so bad that she had no business passing it on to someone else. But she did. So, it was most likely her constant negative opinions about my body that stayed with me so long. I didn't try on vests again until about three years ago. Break: I have childhood photos in my vest!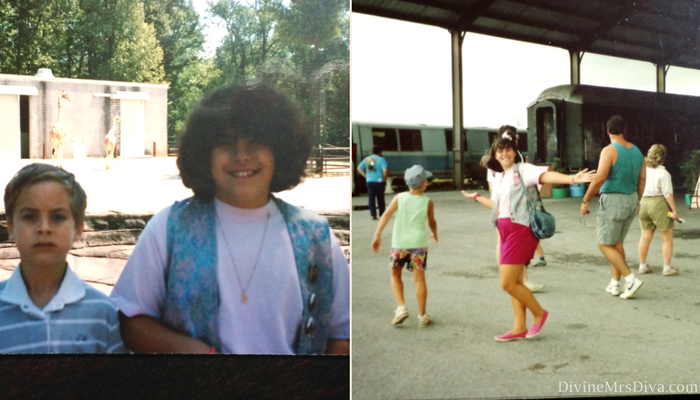 The first vest I added to my collection was a black faux leather vest from Lane Bryant. I didn't know if I would get much wear out of it, but I tried it on in-store and had to have it. Soon after came a casual fleece vest from Old Navy, a light-wash denim vest, an olive utility vest, and now a drapey black vest.
This latest vest
I found on clearance at Torrid (
only sizes 00, 0, and 5 available online
). Black goes with everything, and I liked that the hem was a little shorter than my other casual styles. I also really loved the drape front that provided an open v-neck. All of these details I saw online were things I definitely loved when I received it. For reference, I am 5'9", typically wear a 22/24, with measurements 52/49/58.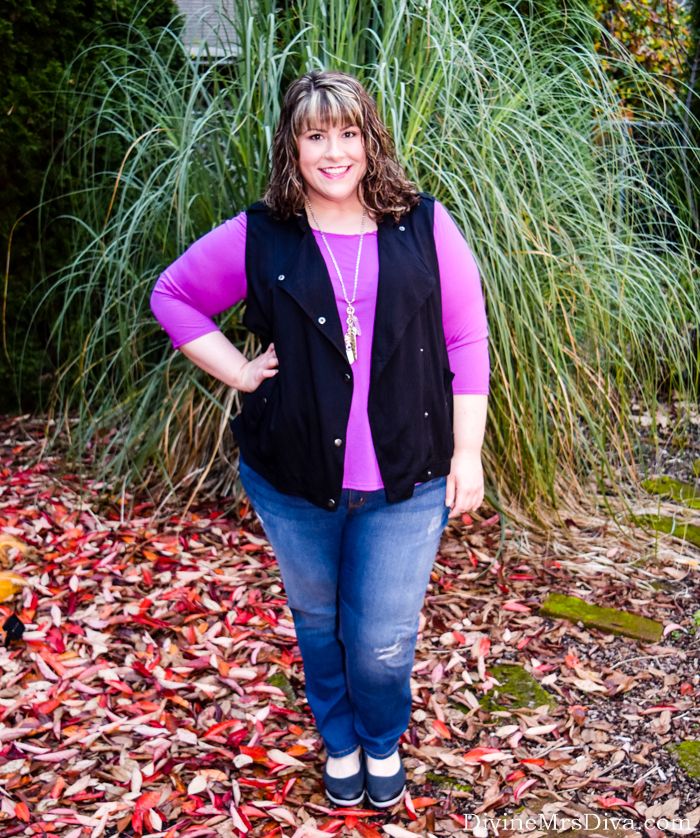 The fabric is rayon, so it is soft and lightweight. The weight of it means it hangs nicely, will travel well, and will be a great addition to my ensembles year round. Because it is rayon though, it wrinkles and does need to be ironed. I feel like the moto/utility style can be both casual and a little more dressed up if I choose. I am wearing a size 3 in this vest and find the fit really great, as long as you don't really want to button it up. It starts getting a bit tight mid-tummy and through the hips when buttoned. The banded bottom isn't clingy, but does allow you some more options in styling if you want to snap it and flip it shorter. I prefer it hanging open. I am happy I took another vest chance and added this one to my closet.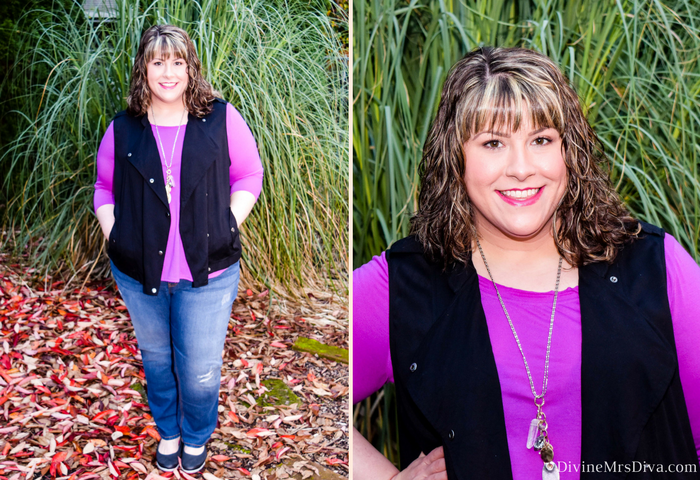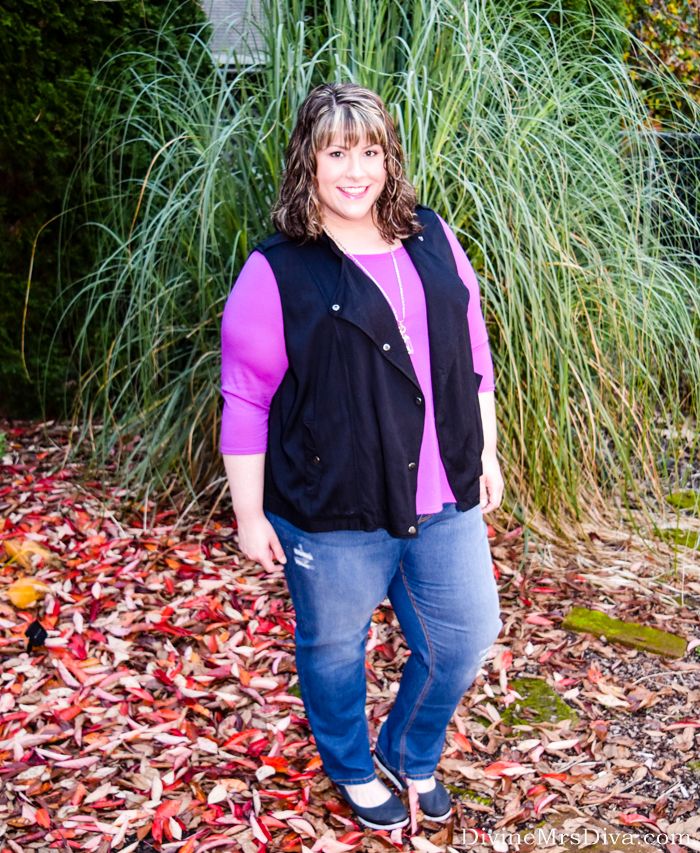 I actually wore this outfit out when we had eye exams and ran some errands on Halloween. The purple and black are a little nod to the holiday without being overtly so. This was also the first time I wore my new jeans out on the town. You know I am crazy about my Catherines Girlfriend Jeans! I saw they had another pair available and snatched them up! I first started wearing the style when I participated in Catherines Denim Debut event last year. You can see the outfits I chose
here
and view the in-store fun
here
. As soon as they offered a dark wash version,
I bought those too
. Both pairs wear well because the legs don't stretch out too much and the elastic panels in the waist keep the waistband from stretching out also. They are a travel staple for me now because I can wear them multiple times before a rewash without them looking sloppy and baggy. I took them with me
to Savannah
and
the beach
,
wore them on my birthday
, and
on a winery tour
- just to name very few.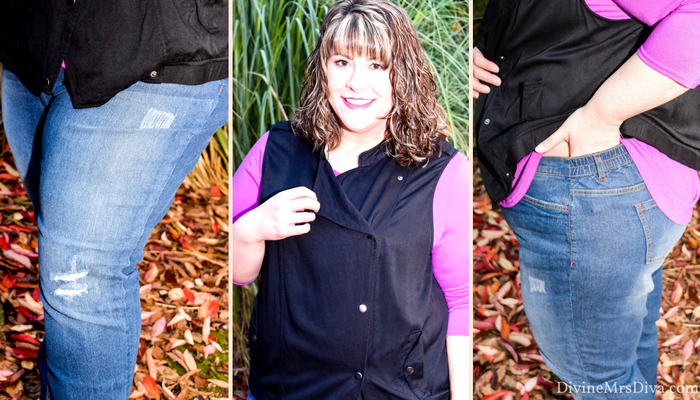 The new pair are a medium blue wash with mild deconstruction. They are soft with enough stretch to make them comfortable. My previous pairs are 98% cotton and 2% Spandex, compared to the newer pair's 82% cotton, 16% polyester, and 2% Spandex. Both fabrics feel pretty similar to me, so it doesn't seem to make too much difference in that sense. I am wearing a 24 in the regular length. I like that they are short enough I can wear flats with them. While my other pairs have a hidden elastic panel inside the waistband, these have elastic side panels that are part of the waistband. Personally, I prefer the hidden panels, but no one sees my waistband anyway. The
Deconstructed Girlfriend Jean
is actually on clearance and available in sizes 16 to 26 - petites and regular - as of the writing of this post. They are on sale for $50.99, but you can get an extra 40% off right now, making them roughly $30 at checkout. Catherines also has the Girlfriend style in
olive and toffee-colored denim
.
Drape Front Vest
- Torrid
3/4 Sleeve Scoop-Neck Pocket Tee - Lane Bryant (
here
and
here
)
Deconstructed Girlfriend Jeans
- Catherines
Mixed Charm Necklace - Lane Bryant
Stretch Sole Flats - Crocs (
Zulily
carries them on occasion now)
Below are more e
xamples of outfits I put together with the other vests I own. I also used my
faux leather vest as part of
my Lady Han Solo costume
for Halloween last year.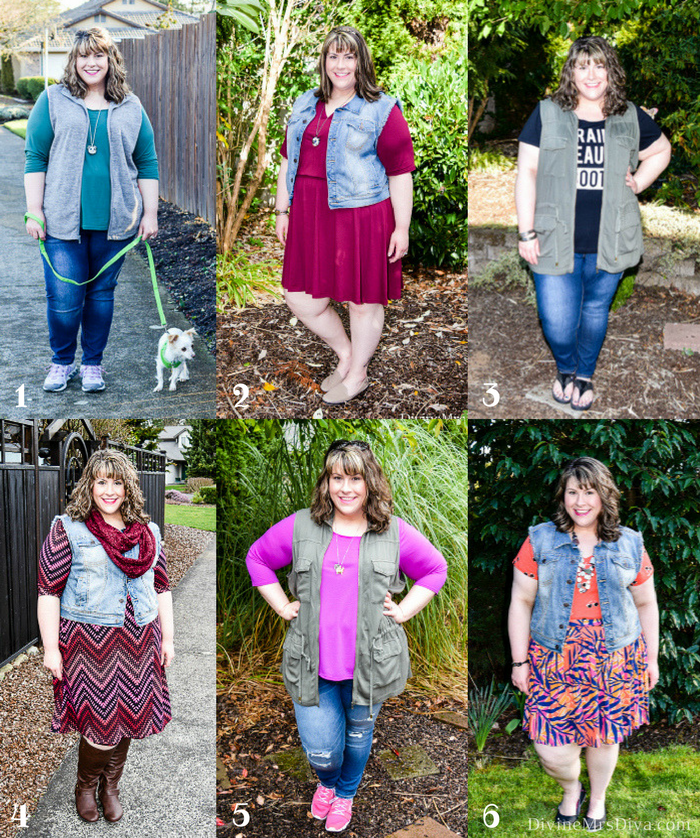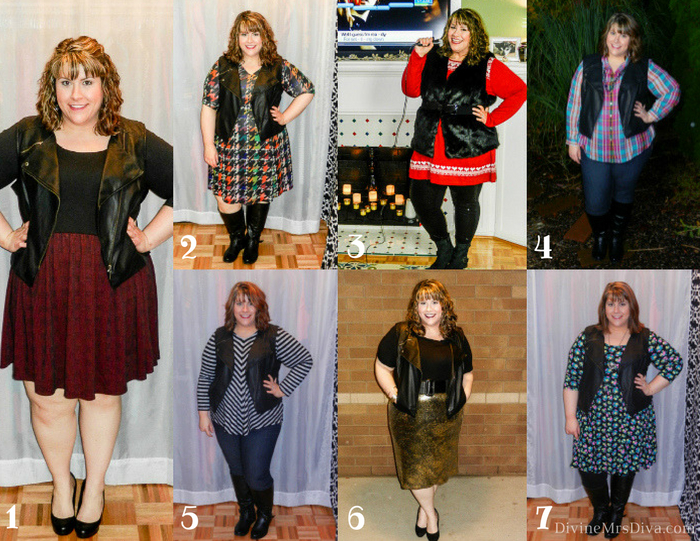 Is there an article of clothing you

finally started wearing? Is there something you think you can't wear? Have you pushed your comfort zone lately?