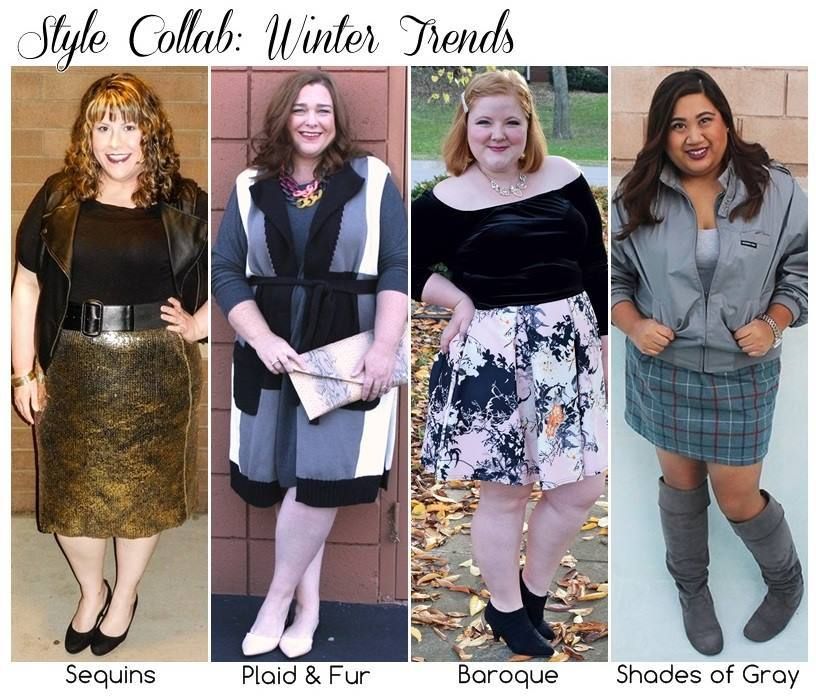 It seems as soon as fall sets in people start decreeing that "Winter is coming!" This time of year does fly by pretty quickly for me, so I am sure winter will be arriving before I know it. Today on the blog, I've again teamed up with my blogging buddies Liz of
With Wonder and Whimsy
, Janeane of
Designing From My Closet
, and Nina of
Curvy Mod
to show you our take on popular winter trends that have been popping up this season.
Liz is taking on a Baroque look. Janeane is donning plaid and fur, while Nina is rocking shades of gray. I, of course, jumped at putting together a sequin look. Read on for my review of this great skirt and details on how I chose to style it...


- As a member of Kiyonna's Blogger Brigade, they gifted me with the skirt in this post. All opinions on the item are 100% my own. -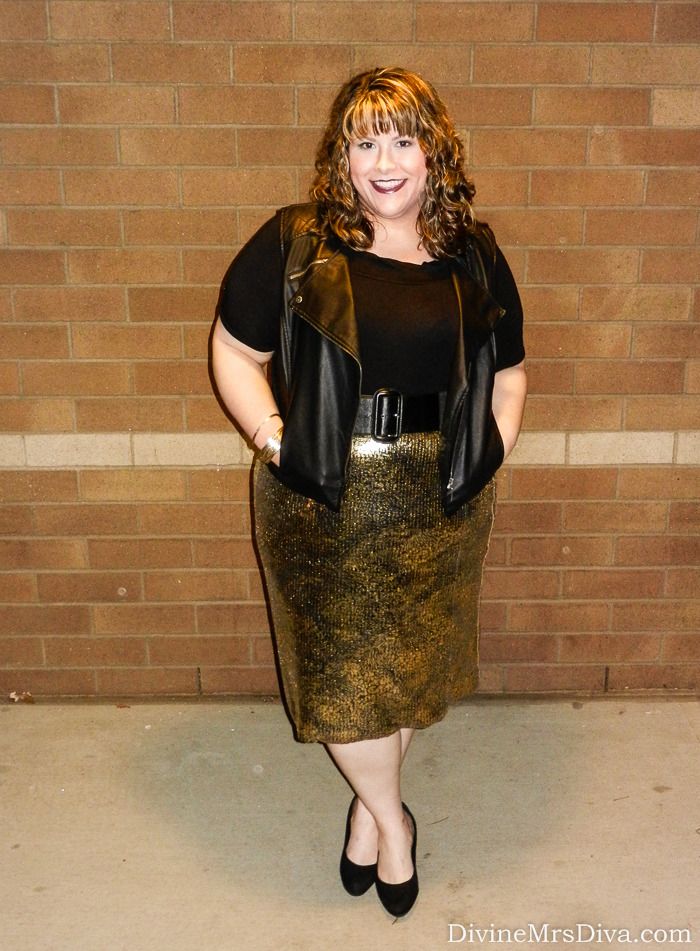 I am a firm believer in wearing sequins all year round, day or night. There is nothing I love more than sparkles in all its forms - sequins, glitter, shimmer, rhinestones, diamonds. I love it all! While there are always sequin pieces to choose from every holiday season, it seems they are way more abundant this year. I take this opportunity to stock up on sequin pieces I love so my sequin well doesn't run dry later in the coming year.
You can imagine my squeals of delight when I opened my package from
Kiyonna
and found this golden and gorgeous skirt. In pictures, it looks like a mottled gold and black. In reality, it has a distinct pattern brought to you by the black lining with clear and gold sequin overlay. Seeing that pattern detail just makes it even more pretty and interesting. The lining itself is smooth and comfortable, so no aggressive scratching from sequins occurs. The stretchy waistband is also covered in a soft, black fabric to eliminate any scratching.
I'm wearing this
Baroque Sequin Skirt
in a 3X and feel that it is pretty true to size. I can be a bit wary of pencil skirts because of my larger tummy and hips, but this one fit very well. It skims my body - shapewear or not. Speaking of shapewear, I am wearing a shorts piece underneath to keep everything smooth, but it isn't a really strong piece that holds me in. Even in it's midi length, this skirt is not too heavy and doesn't clank around when you walk. Because of the way the lining moves independently of the sequin layer, the hem looks a little rounded. I didn't mind this personally, but I did find that the sequins caught each other at the hem a few times during my evening of wear. I don't think this is a fussy piece that you have to monitor all night, but I thought I would point that out all the same.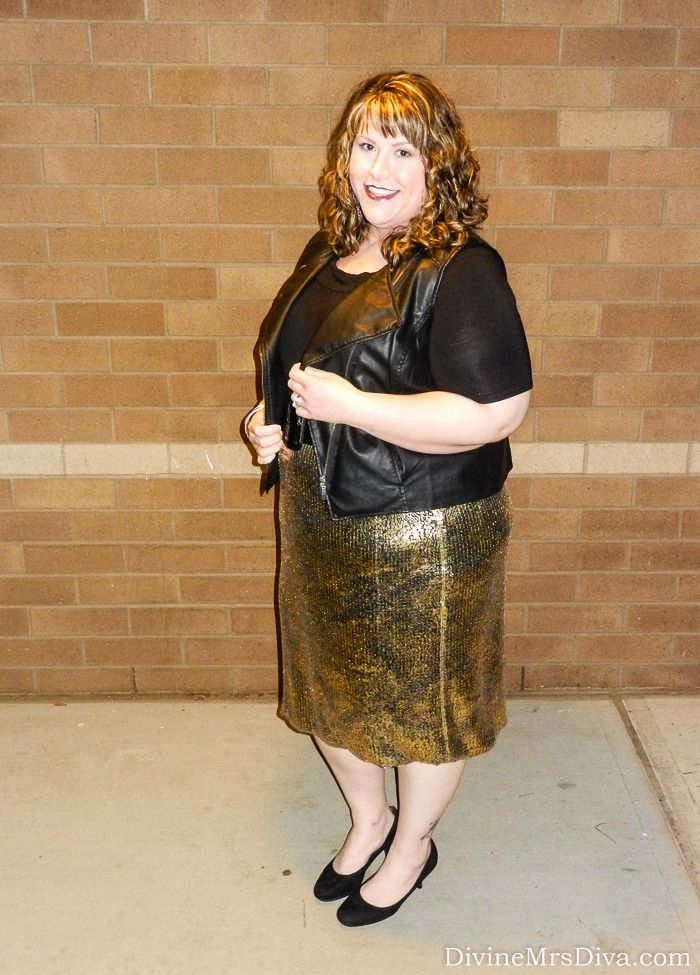 Because this post is about winter trends, I initially tried to pair this skirt with a silky plaid button-down in vibrant colors. I'll be playing with it again, but it just didn't look right to me on this particular day. So instead, I opted for a chic and simple look in all black with a knit top, wide belt, faux leather vest, and heels. Gold bangle bracelets rounded out the look. I felt very bad-ass and stylish, but this also let the skirt be the center of attention. On their website, Kiyonna has the skirt
paired with a white blouse
that also makes a really beautiful combination.
A couple extra things to note:
- My vampy purple lipstick is the color
Perris from Nicolet Beauty
. This is my first purchase from the Etsy shop. I love the pretty colors and matte formula. (I'm wearing a sparkly purple MAC gloss on top.) It tugs just a bit initially, but seems to wear a long time.
- I bought
a plunge bra
from Torrid recently. This is only my second time wearing it, so I don't want to full-on review it yet. However, I really like it so far. It is extremely comfortable, doesn't dig into my skin throughout the day, and doesn't move around. I'm a 42B and the cups aren't too big. Get on that if you need a new bra!
Baroque Sequin Skirt
- c/o
Kiyonna
Bardot Top
- c/o
Yours Clothing
Faux Leather Vest - Lane Bryant (Fall 2014)
Wide Black Stretch Belt - Lane Bryant (
similar
)
Black Heels - Avenue
Gold Bangle Bracelets - Lane Bryant (
similar
)
Be sure to check out more winter trends from
Liz
,
Janeane
, and
Nina
!
Are you a "sequins all the time" kind of gal? What are some of your favorite sequin pieces? What winter trend speaks to you the most this year?