We're finally in the midst of fall here, which typically means rain, rain, and more rain. I've been trying to get creative and find more covered outside areas to take photos in for upcoming posts. This is always the time of year I am jealous of everyone's rain-less outfit photos. Before all the gloom settled in, I found this lovely leaf-covered area to play in. It made me so excited because it was just the backdrop I wanted for photographing this fantastically fall ensemble!
Read on for my review of all the pieces I am wearing....

During
my hosting gig at my local Catherines in September
, I was able to try on quite a few of the newly stocked items. This Ornamental Ease Cascade (
no longer online, but check your local store
) called out to me with its autumn hues and sparkly sequin trim. I wasn't sure how this pattern placement would look on me but, like I preach to all of you, I tried it on! It immediately became one of my favorite looks because I love the sparkle and the way the burnt orange and brown compliment my hair. I ended up wearing it around the store as I talked to customers and decided I couldn't leave without it. I'm wearing this in a 2X and find the fit pretty spot on. I don't think it would fit my upper arms comfortably in a smaller size, but this one fits very well. It is a great longer overpiece that can be paired with a variety of colors. I prefer to wear it with a pop of dark red underneath. Even layered with the thicker shirt the Cascade fits my arms well, despite the fact that its fabric doesn't have any stretch. It is a comfortable, lightweight piece all the same.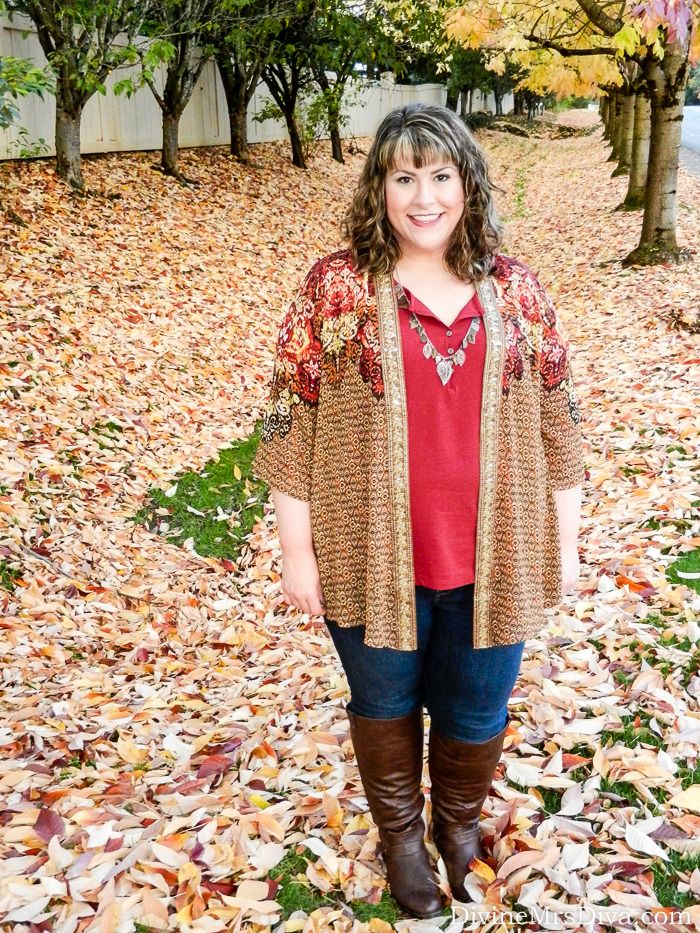 I chose to layer the Cascade over this
Suprema Henley
(
Wearing a 2X; now on clearance and in multiple colors!
). It is made of a soft cotton/spandex with a more generous fit than I expected. There is plenty of room in the arms, bust, and hips, making it a comfortable basic that can be worn with many different items. I've been looking for a basic three-quarter length sleeved top I could stock up on. The ones I own now are a bit oversized, so I only wear them around the house. There are still seven different colors available online in all sizes.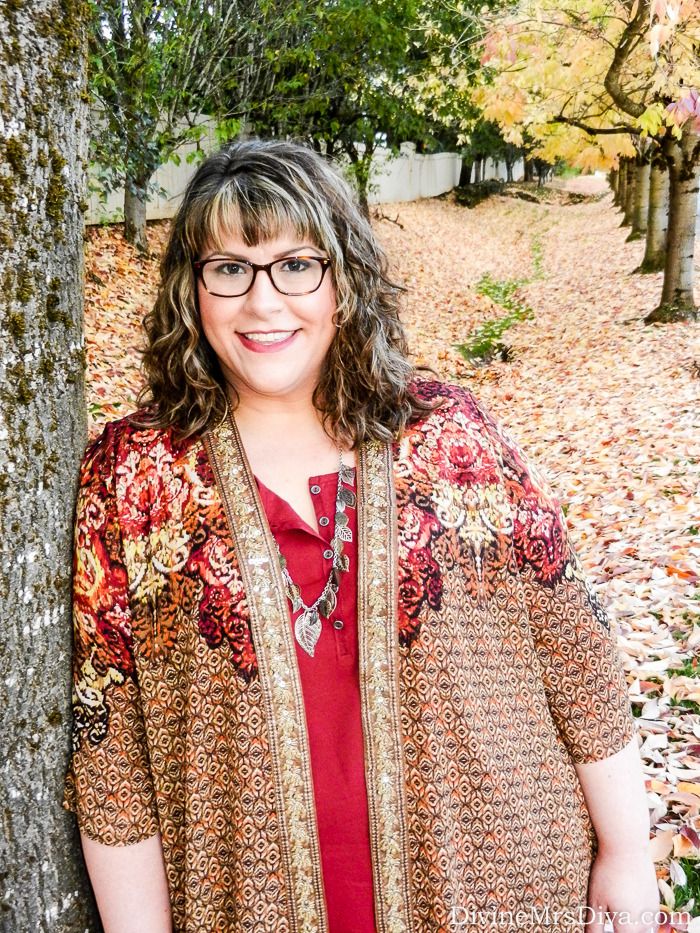 The jeans, boots, and necklace are all oldies but goodies. I bought these jeans from Avenue last year during a rare visit to one of the Avenue stores out in Portland. I appreciate a lot of Avenue's fashions, use of color, and comfortable materials. Since they closed the closer store a few years ago, I rarely get a chance to get in-store and try things on. Sizing can be on the generous side depending on the style, so trying on the denim was important to me.
I am wearing the dark wash
Virtual Stretch Legging jean
, which is basically a skinny jean. They are super comfy and fit really well. I don't have too much stretching out in a short time period, aside from the waist band that seems to stretch fast. Typically, I have to wear a belt with them after a couple wears to keep from hiking them up all the time. It is a minor annoyance considering the rest of the jeans fit well. This is a style they carry permanently, so take a look in store if you can and check out the website.
The boots are also from Avenue. I absolutely adore them, though I wish they had more cushioning. My feet have shrunk just a smidge, so I think I can pop a cushioned insole into them now. I am wearing an 11 Wide. My feet have some wiggle room, but these do fit my 19 inch calves like a glove. Avenue's boots are really fantastic for fitting wide calves. I had a lace-up pair that fit me when my calves were 21 inches. Make sure to check out the sizing charts and pay attention to the laces and elastic panels. A lot of them can be adjusted to accommodate wider calves. While they aren't the most supportive shoe, they are stylish and a lot cheaper (keep an eye on the 40% off sales) than other wide calf options.
Ornamental Ease Cascade -
Catherines
Suprema Henley
- Catherines
Virtual Stretch Legging Jean
- Avenue
Boots - Avenue (
similar
,
similar
,
similar
)
Leaves Necklace -
In Pink
I had a blast being a goober for the camera and playing in the leaves!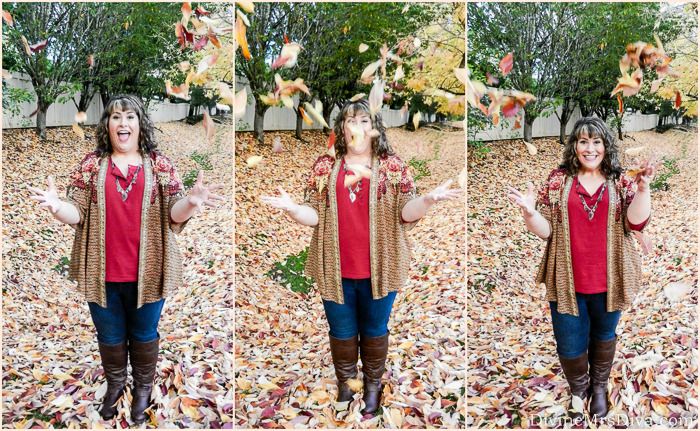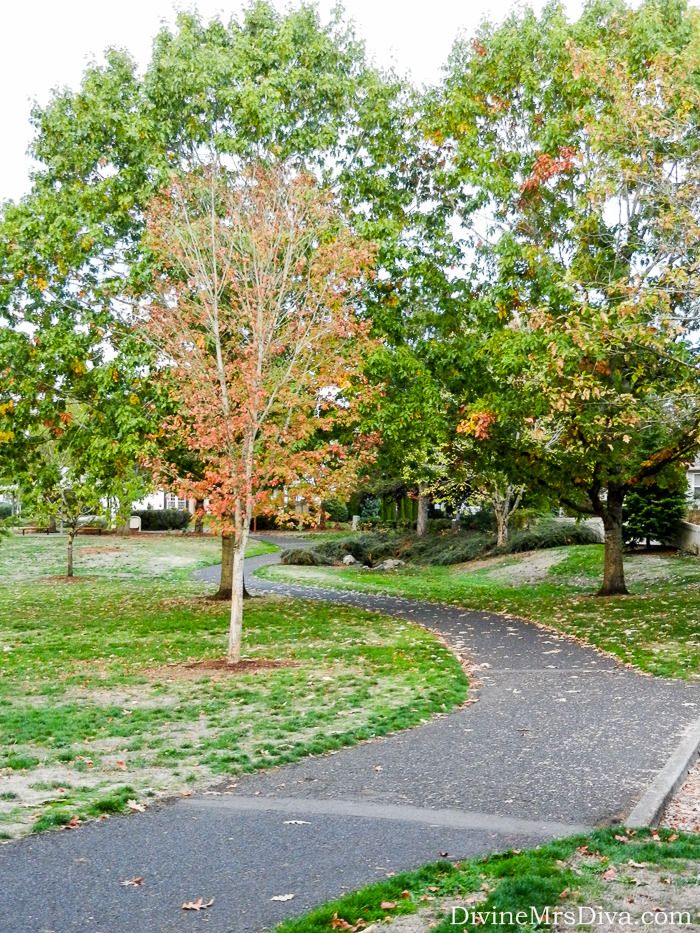 Do you love the fall color palettes? What type of styles, colors, and textiles do you stock up on this time of year? What are your favorite basics? Chat with me in the comments!