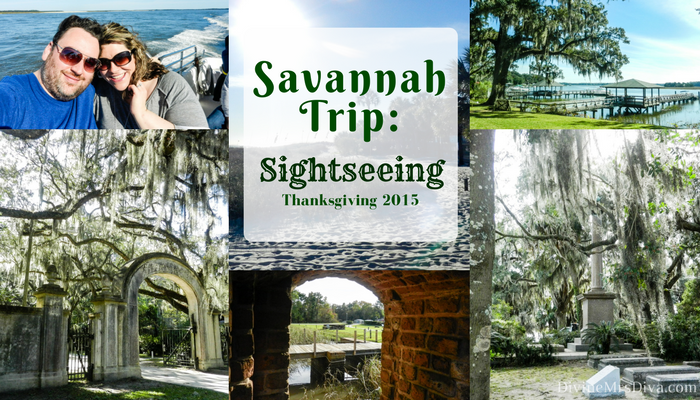 My third and final post about our trip to Savannah is finally here!  It seems life got extremely busy once we got back and hasn't really slowed down since.  My husband and I ventured to Savannah, Georgia for Thanksgiving 2015 and had a lovely time with my sister and her family.  I lived in Georgia for a bit in my mid-teens, but never really saw much of Savannah then.  Sean has barely been to the South until now.  We did go to Augusta, Georgia back in 2007 for my sister's wedding, but he mostly saw places I grew up and "met" my dad when we visited my dad's grave. 
This trip, I was happy we could sightsee together and look at some of the more historic locations, in addition to all the family fun we had.  (You can revisit my
Savannah Outfits Post
and
Family and Sightseeing Post
.)  While I lived in the South most of my life, so much of the scenery and vegetation and food was rare or totally new to Sean.  When we were planning possible activities for the trip, I wanted to make sure he saw whatever he wanted of this area while we were here.  As with any trip, there is never enough time for everything, which is why we have a Southern Coastal Road Trip on our future travel list.
Still, we managed to fit a lot of fun in!  We headed off with the family to dolphin watch in Hilton Head.  We visited Bonaventure Cemetery, the gate of Wormsloe Plantation, and Old Fort Jackson.  Then we headed back to Downtown Savannah for walking around, shopping, and dinner.  Enjoy!
(This is a picture heavy post, just FYI.)