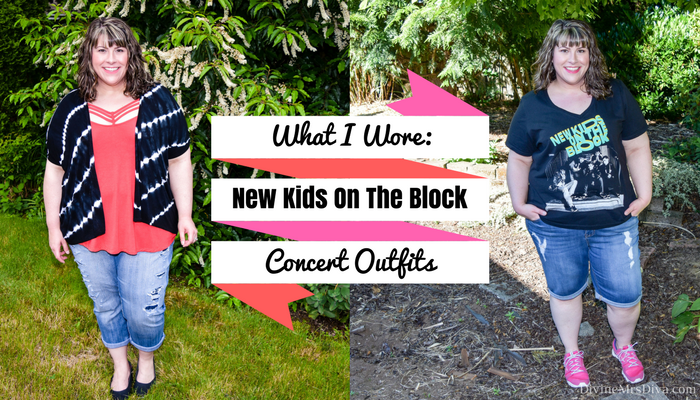 I've been a New Kids On The Block fan for 29 years.  I was always out and proud about it, so I was picked on relentlessly for it - both at home and at school.  I credit the New Kids' inspiration and my experience as a Blockhead in helping me become a person of integrity.  I stand up for what I believe in and what I love, and I have the New Kids to thank for teaching me that at a very early age.
Despite my level of endless adoration, I was never allowed to go to a concert, much less a New Kids concert, when I was a kid.  So when the New Kids got back together in 2008, I vowed to go to every concert I could possibly get to in an effort to make up for lost time.  Sean and I even pushed our honeymoon back a week so I could attend the reunion shows in my area.  I've spent the last nine years livin' it up at twelve NKOTB concerts.  I've met and greeted the guys.  I've been sang to and winked at from the stage.  I've had amazing seats.  I've even watched their
Coming Home
DVD in a movie theater
with
the New Kids!  I've traveled to new cities, made new friends, and gotten closer to old ones.
All this to say, I continue to be extremely grateful to be able to have these experiences.  I'm grateful the guys got back together.  I am grateful that I can afford to go to the shows and travel.  I am grateful that my husband isn't an asshole (
like a LOT of these other women's husbands are
) and supports/admires/cares about my love for the New Kids.  It is such an important part of who I am.  And every concert things happen that make the 12-year-old in me feel so validated and excited and loved.  It's a good time.
I wasn't going to write an intro this long, but I got all emotional.  I recently attended my thirteenth and fourteenth New Kids concerts in Portland and Seattle.  I'm still editing concert pictures, but I thought we'd talk about what I wore first.  Today I'll be showing you my concert outfits and reviewing new-to-the-blog pieces from Melissa McCarthy Seven7 (shorts comparison!) and Torrid.