Hey, y'all!!
I've mostly gotten over my gnarly cold I picked up over New Kids week. Thankfully, Sean did not get it. It's been a busy few weeks with going to Seattle, weekend errands, cleaning, hosting Bunco, cleaning some more, and hosting a belated birthday party for my friend Nigel and I today! It has mostly been fun stuff, aside from the cleaning, but between the cold and my fight with anxiety I have been incredibly exhausted. I know I often mention being tired more since my thyroid went bye-bye. I keep expecting myself to be "normal" and expect to just buck up and get things done, but it doesn't really work that way. I know the blog has suffered from my tiredness and anxiety and even depression. Bouts of self-doubt related to those things are no joke.
I was able to get a lot of chores out of the way earlier in the week so I could focus on editing some photos and getting a post out. In today's post, I am reviewing this Old Navy top and shorts from Melissa McCarthy's line, and talking about our celebratory 9th wedding anniversary outing. I hope you all are having a wonderful weekend. Enjoy!

I have continued to browse the Old Navy website, especially during big sales, to look for pieces to try. I'm a huge fan of the
relaxed fit tanks
because they provide ample room for tummy and hips and are a longer length. I mostly get basics, like tanks, for myself when I make a purchase for Sean. The
Big and Tall Men's polos and henleys
are his favorites. During one of those Sean-centric shopping days, I found this off-the-shoulder tropical print top. I love this particular ruffled, "cold-shoulder" silhouette on me lately because it allows me some breezy temperature control but provides a little bit of arm coverage, while also making me feel very feminine and sexy with the ruffles and exposed skin. The bright, tropical print of the
Relaxed Floral Off-The-Shoulder Top
(sizes 2X through 4X) called to me, but this style also comes in
black
(sizes 1X - 4X) and
chambray
(sizes 2X through 4X).
Because I have a smaller bust, I had to shorten the adjustable straps as far as they go. This makes the shirt a little shorter in the back than in the front, but I don't think it is really noticeable. I found the fit of the bust area to be pretty awesome with plenty of room for my tummy and hips. I'm wearing a 3X. The fabric is a lightweight, non-stretch rayon, so this extra room allows the fabric to flow. I would also note the overall length of the top is pretty great for me too, hitting right around the tops of my thighs. Having to iron/steam the top and the fact that it wrinkles at all is really the biggest complaint I have about it, but that is to be expected with rayon.
I wore this top on a really warm day out under the sun. I have vowed this is the summer I show more skin and don't shy away from showing my arms. One of the plus sides of this attitude is that I stay much cooler than I usually am, and am therefore less bitchy. haha Tops like this make me feel confident when I step outside my comfort zone.
To continue staying cool in the heat, I paired my off-the-shoulder top with my new
Melissa McCarthy Seven7 Roll-Cuff Denim Bermuda Shorts
. Prior to 2014, I hadn't worn shorts since middle school. But after I was diagnosed with cancer, I decided life was too short to bog myself down with so many rules and regulations. You can see
my inaugural shorts post here
on the blog.
I love my Lane Bryant Bermudas, but have worn them consistently every summer and knew I was going to need some more shorts in the rotation. So far this year, I've bought
five
seven new pairs of shorts. haha These Melissa McCarthy Seven7 dark wash shorts fit pretty much exactly like my regular LB Bermudas. The denim is a little thicker and softer though. I am wearing a 24 and find they fit true to size. They are extremely comfortable, don't ride up my thighs, and have kept their shape during multiple wears. There are also panels of stretch fabric inside the jean as part of the "slimming silhouette system" that smooth out the tummy region a little. These panels aren't thick or bulky nor do they cinch, but they seem to smooth things out a touch. The hem length is pretty spot on (with a 10" inseam), hitting me right above the knee. I liked them so much, I ended up buying more
Melissa McCarthy shorts
from her line's website during a big sale. I will talk about those on the blog next week so you have a better idea of comparison.
If you like Melissa McCarthy's line, I would definitely sign up for newsletters
on the site
because the sale prices are AMAZING. While I spent $40 on these $70 Bermudas at Lane Bryant, the other pairs of $70 shorts only cost me $15 each on the brand's website. Get them deals, GURL!
(
Full disclosure: I also bought a $98 pair of MM7 skinny jeans for $20 during the sale, AND this weekend they have 30% off all sale items again!
I may or may not have bought more shorts.
)
Also new to me are these
Puamana Earrings
from Nagasako Designs. I've
mentioned the company previously
because I bought an orchid petal necklace and some turquoise earrings as souvenirs from my recent trip to Maui. Nagasako Designs is based in Lahaina, not far from where we vacationed, so they were such fitting trinkets to remind me of our special trip. I love so many of the pieces on the site, I knew that I would eventually get another pair. For my birthday, Sean ended up purchasing the Puamana pair for me. The red and yellow orchid petals are glassed and adorned with chains, rose quartz, turquoise agate beads, crystals, red bamboo coral, and puka shells. I love all the colors in this pair and found them a perfect accessory for my tropical top!
Relaxed Floral Off-The-Shoulder Top
- Old Navy
Roll-Cuff Denim Bermuda Short by Melissa McCarthy Seven7
- Lane Bryant
Kylie Sandal in Rose Gold - Trotter's via Amazon (
similar
,
similar
,
similar
)
Puamana Earrings
- Nagasako Designs
Turquoise Bead and Silver Necklace - Charming Charlie (
similar
,
similar
)
Sunglasses - Lane Bryant
As I mentioned previously, I wore this outfit out to dinner to celebrate mine and Sean's 9th wedding anniversary! My mother-in-law wanted to treat us to dinner so, as with every year, we headed to
McMenamins Edgefield
where Sean and I got married to reminisce, walk the beautiful grounds, and eat a very tasty dinner at the
Black Rabbit restaurant
. This time of year all the flowers are in bloom and bunnies roam freely!
The Herb Garden, where Sean and I kissed under a beautiful full moon on our third date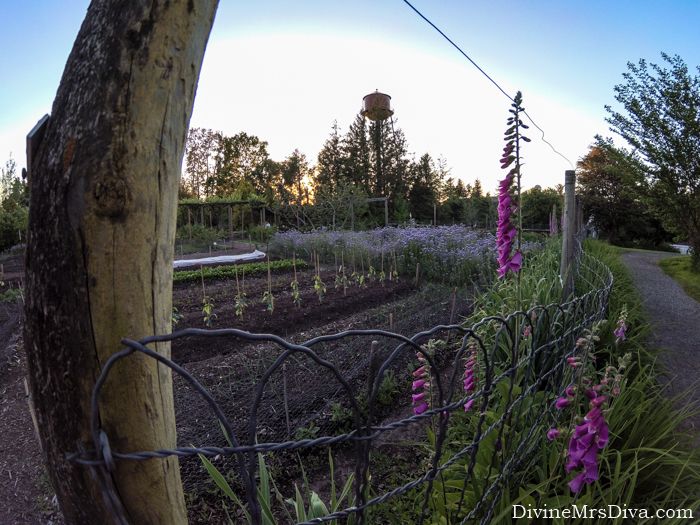 The Vegetable Garden. Just to the right of the fence post in this photo, you can see a covered arbor in the distance. On a July night in 2006, Sean and I sat on a bench under the arbor to watch the moon rise over the hill. That's when he proposed.