Hello! I'm Hailey, the diva behind the curtain here at Discourse of a Divine Diva.
I reside near Portland, Oregon with my husband Sean and our furry chihuahua children, Finnegan and Dobby. I work at home as a Blogger and Domestic Goddess attending to my little home and family and following my passions. In my free time, I enjoy heading to the beach, spending time with my family and friends, playing video games, traveling, and singing really loud when no one can hear me. 😋 I love to try new tasty, uncomplicated, gluten-free recipes and try to make time to work on craft projects. I am crazy about boybands (New Kids On The Block, Westlife, and Backstreet Boys are my faves),
Outlander
,
Star Wars
, glitter/sequins/sparkle, all things chihuahua, and pigs with wings. I love playing Skyrim and Elder Scrolls Online with Sean.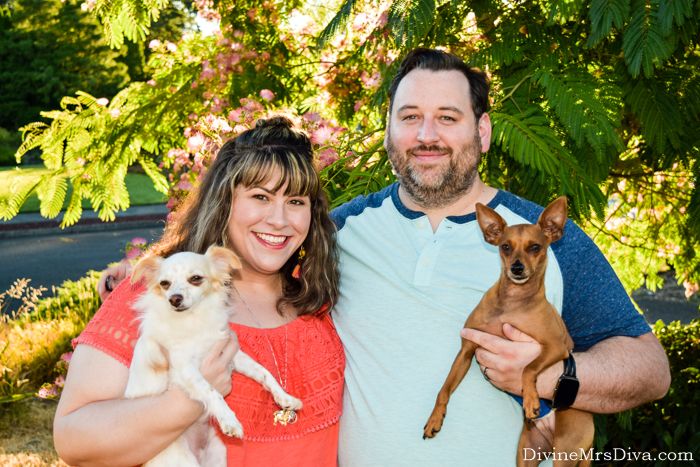 Starting this blog was my way of being a positive voice in the world and an outlet to talk and share about things I love. It continues to be a place I can share my thoughts and talk about fashion, beauty products, travel, having thyroid cancer, furkid(s), recipes, crafting, and more.
Photo by Gray Feather Photography
I've learned a lot from the plus blogging community thus far and wanted to join in being a positive voice of body acceptance. Having been raised in an environment where I was constantly told how ugly, fat, and worthless I was (and made to believe all of those things were related), I was tired of feeling ashamed of how I look just because it doesn't fall into the perimeters that society wants me to be in. I was tired of all the women in my life feeling crappy about themselves because of the same pressures. I want to be a positive voice in the lives of those around me and set an example for my friends, sisters, and family. I want them all to LOVE themselves and treat themselves with respect and kindness. It is an on-going journey, but a
very
worthwhile one.
Now, with being a thyroid cancer survivor, I feel a pull to bring awareness to thyroid issues and causes, provide information on the process that is having thyroid cancer, and talk about the lessons I learned during the process. I don't want anyone to let cancer be their teacher in living a happy life of acceptance and exuberance.
Fashion-wise, my style contains my 3 C's: casual, colorful, and cute. I love fun and flirty pieces, lots of color, sequins/sparkles and other embellishments, but I love to be comfortable at the same time. I find that my style rides a line between practical and "extra" in a way that I find easy to wear. And I never leave home without accessorizing. For reference, in regards to outfit posts, I am 5'9" and currently wear a size 22/24. My measurements are 52/49/58.
I hope you enjoy my blog. I look forward to hearing from you via e-mail, social media, or here on the blog with questions, comments, or just to say hello and have a chat.
I am open to working with brands to promote and review products, host giveaways, and more. Please email me to discuss your ideas and options. I've been a member of the
Kiyonna Blogger Brigade
since March of 2012. I was also
Catherines Style Ambassador for May 2015
and worked with the brand for their
Art of the Mix
(
in which my ensemble was the top-rated look by Catherines' customers
) and
Denim Debut
campaigns,
hosting an in-store event
as well. Additionally, I started doing plus size fashion segments in February 2018 for my local Portland, Oregon station, KATU. I pop on
Afternoon Live
each month to talk fashion and lifestyle! Most recently, I worked with Her Universe to help introduce pieces from their February 2021 Outlander collection - the
Tartan Cinch Dress
and
Thistle Cardigan
! And as of March 2021, I am now a brand ambassador for
Her Universe
!
Check out my
Featured In page
for more!
E-mail contact: diva@divinemrsdiva.com