Denim is always a wardrobe must-have any time of year. A great pair of jeans is versatile and practical, but often times hard to come by.
Catherines
has launched their new denim collection featuring fabulous and versatile styles in regular and petite lengths. The
Knit Jean
offers the look of jeans with the comfort of leggings and comes in a variety of colors, including olive green and scarlet. The
True Stretch Jean
is indeed stretchy and comfortable denim (
I've previously worn mine on the blog here
), available in dark and medium washes, trendy dark acid wash, and ombre! The Right Fit Jean comes in
Curvy
and
Moderately Curvy
fits with a timeless straight leg silhouette. The Curvy fit is for those of us with hips that are much larger in comparison to our waists, while the Moderately Curvy fit is best for those of us with only a slight curve from the waist to hips.
In today's post, I am sporting the
Moderately Curvy Right Fit Jean
and
Girlfriend Jean
for two comfortable, fun, and fall-ready ensembles. Read on for my reviews!



- This post is sponsored by Catherines. All opinions on the items in this post are 100% my own. -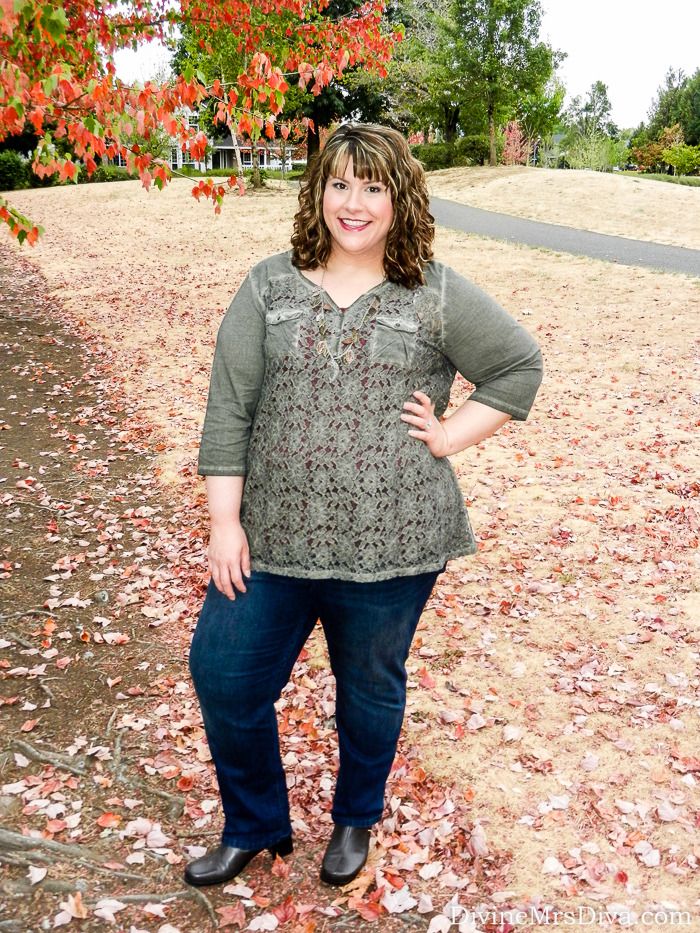 As stated above, the
Moderately Curvy fit
is great for those of us with waist and hip measurements that are closer to the other. My waist is 50 inches, while my hips are 59 inches. I am wearing this pair in a 24 regular and feel they are true to size. The fabric is soft and stretchy, but retains its shape well. I was pretty active when wearing them - taking photos, playing on monkey bars, walking around, grocery shopping, going to dinner, etc. - and the only thing that was slightly stretched was the knee areas. Still, it wasn't something so obvious or noticeable that would require washing and drying to retain the shape.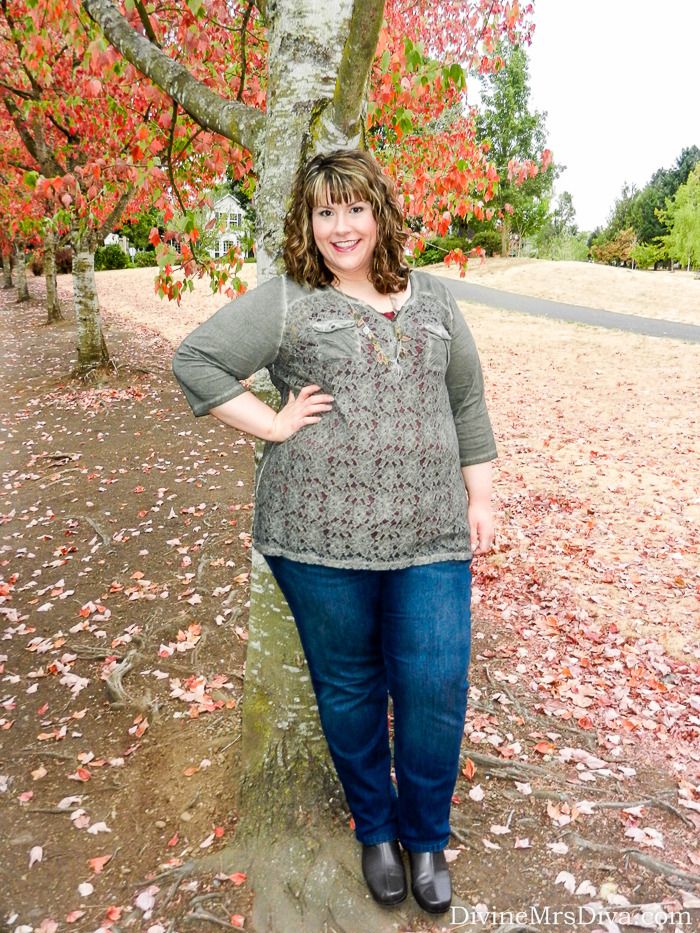 At 5'9", I have had a really hard time finding jeans that are the right length. Most jeans I try on are either way too long or slightly too short. Considering that I am technically taller than average, this is pretty crazy to me. However, I have found the jeans at
Catherines
to be a perfect length. This style is also available in Petite, which ends right around my upper ankle. For me, this regular length is perfect! I don't have to wear a high shoe to keep them off the ground and I can get away with wearing sneakers or flats with them as well.
There is also enough room in the hips, seat, and thighs. The fabric is thick enough and lays in such a way that it kind of smooths everything out, instead of emphasizing lumps and bumps. While these jeans feature a typical waistband, button, and zipper fly, they do have elastic insets on each side of the waistband that provide a more personalized fit and stay with your curves.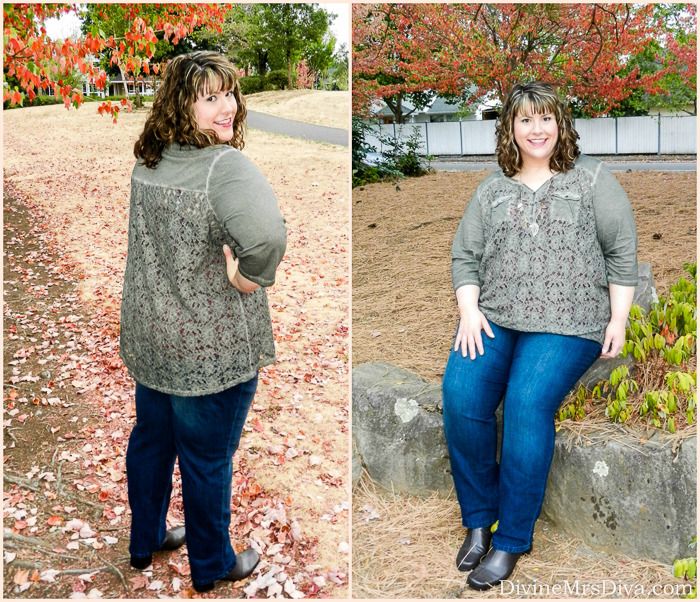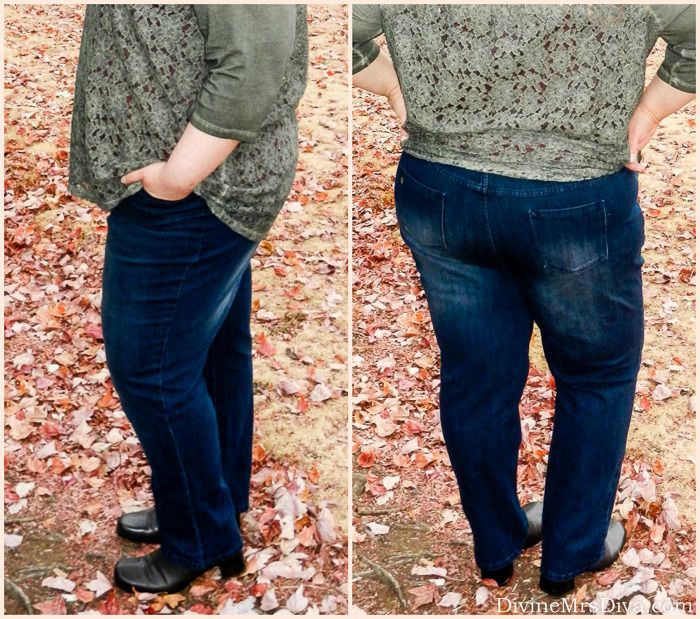 Both the top and tank top underneath are Catherines fall arrivals as well. I love the earthy color of the
Vineyard Lace Top
with raglan sleeves. It has a casual vibe with a faded, worn-in sort of look in the solid areas; But the lacy body of the top makes it unique and adds interest, texture, and that something extra I love in my casual pieces. To take the fall coloring up a notch, I layered a soft, knit, burgundy
Suprema Lace Tank
underneath. The tank has a lace neckline and comes in a variety of colors, most of which would work well with this lacy top or the blue version. (Shirt and tank are both a 2X.) I finished off this "Please, let's pretend it's fall" look with brown booties and a gold and wood leaves necklace. Now can the weather cooperate with my sartorial desire for fall to be here already??
Vineyard Lace Top
- c/o
Catherines
Suprema Lace Tank
- c/o Catherines
Right Fit Jean (Moderately Curvy)
- c/o Catherines
Leaves Necklace - In Pink (
similar
,
similar
,
similar
)
Brown Booties - Payless (from years and years ago) (
similar
,
similar
,
similar
)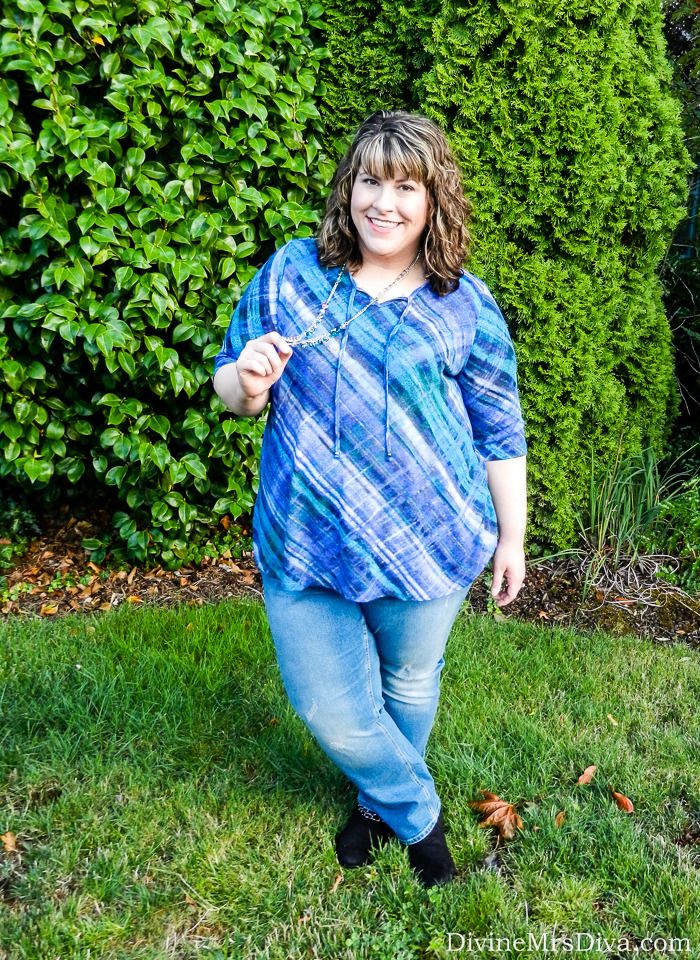 During my shopping trip to
Catherines
, I finally tried on the
Girlfriend Jean
. Hanging up in the store, they had one of the legs rolled up all cute like it is the website photo. I love the mild distressing, plus they were not faded all weird like some similar jeans I tried on at another retailer. On a whim, I grabbed them and tried them on. Boy, am I glad I did! They aren't a super relaxed or slouchy silhouette on me, but are rather roomy enough for my hips and thighs. The fit on these babies is awesome! Not only do they smooth my thighs out a bit, but they seem to lift my butt and make it look fantastic!
I don't normally go for lighter washes, but these jeans are made so well that the color isn't an issue. As mentioned before, the fading makes sense and the distressing is low key and subtle. The denim fabric is similar to the Right Fit in that it is soft, stretchy, but retains its shape well. The knees seem to be the only part that has stretched out a bit with wear from sitting and moving around a bit. It is a very subtle stretching out though and not something that makes the silhouette appear sloppy. The length is spot on again, with a slim cut leg that hovers right in between the look of a skinny versus straight leg. The waistband, button, and zipper are all typical features of jeans. However, this pair has a concealed elastic waistband inside the jean that helps these conform to and stay on your waist without gaps. I love them! I am wearing a 24 regular.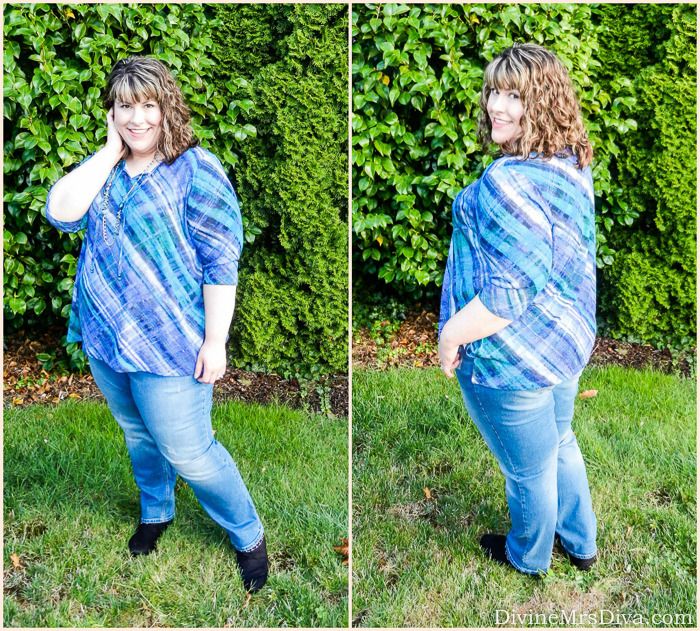 I love plaid and always look forward to the pattern being reintroduced in the fall. I love the color combination of purple, turquoise, and blue in this
Paintbrush Plaid Top
. The fabric is soft and sweater-like, but not too thick. It is stretchy with a bit of an A-line cut that skims over the tummy and hips. I am wearing the 2X Petite in this top because I preferred the slightly shorter length. The neckline features two ornamental ties that hang down. I know this is going to be quite a go-to piece as the year progresses. (
Ahem, Catherines, I would also like to add that if this was made with a hood and a henley-type buttoned front, I would buy it again!
)
To finish the look, I kept things light with a silver, turquoise beaded long necklace and black booties. Again, it is casual and simple overall with a little something extra. Also, long necklaces have been my thing so much lately. Catherines has a ton of great tassel and fringe
long necklaces
right now!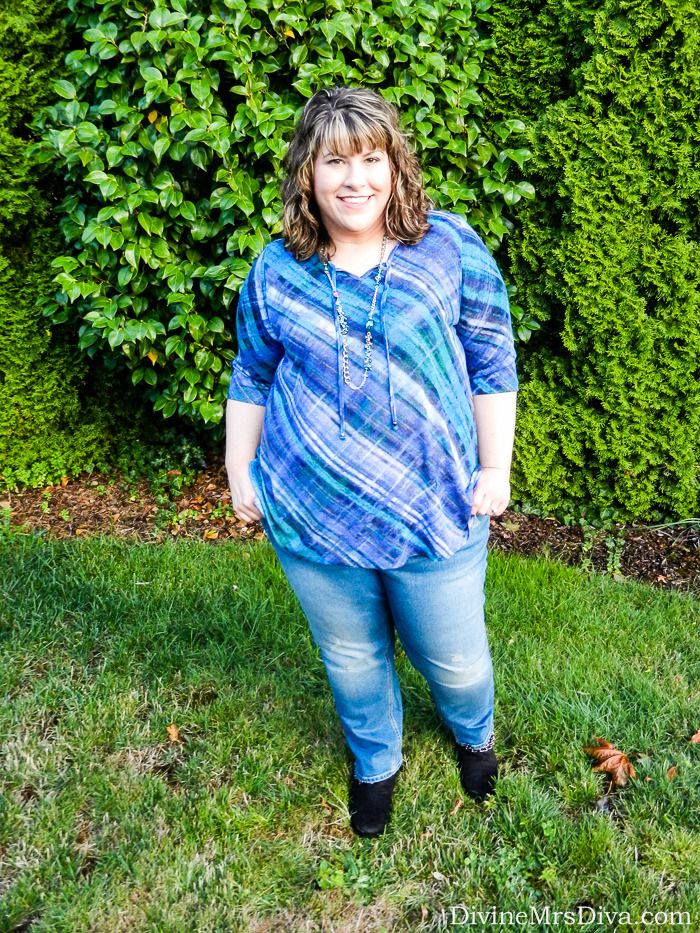 Paintbrush Plaid Top
-
Catherines
Girlfriend Jean
- Catherines
Silver and Turquoise Beaded Necklace - Charming Charlie (
similar
,
similar
)
Black Chain Booties - Avenue (
similar
,
similar
,
similar
)
Seeing the reddish orange-hued leaves at the park was so great. We certainly do not have autumnal weather yet, but the trees don't seem to mind. I loved frolicking in the park with Sean and make believing my outfit was weather appropriate on a rather humid 80-something degree day before a rainstorm rolled into town.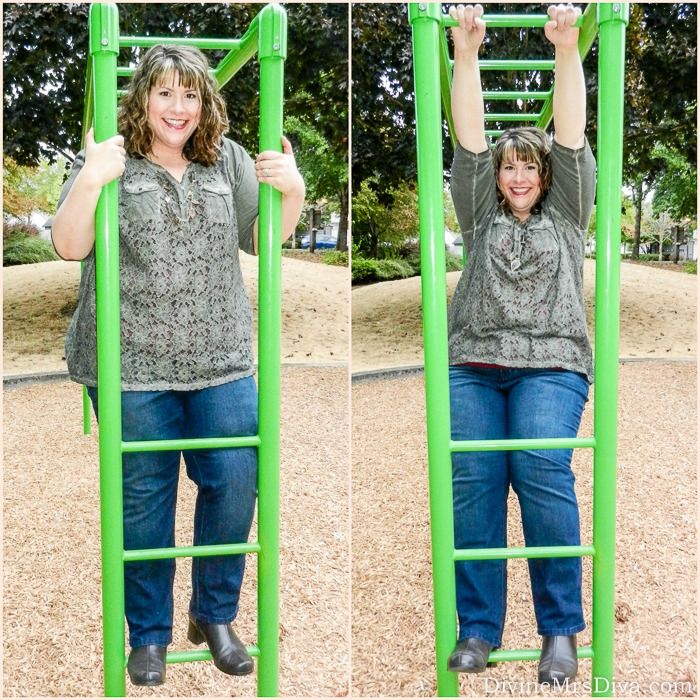 What do you love about denim? What challenges do you face in finding the perfect-for-you pair? Do you have a favorite pair from Catherines new denim line? Share with me in the comments!