As you know, I have been a subscriber to
Gwynnie Bee
for quite a while. I love it as a means to try new brands, test sizing and fit, and see garments close-up that I might not otherwise have the opportunity to try. It also gives me more ways of styling looks to show all of you since I don't actually have to buy all the clothes. (
Although, sometimes I love a piece so much that I do buy it from Gwynnie Bee at a discounted price!
)
Read on for my review of this tank dress....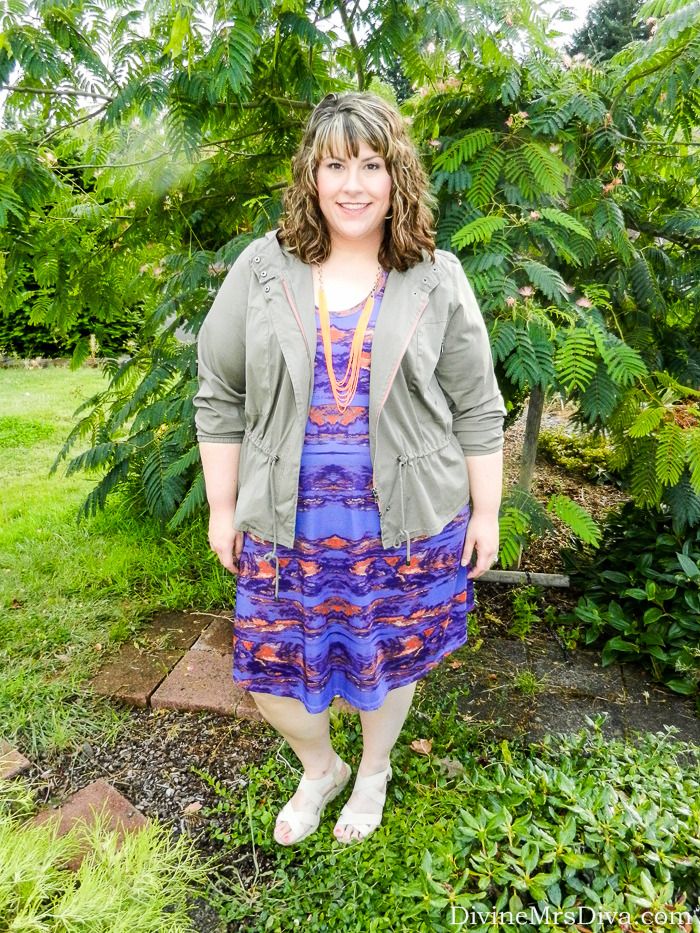 Jete is a
Gwynnie Bee
exclusive brand. GB offers a few of these house brands that I have talked about on the blog before, like
Flor
,
Triste
,
Postcards
, and
Spruce and Sage
. This tank dress is made from the typical polyester/spandex. This means it is pretty comfortable and definitely stretchy. I am wearing this dress in a 3X and find the sizing to be adequate at the bust and generous through the rest of the body. This is very hard to come by since my hips are a size bigger than my bust.
I love the vibrant purple and orange pattern. It is really fun and bright in person, always a plus in my book! I added an orange chain necklace that matched the orange veins in the dress. This also added more color and texture up around my face where I like the attention to be drawn. So as not to add more layers and accessories that compete with the dress, I chose nude wedges and a light green anorak jacket. These both provide a more casual tone to the look, while the jacket breaks up the pattern a bit. The dress is comfortable and loose, so I didn't want to add a belt this time.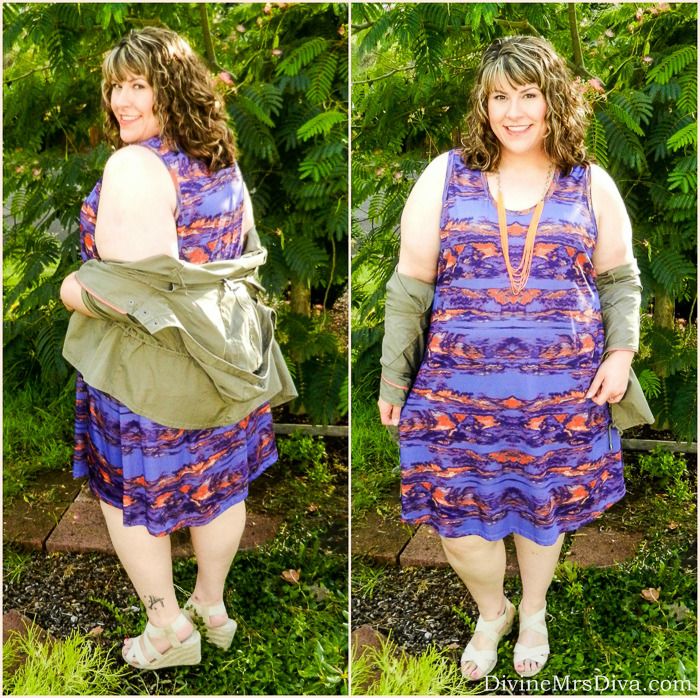 The anorak jacket is still on trend this year, so there are a lot of different styles to choose from. I bought this one from Lane Bryant right before spring. It has a drawstring waist for a peplum look and a hood, which is necessary in the often rainy Pacific Northwest. The material is thinner and stretchy, so the comfort level is high. The light green hue acts as a neutral which allows it to go with pretty much anything. If this look appeals to you, keep your eye on similar jackets and snatch them up when you can. I recently bought the Ava & Viv one from Target and hope it arrives before my road trip!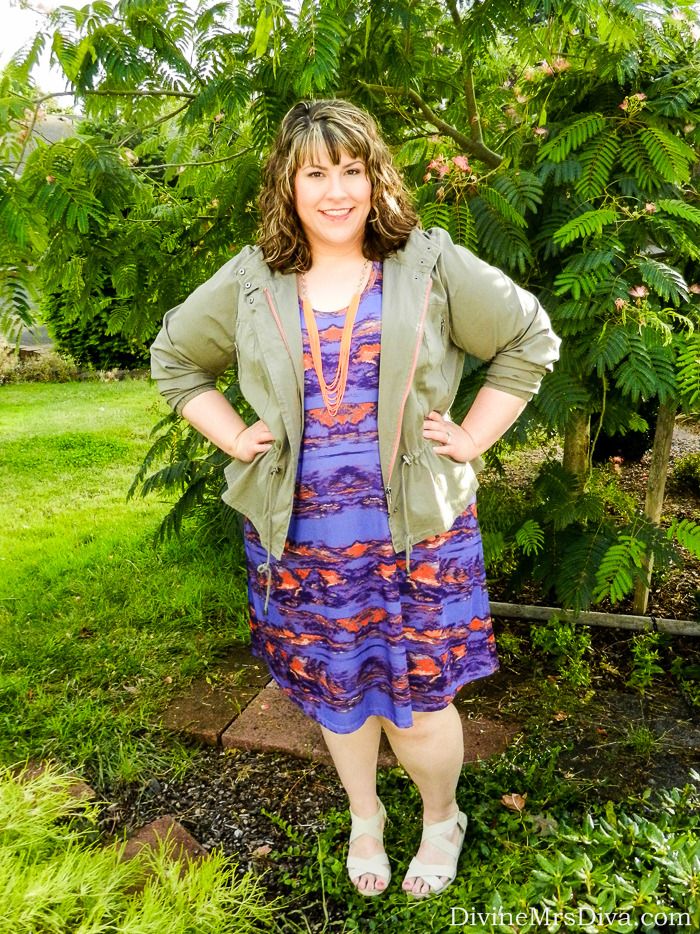 Violet Tie Dye Tank Dress
- Jete via
Gwynnie Bee
-
Fashion in a box. Free for 30 days!
Anorak Jacket -
Lane Bryant
Spring 2015 (
similar,
similar
,
similar
)
Orange Chain Necklace -
GroopDealz
(
similar
,
similar
)
Nude Elastic Strappy Wedges - Avenue 2010? (
similar
,
similar
,
similar
)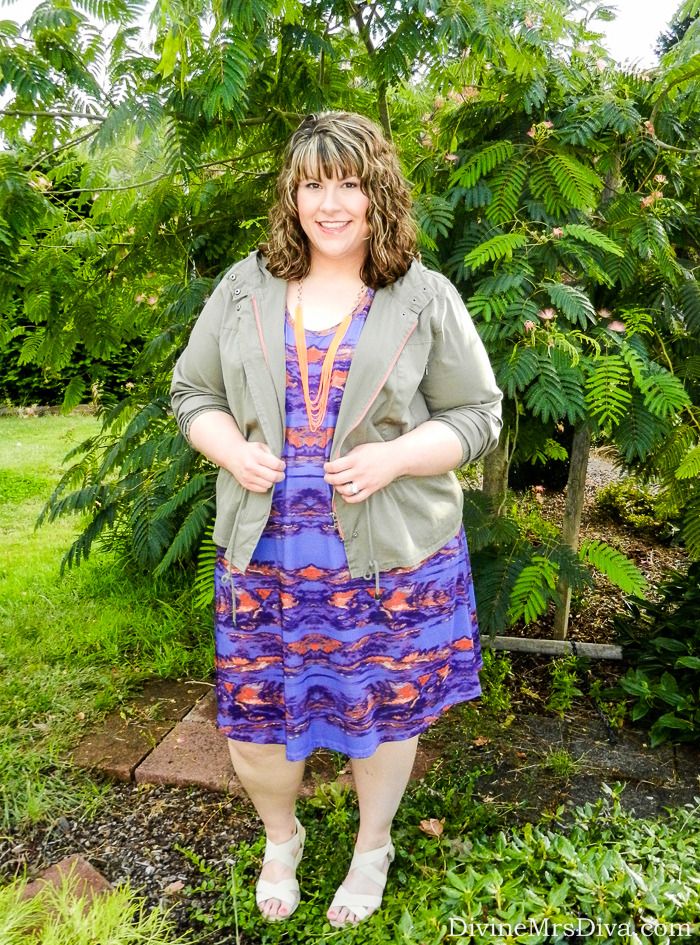 Do you like a-line/swing cut dresses like this? How would you wear this vibrant pattern? Chat with me in the comments!