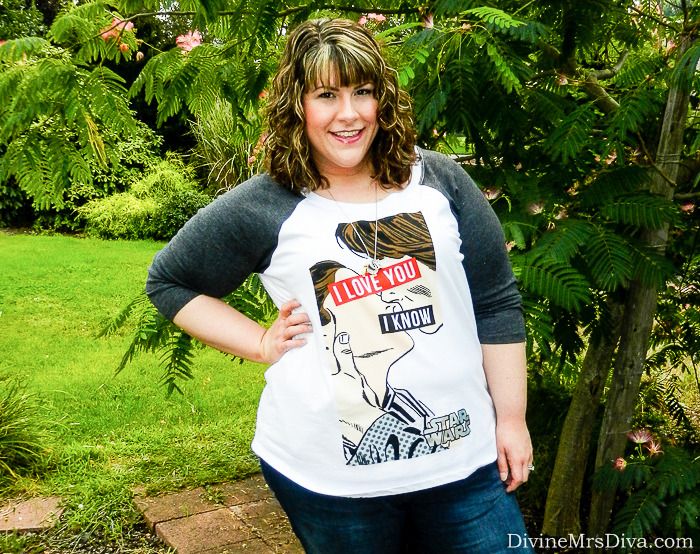 I typically dress in what I refer to as "dressier casual" because I like comfortable looks with special embellishments and a bit of structure. But sometimes I am just hardcore casual. There are certain locations, events, or frames of mind where I just need to be in laid-back, easy-to-wear pieces. A couple weekends ago, Sean and I attended a company picnic at a local park, so I donned shorts and a tee for the occasion. Read on for my review of these casual items and to see more photos....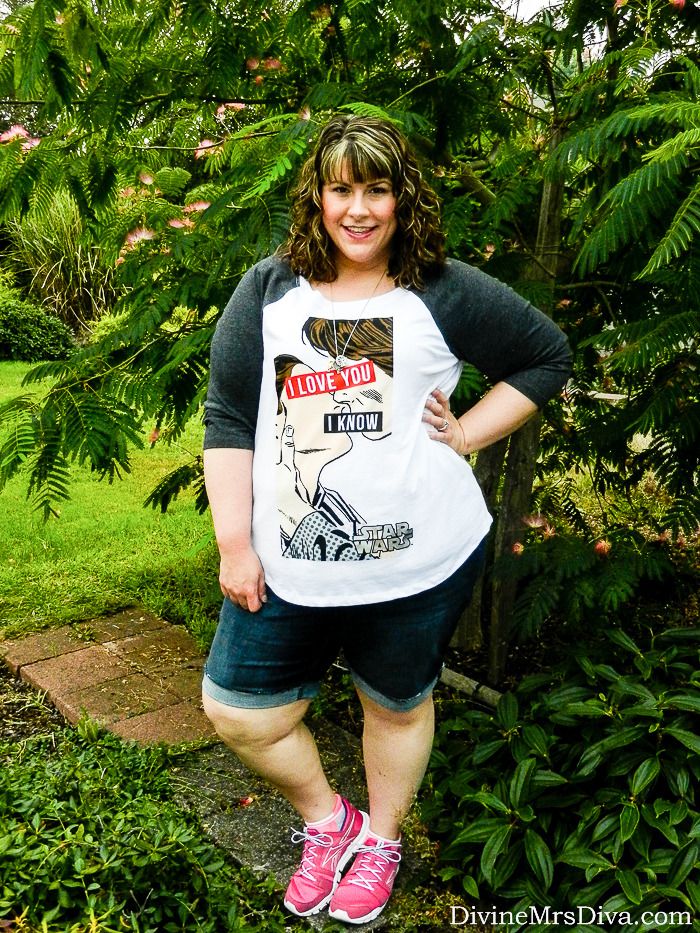 The Genius Fit Bermuda Shorts from Lane Bryant are my go-to when it is way too hot outside. This summer has been a scorcher for pretty much everyone, so my shorts got a lot of use this year. They are no longer available in stores, but you can
view other shorts outfits from the blog
and read a more in depth review.
The baseball tee is a recent Torrid purchase. I mean, how am I gonna pass up an awesome pop-art
Star Wars
tee?? I was a little concerned about what size to order though. Most of my Torrid tees are a size 4 because they give me more room in the hips. In that case, the length is really long and I end up having to hem them. (Hence why I haven't worn my
MST3K
tee yet.) After reading reviews on the website, I decided to go ahead and order my typical overall size - a 3. It is a lttle more fitted in the tummy region, but is easily stretched out a bit to accommodate that section . The length was still a little longer, with the overall fit being pretty spot on. I know a 4 would have been too big for me in this style. The fabric is a typical t-shirt knit that isn't too thin. It is just a comfy, casual tee. I also bought
the Cinderella version
of this same style as well. Both fit true to size.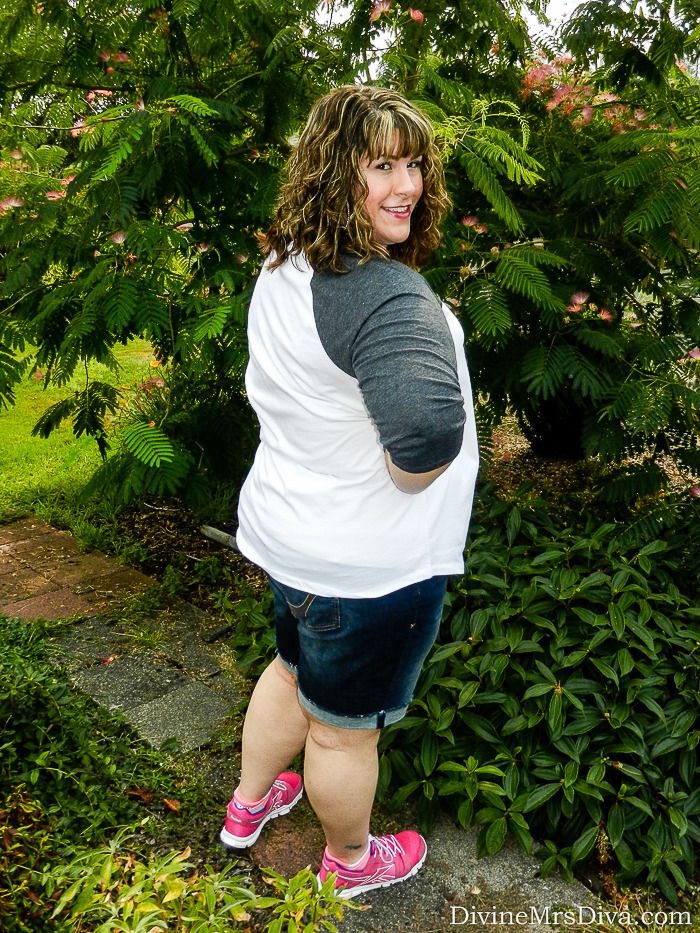 The socks I am wearing are also another new-to-me item worth mentioning. I bought them from Lane Bryant on a whim and am so happy I did! The
Wicking Active Socks
are extremely soft and comfortable. The material is thicker with cushioning and support. I think they are probably the most comfy socks I own. I must buy more before they run out! The socks also have a tab above the ankle that protects from blisters if your shoes rub your ankle too much. If you are looking for a great short sock, you NEED these in your life!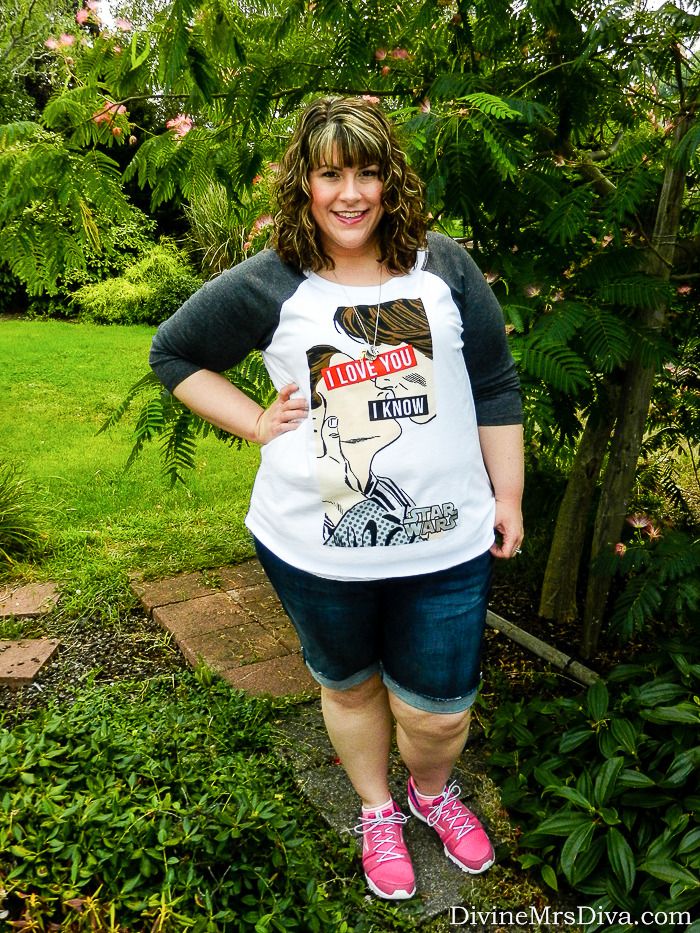 Star Wars
Kiss Raglan Tee - Torrid (
similar
,
similar
) (Also bought
Cinderella version
)
Genius Fit Bermuda Shorts - Lane Bryant
YourFlex Trainette 3.0 - Reebok (
5.0 version
,
7.0 is current version
)
Wicking Active Socks
- Lane Bryant (Pink ones
here
)
Sean and I had fun eating BBQ and visiting with his coworkers at the picnic. Fellow
Star Wars
fans complimented my shirt as well. And thankfully, it was one of the few days this summer that wasn't 100 degrees.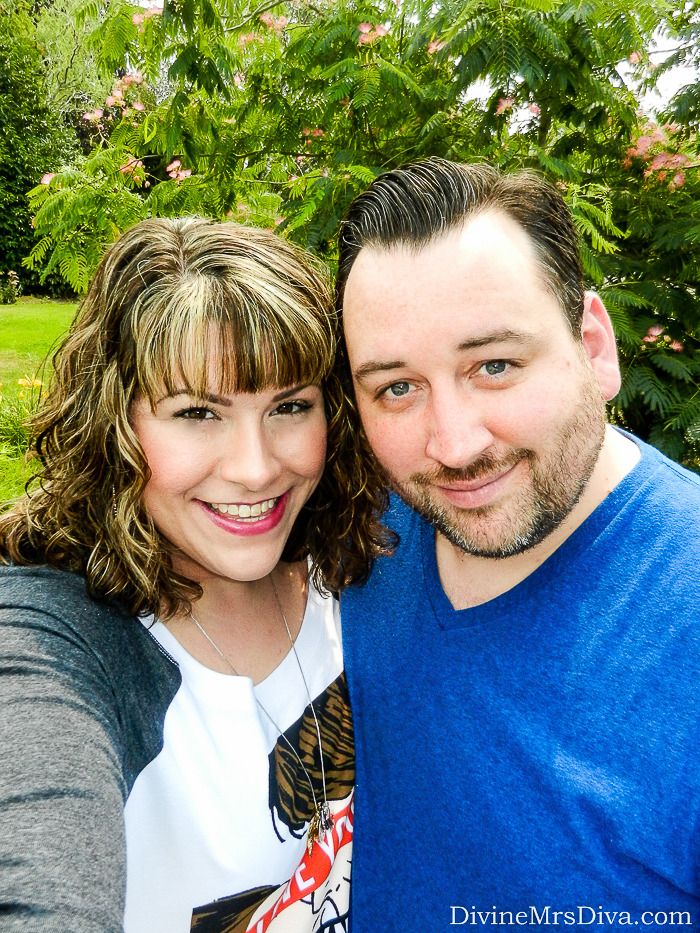 SHOP MORE RAGLAN TEES:
Are you a fan of raglan sleeves? Are you excited about this style and the offerings at Torrid? Are you a casual girl or do you always prefer to be a bit more dressed up? Let me know in the comments!