I've been a New Kids On The Block fan for 29 years. I was always out and proud about it, so I was picked on relentlessly for it - both at home and at school. I credit the New Kids' inspiration and my experience as a Blockhead in helping me become a person of integrity. I stand up for what I believe in and what I love, and I have the New Kids to thank for teaching me that at a very early age.
Despite my level of endless adoration, I was never allowed to go to a concert, much less a New Kids concert, when I was a kid. So when the New Kids got back together in 2008, I vowed to go to every concert I could possibly get to in an effort to make up for lost time. Sean and I even pushed our honeymoon back a week so I could attend the reunion shows in my area. I've spent the last nine years livin' it up at twelve NKOTB concerts. I've met and greeted the guys. I've been sang to and winked at from the stage. I've had amazing seats. I've even watched their
Coming Home
DVD in a movie theater
with
the New Kids! I've traveled to new cities, made new friends, and gotten closer to old ones.
All this to say, I continue to be extremely grateful to be able to have these experiences. I'm grateful the guys got back together. I am grateful that I can afford to go to the shows and travel. I am grateful that my husband isn't an asshole (
like a LOT of these other women's husbands are
) and supports/admires/cares about my love for the New Kids. It is such an important part of who I am. And every concert things happen that make the 12-year-old in me feel so validated and excited and loved. It's a good time.
I wasn't going to write an intro this long, but I got all emotional. I recently attended my thirteenth and fourteenth New Kids concerts in Portland and Seattle. I'm still editing concert pictures, but I thought we'd talk about what I wore first. Today I'll be showing you my concert outfits and reviewing new-to-the-blog pieces from Melissa McCarthy Seven7 (shorts comparison!) and Torrid.

In dressing for concerts these days, I start by deciding on what comfortable shoes I am going to wear and working my way up from there. I don't tend to get dressed up for a concert because I want to be comfy, relaxed, and I'm just gonna dance and sweat during the show anyway. I don't believe in sitting down at a concert. While I don't buy into the whole "You shouldn't wear a shirt with the name of the band to a show by that band" rule, I went ahead with my New Kids tee because our seats were farther back near B stage. When I know I am going to be up front and seen, I like to go with brighter, more eye-catching clothing that shows some cleavage. haha
I've owned this New Kids tee since 2013. Thankfully, Torrid carried it because official merch doesn't come in my size. Torrid also had another New Kids tee years before that I also own, though it is a bit more fitted than this one. I've ended up having to make a few pieces of my New Kids clothing to accommodate for the lack of sizes.
Our main focus of this outfit is my new Melissa McCarthy Seven7 shorts. I am wearing the Mini 'M' Pocket Shorts in a size 24, which are out of stock in plus size online now. I
previously reviewed another Bermuda short
by Melissa McCarthy's brand, those being a dark wash denim with a 10" inseam. Compared to those, these 12" inseam shorts are pretty long. I don't necessarily mind the longer length, but it initially took some getting used to. When I put my outfit on before the show, I started having a panic attack and kept telling myself I looked hideous and the shorts were too long and I was too frumpy. Stress and self-doubt usually combine and become a panic attack for me, which is something I am trying to be more mindful of. The negative self-talk is actually a symptom of my anxiety and not the cause of it, but I digress. With a clear head, I know these shorts are super cute.
The denim on these is a bit stretchier and maybe slightly thinner than the previous pair. I like the lighter wash and destruction on the sides. They fit my butt and thighs well and also have the "slimming silhouette system" that the dark wash shorts have. This is basically two panels of thin, stretchy spandex on either side of the zipper that help to smooth the tummy region a bit. It isn't binding or restricting and doesn't add bulk to the garment. I honestly don't even realize they are there. While they aren't acting as Spanx, I feel that these panels do smooth things out a bit. I feel like my larger lower tummy roll looks a bit smaller in my Melissa Seven7 shorts.
I would still like these shorts without the panels because they are extremely comfortable (and we really don't need to look "slimmer" to be stylish or attractive). I have been impressed with how well they have held their shape. And while I know I am taller than most and a 12" inseam won't work for a lot of you, there are multiple inseam lengths available throughout the shorts selections from the brand. Again, I encourage you to
sign up for emails
from Melissa McCarthy's Seven7 site because the sale deals and clearance are amazing! It looks like the Extra 30% off Sale Items is still going on (use code SALEONSALE517). The shorts I am wearing in this post are $80 shorts I bought for $15 during the Memorial Day Sale!! And I recently bought two more pair of shorts from the brand with different inseams to try (a 7.5" and 9"), both $70 shorts that I bought for $50 total. You know I love me some deals!!
New Kids On The Block Tee - Torrid (circa early 2013)
Mini 'M' Pocket Shorts - Melissa McCarthy Seven7 (similar, similar, similar, white)
YourFlex Trainette 3.0 - Reebok (newest versions are 8.0 and 9.0)
Here's Sean in his summery uniform as of late. If you have a Big & Tall guy who needs clothing recommendations, we've found JCPenney to be the best place to find shorts. Online has more selection, of course, but the sale prices are pretty great. Sean's also been loving the henleys from Old Navy and JCP.
We had a great time at the show! We met up with my girl Norman and her husband prior to finding our seats. I haven't seen Norm in quite a while, so it was nice to catch up and hang out for a few. We bought our merch before Sean and I headed down to our seats. We were technically row 20, but it was just a couple rows from B Stage. I was able to run up when it was time to get close. Because we were farther back, I decided not to take
too
many photos during this show and focus more on just enjoying it all and being in the moment. I still took photos, mind you, but I did spend plenty of time just dancing and singing along and taking it all in without a lens in front of me. We met up with Norman again after the show to go over the fun and hug it out!
On Wednesday morning, we drove up to Seattle to get ready for the second of our two shows. We had third row seats the second night, so I wanted something cute and bright. This look has the added benefit of being lightweight and comfortable, so I wasn't as warm as I could have been.
Both the tank and open cardigan are made of a rayon/spandex fabric that is lightweight and silky. This is such a great fabric for warm days because of the light quality, but it is also comfortable to move around in. I am so glad I bought this tank! I love the bright orange shade, the length, and the strappy detailing at the bust. I'm wearing a size 3 and find it fits true to size. The straps are adjustable, though I probably should have made mine slightly shorter. I decided to wear my new
balconette bra
with this top, so my bra was showing in some of my concert photos because I was dancing around so much. It is a low-cut top to begin with, so next time I should wear my plunge bra with it instead. The a-line, or more swing cut, shape of this tank makes it perfect for those of us with larger midsections. There is plenty of room for my tummy and hips without it being clingy.
And for those of you who are a 40B like me - I have only been wearing the plunge bras from Torrid, but decided to buy a couple balconette bras on clearance. I usually have to adjust my boobs in the plunge bras as things shift throughout the day and the cup gets a little big. Fluffing is required. However, with the balconette bra I do not have to adjust my boobs at all during the day. There is no boob settling or gap in the cup at any period of the day. So if your boobs are small like mine and you are having cup issues, try the balconette (which they also call the full coverage bra).
I've already talked about this cardigan in an
At Home Fitting Room post
, but now having worn it out I can reiterate all my first impressions. I love the lightweight fabric, length, and look of the cardi. It goes with way more than I thought it would. The sleeves fit my larger upper arms well. It makes a great layer if you want or need some coverage, but still want to keep things cool and light. Especially for this summer heat or breezy summer nights, this cardigan is perfect! I wish they would carry more colors and patterns because this is more like what I want kimonos to be. This fabric will travel so well!! I am wearing a size 3 and find it fits true to size.
Because of the strappy tank, I decided not to wear a necklace and opted for statement earrings instead. This is my first time wearing these Charming Charlie earrings out and about. I love a big earring! The colorful chains and embellishments called to me. I did find that I had to pinch together the actual earring hook where it goes into the main part of the earring. Otherwise, it was easy for the hook to come off the earring in my travel bag. Still, they are a welcome addition to my accessory collection because of their colorful nature!
Multi Strap Swing Cami Top - Torrid
Tie Dye Open Front Cardigan - Torrd
Destructed Weekend Capri - Lane Bryant (similar, similar, similar)
Stretch Sole Flats - Crocs
Multi-Colored Fringe Chandelier Earrings - Charming Charlie
We had precious little time to waste walking from our hotel to the venue. I stopped to take some outfit photos, but then everyone thought I was a photo-taking expert so they kept stopping to ask us to take photos of their groups of friends. I don't mind lending a hand, but we were short on time as it was. And let's not talk about how the Ariana Grande terrorist ruined security check stuff and made Sean take his cameras back to the hotel. Let's not talk about how, once inside, I found out my camera battery compartment was broken so my batteries weren't showing as fully juiced and it was harshing my vibe. Let's not talk about the old man and his twenty-year-old "girlfriend" who sat in front of us and made out during the show; and we mustn't discuss how that same child was so flabbergasted that she wasn't even born when New Kids were most popular that she sat down the rest of the concert and then her and said sugar daddy left the show early. We mustn't talk about these things for my sanity.
However, I can tell you that (with the help of some anti-anxiety "medication") I calmed down eventually and enjoyed my third row experience to the fullest, complete with Jordan pelvic thrusting ten feet from my face. Sean and I danced, sang, and waved our hands in the air like we just didn't care. It was a great show! We walked back to our hotel afterwards, enjoying the cool night air.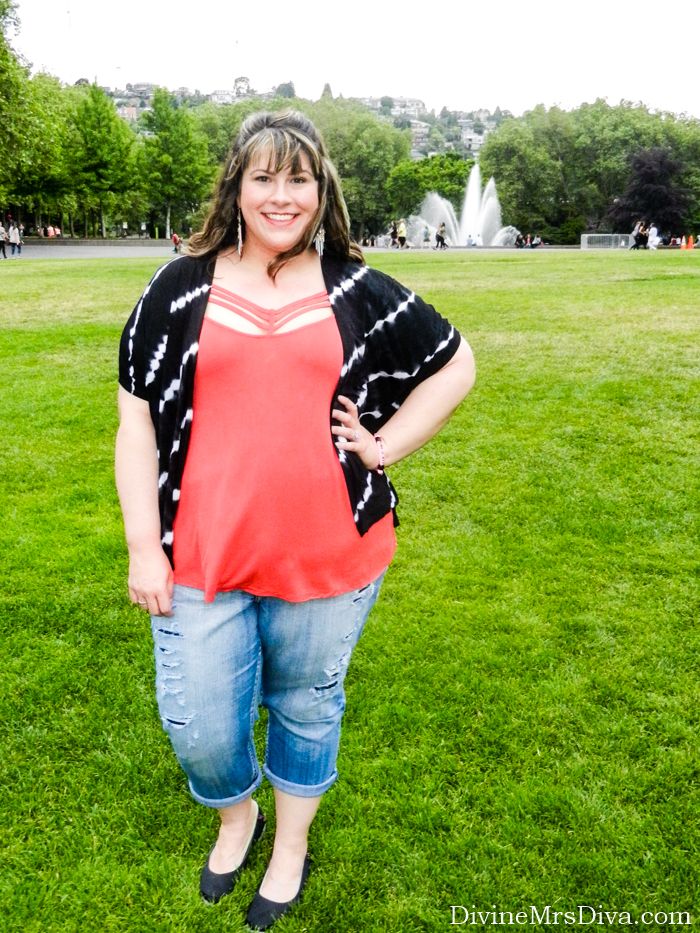 Stopping for photographs in Seattle Center