I've been looking for a great pair of purple jeans for at least a couple years now. During Black Friday last year, I purchased the
Ice Dye Ankle Jeggings
from Slink Jeans. I first talked about them on the blog in this
At Home Dressing Room post
, but it has been too chilly for me to wear them practically. Because they are ankle jeans, normal socks and sneakers wouldn't work for me. Now that it is warming up, I've been able to start wearing them. At first I thought purple was a bit impractical, but I have come to realize I have quite a bit that complements them well.
Today's blog post is a review of the jeans, my first purchase from Slink, and a couple of looks with them - one dressier, one casual. I have also included little reviews of new-to-me shoes and jewelry at the end of this post. Enjoy!

- All opinions presented are my own and without influence. This post contains affiliate links and I will be compensated if you make a purchase after clicking on my links. -
Look #1 - Dressing it up!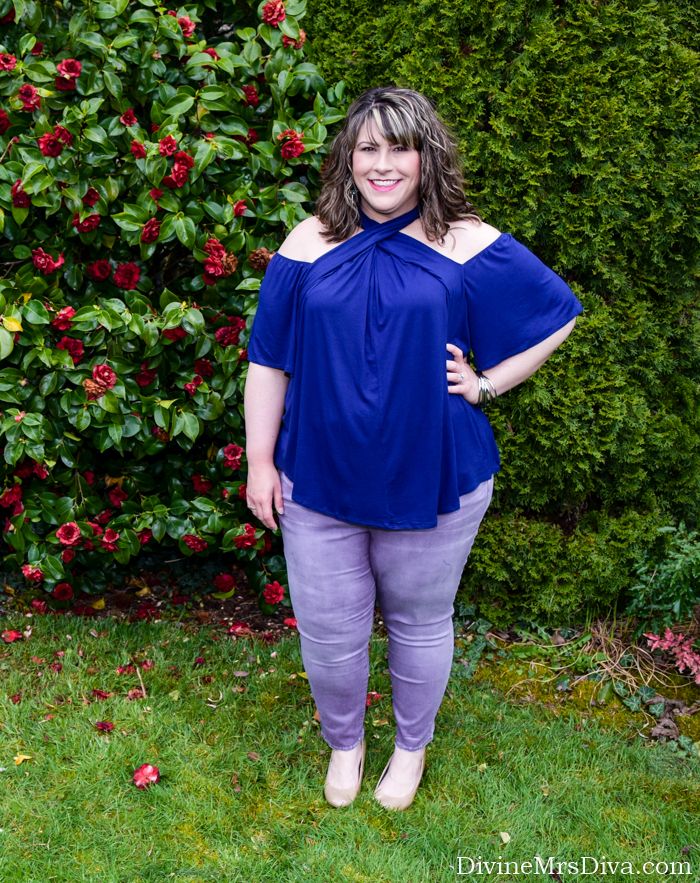 First, let's talk about these jeans! I was a bit skeptical about buying Slink Jeans because they are really expensive. But they also look amazing on everyone I have seen them on. Over Black Friday there was an extra coupon code, so I went ahead and took the plunge. Slink Jeans are available in sizes 10 to 24. These particular
Ice Dye Ankle Jeggings
also come in pale versions of pink, olive, brown, blue, and grey. They retail for $88 but are all on sale for $44, though sizes available vary per color.
I am wearing the 24 and find it fits pretty true to size. I could *almost* order a size down because the waist is a little bigger than I would like (maybe two inches), but otherwise I feel they fit very well. I seem to be having the issue with a lot of jeans lately where the waist is four to five inches too big, but the rest of it fits fine. I guess my body is still changing around, which is incredibly frustrating for a shopaholic clothes horse like me. These jeans are very soft and stretchy. I was able to wear them twice before I felt I needed to wash them to shrink them back to size. With the waist being a bit larger on me, I'm not surprised I couldn't wear them more before needing to wash them. Still, they are supremely comfortable to wear. The ankle length is perfect and I love the pale purple shade. It isn't quite a pastel as the website photo, which made me happy. I definitely want to order another pair while they are still available. I'm leaning towards the brown.
In styling the jeans for the post, I knew I wanted to do two different looks to dress the jeans up and down. For the dressier of the two, I opted for a neutral top in this navy Florence Flair Halter Top from Kiyonna. You can read my original review of the top
here
. I was gifted the Magenta color and then bought the Navy because I love it so much! It has a really generous cut that contrasts with the form-fitting jeans. I opted for nude wedges that didn't compete with the colors in the outfit, and topped it off with spiky silver and blue earrings that I, unfortunately, forgot to photograph. I think this look is sassy but comfortable and great for going out to dinner or drinks.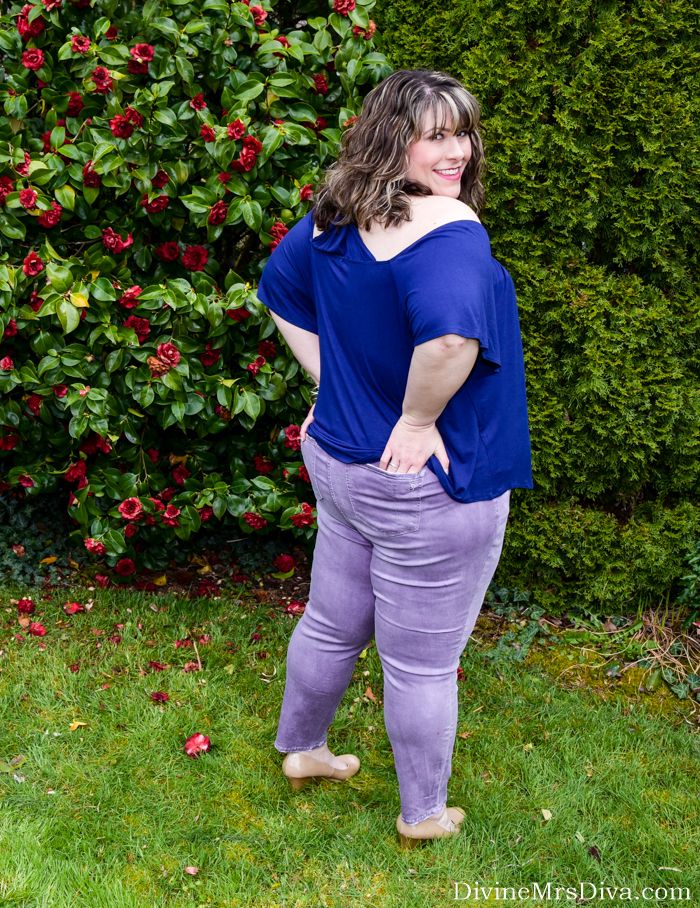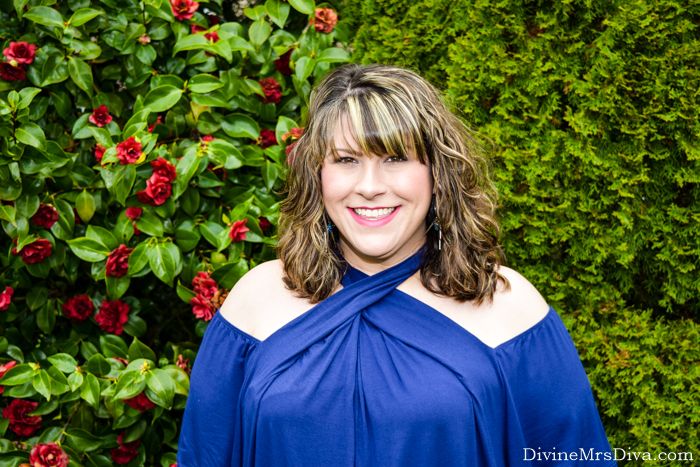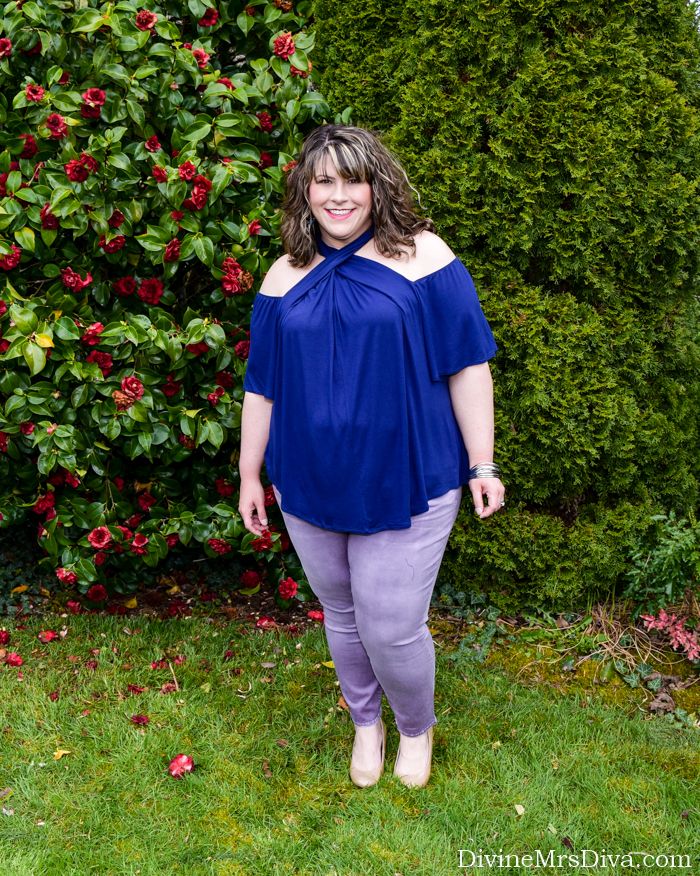 The Ice Dye Ankle Jegging in Passion Flower Purple
- Slink Jeans
(Also available in Pink Lavender, Greystone, Walnut, Olive, and Blue Mist)
Florence Flair Halter Top
- Kiyonna
Nude Wedges - Payless (
similar
,
similar
)
Silver Bangle Bracelets - Lane Bryant (
similar
,
similar
,
similar
)
Look #2 - Casual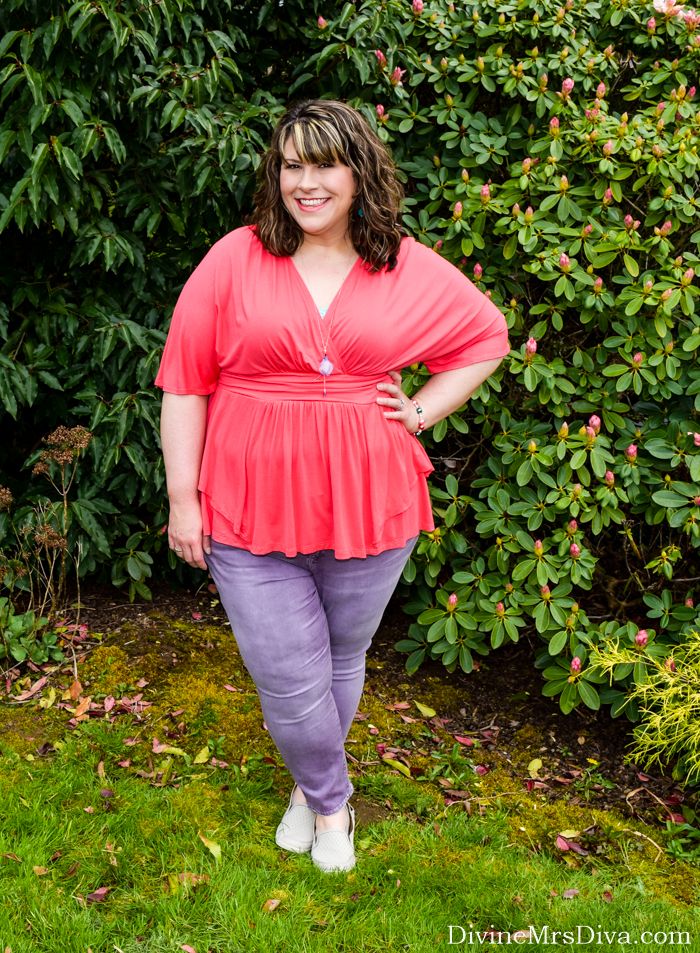 For a casual, errand-running ensemble, I chose color! I was inspired by a colorful tote bag I bought in Hawaii that had a gorgeous coral color alongside turquoise and purple and yellow, etc. So I pulled out my trusty Promenade Top, also from Kiyonna, for a perfect outfit with the three C's - cute, colorful, and comfortable. I layered a pale blue lace-trim tank underneath the top for some added color, but the Promenade isn't really a low-cut style on me so the blue barely peeked out. I also went with nude shoes for this look, but opted for colorful jewelry instead. I will review those accessories below. I actually wore this outfit on Easter when Sean and I ran errands to Ikea and the like, before venturing over to my mother-in-law's house for dinner.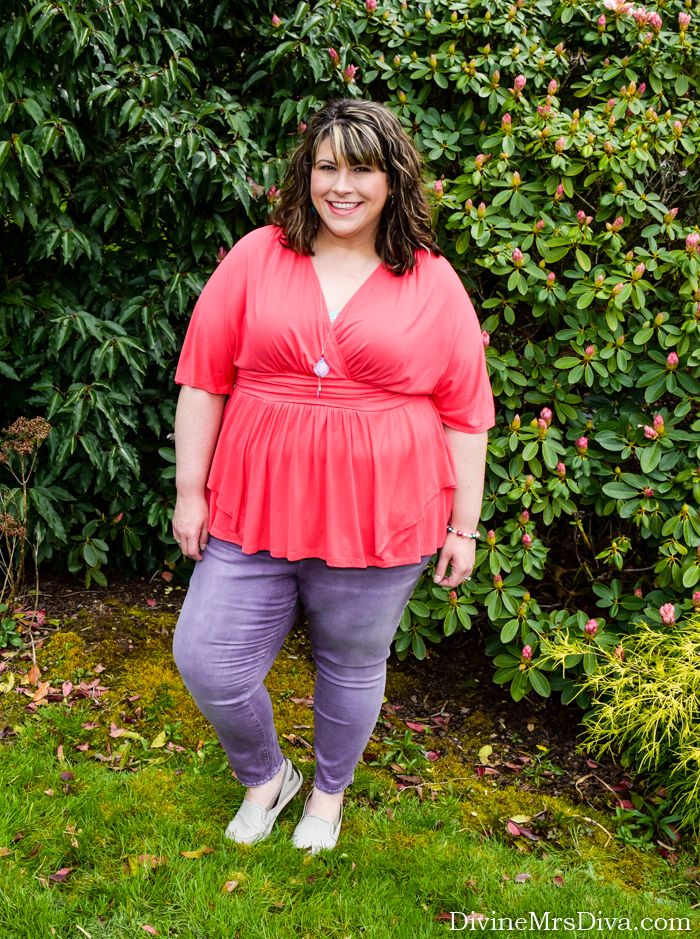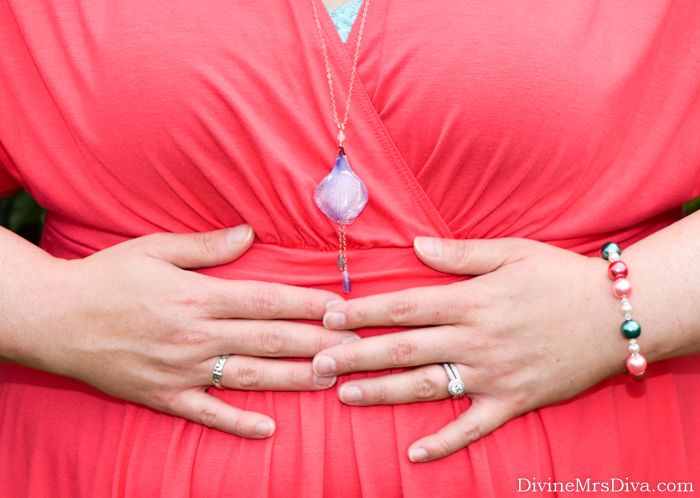 The new shoes are Rockport Cobb Hill slip-on sneakers I found on Amazon. I had recently purchased
the plaid Danskos
and loved them, so I searched for a more neutral pair of the same style. I bought these sneakers in February, so they were substantially cheaper than they are now. I believe they retail for about $85, but were on sale for $35. I am wearing an 11M and find they fit very well. I like the metallic trim at the back and little cut-out details on the side of the heel. These shoes are comfortable and didn't rub the back of my heel like I thought they would. I'd really like to get the floral pair if the price goes down again. In the photo I am wearing a darker taupe sock, so that is the darker color you see around the edges.
My pearl bracelet was actually made by me for our trip to Hawaii, but the necklace and earrings are from
Nagasako Designs
. They are based in Lahaina, Maui and make orchid petals into wearable jewelry. They offer many different colors and varying styles with chains and beads, and even whole orchids. I really wanted a souvenir from our wonderful trip that represented Hawaii well. And since we stayed near Lahaina for our honeymoon and most recent trip, it felt more special. I chose the petal necklace with a beautiful purple petal and dangling beads. For earrings, I decided not to be matchy-matchy and chose bright turquoise petals, also with dangling beads. I love these unique pieces so much and added a few different pieces to my birthday wishlist as well. The glassing doesn't feel heavy like glass. I am not sure what they use, but it feels more like a strong, lightweight plastic. Still, they are very pretty. I love being able to see all the little veins and details of each petal.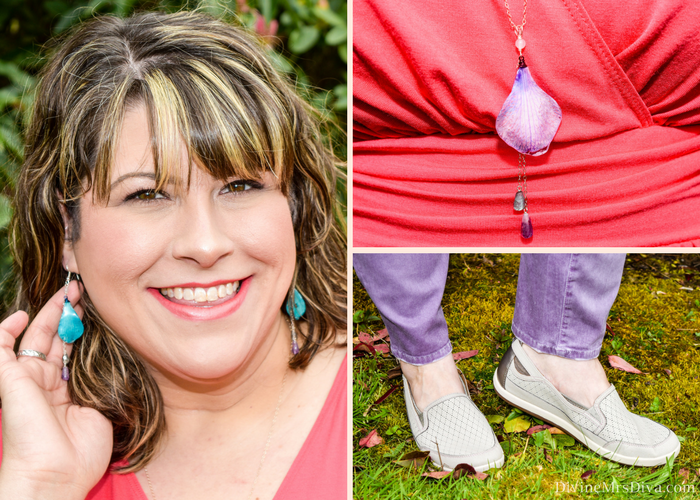 The Ice Dye Ankle Jegging in Passion Flower Purple
- Slink Jeans
(Also available in Pink Lavender, Greystone, Walnut, Olive, and Blue Mist)
Promenade Top
- Kiyonna
Rockport Cobb Hill Zahara Flat
in Taupe - Amazon
Moana Earrings -
Nagasako Designs
(
similar
)
Laniakea Petal Necklace with Chain Dangles
- Nagasako Designs
Colorful Pearl Bracelet - DIY
How would you style purple jeans? Have you tried Slink Jeans yet? What is your favorite or most special souvenir from a trip?