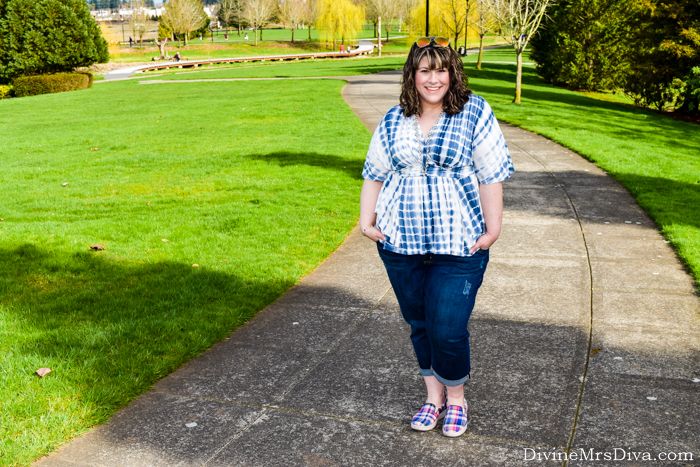 I'm always looking forward to seeing what styles Kiyonna (
sizes 10-32
) introduces for the spring and summer. While they always bring classic silhouettes in pretty colors year round, with festive frocks and interesting details thrown in, I enjoy their use of patterns and color that pop up in the warmer months.
I'm a long time fan of the
Promenade Top
, so I am really happy to be sharing a review of the new Indigo Tie Dye version, with a little review of these denim capris by Melissa McCarthy Seven7 and my new Dansko sneakers thrown in. Enjoy!


- Kiyonna gifted me the top for this post. All opinions presented are my own and without influence. This post contains affiliate links and I will be compensated if you make a purchase after clicking on my links. -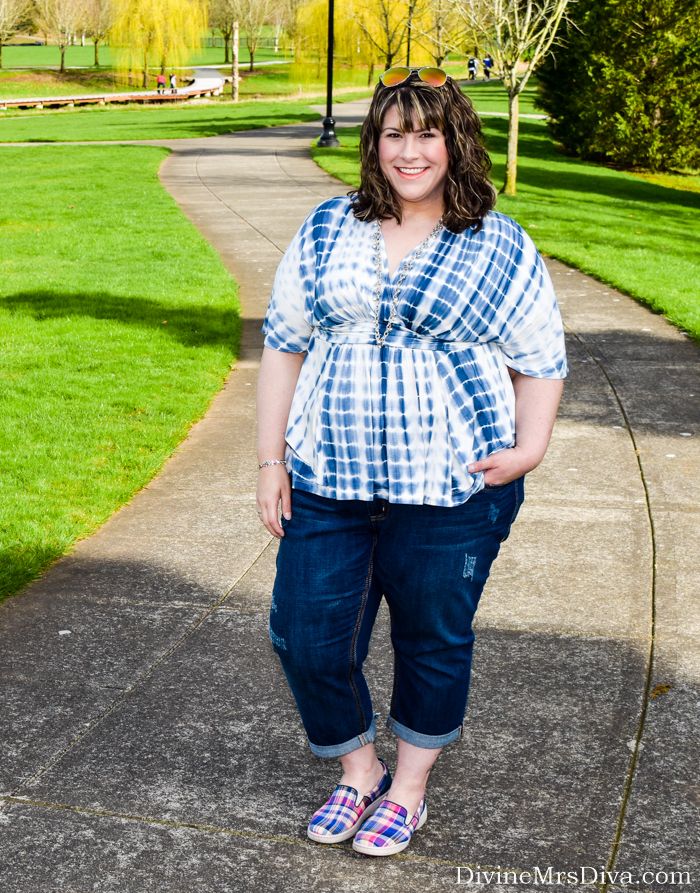 We finally had a day of sun!! Sean and I were excited to be able to get outside for a bit on this gloriously sunny day. We took photos at our favorite neighborhood park and then brought Finn for a few laps around so we could all enjoy the weather. Finn does really well on the leash and never barked at humans, other dogs, or the occasional squirrel. I was excited to be able to take some outfit photos for the blog as well. I have a few looks coming up with this summery tie dye number up first.
As I mentioned, I am already a big fan of the Promenade Top. I initially tried it back in 2014 when I took
the coral version on a trip to Seattle
. When Kiyonna released a striped version, I immediately bought one for myself. The
striped version always comes with me
on trips and vacations because it is such a comfortable, no fuss top to wear and the colors make it work with pretty much anything.
For reference, I typically wear a size 22/24 and a 3X in Kiyonna. I am 5'9" and my measurements are 52/49/58. I wear a 40B bra.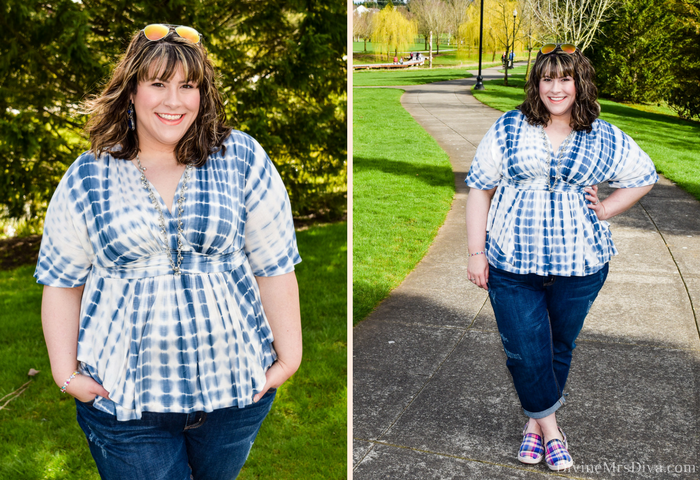 Enter the new
Indigo Tie Dye Promenade Top
(
also available in black and mahogany
), definitely a new favorite that will be in heavy rotation during the sunny months. I'm wearing the top in a 3X and find it fits true to size. The ruched empire waist is very comfortable and helps accentuate my bust, which is always great to me since I have smaller boobs and feel like a lot of tops don't fit quite right in that area. The v-neckline is not too low, but you can easily layer with a tank or cami. Other details I love: the kimono sleeves offer coverage with a looser fit while the A-line draped "skirt" of the top flows nicely over the body. The hem hits right below mid-hip on me, which makes me very happy.
Soft, stretchy knit of rayon/spandex makes this top lightweight and extremely comfortable. While it does need light ironing, especially after packing it in a suitcase, I find that it doesn't wrinkle easily when being worn. I typically only iron it after I wash it and can wear it multiple times without needing to iron it again. The tie dye pattern is really fun! I love that the color is more saturated in areas and not completely symmetrical. The blue and white print can be a great neutral for pairing with other colors. And while Casual Me usually pairs this top with jeans or denim capris, it also looks great with shorts and pencil skirts as well. Your styling and accessorizing can dress this top up just as I have dressed it down, which gives it that extra versatility.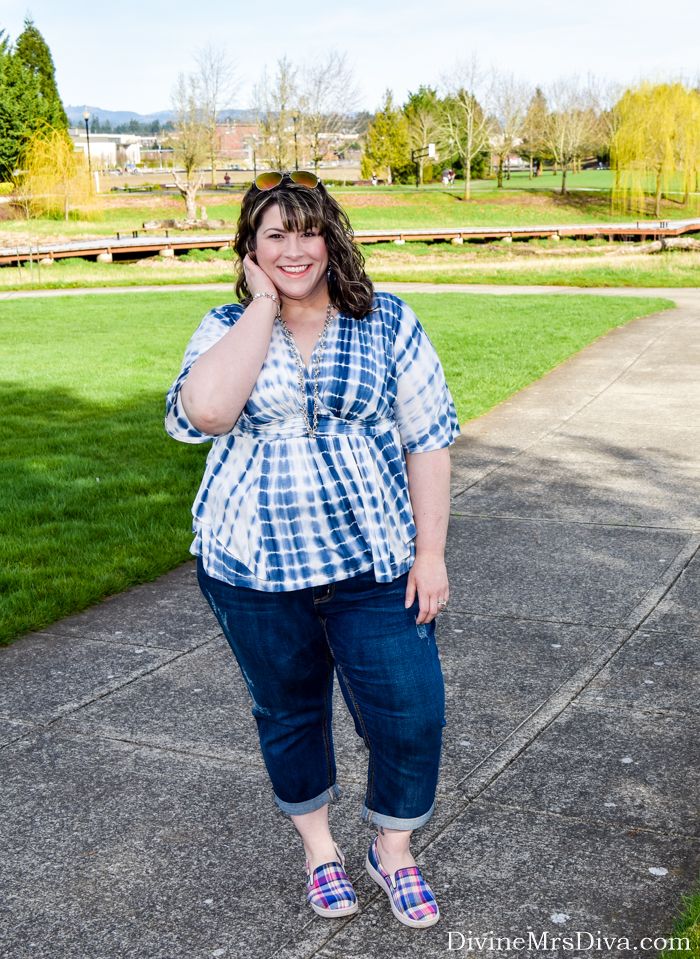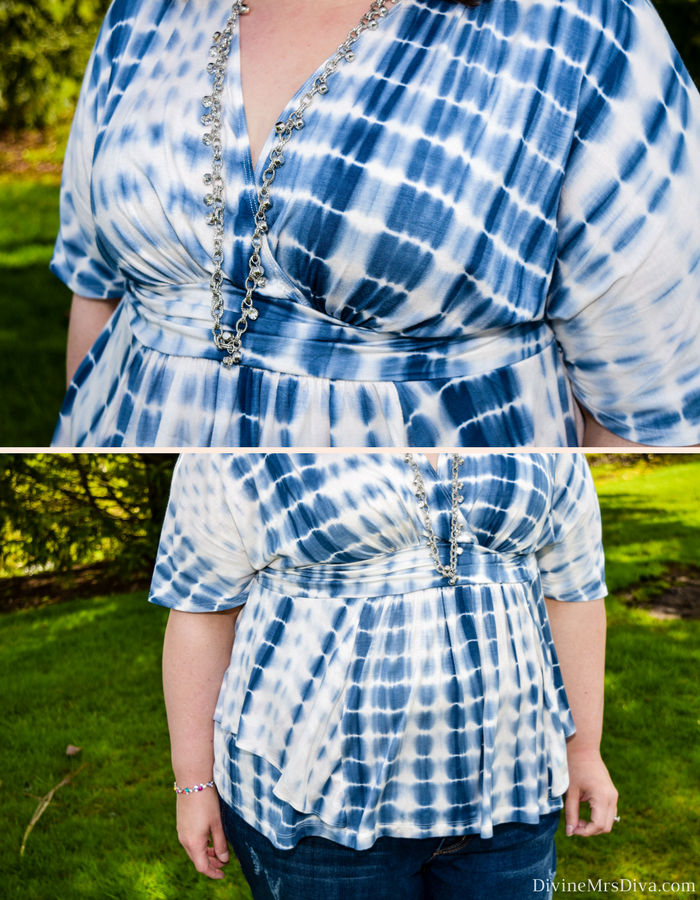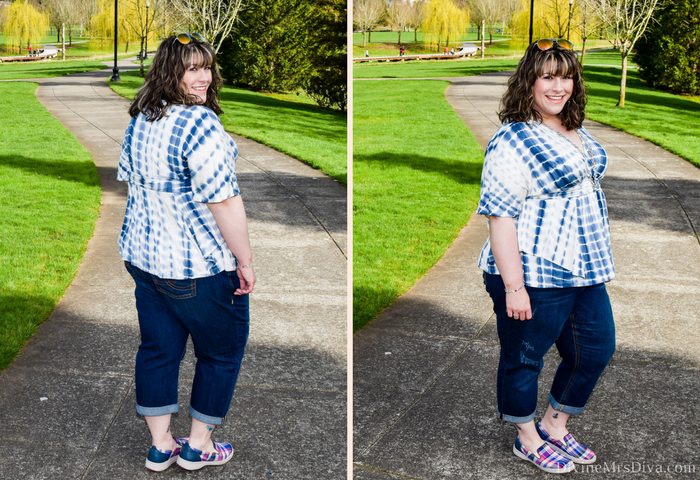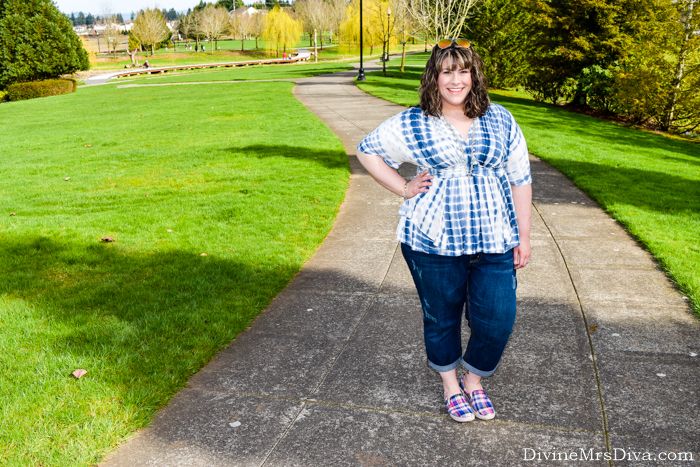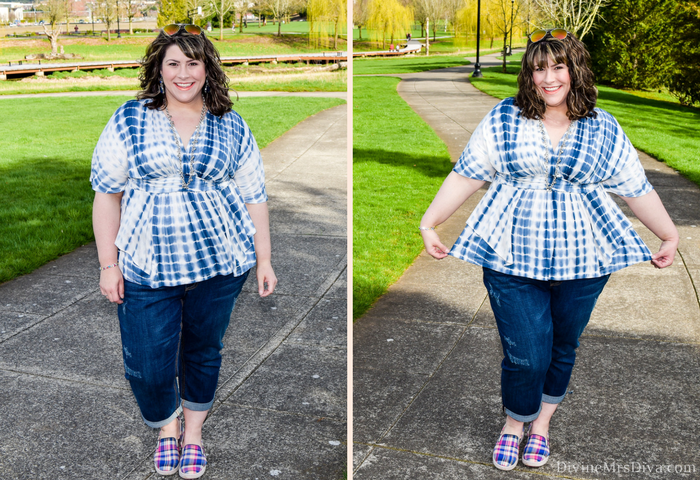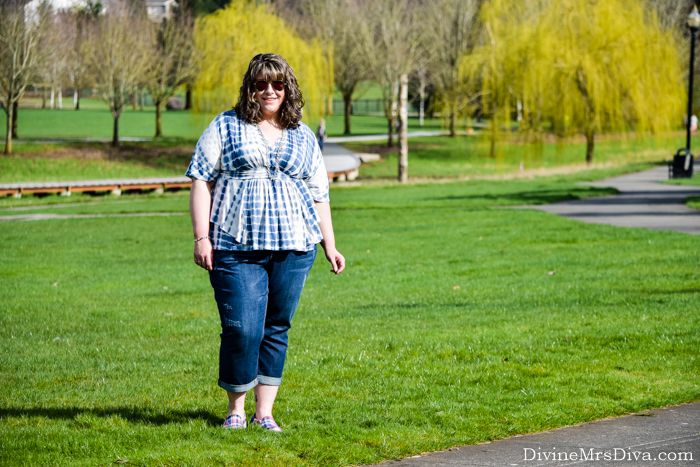 For casual hanging out in the park, I paired the Promenade Top with my new Melissa McCarthy denim capris. This is the first item from the brand that I have owned, though I tried on a pair of jeans in-store. Those fit amazing, but were about six inches too long for me. Cut to Lane Bryant having a sale, so I snatched up this capri pair knowing those couldn't be too long. I am wearing a size 24 that fits well in the waist and tummy but seems a little baggy elsewhere. A 22 would probably be too small in the waist, so I am sticking with these. They definitely have more of a boyfriend style to them, but I am hoping they shrink just a wee bit in the wash. The capris are incredibly soft and comfy with slight distressing on the sides. While the fit of the butt and thighs isn't as impeccable as the pair I tried in store, I still like them.
Also new to the blog are these plaid Danskos! I found them on sale on Amazon and debated about them before my friend Kelly talked me into making the purchase. I'm really glad I did. These are my first pair of Danskos and are incredibly comfortable. I took them with me to Hawaii for our walking excursions. I love the pop of pink in the plaid and find they go with a lot more than I thought they would. While I usually wear an 11 and need a slightly wider shoe, I ordered these in the 11.5-12 medium width on Kelly's advice. They fit perfect!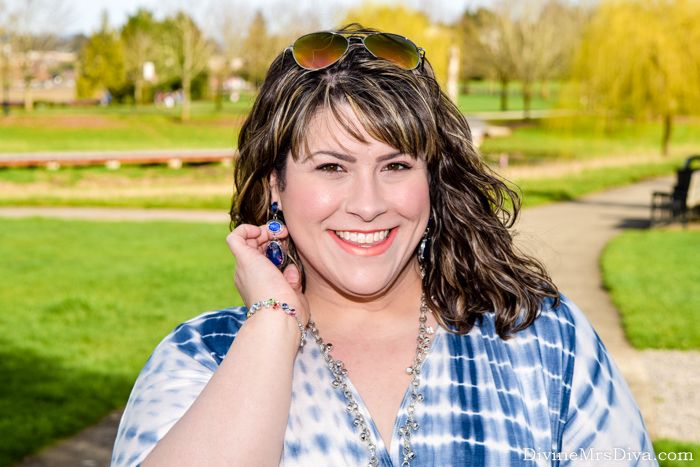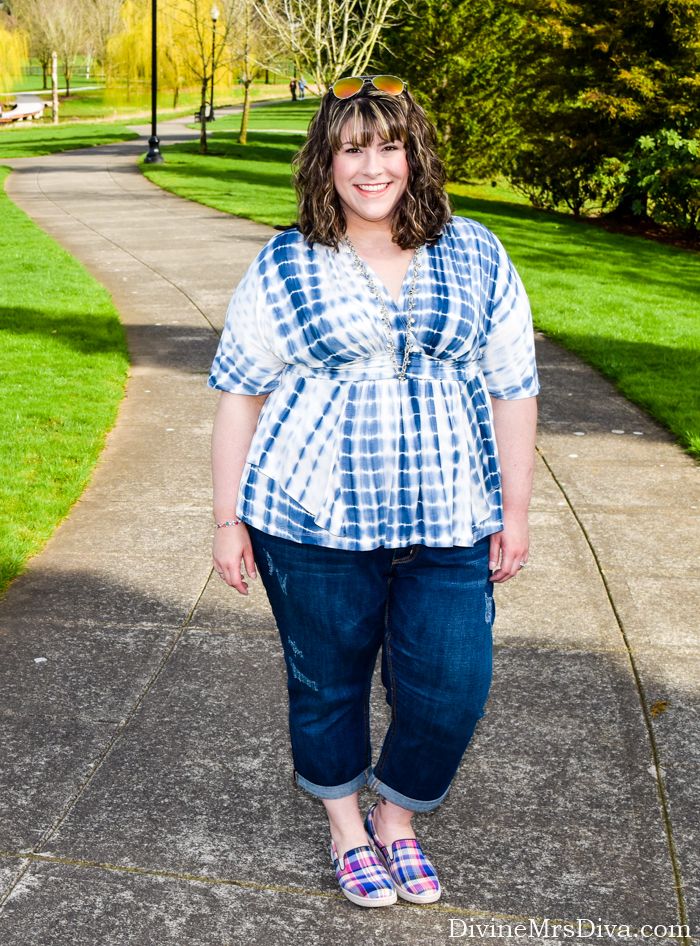 Promenade Top
in Indigo Tie Dye - c/o Kiyonna
Denim Crop by Melissa McCarthy Seven7
- Lane Bryant
Dansko Belle Blue Madras Canvas Sneaker
- Amazon
Silver Link Necklace - Lane Bryant
Callura Swarovski Cluster Bracelet
- Zulily
Blue Drop Earrings - Charming Charlie
Dudma Premium Full Mirrored Aviator Sunglasses
- Amazon
Lipstick:
The Twirl
and
Flitter
from Colourpop
Are you a fan of the Promenade Top? Do you have a go-to style that you like to buy multiple colors of? What patterns/colors would you like to see more of? Do you have any favorites from Kiyonna's new arrivals? Chat with me in the comments!