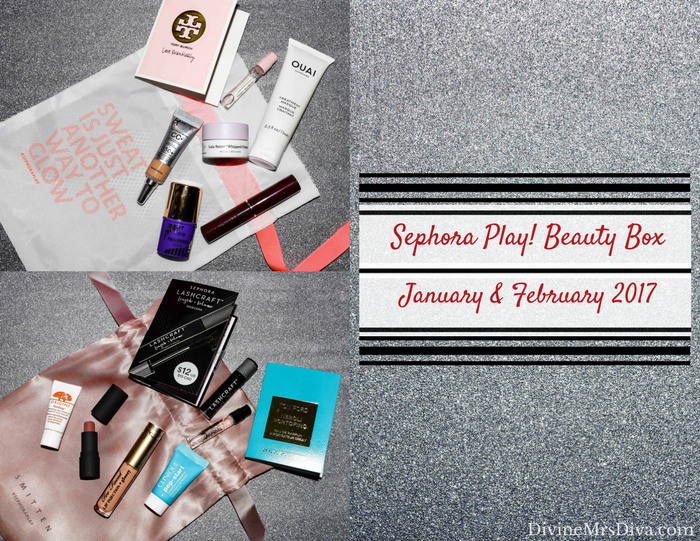 Hello, my friends! Today I'm bringing you a review and look at my January and February Sephora Play! boxes. I know I am behind again in sharing these with you, so I will be back-dating past reviews for the end of last year.
Sephora Play!
is another monthly subscription box with five samples of makeup, skincare, and/or haircare, and a fragrance sample. The box is $10 a month. The products are all items that Sephora carries, so they are easy to shop for if you decide you want a full-size product. Each box comes with a fold out pamphlet with information on each product and tips on how to use it. And if you visit a store and take in your PLAY! card sent with each box, you can earn 50 extra points with the purchase of a full-size item.
They currently have an on-going off again, on again Wait List. You join the Wait List with your email address and will be notified via email when the list is open and you can sign up. I have been really happy with this subscription so far. Although I love each subscription I get for various reasons, right now I think Sephora is my favorite out of the three I am subscribed to (
Birchbox
,
Ipsy
,
Sephora
).
Let's get to reviewing!

- This is not a sponsored post. I pay for my own Ipsy/Birchbox/Sephora Play! subscriptions. All opinions presented are my own and without influence. This post contains affiliate links and I will be compensated if you make a purchase after clicking on my links. -
January 2017 - Beauty, SET, GO
Tarte FRXXXTION Stick
($22 for 1 oz)
This product is a twist-up exfoliator, cleanser, and face mask in a portable, solid-to-suds stick. The clarifying cleansing gel uses suspended diatomaceous earth microexfoliants to draw out surface oil and reduce shine, while purifying pores with a non-harsh exfoliation. It has the added benefits of fighting dullness and can be used on a regular basis without stripping the skin of moisture. I am pretty picky about the amount of exfoliation I need and like a very fine but abundant amount in my products. That said, I really like this cleanser. I dampen my face with water and then run this stick all over my face and cleanse in circular motions. It is GREAT for travel and super easy to use. The product doesn't have a discernible scent. No Parabens or Phthalates. Vegan. Hypoallergenic.
Ouai Treatment Masque
(8 x 0.3 oz treatments for $32)
I love the Ouai line and have loved the other products by the brand, so I was definitely looking forward to trying this. It is a restorative mask to help care for damaged hair by giving it a soft, smooth finish while helping to strengthen the hair against future damage. The sample size only gave me two-ish treatments worth, which isn't always enough for me to properly review it for you. The formula is more liquid than your typical deep conditioners and the like. The scent is a clean smell that wasn't overpowering to me. I think it did help to hydrate my hair, though I would have liked more properties to make my hair smooth to brush out after my shower. It doesn't claim to be a leave-in conditioner; that is just something I wish it did also. I like this product, but I like my deep conditioner better. No Parabens or Phthalates.
Drunk Elephant Lala Retro Whipped Cream
($60 for 1.69 oz)
This whipped moisturizer is a creamy formula that brightens and improves firmness without being heavy or greasy. It contains Virgin Marula oil (to hydrate and care for skin), Mongogo oil (to protect against UV damage), Baobab oil (rich in antioxidants and anti-inflammatory), Kalahari Melon oil (to nurture and moisturize), and Passion Fruit oil (rich in essential fatty acids). I've worn it overnight for a week and find that my super oily skin is a little greasy in the morning, but not as oily as when I wear my First Aid Beauty Night Cream. I like the light but moisturizing feel of this cream and have added it to my list of favorites. The product doesn't have a discernible scent. No Parabens, Phthalates, or Sulfates. Cruelty-free and Gluten-Free.
Clinique Almost Lipstick in Black Honey
($17 for 0.07 oz; Also available in Pink Honey)
I have been hearing about this cult classic shade for years, but have never tried it. The deep, blackened raisin hue was developed by Clinique in 1971 as a color that would look good on everyone. Apparently, someone in the U.S. buys a Black Honey lipstick every three minutes. As lipsticks go, this feels very hydrating and lasts a while. But I wouldn't call it a lipstick. It is super sheer and is more like a slightly tinted balm. No color shows when I wear it. It feels smooth and hydrating, but otherwise it didn't make me buy into the hype. No Parabens. (
Swatch below
)
It Cosmetics Your Skin But Better CC+ Cream SPF 50+ in Medium
($15 for 0.4 oz or $38 for 1.08 oz; Available in 5 shades)
I am already a huge It Cosmetics fan and actually wear the CC+ for my every day makeup. It is infused with an anti-aging serum made of hydrolyzed collagen, peptides, niacin, hyaluronic acid, vitamins, and antioxidants to help diminish the appearance of wrinkles and pores. While I don't know for sure if it is helping me or if it is my new skincare regime, I am pretty happy of how my skin looks overall. It also contains SPF 50 UVA/UVB broad spectrum physical sunscreen, which makes one less thing I have to put on my face when I get ready. The Medium shade is a bit too dark for me though. I have to mix Light (a little too dark for me) and Fair (a little too light for me), which makes it kind of expensive. It is full coverage, which I prefer right now, and blends really well. The CC+ cream isn't as thick as the concealer, if you have any experience with it. I do use the concealer as well. So yes, I like this product, but I will have to mix this shade into things for it to be wearable for me. No Parabens or Phthalates. (
Swatch below
)
Tory Burch Love Relentlessly
(Available in 0.20 oz for $28, 1.0 oz for $68, 1.7 ox for $86, and 3.4 oz for $115)
Y'all know I am picky about perfumes, so I am not usually too interested in fragrance samples. I love that Sephora PLAY! includes the sample as an extra and not as one of your five samples. This Tory Burch perfume smells nice to me, but I don't
love
it. It is warm and floral-ish with a hint of clean soap to my nose. It reminds me of an Elizabeth Arden perfume I had in my teens. The key notes are Pink Pepper, Rose, Orris, and Sandalwood. Actually, sniffing it right now to type up a review for you, I like it a lot more than I originally thought. There is something warm and familiar about it that appeals to me.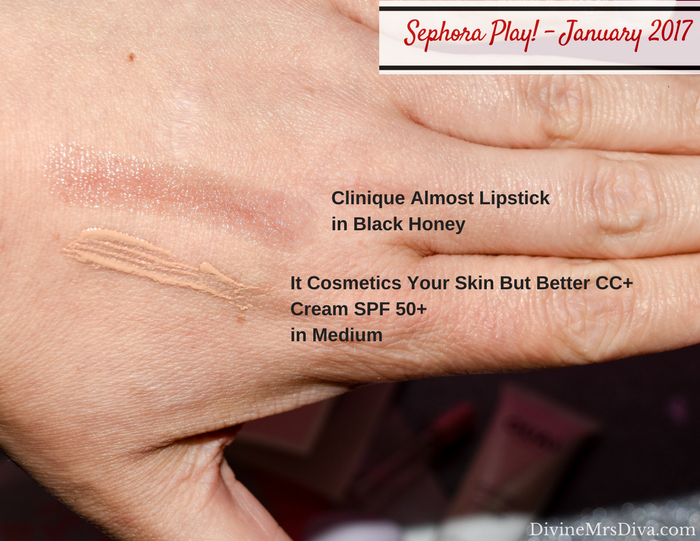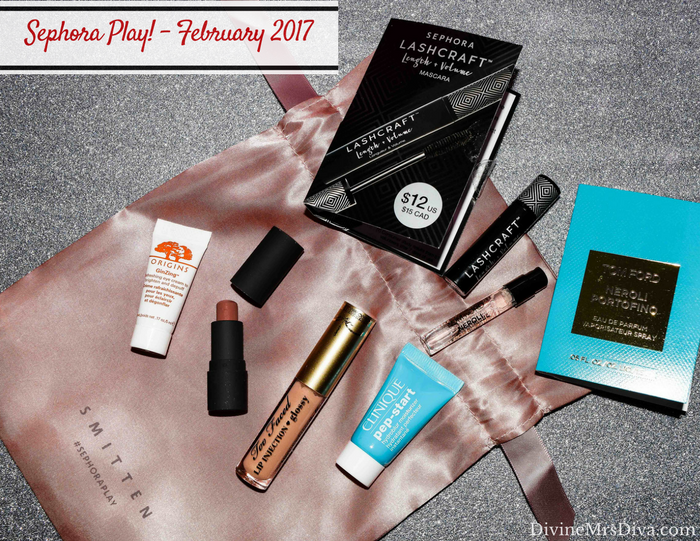 February 2017 - The Soft Side
Clinique Pep-Start Hydroblur Moisturizer
($9.50 for 0.5 oz or $29.50 for 1.7 oz)
This lightweight, oil-free moisturizer can also act as a primer, blurring imperfections while providing hydration with a soft-focus finish. It is also said to control shine and can be patted on during the day. I don't feel like I have worn it enough to give a clear review about the job this does. When I have worn it, I was not more oily and I do feel like it helped a little bit with shininess. However, I don't think it acted too much as a primer or imperfection blurring tool. While it may be great as a moisturizer, I just don't think it has the power to perform as an oil control product and primer up to my standards.
Bite Beauty Multistick in Cashew
($24 and available in 18 shades)
This multistick applies like a cream and wears like a powder for a more weightless feel. It can be applied to eyes, lips, and cheeks for a natural, build-able look. I love Bite Beauty and am always a fan of the lip products I have purchased from the brand. A friend of mine bought a multistick not long after they came out and loved it. She told me I needed to get one but I wasn't sure what color I should get. I think the versatility of this product is very dependent on you finding the right color for yourself. While Cashew looks okay on me as an eyeshadow and blush, it does not look good on me as a lipstick. It gives me a weird purple-gray hue. I think warmer colors like Brioche, Spicy Peach, Macaroon, and Papaya are more suited to my skintone. If you are a minimalist when it comes to makeup or need a versatile product in your purse, this may be a great find for you. I would love to try another color. No Parabens, Phthalates, or Sulfates. Silicone-free and free of petrochemicals. Natural, food-grade ingredients. (
Swatch below
)
Too Faced Lip Injection Glossy in Milkshake
($22 for 0.14 oz; Available in 6 shades)
This product is a tinted version of the Too Faced Lip Injection gloss that has been around for a while. It uses a patented formula based on medically-proven blood vessel dilating technology to give you plumper-looking lips. The gloss is infused with botanicals like jojoba and avocado oil to help soften, smooth, and hydrate your lips as well. These products do tingle and sting and maybe burn and smell chemically, but they do work at plumping lips. When I cleaned my hand after photographing the swatch, I had a bright red streak on my hand from the gloss doing its plumping work. The mark lasted for hours. I am sure if you have really sensitive skin, this may not be the best thing for you. Milkshake is a nude color with fine sparkle. It is really pretty, but I do find the plumping properties work less if applied on top of a lipstick or other balm. No Parabens, Phthalates, or Sulfates. Cruelty-free and Gluten-Free. (
Swatch below
)
Sephora Collection Lashcraft Length & Volume Mascara
($7 for 0.169 oz or $12 for 0.33 oz)
I am super picky about mascaras, so it is rare I like one sent as a sample. I need tubing mascaras to prevent the racoon eye on my oily skin. (Except for the
Benefit Roller Lash
. That is a non-tubing mascara that works really well for me.) This Sephora mascara claims to lengthen, define, and volumize lashes. It is infused with nylon for a sleek, clump-free, and stay-all-day look. This mascara didn't seem to give me any pigment underneath my eyes when I wore it. It does great at lengthening lashes, but I don't think it really delivers on volume. It isn't my favorite mascara, but better than most other samples I have received in that category. I will mention, it says that it comes off with warm water and soap. But I had to scrub my lashes with my eye makeup remover to get it off. I lost some lashes in the process, so I don't think I can fully recommend it. There are far easier-to-remove mascaras that perform much better, though they may not be $12.
Origins GinZing Refreshing Eye Cream
($30 for 0.5 oz)
This is a product I have used multiple times. I used to buy the Black Friday deal from Sephora and it has also come in all my beauty box subscriptions. It is an energizing eye cream that wakes up tired eyes and helps combat dullness, puffiness, and dark circles. Some people absolutely swear by this cream and some people hate it. While I think it is decently hydrating, I haven't noticed any other benefits. I think the
Belif eye cream
and
Derma E Hyaluronic eye cream
I have been using have shown more benefits than this one. No Parabens, Phthalates, or Sulfates.
Tom Ford Neroli Portofino
(1 oz for $145, 1.7 oz for $225, 3.4 oz for $305, and 8.4 oz for $595)
This perfume claims: "Vibrant and evocative, this scent channels the Italian Riviera with its sparkling citrus oils and floral notes." It has notes of Tunisian Neroli, Italian Bergamot, Sicilian, Lemon, Winter Yellow Mandarin, Orange Flower, and Lavender. I can pick out a little of the lemon and earthiness, but I do not like this at all. It claims to be "Transportive", but this scent transports me to a public restroom. It smells like a cleanser used in restrooms. Obviously, scents are subjective, but I wouldn't pay $10 for this, much less $145.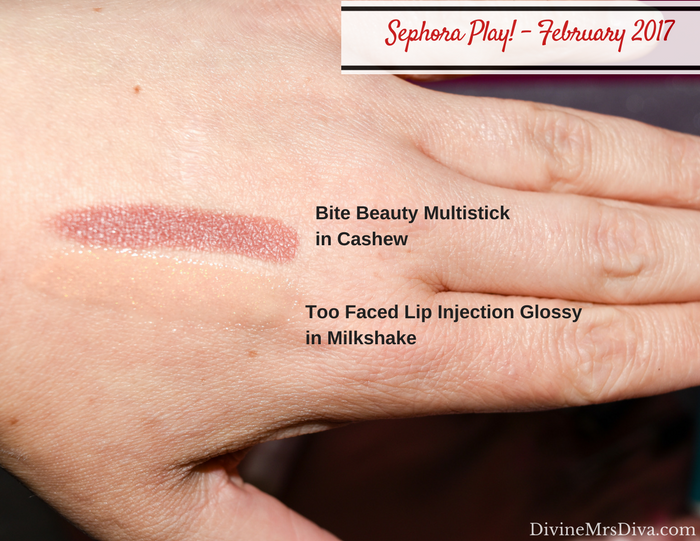 What products did you receive in your Sephora box? Have you tried any of these products before? Do you subscribe to any other beauty boxes you love? I'd love to hear your opinion!