Hello!! I'm so happy to be back with an outfit post this week! It has been a slow blog month as I transition back from vacation and work on getting organized, but I have so many things I am excited to share with y'all. March should allow me more time to get to those things and post a bit more. Thanks for your continued friendship!
In today's post, I'm reviewing the
Kelsey Flounce Top
from Kiyonna! When it was time to make a decision about my next feature, I
had
to choose this top. I loved the Sangria color and flirty ruffle; and I also knew exactly how I wanted to wear it with that cute casual tie front. So get ready for spring fashion and read over my review of the Kelsey Flounce Top!


- Kiyonna gifted me the top in this post. All opinions presented are my own and without influence. -
The
Kelsey Flounce Top
is a multi-way top that comes in the colors Sangria (
pictured
) and black. The wide ruffle can be worn down on the shoulders, but the shoulder portion of the ruffle is detached from the sleeve so it can be pulled up to look more like straps. And just as it can be tied in this cute front knot, the top can be worn down in its full tunic length. You've got options with the Kelsey which, of course, gives you more bang for your buck!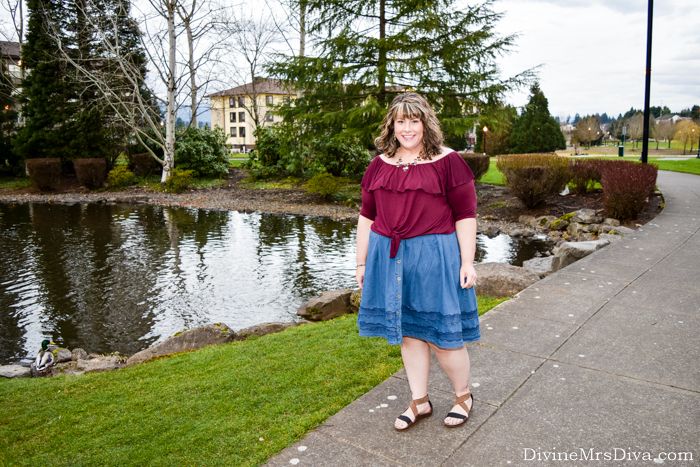 For reference, I am 5'9" and typically wear a size 22/24 or 3X. My measurements are 52/49/58.
The fabric of the top is a soft knit rayon/spandex material. It has great stretch and is incredibly comfortable to wear, like pajama comfortable. It is lightweight and will be perfect for warmer weather. The draping of the ruffle and the way the top hangs on the body is really nice as well. I always love Kiyonna's use of this fabric in ruffled and ruched pieces because it just moves so beautifully. I am wearing this top in a 3X and find that it fits true to size overall. When I wear it down as a tunic, I have plenty of room for my hips, which are quite larger than my bust. I do feel that I could have sized down if I only wanted to wear it tied in front. I think the bust is just slightly big on me (I wear a 40B bra), but it still fits really well and looks great. The color is also a gorgeous wine color. In person, it leans a little more burgundy than the website photo, in my opinion.
As I mentioned before, the ruffle can be worn down along the neckline of the top and off the shoulder. It can also be pulled up on the shoulders to act as straps. I wore a strapless bra with this look because I wanted to mostly wear it down, but if you wear a regular bra, pulling the strap up is a great way to conceal it. I love that the ruffle is split into two sections at the shoulder. It looks seamless down along the neckline, but this separation also makes the ruffle hang well without having to always adjust it or pull it down or fuss about it. It didn't get caught up in one particular place and cause me issues. If it was one continuous ruffle, I think there would be some more issues with it bunching up here and there.
Another detail I LOVE about this top is the length of the sleeves. I don't hate my upper arms anymore, but sometimes I just want the arm coverage even when it is warm out. I am a huge fan of three-quarter sleeves, but as the weather warms it just isn't always a great option. These elbow length sleeves are a perfect length for me and I wish more clothing came with this sleeve length!
Y'all know I love me some Kiyonna and I think they did an excellent job with this top. I love multi-functional pieces that give you some options in ways of wearing it. I am really excited to pair this top with other pieces in my wardrobe and look forward to wearing it more often as the weather warms up! It is definitely going in the warm weather rotation along with the
Florence Flair Halter Top
(
which I also bought in navy
)!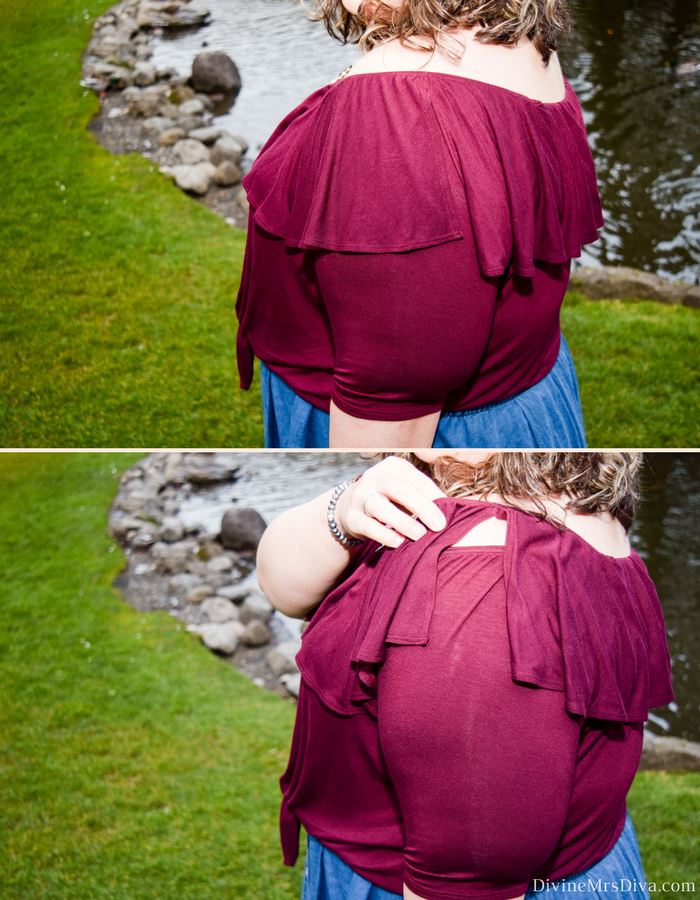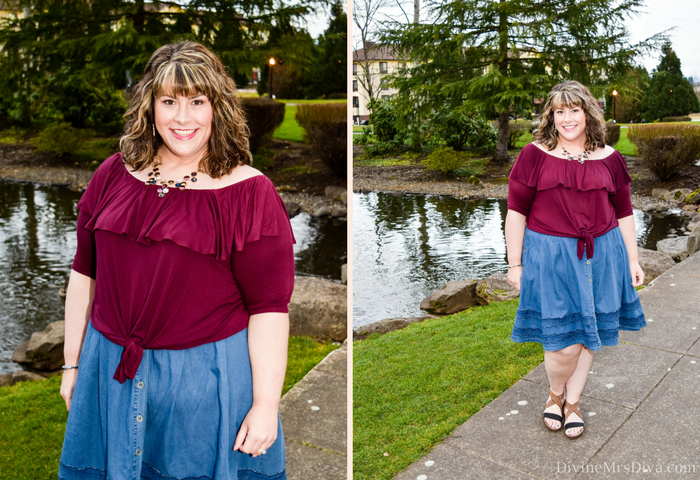 In styling this top, I knew when I saw it online that I really wanted to pair it with this denim skirt from Eloquii. I haven't had this skirt for very long and therefore haven't talked about it on the blog, but it is selling fast!! It is on clearance for $12.97 with sizes 14 to 18 still available. I took it with me on vacation and LOVE it. I know it is going to come in quite handy this spring and summer. Denim goes with everything and it is lightweight and fits very well, plus pockets! I am wearing a size 24 and also bought a 22. The 24 is just a little loose in the back of the waist. It does have an elastic panel in the back, so it stays put. I don't have to fuss with it. It traveled really well also and was a comfortable piece to wear all day. So if you want one, go snatch it up now before it's gone! You can also use
my referral link
for 30% off your first purchase. (
I am assuming this is for regular priced items only though. Don't quote me
.)
In wearing this top with a skirt, I simply tucked in the back portion of the top while leaving the front half out. Tying it at the waist keeps the front half in place for a seamless, no-fuss look. In thinking SPRING, I added some leopard print sandals and a colorful, sparkly necklace to complete the ensemble.
Kelsey Flounce Top
- c/o Kiyonna
Button Up Denim Skirt
- Eloquii
Crocs Anna Ankle Strap Gladiator Sandal
- Amazon
Monet Multi-Colored Gold Necklace - JCPenney (Similar in
red
,
purple
,
navy
,
gold
,
silver
,
clear
)
What are your spring favorites from Kiyonna's latest arrivals? How would you wear the Kelsey Flounce Top? Let's chat in the comments!