My third and final post about our trip to Savannah is finally here! It seems life got extremely busy once we got back and hasn't really slowed down since. My husband and I ventured to Savannah, Georgia for Thanksgiving 2015 and had a lovely time with my sister and her family. I lived in Georgia for a bit in my mid-teens, but never really saw much of Savannah then. Sean has barely been to the South until now. We did go to Augusta, Georgia back in 2007 for my sister's wedding, but he mostly saw places I grew up and "met" my dad when we visited my dad's grave.
This trip, I was happy we could sightsee together and look at some of the more historic locations, in addition to all the family fun we had. (You can revisit my
Savannah Outfits Post
and
Family and Sightseeing Post
.) While I lived in the South most of my life, so much of the scenery and vegetation and food was rare or totally new to Sean. When we were planning possible activities for the trip, I wanted to make sure he saw whatever he wanted of this area while we were here. As with any trip, there is never enough time for everything, which is why we have a Southern Coastal Road Trip on our future travel list.
Still, we managed to fit a lot of fun in! We headed off with the family to dolphin watch in Hilton Head. We visited Bonaventure Cemetery, the gate of Wormsloe Plantation, and Old Fort Jackson. Then we headed back to Downtown Savannah for walking around, shopping, and dinner. Enjoy!
(This is a picture heavy post, just FYI.)
In lieu of Sean and I taking the extra time to drive farther out of Savannah for certain activities, my sister found a 2-hour Dolphin Tour by
Island Explorer
that we could all go on together. The tour leaves out of Hilton Head, South Carolina, which is only a forty minute drive from Savannah. Therefore, Sean still got to be in two states this trip
and
see the Atlantic Ocean and an east coast beach. The last two were totally new to him.
The dolphin tour was headed by a super nice and knowledgeable captain. We headed through the marshes looking for dolphins and other creatures living in the area. We saw tons of birds all along the way and lots of dolphin activity after we headed out into the ocean. One dolphin was close enough to the boat that we got splashed! Sometimes you can catch the dolphins wrangling fish up on the marshes so they can feed. Apparently, dolphins only do this here.
The boat is smaller and relies on distribution of weight, just FYI. If you and/or your companions are plus-sized, you may have to each sit on opposite sides of the boat to properly distribute the weight. No big deal and everyone was nice about it. Sean and I were able to sit next to each other as other folks boarded the boat and evened things out. (This was pre-"good camera" so the dolphins were too fast for us to really capture. Next time!) The tours are offered year round at $45 for adults and $35 for kids 12 and under.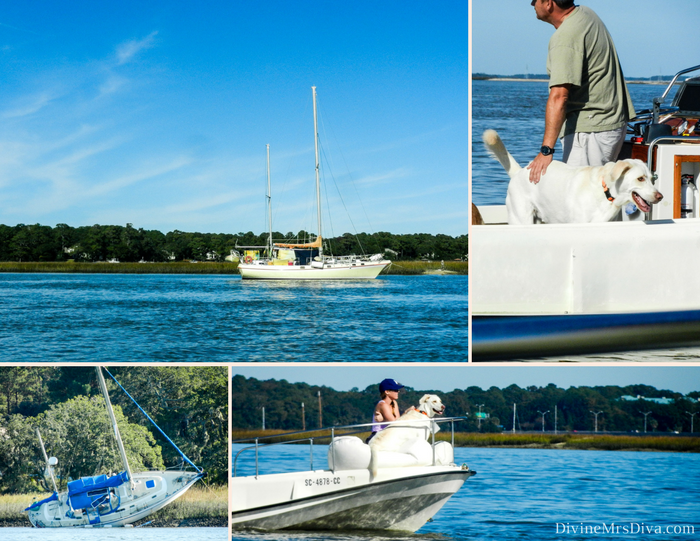 A badly anchored boat beached on the marshes; a curious dog watching dolphins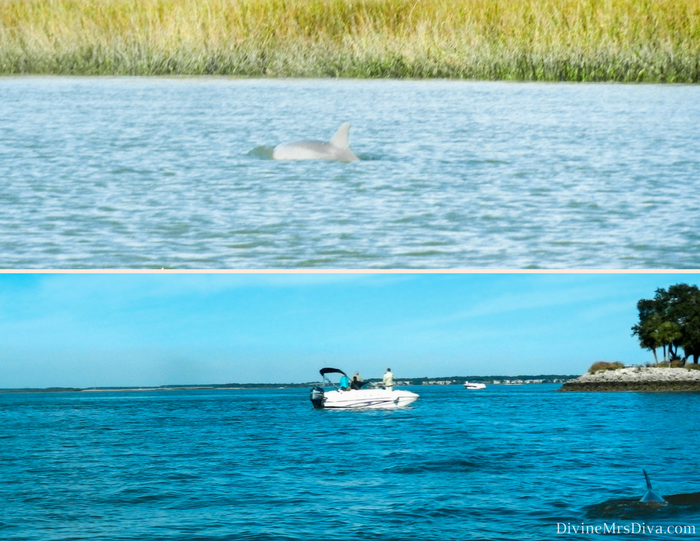 The only dolphins I managed to capture
After the dolphin tour, we headed to Hilton Head Beach to walk in the sand and take some photos. It was fun to see Sean's reaction to such a flat beach. Beaches in the Pacific Northwest are rocky, dramatic. We watched dogs and birds before heading back home.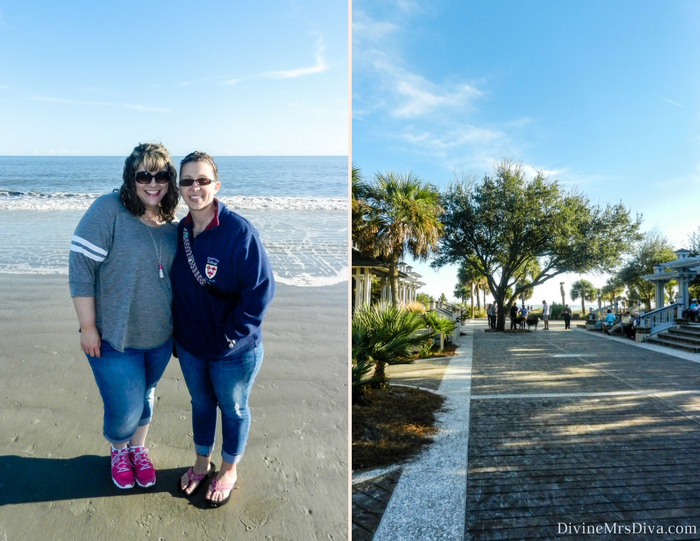 My sister and I; The boardwalk
On Monday, Sean and I headed out on our own to do some sightseeing. We found out that
Wormsloe Plantation
is closed on Monday. I was bummed because Monday was really our only day to get out in the city. We still drove by to take some photos because I really wanted to see the beautiful oak-lined road in person. Like I said in a previous post, I
LOVE
Spanish moss on oaks and I
love
taking photos of trees. When open, the end of this roughly mile long, oak-lined road offers a visitor center, museum, historical short film, gift shop, and demonstrations on colonial life. A walking trail leads to the 1737 tabby ruins (tabby was a crude type of concrete made from oyster shells and lime) that boast being the oldest remaining structure in Savannah. There is also
a hiking trail
on the property.
After taking photos at Wormsloe, we hopped back in the car and continued on our way to Bonaventure Cemetery, passing very
Dawson's Creek
-esque scenery. I wanted to jump out of the car every ten feet and take tree photos. No joke. I was giddy.
Bonaventure Cemetery
is massive! Originally called Evergreen Cemetery back in 1846, it was designed as a traditional Victorian cemetery with curving pathways, trees, and grassy areas. Originally about 60 acres, it has now expanded to 103 acres. We had no idea how big it was, so when we pulled into the cemetery we basically picked a direction and drove until we saw water and a small parking lot. We decided to get out and just walk around for as long as our schedule would allow. There were plenty of old grave stones (
though not incredibly old
), monuments, trees, and haunting beauty. Especially if you are interested in looking at old grave stones (
which can be thoroughly fascinating
) and if you enjoy walking around and taking photos, you could literally be there all day. We had about two hours and feel like we barely saw anything. While I found it to be a very peaceful place to walk through in spite of the landscapers mowing and taking care of everything, there was still that almost creepy feeling you get when you walk into a really old house. The energy of the previously living can often be felt, or at least nag at me. Still, I would definitely go back and walk through more of the cemetery taking photos along the way. You can
check the tour schedule
for free guided tours and plan more of your trip there by viewing the website's list of most popular sites or searching for a specific grave site.
I was really hoping for a ghost to pop up in one of my photos, but I didn't see anything when I was editing. And yes, I do believe in ghosts. I've seen my dad's ghost twice, among others.
After the cemetery, we moved closer to the city by visiting
Old Fort Jackson
. Constructed between 1808 and 1812 over an old earthen battery from the American Revolution, Fort Jackson was authorized by Thomas Jefferson to defend the city of Savannah from attacks by sea. Local militias and U.S. troops saw active duty at Fort Jackson during the War of 1812. During the Civil War, Fort Jackson was also a key player in defending Savannah from Union attack. It later became the Confederate Headquarters for the Savannah River defenses before being abandoned by the Confederates when the Union captured the city of Savannah in 1864.
We really enjoyed our visit to the fort. As a kid, I found historic viewpoints like this so tedious and boring, but as an adult I truly love learning about old places, seeing relics of the past, and feeling the energy of places. The tour guide that day (I feel terrible for forgetting his name because he was super nice, very knowledgeable, and really made the presentation of information fun.) was really great about explaining things and answering questions. We didn't watch the informational film at the entrance because we were rushing to make it to the cannon firing on time. We raced up the ramparts so as not to miss the beginning of the guide's presentation. There are great views of the Savannah River and coastal plain. We also watched a big container ship go by. The guide showed us various parts of the ramparts, cannons, and explained why this area was such a good location for the fort and defending the city. (
Spoiler alert! Sea traffic had to funnel into the river to get to the city. Fort Jackson was poised at a bend in the river where it narrows a bit, making it a prime spot to try and stop any attack efforts
.) We then went back down to the grass and were shown sizes of powder charges and what they looked like and felt like. Then we were guided to a middle area to sit and watch the cannon firing. The guide explained what was happening and what the call from the troops would have sounded like in preparation to fire the cannon. I have included a video of this below for your viewing pleasure.
After the presentation, Sean and I went back to look at everything we missed when we ran in. Under the ramparts are chambers called casemates that held artillery and supplies. These areas now house cases of weapons, cannonballs, regimental clothing, bottles, utensils, and other items used by the soldiers who occupied the fort, and various tools used in daily life. The large rectangular, roofed slabs are where the barracks would have been. Also interesting is the toilet set-up...for the fort, that is. The toilets were placed so the tide would "flush" them out daily. (
Actual public restrooms can be found near the parking lot before you head down to the fort.
) As we chatted with the guide and asked some questions, he also had maps of the area throughout history. I thought it was all pretty fascinating.
The fort itself isn't very large and you may need about an hour and half here to take in absolutely everything in a leisurely manner. I think it is set up in a way that would be great for kids as well. We were impressed and pleased with our experience. Outside of the fort you will see two large rusty cannons. One is from the American Revolution and one from the War of 1812. Both rely on donations to help restore them. If you want to help, you can donate via a donation box in the fort or in the gift shop, or round up your purchases of admission and/or at the gift shop.
The
fort is open from 9AM to 5PM daily
, with cannon firings at 10AM and 2PM. Cost is $7 for adults and $4 for children 2-12.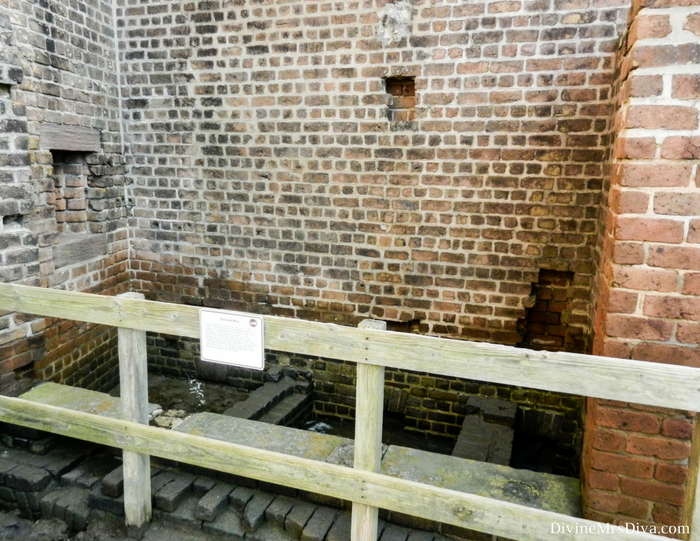 The old privy - the tide would flush them out daily.
From the fort, we headed to Downtown Savannah to walk through as many of the
city's twenty-two historic squares
as we could. We made it to four. They are quite spread out all over downtown. It was hot, we were tired, and we were also super duper hungry at this point. Still, we meandered down Bull Street as far as our legs would carry us.
Ellis Square
is right next to City Market and a great place to people watch. It was actually designed in 1733 and was the location for public markets through 1960. "In 1954, the square was demolished to make room for a parking garage and in 2005 the parking garage was destroyed so Ellis Square could be restored."
Johnson Square
is the oldest and largest square in Savannah, surrounded by the likes of City Hall, the Christ Episcopal Church, and several large banks. It was a social hub in the city from its conception in 1733. A reading of the Declaration of Independence was right in this square in 1776!
Wright Square
, also laid out in 1733, contains a monument to William W. Gordon, the founder of the Central of Georgia Railroad, bringing cotton to the docks from distant plantations. This monument replaced the grave of Tomo Chi-Chi, a Yamacraw chief who helped "negotiate a treaty that gave General Oglethorpe the land that became Savannah and was a key part in establishing the military outpost against the Spanish invasion." Now there is a giant chunk of granite to honor him that sits in one of the corners of the square. Finally, we made it to
Chippewa Square
. It is smack dab in the middle of lots of shops, restaurants, a theater, and a church. You may know it best from a little movie called
Forrest Gump
, where Forrest sat waiting for the bus. Chippewa Square was laid in 1815 to honor the Battle of Chippewa in the War of 1812. A statue of General Oglethorpe, the founder of the colony of Georgia, sits in the center of the square.
We enjoyed our jaunt through Downtown. There are various homeless people or other types of folks that will approach you for money or try to sell you a rose for some money. None of them were mean or aggressive. I know my sister was really worried for our safety while we were Downtown because of some supposed shootings and other such incidences that had been happening at the time. We never encountered anything nefarious or felt unsafe while we were out and about, including walking blocks and blocks back to the car from the restaurant at night. Obviously, you should always be on alert everywhere you go, but we didn't come across anything to freak out about.
For dinner, we stopped in to
Alligator Soul
. It is a restaurant known "for eclectic Southern dining with a seasonal menu that utilizes farm-fresh ingredients, local day boat fish, and grass fed meat." We always try to have one nice or fancy meal on every vacation and this is where we chose for Savannah. The website boasts unpretentious fine dining, so we didn't feel too guilty about showing up in our super casual clothes for our early dinner. As more and more guests came to dine, I felt a bit out of place in my capris, sneakers, and t-shirt. I do wish I had been able to change clothes. Still, no one was crazy fancy and no one treated us poorly because of our casual attire. Based on the presentation of the menu and such, we did feel like the place was trying to be pretentious. There was a showiness, but it seemed more theatrical and not at the heart of who the place was at all. We felt comfortable and our waiter was friendly and helpful. Most importantly, the food was outstanding! It was pretty dark in the restaurant and my phone had already died, so no pictures unfortunately.
For cocktails, Sean had the Gentlemen's Flight of Koval Organic Dark Rye Whiskey, Booker's Clermont, and Mitcher's Sour Mash. I had the Martini Flight, which is not on the current online menu. I didn't take stellar travel notes this trip, but I do know one was a Peach Martini that I
loved
. After we finished our flights, Sean ordered a Manhattan while I ordered a large Peach Martini. For an appetizer, we had the Fried Green Tomatoes with Chipotle Aioli and Sage Pepita Pesto. They were delicious! Dinner was hard to choose because everything sounded amazing. I ended up choosing the special of striped sea bass stuffed with cornbread and pancetta, with rice pilaf and green beans. Sean had the Gumbo with shrimp, maybe sausage, alligator, and frog legs. He was pretty adventurous this trip. Dessert was the Banana Beignets with cinnamon wonton crisps, candied pecans, caramel, and organic vanilla ice cream. We also had cappuccinos. Heavenly! I would definitely go to Alligator Soul again and recommend it to anyone looking for a place to dine in Savannah.
That wraps up our trip to Savannah! We had a wonderful time looking around the city, but I was also grateful for all the family time we had as well. It was so special to me to get to spend time with my sister and her family. Hopefully, the next time won't have such a long gap in the middle.
I'm diligently working on some more travel posts that cover our Newport, Oregon trip and most recent trip to Maui. I enjoy going back over everything with you guys and reliving the special vacations in their entirety. Stay tuned!