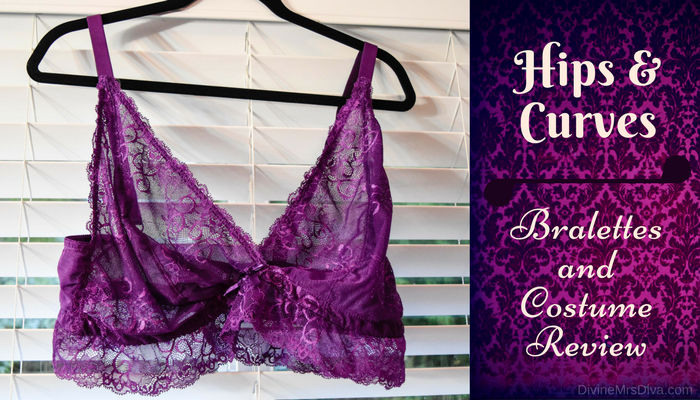 I'm back from vacation! Sean and I had a wonderful second honeymoon in Maui. I look forward to sharing all the fun with you in future posts. (Though it will be a while because we took over 5,400 photos and I need time to edit and organize them.) I am still posting photos from the holiday over on
Instagram
if you want to check them out.
For my first post back, I am reviewing various styles from
Hips and Curves
(
sizes Large to 6X; Band sizes 36 to 48
), a brand specializing in plus size lingerie. I have
talked about them on the blog before
when I reviewed another bralette and panties and have also
reviewed thigh high stockings
from the brand as well. These are all items I have bought on my own. I am not sponsored by them or gifted anything, though I am using affiliate links in this post.
I have found it a rather difficult task to find other women with my same body shape reviewing these items, which is part of the reason I am enthusiastic about doing it.
Hips and Curves
has quality items that are very cute and make me feel awesome! If I can help another woman find that for herself, my work is done. Enjoy the following review and let me know if you have tried anything from Hips and Curves.

- All items were purchased by me, for me. -
I am always surprised at my ever-expanding lingerie collection. I'm going to need better organization soon because that part of my closet is getting packed. As someone who used to only wear pajama pants and t-shirts to bed, I see it as my own personal achievement that I feel comfortable and confident in lingerie now. I feel a sense of pride in myself that I have worked through so many issues and feel sexy and cute in little lacy things.
As mentioned above, I have previously discussed the Isabella Stretch Lace Bralette (similar to the
Lace Bralette with T-Back
),
Eyelash Strappy Bra
,
Extra Wide Band Thigh Highs
,
Lace Thong
,
Soft and Comfy Lace Trim Camisole
, and
Sheer Stay-Up Stockings
- all from Hips and Curves. If you want to read more of my reviews on these items, you can find them here:
Bralettes have become a pretty hot item in the last couple of years. I remember when Torrid just started carrying them. I thought they were so cute, but the Torrid ones I tried had a longer line under the bust that would always roll up. I recently bought
a strappy bralette from Torrid
that I took on vacation. I will review that one later on, but I love it!
**In adding the link, I see it is selling out fast so know that I ordered a size down (a 2) because I have a smaller bust (40B). It fits really well and is super duper sexy! I am quickly including some photos I took on vacation in case you want to buy it for yourself. I'm including prices of everything because you guys said you like that feedback. This bralette is originally $34.90. I got it on sale for about $15.
Now on to Hips and Curves: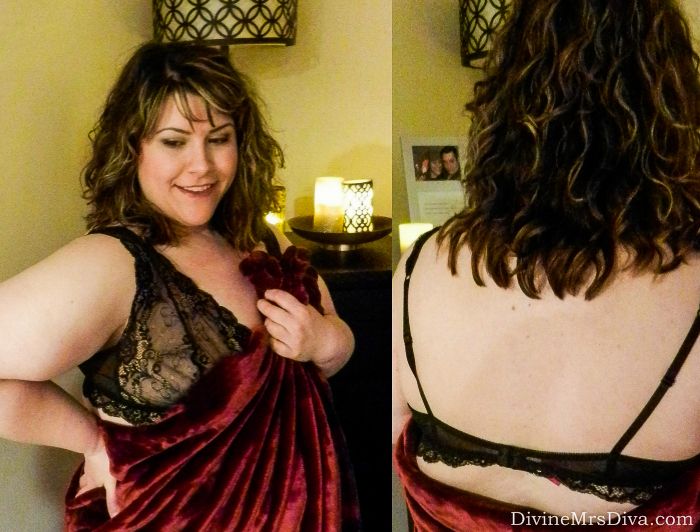 A note for comparison on the previously reviewed Isabella Stretch Lace Bralette (
no longer available online but very similar in style to the Lace Bralette with T-Back
): I bought it in a 3X, according to the size chart. There was still room in the cups, but the band was comfortable. I kept the bralette and like it a lot, but in ordering future bralettes I sized down due to the cup issue. I wear a size 40B bra. Torrid bras are the only every day ones I have tried where the cups fit well. I tend to be on the smaller side of a B cup. My around-my-bust measurement is 52, just FYI. This bralette was at least $35 and I bought it during an Ooh-La-La Tuesday special for $14.95. If you follow Hips and Curves on
Facebook
or
sign up for their newsletter
, you can find out the Tuesday deal each week! During these sales is usually when I buy the pieces I want.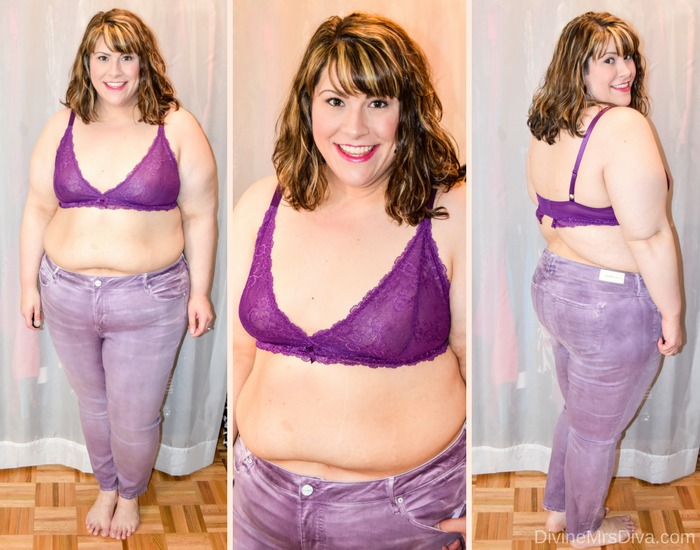 Next up is the
Lace Bralette with Ruffle
in Plum. The color is a little darker than it looks in the website photo. I ordered down to a 2X to accommodate my smaller boobs. The stretchy lace is not itchy and the shoulder straps are adjustable. The band is snug but comfortable. It doesn't feel like it is cutting into me at all, but it does stay put. The band has three hook and eye closures and 3 different lengths. Because I sized down and the band is tighter (and my tummy is bigger than under my bust), the ruffle doesn't really hang and lays flat across my skin. It doesn't
roll
, but it travels up to the band and doesn't stay down. Again, this is because I sized down and it isn't a big issue for me. The next style is very similar, but the difference with this one being the deeper v-neckline and the little gap in ruffle in the back under the closure. This bralette is originally $36.95. I bought it for $19.95 during a pre-Black Friday sale.
This cute fuchsia number is the
Savoir Faire Lace Bralette
, another stretchy lace bralette that is very comfortable to wear. The v-neckline isn't as wide compared to the one above and the ruffle doesn't have a gap at the back. I sized down to a 2X in this one as well so it would fit my boobs. Like the one above, the band is snug but comfortable, and the ruffle doesn't ruffle but lays flat against my skin because I am wearing a smaller size. The shoulder straps are adjustable, but the band features four hook and eye closures with two lengths to choose from. I actually prefer the fit of this one compared to the plum bralette because I feel the shape of the cups is better suited to my shape and the wider band feels more comfortable and supportive. And this color is gorgeous! I also bought this style in black and white. This bralette is originally $34.95. I paid $14.95 for the pink one during a pre-Black Friday sale. I bought the black and white ones for $12.95 each during a Christmas sale.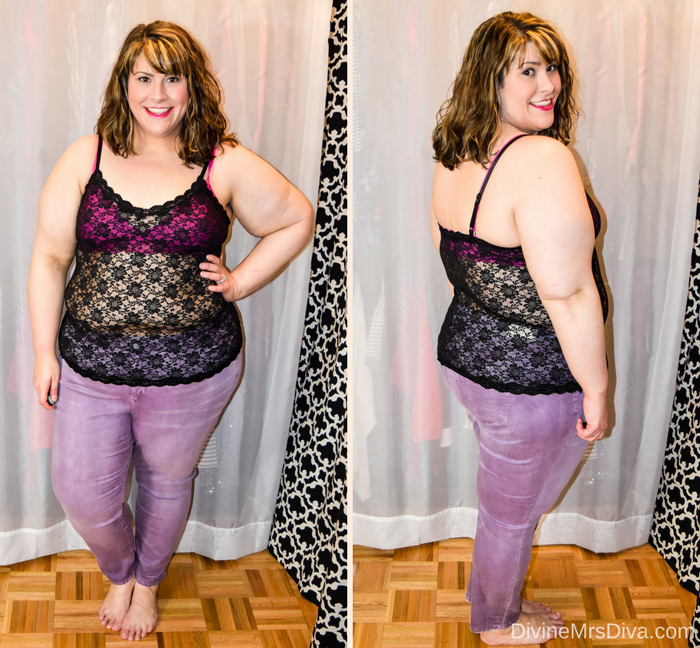 Because I love the
Soft and Comfy Lace Trim Camisole
(
I own at least twelve of them
), I was excited to see an
All Lace Camisole
in the New Arrivals section. I love the looser fit of the Soft and Comfy in a 4X, so I ordered the same in the all-over lace cami. The lace is soft and stretchy, but they are MUCH more fitted than the knit version. It doesn't look bad for Sexy Time, or for wearing it under something, but I wish it fit more like the Soft and Comfy. The straps are adjustable and these camis come in black, indigo, and white. They retail for $24.95, but I bought the black and indigo for $11.95 each during an Ooh-La-La Tuesday.
Another Ooh-La-La Tuesday deal I picked up is this
Two Piece Velvet Corset and Skirt Set
. It retails for $79.95, but I bought it for $39.95. It is on sale for $49.95 now, but there seems to only be a 6X available.
I had been eyeing this cute pirate costume and wanted to add it to my collection, so when it was on sale I snatched it up. Based on the size chart and a few reviews I found on YouTube, I went ahead and bought the 4X. The bras and panties are typically too big on me in a 4X, so I wasn't too worried about the fit of this. The costume is really pretty in person and the cut of the skirt in particular is adorable! The skirt is a tad fitted, but not too tight and very cute on. The corset was another issue. It is very pretty, with lace and cording detailing. I also love that they put a zipper on the side so you don't have to constantly lace it up or have someone help you get into it. However, the bust area is huge on me (though not as large as I thought it would be - see below photo), while the body is way too small. I have to lace it out big time to accommodate my tummy. I am wearing one of the
Soft and Comfy Lace Trim Camisoles
underneath, like the model on the website, and I am also wearing a push-up bra with it in the photos. But because I have to lace it way out, I can't see this being something I wear to a costume party when I am feeling super sassy. It is strictly for the bedroom. I am bummed the torso of the corset doesn't fit the way I pictured, but since it is just something for me and my husband I decided to keep it.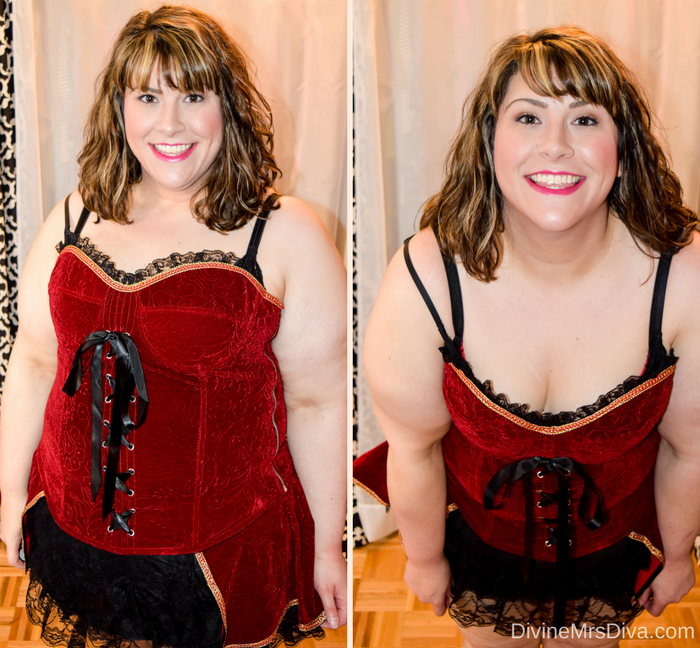 And there you have my most recent Hips and Curves purchases and bralette comparison. Have you tried any of these items? If so, what do you think? Do you have a favorite bralette or brand of lingerie? What issues do you have when looking for lingerie?