It is time again for Sartorial Medley, a monthly themed fashion post hosted by myself and Aislynn of Aislynn's World. (Did you miss the previous posts? Check them out!) We welcome participation from anyone, regardless of your dress size. Email me your photo and link to your blog post - diva (at) divinemrsdiva (dot) com.
To participate, even if you don't have a blog, just Tweet/Instagram/Pinterest/etc. your photo with #SartorialMedley to be featured in the blog post. We can't wait to see you rocking your outfits! (Follow me on Twitter/Pinterest/Instagram @DivineMrsDiva.)
This month's theme is:
Love Your Curves
.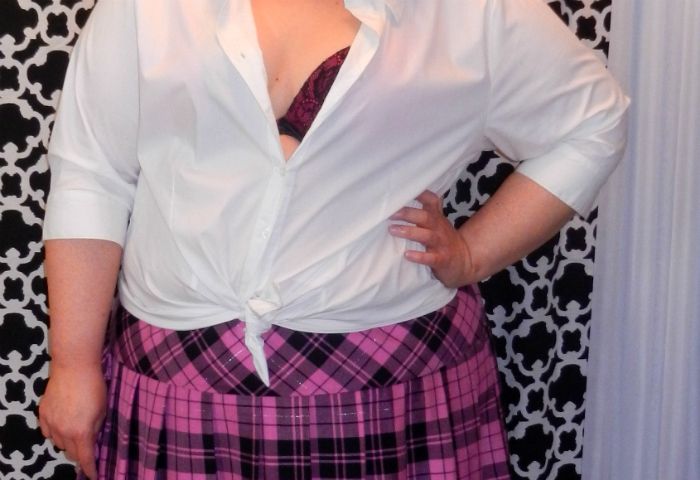 This month's theme got me thinking about what outfit I was going to feature. I have one true
body-con dress that I featured on the blog
not that long ago. While I do have some sexy pencil skirts and plenty of outfits I could throw together for showing off my curves, I thought I would do something a little different. In thinking about my journey to loving my curves and what that means to me, I decided to share a little more than usual. Instead of showing clothing I might wear out of the house, I'm going to celebrate my curves by showing you something I wear inside the house. lol
Becoming more confident in my body and accepting my lumps, bumps, and curves has been a very liberating and fulfilling process. Growing up, I was thrown insults about my body from the typical school bullies, but also from various members of my family. My mom, especially, was pretty brutal in pointing out every flaw she thought I had - from my fat body to pimples, crooked teeth, unkempt eyebrows, and everything else in between. For the first twenty-five years of my life, there was never a day that went by where I wasn't told how "less than" I was. Sometimes those voices and words still echo in my head and tell me how I am never and will never be enough.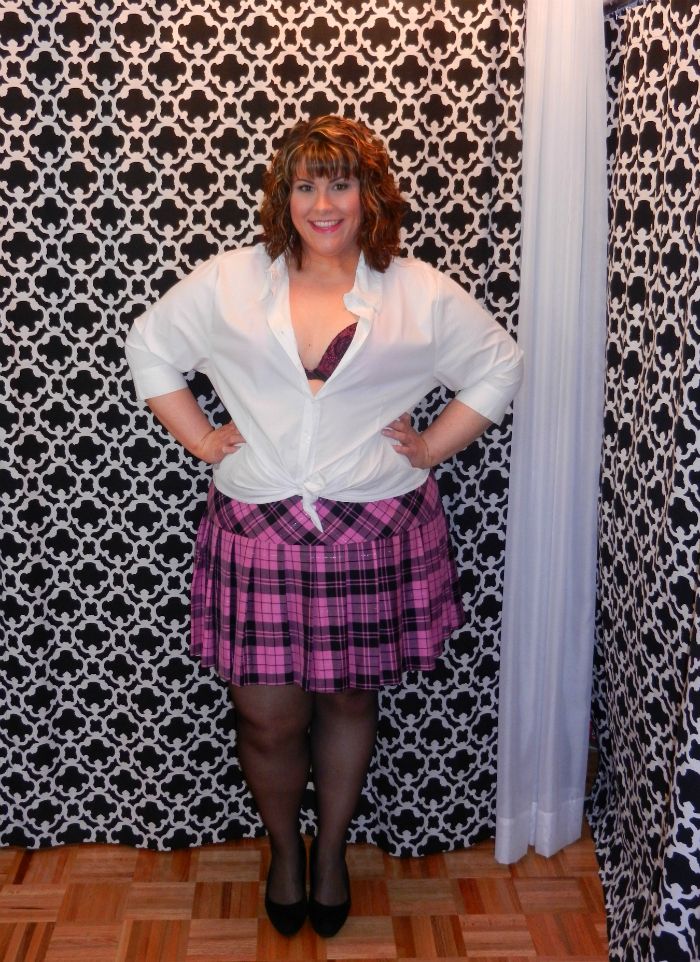 But it is getting easier and easier to banish those voices when they try to infiltrate my head. I've stopped reading crappy magazines and opt for body positive articles and blogs written by other fantastic plus-size women. I've cut people out of my life who brought nothing but negativity and despair. Instead, I surround myself with my amazing friends who lift me up and make me laugh; and I revel in the company of a husband who loves me completely and thinks I am the most beautiful person in the world. Silencing your own negative, self-deprecating thoughts can be really hard. It has taken me years and years to get to my own personal place of peace with myself, but I still have bad days where I feel like throwing insults my way. It takes practice and patience and positivity.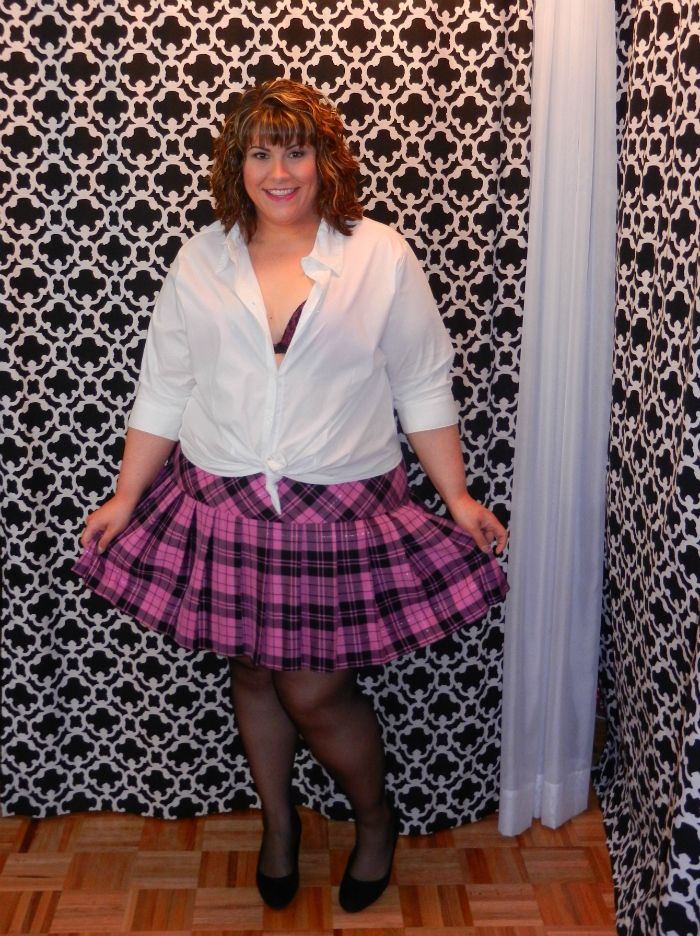 All of that to say, loving my curves makes me feel powerful, confident, happy, and sexy! Those four feelings translate to so many parts of my life. Feeling so empowered translates to more sexy time fun too. I don't feel the need to hide my body and not enjoy myself in the presence of my husband. Lately, I've been acquiring more lingerie and pretty/fun things to wear behind closed doors. While this shirt and skirt from Torrid have been in my closet for quite a few years, it was only recently that I decided I was confident enough to break them out and try them on again.
These thigh high stockings from Hips and Curves are new to me though. I spent a long while scouring the internet for reviews before I purchased them. I could not find much in the way of solid reviews, particularly from anyone my size. Previously, I tried a couple pairs of thigh highs from other companies that wouldn't even stay in place. They would roll down immediately and I was never able to wear them.
Originally, I bought the
Sheer Stay-Up Stockings
that come with two pairs (in 5/6X). They were fine and stayed up okay initially, but would roll down after walking around when a garter wasn't involved. Most of my weight is in my mid-section and thighs, however. My thighs being kind of lumpy, I went back to the website and ordered the pair with an extra-wide lace band. The lace band features silicone strips that grip pretty well. The width of the band is definitely better proportioned for my bigger thighs, offering better support and an overall better look. The hosiery seems to be well-made and a good quality. I have never had any issues with rips or runs. (For reference, I am 5'9" and my thighs are 33 inches at their largest part. I am wearing these thigh highs in a 5/6X.) They also carry these in petite sizes for the lovely shorter gals!
These thigh highs function well with garters and do stay up for a while without them. If you are going to be doing a lot of moving around or walking, definitely wear a garter belt with them. In their subsequent wears, I find that as long as I don't pull them up too high they will stay in place. After having such luck with the black pair, I also bought an ivory pair to go with an ivory and
teal garter skirt
I bought at Lane Bryant.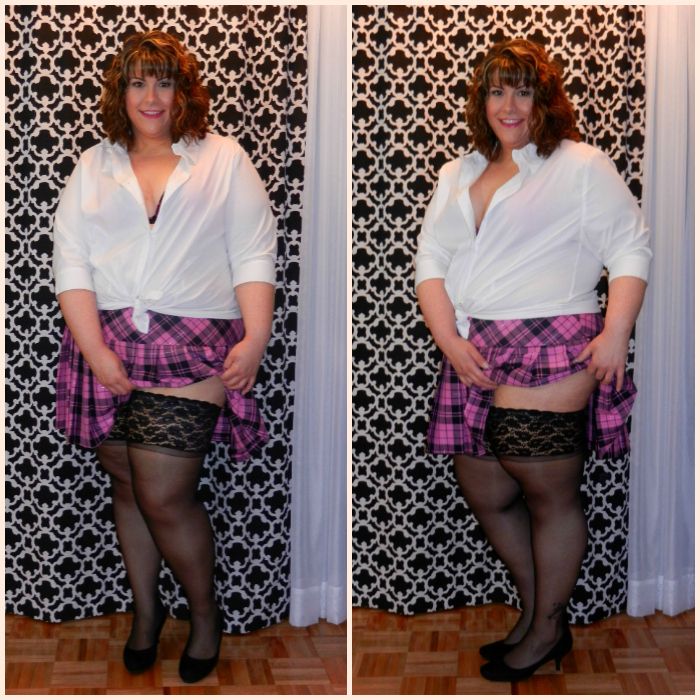 Extra Wide Lace Band Stay-Up Thigh Highs
- Hips and Curves
Smooth Boost Plunge Bra
in Pink - Lane Bryant
White Button-Down and Plaid Skirt - Torrid
Black Pumps - Avenue
Do you have advice for loving your curves that you want to share? Do you have a favorite place to shop for lingerie? Do you have a favorite curve-hugging outfit? Let me know in the comments! And don't forget to use #SartorialMedley to participate!
Disclosure: This post contains affiliate links.