On a Saturday not too long ago, we had a super packed day of fun events. First up was me waiting at my computer for New Kids On The Block concert tickets to go on sale. I am a ticket snob and will not sit farther back than row 5. It was a nail biter! Second was the
Portland Seafood and Wine Fest
with my mother-in-law and our great friend Nigel. This event offers multiple wine vendor booths where you can sample and purchase wine, along with various seafood options like clam chowder, shrimp melts, scallops and rice, and crab. It is always a blast, so we attend every year! After the wine and seafood fun, we headed to the
Wine and Canvas painting class
to paint rolling hills, trees, and skies.
Sometimes jeans and a t-shirt is just the most practical and comfortable option, but it doesn't have to look sloppy! I wanted an outfit that would be comfortable all day, was suitable for all events, and wouldn't be too warm or fussy in the crowded event hall. I picked up the shirt and jeans from Lane Bryant recently and couldn't wait to wear them!
The t-shirt is a really soft knit with longer short sleeves that I adore. This is the perfect length for my larger upper arms, without being a three-quarter sleeve. The shirt also has a bit of a high-low hem. The front is still long enough to hit at a great spot, while the back isn't long enough to look like a tunic. The shirt also features little sequined lip prints all over that add playfulness and color. I received several compliments from strangers while at the fest! I absolutely love the silhouette and feel of the fabric, so I hope Lane Bryant makes some more of these for the summer.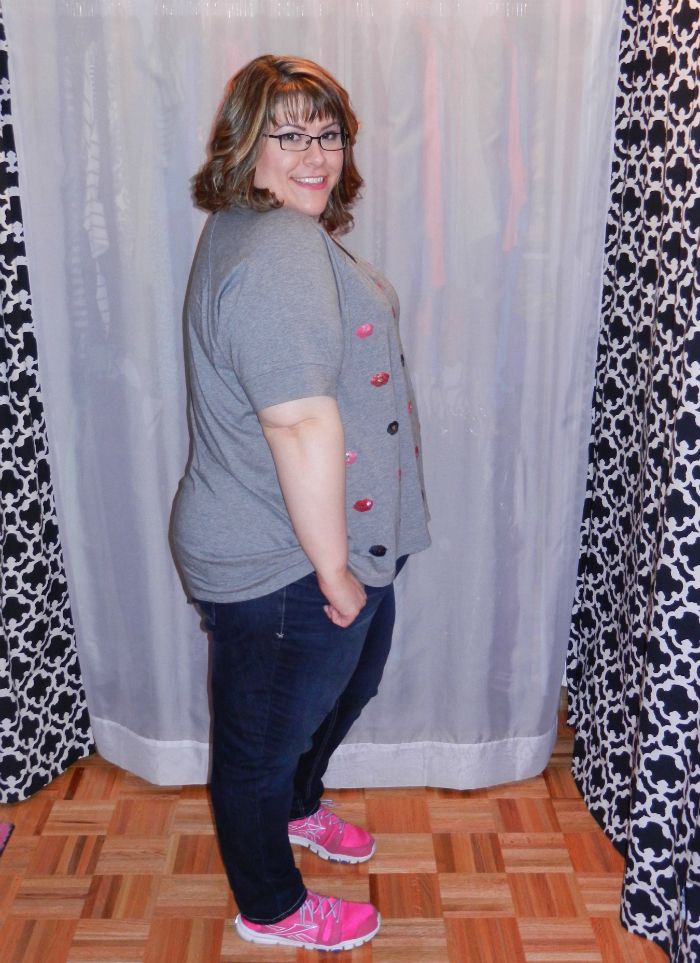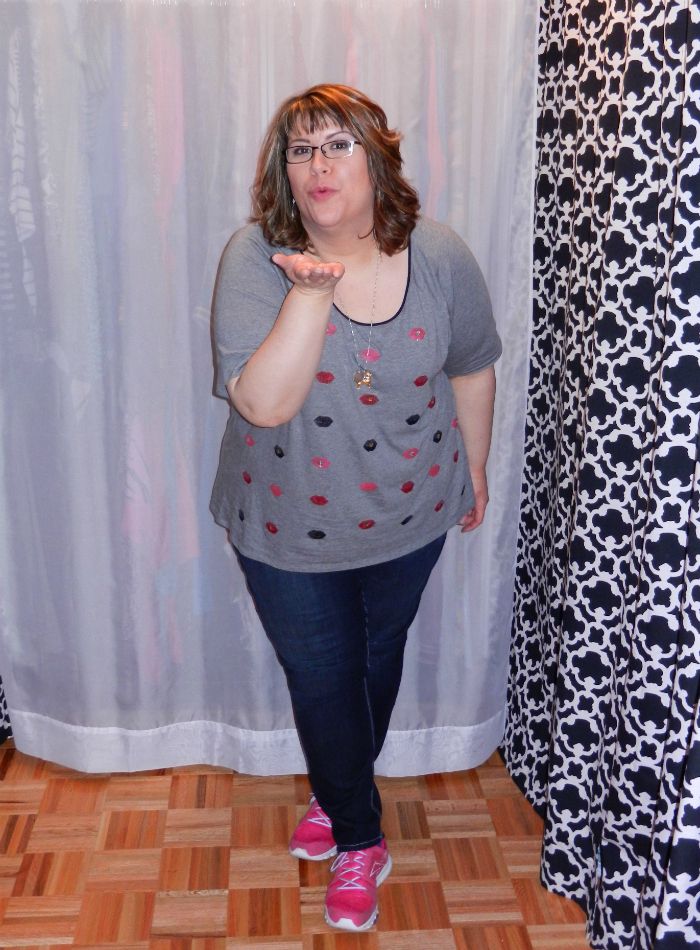 I paired the tee with a dark wash skinny jean. I have been looking for dark wash skinny jeans with no whiskering, no distressing, no crazy pockets, and no faded parts. I just wanted a normal, dark wash skinny jean. Those are really hard to find! These do have slight whiskering, but otherwise meet my needs. I prefer the Genius Fit line at Lane Bryant, having previously owned straight leg and skinnies from the line. When I was in store, I tried on a couple different sizes in the dark wash and they just weren't working. The crotches were really long and the butts were baggy. It was uncharacteristic because I have a pair of size 24 black Genius Fit skinnies that are perfect!
So I tried on these "Tighter Tummy Technology" ones. The TTT doesn't really do anything for me, but the fit was way better and I desperately needed some dark wash jeans. Now having worn them a few times, I can tell you that the double-button is annoying and painful. It cuts into my tummy fat and leaves bruises, so now I always have to tuck in a cami when I wear these. Also, the knees stretch out faster than the rest of the jeans, requiring me to wash them more often to tighten them back up. So while I love the overall initial fit and wash, the waistband and baggy knees are not ideal for me. If your body is shaped like mine, you might have similar issues.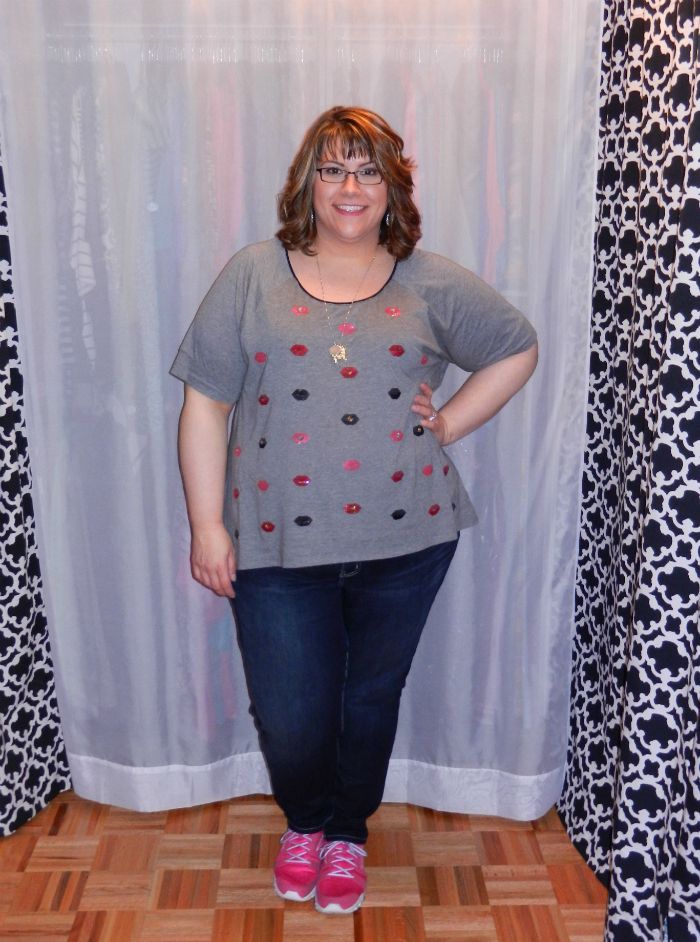 Sequined Lips Tee
- Lane Bryant
Skinny Jean with Tighter Tummy Technology
- Lane Bryant
Flyaway Hoodie - Lane Bryant (no longer online, but I have seen it in stores)
YourFlex Trainette 3.0 - Reebok
Sean and I posed with our friends Nigel and Geoffrey at the Seafood and Wine Fest!
At the end of the afternoon, we met these two adorable animals - a wallaby and a cavy named Lucy - and had our photos taken with them. They were so sweet and soft.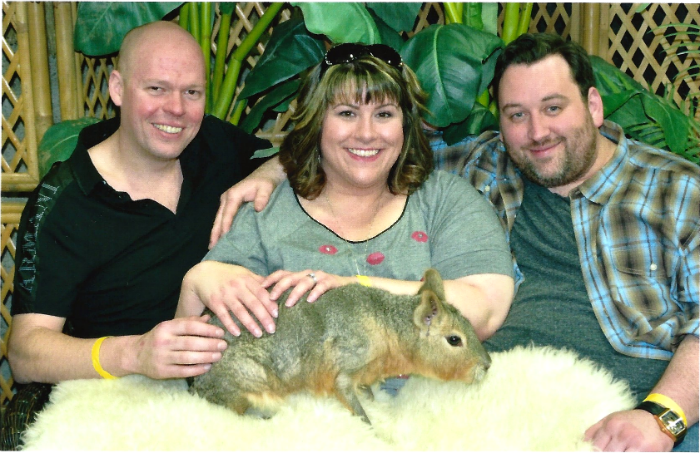 We finished the evening showing off our paintings! I love these classes because I learn something each time and get more confidence in creating my own art at home. Plus, it is really fun to see how everyone's paintings are slightly different, but the same.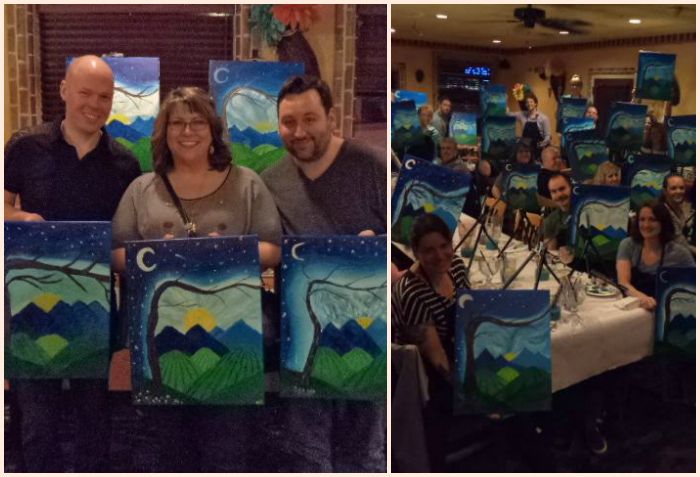 Where do you get your favorite jeans? Do you have a yearly event you never miss out on? Do you love to take painting classes? I would love to hear your thoughts!