Pink, lace, rhinestones, and hearts - all part of a recipe for girly fun! While I love all those things any time of year, some people only bring them out for Valentine's Day. Whether you spend the holiday hanging with your pals or your honey, this top from Kiyonna is a gorgeous sartorial choice!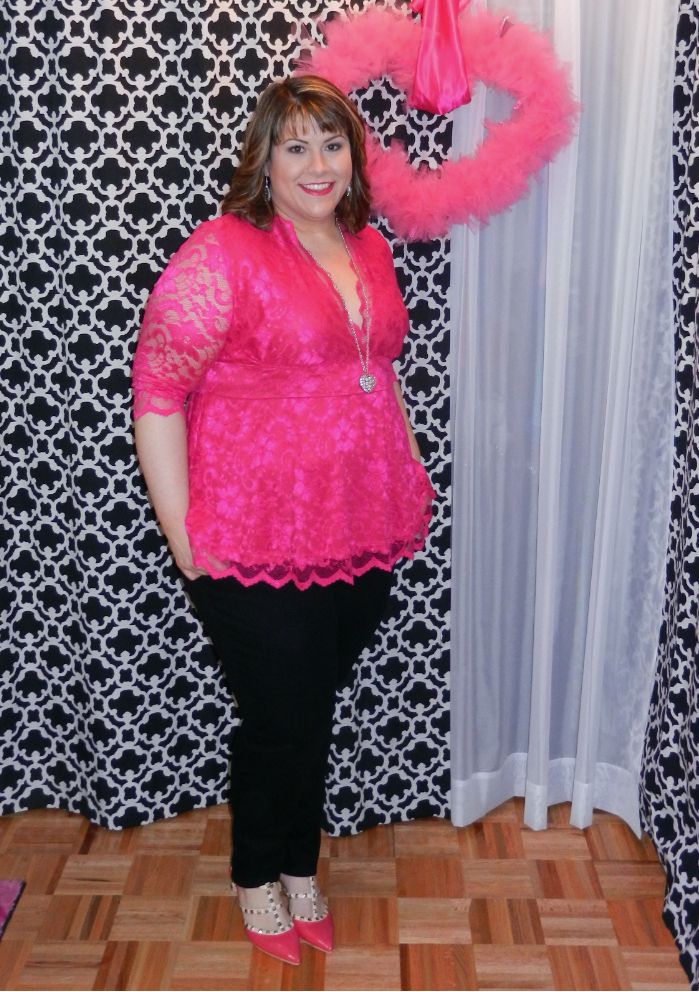 I've always admired the way this top looks on other women, so when
Kiyonna
introduced the pink version I knew I had to have it. Actually, when I first saw the picture I gasped really loud and swooned. Kiyonna sent it to me for review and it does not disappoint. It is so pretty! I was only able to get photos in the happiness of my dressing room because the weather did not want to cooperate. (
Read: Rain, heavy wind, lightening and thunder....
)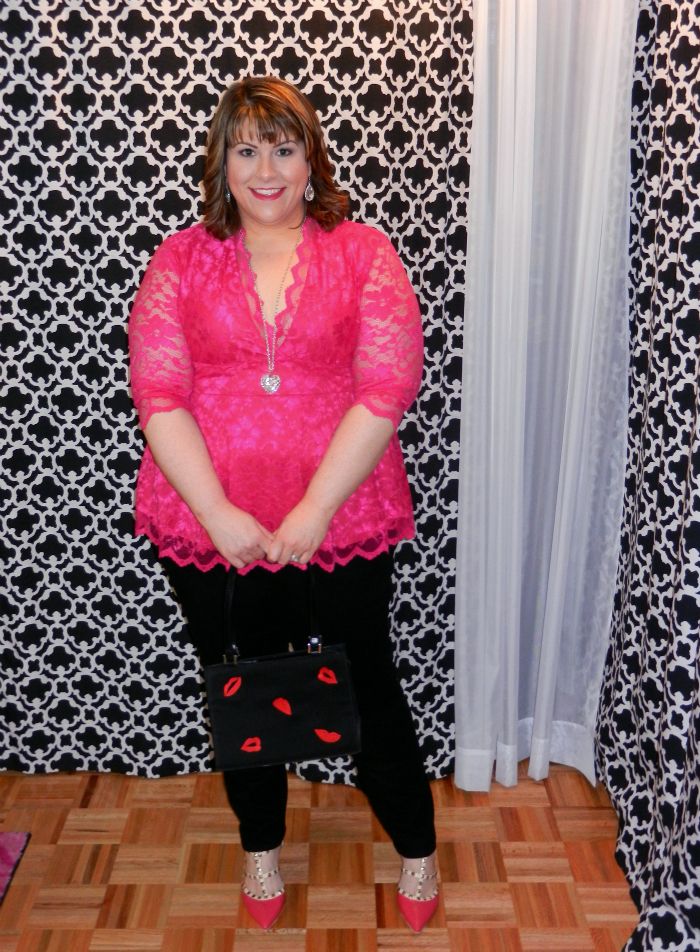 The color is a vibrant deep fuchsia, made of stretchy, comfortable lace with a beautiful sheen. The body of the top is lined in a matching fabric, leaving the sleeves unlined. While the V-neckline is a deep one, there is some overlapping fabric at the bottom of the plunge for a more modest look. I adore the look of the scalloped lace because I feel like it adds a touch more romance and flirtation.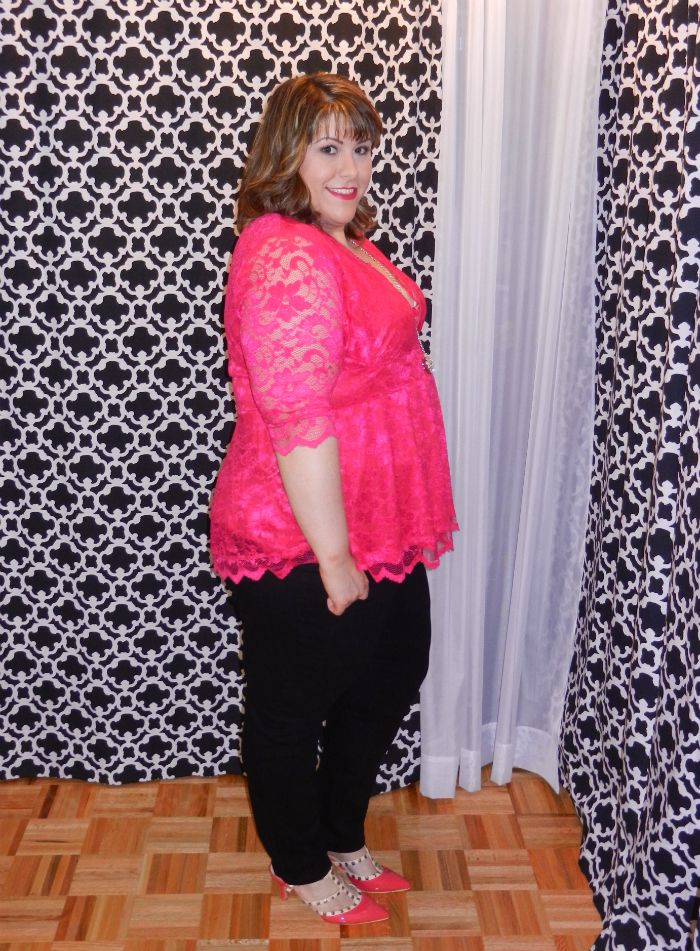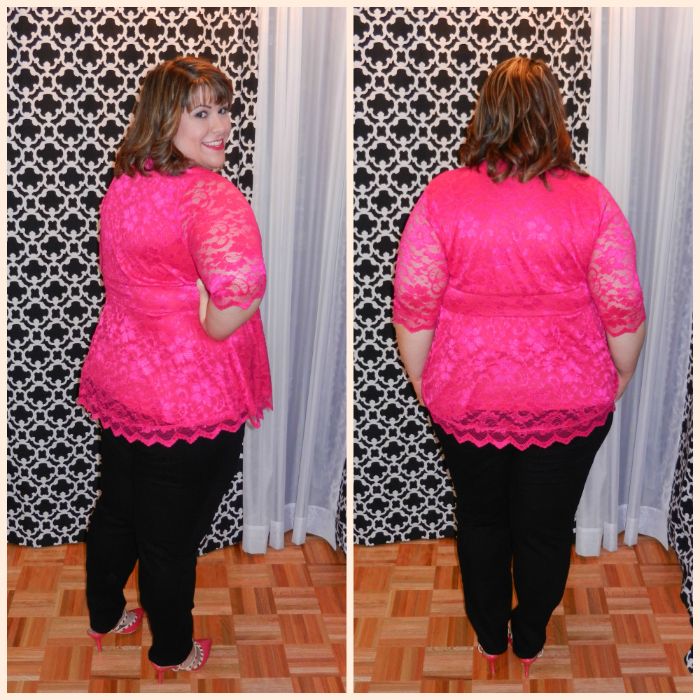 The lining comes down to the top of the scalloped lace. I just didn't have it pulled down all the way. My photographer doesn't always notice the details.
Let's talk about the fit: Overall, I am ecstatic about the way this top fits my body! I am wearing the 3X with no shapewear and my regular bra. The peplum skirted portion accentuates my waist and skims my curves perfectly. The sleeves fit my large upper arms without being binding or restrictive. As I said above, the lace is stretchy and comfortable. Also, the length of this top is so great, where it hits right above the tops of the thighs. It is perfect for so many looks and occasions. The variety of colors is pretty fantastic too: a gorgeous blue lace with blue lining, black lace with nude lining, black lace with black lining, and red lace with nude lining.
The only frustration I had with the top is a common frustration of mine with plus size fashion in general. I'm a big girl with a small bust (I'm sort of a B), so oftentimes things that fit my hips are massive in the bust. While I don't usually have this issue with items from Kiyonna, this top was a bit baggy at the bottom of the bust. I took in the top myself and am pleased with how it looks. If you have a larger bust, this really shouldn't be an issue for you. If, like me, you are naturally smaller in that area, you may need to go to a tailor or take in the bust yourself. It
is
an easy fix, so don't let that deter you from the amazingness of this top.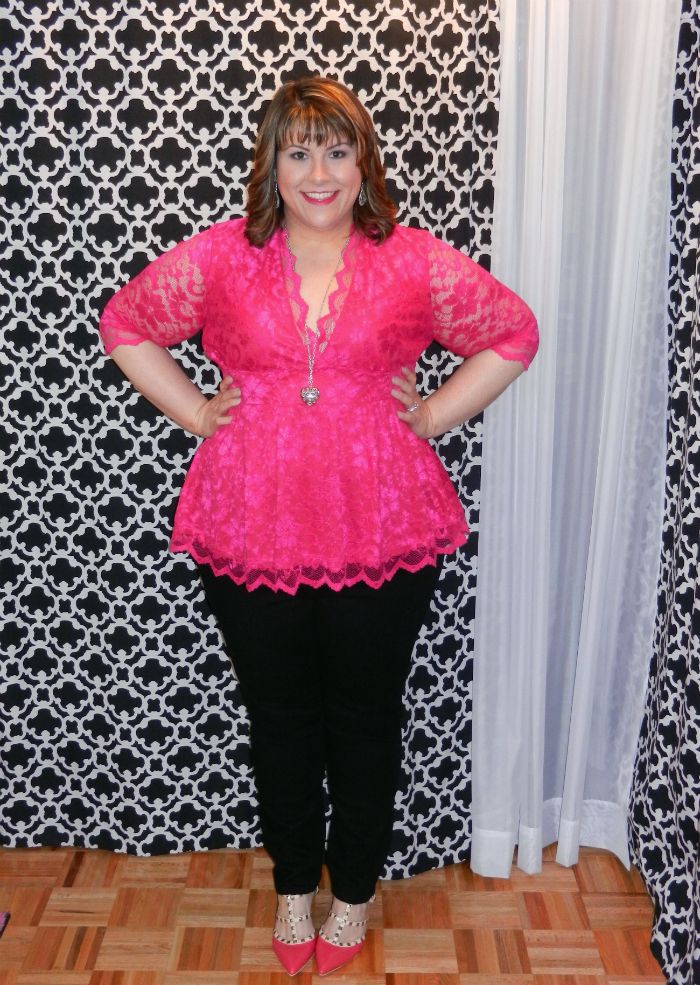 I kept the styling simple because I really wanted the pink lace to do all the talking. It is cold and rainy here, so I opted for jeans over a skirt. These black skinny jeans from Lane Bryant have a great fit and add a dressier vibe. I pulled out my new tear-drop earrings and heart-shaped necklace for a touch of sparkle. A fun lip-printed bag I have had for at least a decade adds some fun and more Valentine's theme for going out to dinner. I was also so excited to add these studded, pink, strappy heels to the look for some sexiness and an extra pop of color!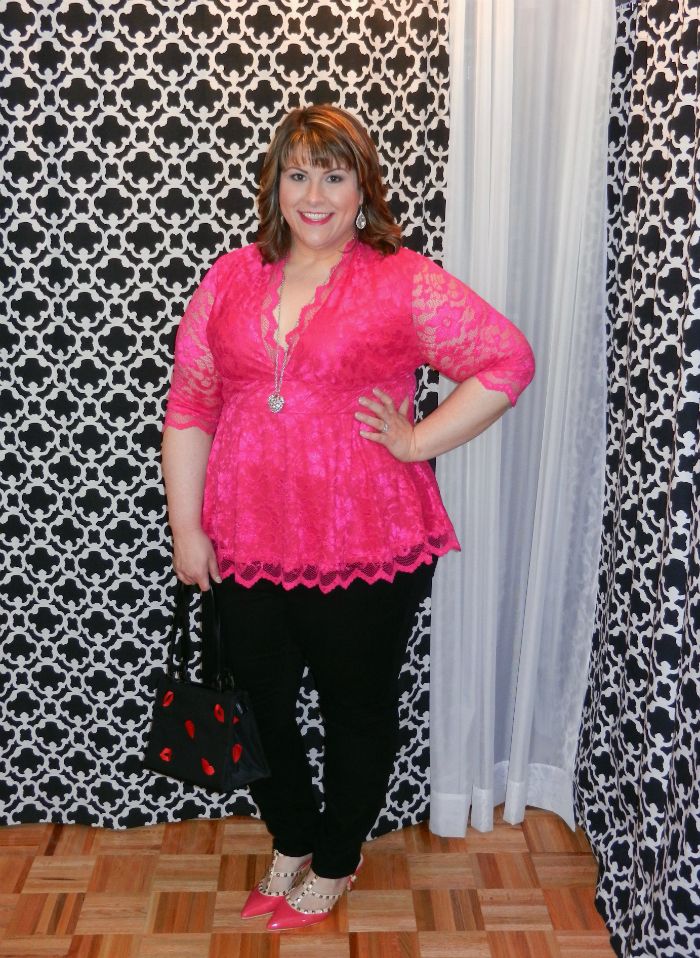 Linden Lace Top
in Pink Passion - c/o Kiyonna
Pink Strappy Studded Heels - Torrid (
Similar
)
Genius Fit Black Skinny Jean
- Lane Bryant
Necklace - Avenue; Earrings - Burlington
Lipstick -
Wet N Wild Megalast Lip Color
in Cherry Picking
Me in my natural habitat: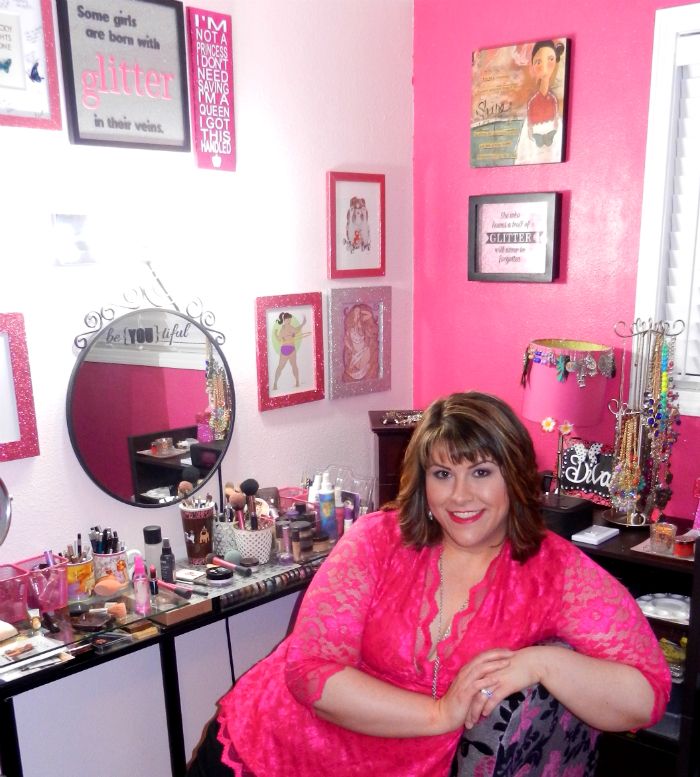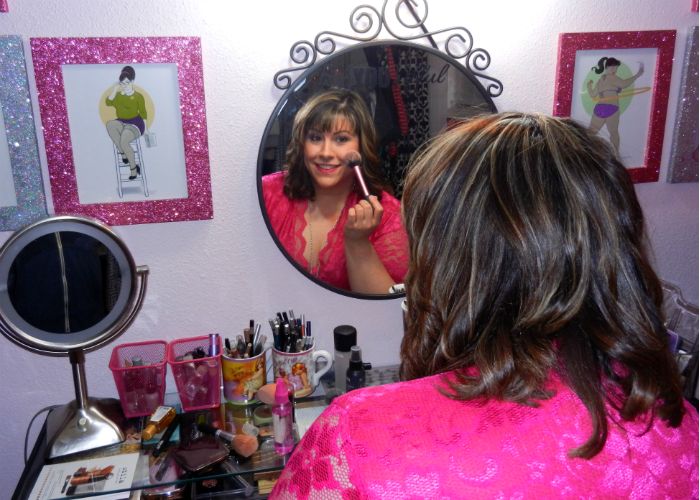 What is your perfect Valentine's look or romantic/sexy outfit? Do you own the Linden Top in any of the other colors? Are you as crazy about pink as I am??
Disclosure: I am a member of the Kiyonna Blogger Brigade and they provided me with the top in this post. All opinions on the item are my own.