Welcome to Day 5 of my vacation recap! There is one more day left, which I plan to post tomorrow. If you missed the previous posts, you can check out
Day 1
,
Day 2
,
Day 3
, and
Day 4
. This post is a shorty, but concert pictures await you!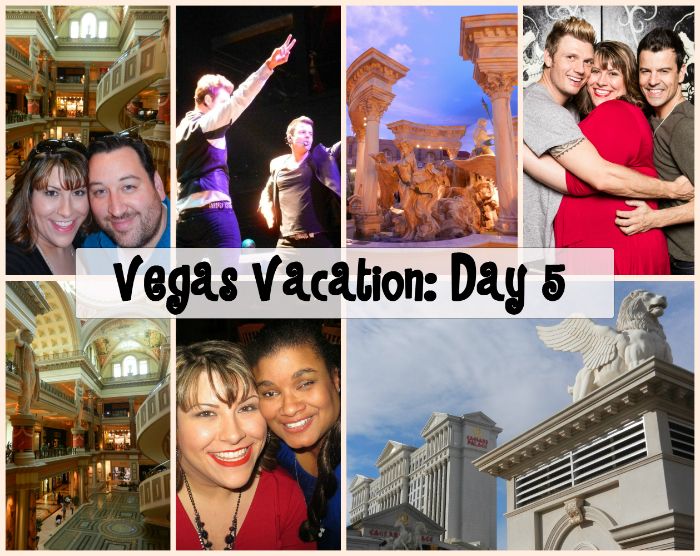 Five days in Vegas is a bit much when you are going non-stop and never taking it easy. Trust me, I have learned my lesson. (
And we only had three alcoholic beverages the entire trip! LOL
) So by day five, we were sore and tired and struggling with getting ready for the day's events in a timely manner. The Nick and Knight concert, the event we built our whole vacation around, was that night. We planned to meet my long-time friend - that I hadn't seen in over ten years - for an early dinner. Our goal was to hit up Caesar's Palace and whatever else we could fit in before coming back to the hotel.
Caesar's Palace and
the Forum Shops
are pretty massive and filled with tons to look at. As usual, I love taking pictures of anything and everything, but we didn't have much time to stop. Just walking through the large hotels and casinos to get to where you want to go takes so much time. As I said before, just pick one big casino to explore a day if you want to retain your sanity. I did look through the MAC store and H&M, window-shopping the rest of the way. I didn't even want to go into the Inglot Cosmetics store unless I had time to swatch, which I didn't. *Insert sad face* We were rushed, but we wanted to see as much as possible.
We debated on taking a cab back to Luxor because we were so sore and so low on time, but I still needed shoes to wear to the concert that actually went with my outfit. I saw
a rhinestoned pair of black FitFlops
at the shops at MGM Grand on our way to the monorail. The employee put them on hold for me just in case. I had hoped our meandering around Caesar's would offer something a little less expensive, but we found nothing. At least I knew the FitFlops would be comfortable and wouldn't kill my toes while we stood in line and danced at the concert. If we had taken the cab, at the very least Sean would have had to walk the mile back to MGM to get the shoes for me. In the end, we sucked it up and went back to the monorail, picked up the shoes, and hoofed it back to the hotel so I could get ready for the night.
Finally back at the hotel, I rested my feet and got all gussied up. Planning a "practical, sort of dressy, not too warm, great for photos" look had me thinking long and hard when I was in my packing phase. I settled on my black skinny jeans (
so I wouldn't have to worry about shaving my legs and wearing Spanx shorts
) and my red Kiyonna Haven top (
because I love the silhouette and the color is bright and dynamic
). No fidgeting, no fussing, and comfort all around!
Sean and I met up with my friend Shala at the House of Blues restaurant for dinner. I met Shala when I was sixteen through an online newsletter about the New Kids On The Block. The internet wasn't a massive thing that everybody just had instant access to, at a time when I thought I was one of the last living New Kids fans in existence. Via this fan-based forum, I started talking to her because she recently met Joe McIntyre and visited Boston, which sixteen-year-old Hailey only ever dreamed about and didn't think was a real possibility. And then here was this girl, who lived a couple of hours from me, who realized these things. We became friends, met in person, had sleepover weekends, and eventually lived together in Boston when I was twenty. Various events led to our falling out a few years later. We didn't talk for about five years. And then the New Kids got back together in 2008. What would have been my first New Kids concert was cancelled, so Shala got my number from our mutual friend and called me to see how I was doing. We talked for about an hour on the phone and randomly online, until we started talking all the time. We've been able to apologize to each other for things that happened in the past and I am really grateful that this has been one of those friendships where things just kind of fell back into place, like nothing bad ever happened.
I was really excited for her to meet Sean, especially since she knew me so well and we always had long talks about boys when I was younger. Dinner was really fun, but we were giggly and excited for the show too! Sean went back to Excalibur to play in the arcade for the night while Shala and I met up with her other friends for the concert.
Luckily, we had an amazing spot on the side of the floor, about three rows back. This offered a great view, but I could lean on the railing behind me when my feet started to hurt. Our group was dancing and having fun, but the Vegas crowd of people in general was really weird. I looked out to the crowd at some point, and while I fully believe they were all having a great time, nobody was dancing or moving. They were just standing there. Shala says that is just how audiences are there. I find it wacky. If I am at a concert I am excited about, I am dancing and cheering and singing along!
The lighting was dark, blue, and not the best for great photos, but I did get a few: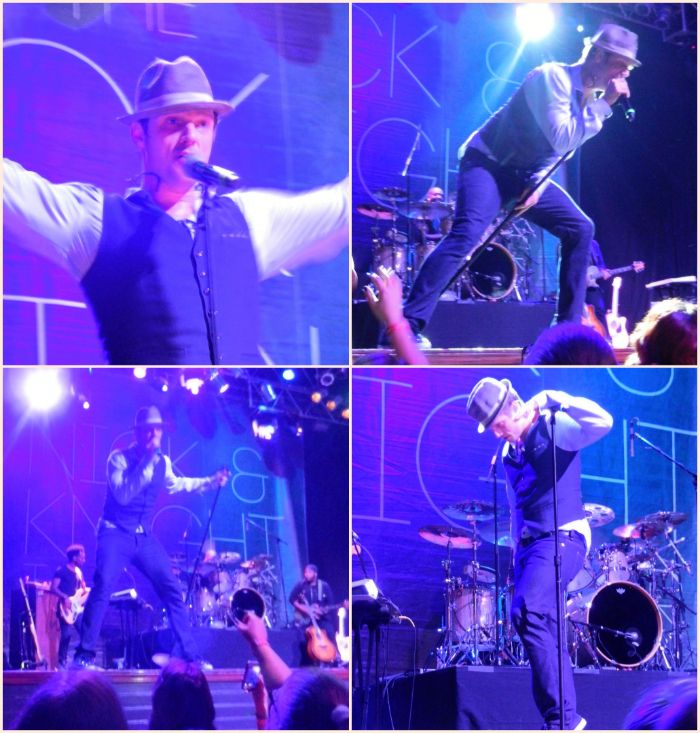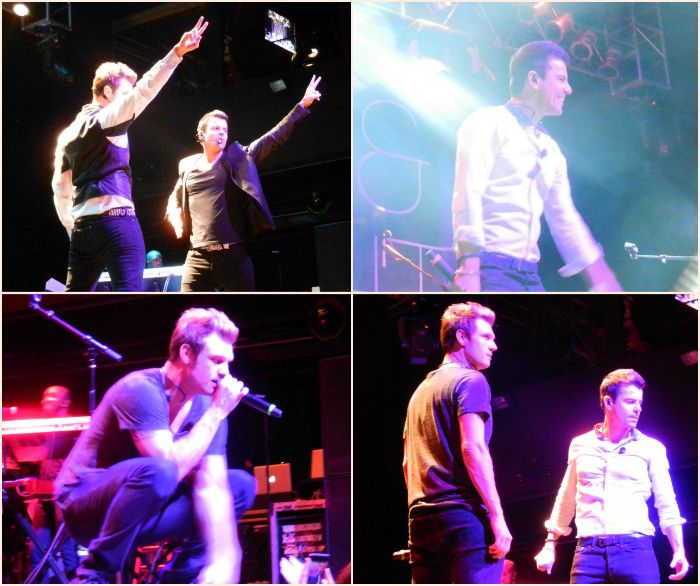 Now that I know I have some awesome boy band lovers reading this, I am adding the video I shot during the show. The guys did a medley of 90s jams, including "Pony" by Ginuwine. It has some of my favorite boyband show aspects - dramatics, hip-rolling, and stage-humping. Enjoy!
After the show, we waited in line for our VIP photos. The guys had to freshen up before they came out to say hello and take photos with everyone. It happened so fast! I hugged Jordan and said hello, then turned to Nick. He was saying goodbye to his manager. When he focused on me, he came over and hugged me really sweetly and said hello before he pressed his entire body against me. I was giddy! Jordan rubbed my shoulder and said something and winked at me as I left. It becomes a blur if you don't write it down right away. In my daze leaving the venue, I started to wonder if my face was too smashed or if I was closing my eyes or if I had lipstick on my teeth. The photos weren't up online until the next morning. I am so happy the picture turned out great though! I even used it on my Christmas card.
I stayed to hang out with Shala and her friends so we could visit a bit longer. After not seeing each other in person for so long, we wished we had way more time to spend together. It all went by incredibly fast. Sean met up with us later in the night and we all walked through Luxor to say goodbye.
That wraps up our day five. As enjoyable as it all was, I was thoroughly exhausted and had a raging headache at the end of the night. It was wonderful to lay down and prop my feet up and drink lots of water.
Who would you like to see in concert? What was your first or favorite concert experience? Leave me a comment and let me know!