With the new year in full swing, I am getting more organized and more focused. I finally have a chance to start sharing our November Las Vegas vacation with you! This vacation was the first out-of-state adventure we have had since our honeymoon to Hawaii in 2008. In light of the last few emotionally taxing years (family troubles and drama, my father-in-law passing away, our furbabies passing away, buying a house, my cancer diagnosis), we finally managed to get a real vacation in. (
I still have to share about our trip to Seattle, but it was a nice getaway too.
)
We debated about going to Las Vegas in July when the New Kids On The Block had a four day stint of shows there. I never turn down an opportunity to see NKOTB, but we decided to save up and try to take a vacation later in the year. Las Vegas is a fun and exciting destination, but probably not my first idea at a relaxing one. After Jordan from the New Kids and Nick from the Backstreet Boys
formed a duo
and announced a tour (with an inevitable Vegas date), we decided to go ahead and go. In November the weather would be better. A friend I have known since I was 16 lives there; and I had not seen her in about 10 years. She would be going to the concert as well. A trip to Vegas just seemed to work out.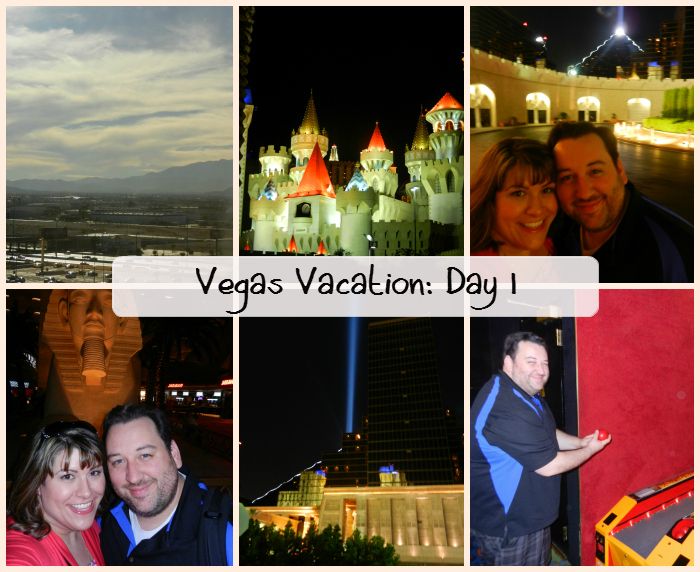 As with most travel days, we had a really early start. I woke up at two in the morning to finish packing and get ready. I agonized over my wardrobe for at least a few weeks in advance, trying to figure out how many outfits I needed and how many things I could wear multiple times. The amount of shoes and finding the most comfortable
cute
shoes was probably the hardest part. I wanted to pack as light and smart as possible but I hate not having my entire wardrobe options at my fingertips. I have to say, I was pretty proud of my end results. I also utilized taking a carry on for the first time. Bulkier shoes, makeup prone to breakage (no liquids), a curling iron, and a blow dryer all came in the carry on. It helped having that extra space for souvenirs as well.
Our flight from Portland to Vegas only takes a couple of hours, thank goodness. Nobody wants to be in an airplane longer than they have to be. I am insanely terrified of flying, so I always get nauseous and start crying before I get on a plane. This time, I held off on the tears until take off when I grip the arms of the chair so hard my knuckles turn white. It is terrifying. Again, I am really proud of myself for not having a full blown panic attack. Progress! I also get really nervous about asking for a seat belt extender. I think most plus-sized people can relate to that in some way or another. So many passengers on the plane can give you dirty looks or look sorry for you simply because you are bigger and I hate that. This trip, I only noticed one lady give me an "
I feel sorry for you. Ew gross
" look after I accidentally bumped her with my butt. In my defense, she was the dummy sticking her entire head into the aisle as people were trying to board the plane. I smiled at her and didn't have any confrontations. If anybody else made faces I didn't see it, but I was also not too focused on all that. I was trying to have fun damn it! (
PS - For anyone who wants info to ease their anxiety, we flew Alaska and the seat belt was about 2 or 3 inches from fitting me without an extender. My midsection measures in at 59"
.)
When I was in Vegas for the very first time, about ten years ago, you didn't have to pay for the shuttle from the airport to your hotel. Nowadays you do. I believe it was $8 a person, so it wasn't too bad. The shuttle driver was really nice and pointed out various hotels and facts about Vegas along the way. It was kind of nice to get a view of everything as the shuttle drops people off at various hotels. We were still a few hours early for check-in once we arrived at the Luxor. We chose the Luxor hotel because it had a smaller price tag and was near two of the main shows we were going to on our trip. In the future, I would probably stay at a more centrally located hotel, but I will talk more about that in a later post.
After being assaulted by hotel employees that want to give you free tickets for shows in exchange for you taking a tour of some time share crap they have, we finally made our way to the front desk area. These people are situated all around the hotel, but you have to go through the casino to get to anywhere. With our luggage, we looked like fresh meat. But the constant "
Can I talk to you for a few minutes
?" as you walk anywhere gets old REALLY fast. After trying to be polite and saying no thanks, we learned to ignore them or lie and tell them we were leaving that day. Even in other hotels they ask you to stop. On one such occasion, a lady was getting ready to ask me and I told her, "
No, thanks. We are leaving today.
", as we power walked by, before she could even ask her question. Her male coworker called to us, "
How do you know what she was going to ask?
" I turned around, power walking backwards, and yelled back to him, "
They all ask the same thing!
"
It was confusing at first, but we found the line for checking our bags into the hotel. They hold them so you can go waste time before check-in, with the option of your bags being delivered to your room once you do. (
They will also hold them after you check out, in the event your flight leaves later in the day.
) By this point in time, we were tired and hungry and kind of irritable. Originally, we had a food tour at Caesar's Palace scheduled for that afternoon, but it was canceled a week prior to our trip. The company doing the tours had some kind of issue. It worked out though because neither one of us had the wherewithall to venture too far. Meandering around the hotel, we stopped at Starbucks for coffee and had a bite to eat. We explored a bit longer, checking out the shops and restaurants that connect the
Luxor
to Mandalay Bay. Being up since 2AM, I was beyond exhausted. Being that this was a fully-booked, six day vacation, I had no idea how my energy level was going to go. Not having a thyroid, or having thyroid issues at all, can wipe out your energy completely. I went into this vacation not really knowing my limits, but I definitely learned a lot. I found a place to sit near the conference rooms (
there seem to only be benches and chairs in very few areas because they want you to go sit in the casino
) to wait while Sean headed back to attempt to check in early. Also, this area I set in was one of the more quiet areas in all of Vegas, so it was nice to just regroup there. ALSO, Wifi never worked in our room, so I had to go down to this area to be able to sit down and use Wifi at the same time.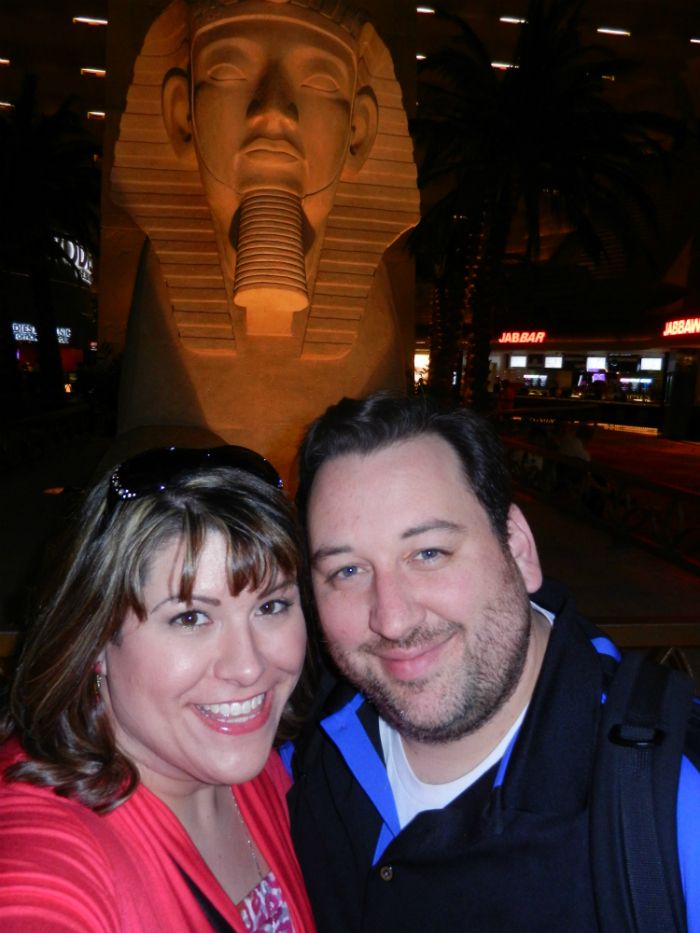 Exploring The Luxor
The carpet at The Luxor was gorgeous. I want to paint it on a canvas!
My view from my chair near the conference rooms
Sean upgraded us from a pyramid room to a tower room, as he was told it had more space. It was a nice, roomy regular hotel room with a large tub, shower, spacious bathroom counter, queen bed, and view of the pool area. It just took a little roundabout way getting there. After a few days we knew some shortcuts, which helped. Our room at the Luxor also did not have a mini fridge, so forget keeping your leftovers. We organized our belongings, took a nap, refreshed ourselves, and headed out to the Excalibur hotel.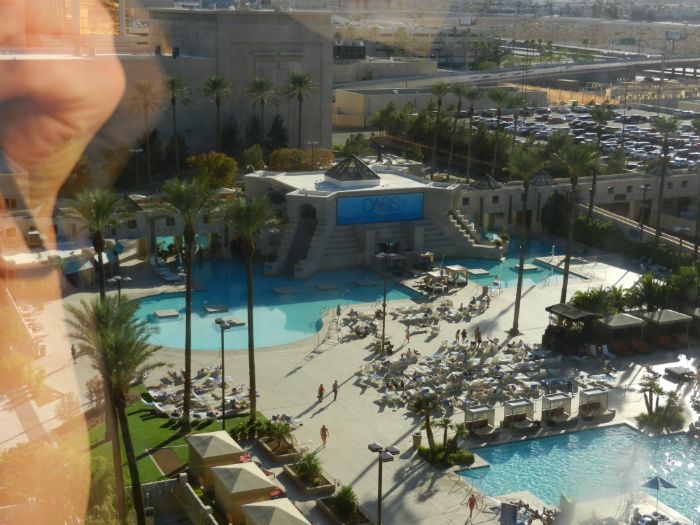 The view of the pool from our room. This pool, along with most of the other hotel pools, close for business around November 11th. I thought this was insane because the weather was perfect, but if you want to swim in Las Vegas pools, go before the beginning of November.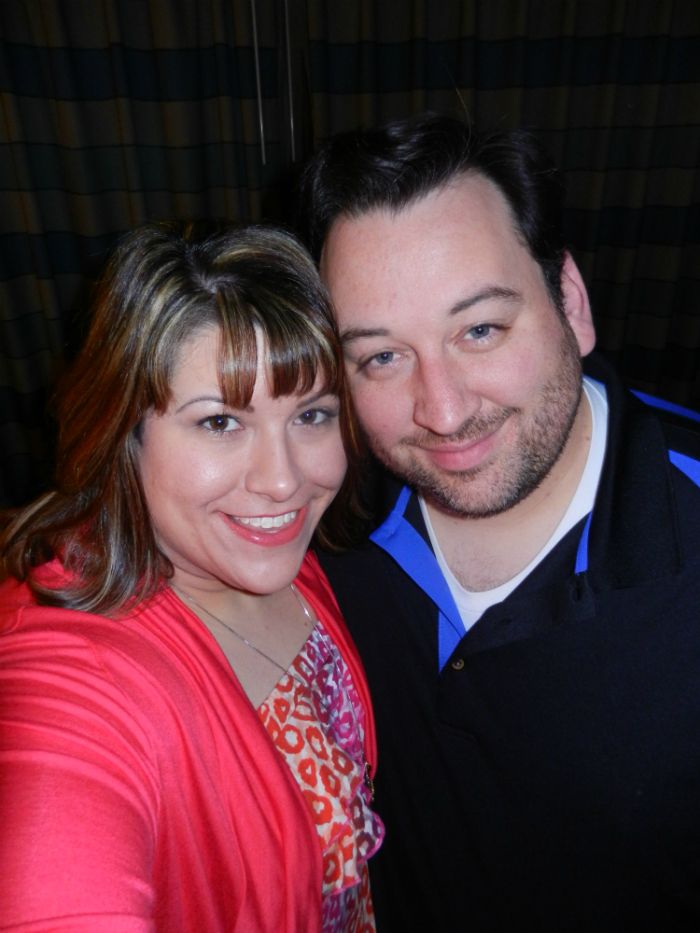 Exhausted, but happy to be on vacation!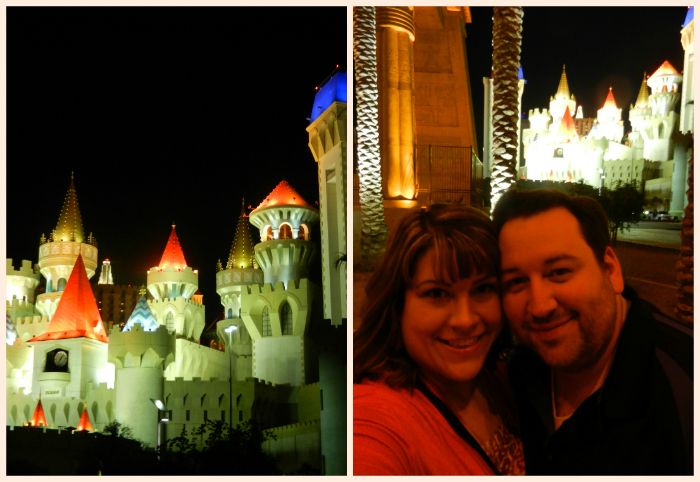 Excalibur
is connected to the Luxor by a series of moving walkways. Every day we were there, at least one walk way or escalator was broken or being worked on by an invisible maintenance team. The moving walkways can definitely save time, but if one is down be prepared to hoof it up a carpeted incline. I saw many a high-heeled woman hobbling up these things because they refused to wear sensible shoes. lol
The hotels all lit up at night are quite spectacular!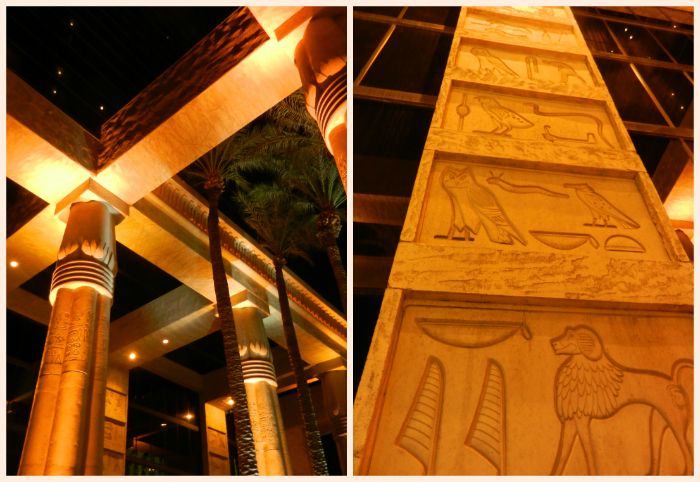 I'm obsessed with themes and all the little details! I could have taken so much more time going through everything and photographing, well, everything!
Our main goal for Excalibur was to attend the
Tournament of Kings
, a medieval themed show centering around knights on horses. Before the show, we made time to check out Excalibur's "
Fun Dungeon
". This is a giant arcade with tons of games. From carnival type stands, air hockey, quarter games, driving games, shooters, and more - they have it all. It was a lot of fun, though it would have been better if no kids were allowed. Bring your anti-bacterial gel because you have no idea what kind of germs are parading around! I miraculously took rather empty photos below, but the place was buzzing with people everywhere!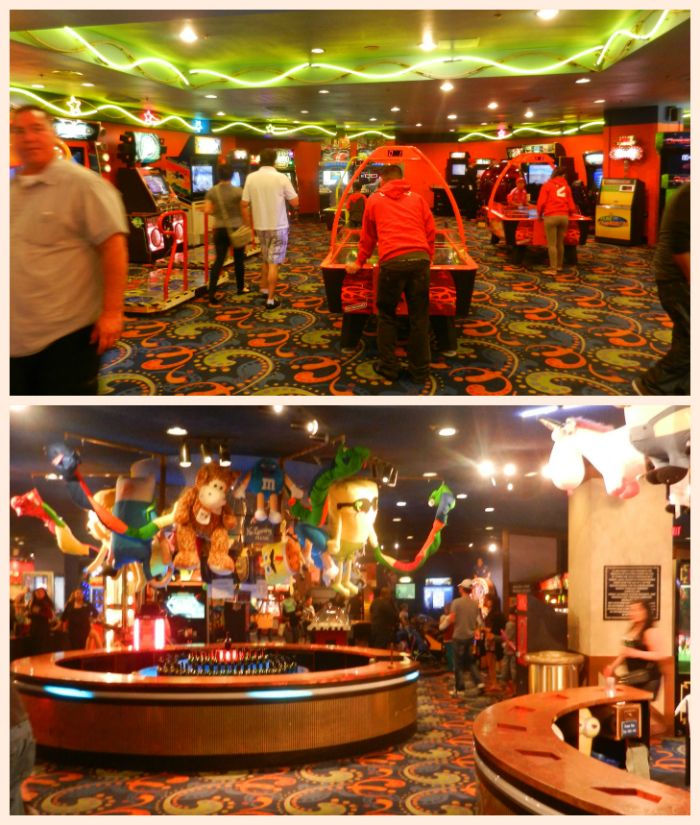 Sean and I played a pirate shooting game because we couldn't find an empty air hockey table. Once we saw Skee-ball we freaked out and played it the rest of the time. Sean was pretty good at it, though I do think I beat him a couple times. These machines do spit out tickets that you can exchange for various toys and items, like a regular arcade. Watch out for unattended, or maybe coached, children who will sneak up and try to take your tickets. There were a handful of kids and parents that got the stink eye from me that night.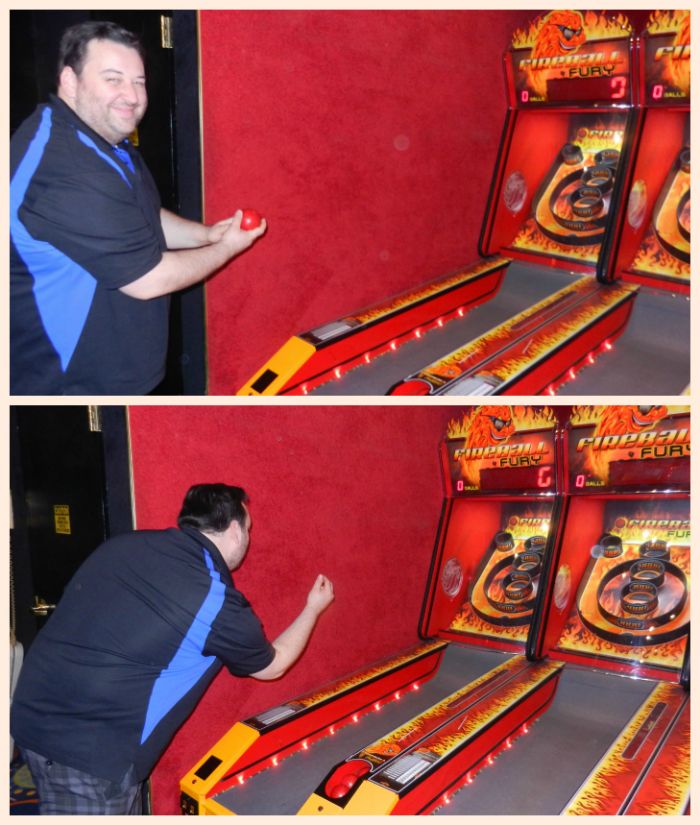 Finally, show time came around! We filed into the arena and headed to our seats. I found some great front row seats on Ticketmaster for $50 less than what we would have paid through the Excalibur ticketing site. After we set down, a nice waiter filled our steins with water and a photographer came around to take photos of everyone. (They don't allow you to take photographs or video during the show.) We posed and acted silly and waited for the food to start coming out.
One of the catches for the medieval show is that you have to use your hands to eat everything. There are no utensils. Tomato soup is served in a plastic bowl with a handle, so you can just drink out of the bowl. Then you are served a game hen, round potatoes, and steamed broccoli on a metal plate. For dessert, an apple pastry. I forgot to ask for the gluten free version of the meal, but according to the website that is an option. The food was really good. Way better than you may imagine. I don't even like tomato soup, but this one was tasty. The game hen was seasoned very well, along with the potatoes and broccoli. While the pastry was nothing special, it was still a tasty treat. Any alcoholic beverages were extra. Since this was our first Vegas event, we both chose to partake of the alcohol. I had a tasty pina colada, but Sean found his strawberry daiquiri to be way too sweet.
The show itself was cheesy, but fun. It was a great first venture in Vegas for us because I feel like it helped us relax and let go a bit to acclimate to a vacation mindset. It was a bit silly with plot holes for those that over think things, but if you just go with the silliness and play along, it it quite enjoyable. If you are one of those people who thinks taking your kids to Vegas is a good idea, all the kids in attendance loved this show. They were having a great time.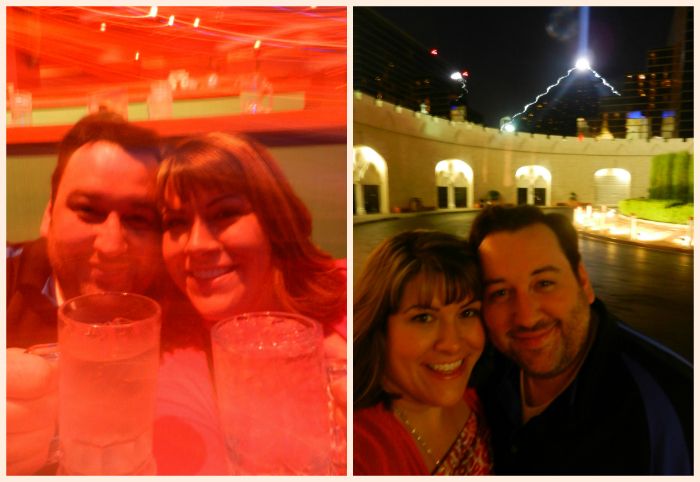 After the show, as we filed out of the arena and back into the Fun Dungeon, we were greeted with some of our photographs that had been taken at the beginning of the show. They were neatly secured in a cardstock folder. We looked SO cute! The price for these 3 5x7 photos in a cardstock folder was $60. I was sad to decline, but that was just way too expensive in my opinion. Later, I did receive an email with links to our photos. One digital file was about $20, so keep that in mind if there is a photo you really want. Most of the places you go in Vegas for any kind of show (even the Titanic exhibit, aquarium, and dolphin habitat) take some cheesy photos of you and want you to buy them. We always posed for pictures, but after day four we stopped looking at them on our way out.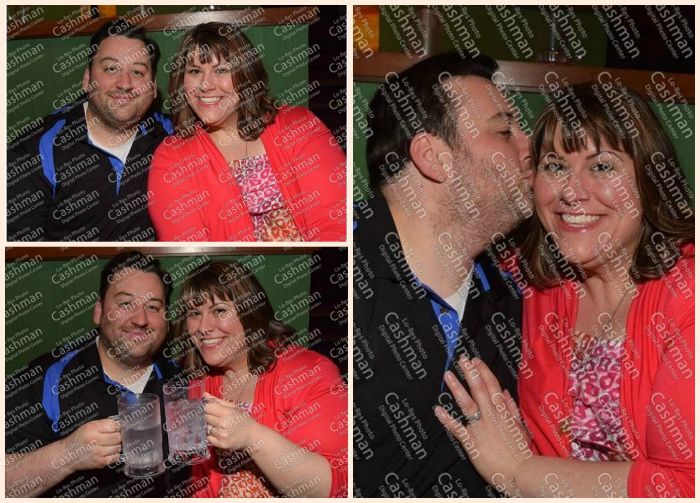 Look! I just saved $60! LOL
Because our hotel was right next door and we figured out a short cut to get back to our room, we went for a stroll outside. We wanted to double check where we would be picked up for our Grand Canyon tour the next morning, plus I love any excuse to take more photos. The Luxor beam of light shines very brightly and looks amazing in the black sky. It is made of 39 individual xenon lights with 7,000-watt bulbs. It looked like the coming of Gozer the Gozerian, so we had to take a photo. lol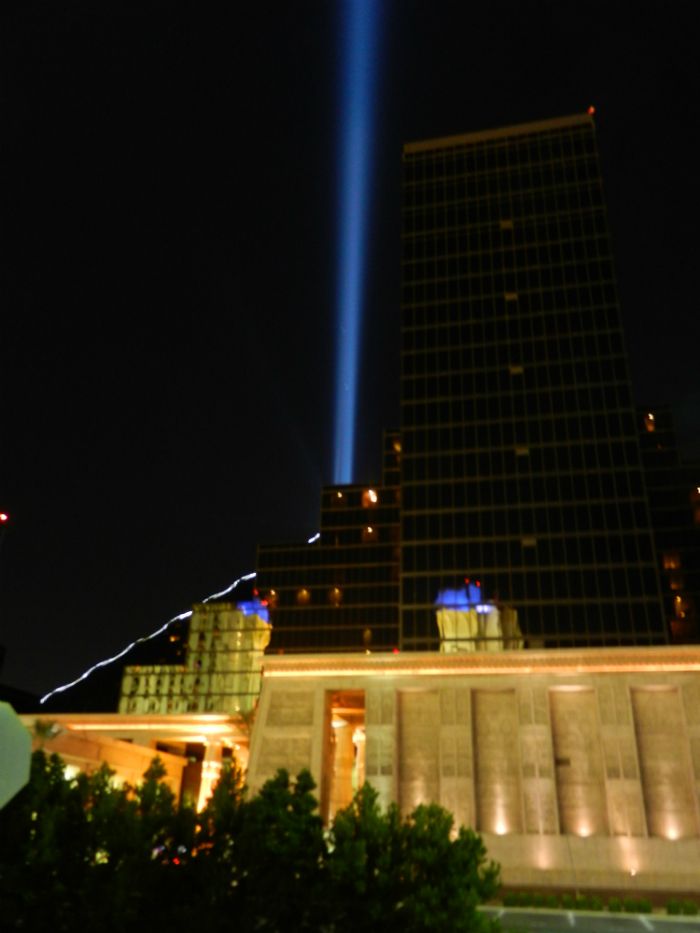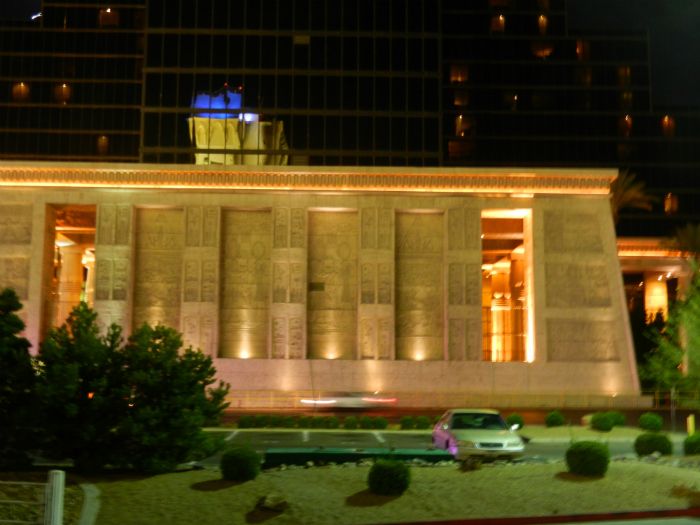 All in all, it was an exhausting day but we were thrilled to be in a new setting and having new experiences together.
Over the next few weeks, I will post more about our trip and provide as many tips and insights as I can to help you plan a Vegas vacation of your own. I took so many photos and I can't wait to share all the fun with you!!
The next installment will be all about our trip to the Grand Canyon, which was one of our favorite days!