If you follow me on Instagram or caught a post on Twitter or Facebook, you already know that my beloved Kiki passed away on New Year's Eve. It has been really hard for us losing him, not only because he was sweet and super loving and snuggly and small and
Rusty's son
, but because he was the last of our three fur babies. Now the house is empty and more quiet than usual. All I want to do is cry, but I've been staying really busy with cleaning and reorganizing the house to keep my mind off things.
Today, we are going to just ease back into things with a simple outfit post.
During one of our shopping outings in preparation for Christmas, we stopped by
JCPenney
to browse. Originally, we were looking for a sweater for my mother-in-law and I was going to buy a scarf for my husband. (His old one is from our first Christmas together nine years ago! It was time for a new one!)
I stopped shopping the plus section at JCPenney years ago, after only seeing more conservative, older fashions in plus that did not speak to my personality at all. When I was a size 28, not too much fit me there anyway. But seeing as how I wear a size 24 now and had,
maybe,
two long-sleeved tops in my closet, I did browse the plus section this trip. They had some really cute sweaters and jackets, skirts and blouses, etc. I was actually really impressed with the things I found. I was still unsure if it would fit me, but I tried some things on with great results. Some of the items I tried on were also more generously cut, so even if you are a size 26 or 28 I encourage you to go browse and make a trip to the dressing room. (
They probably carry some larger sizes in store, but they do have larger sizes online for sure.
) I didn't delve too deep into all the racks since we had minimal time to focus on present shopping.
What I did find were these two sweaters from the A.n.a brand. They were on the clearance rack for $12.99, so I went ahead and tried them on. I actually want to go back and see if they have any of the black and white striped left still!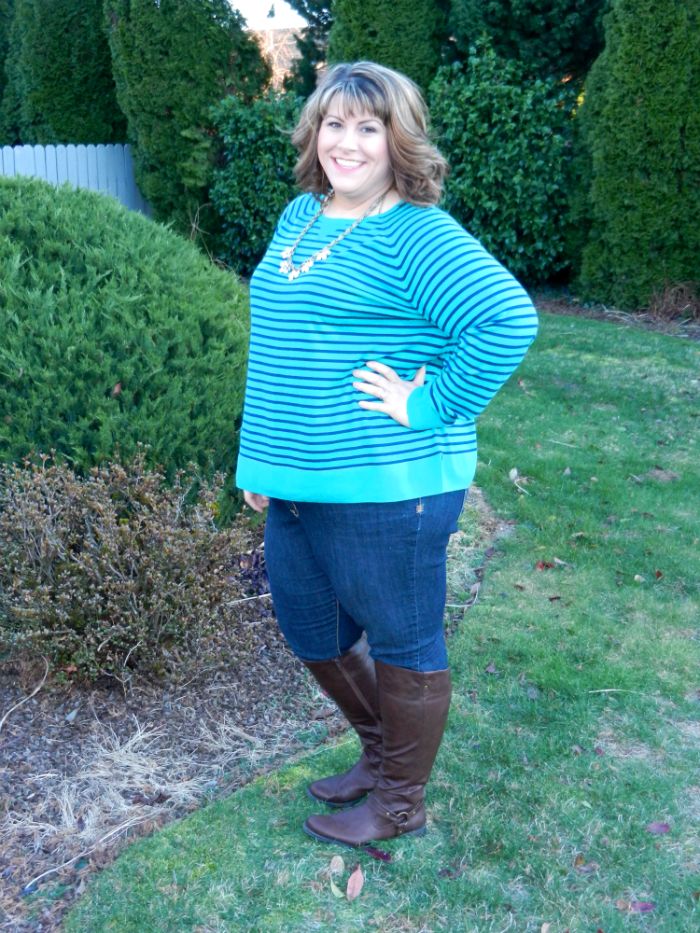 Both are a 3X and more generously cut for a slightly over-sized fit. The fabric is a really soft sweater material that isn't too thick but enough to keep me warm. They have some stretch to them, of course, but haven't stretched out at all
(and I have worn them at least once a week since early December
).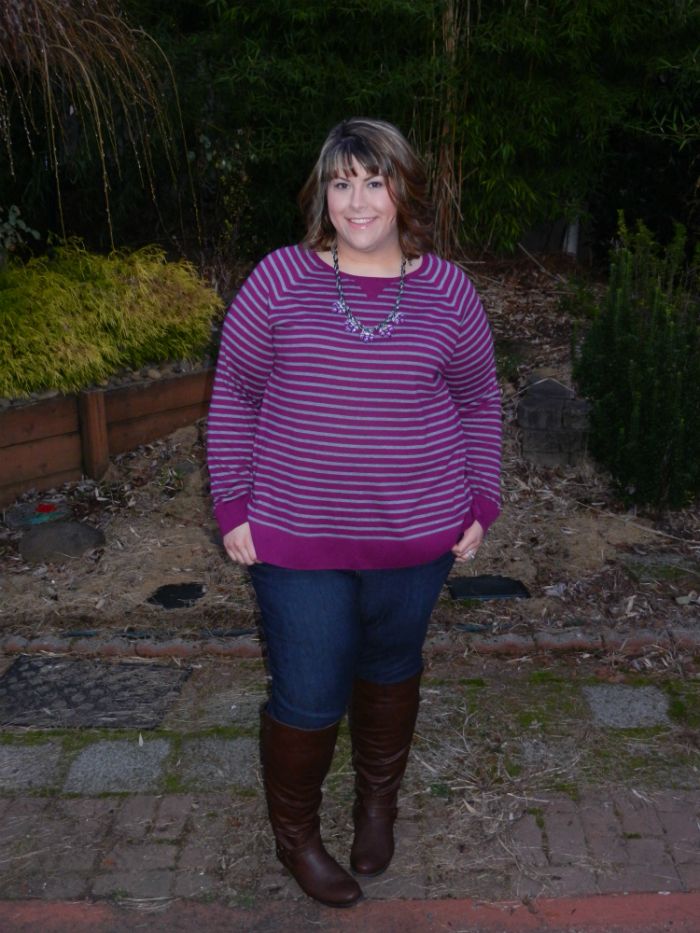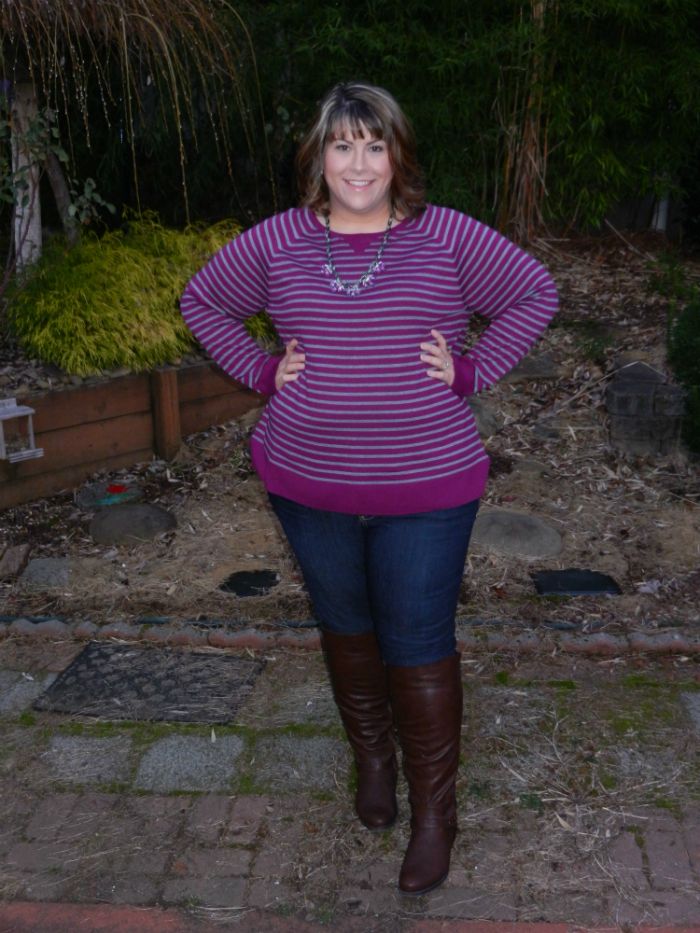 These sweaters have been my go-to tops lately because of their ease and comfort, but I also love the colors. I feel pulled together with minimal effort. I styled them the same way, which makes them kind of boring for you to see. I'm sorry. But the name of the game for me lately is MINIMAL. I have worn basic outfits and basic neutral makeup this season. Ease of application and wear is what I am focusing on at this point in time. But styling it the same way also shows you just how go-to and easy they are. This is the kind of top I would collect in every single color or pattern.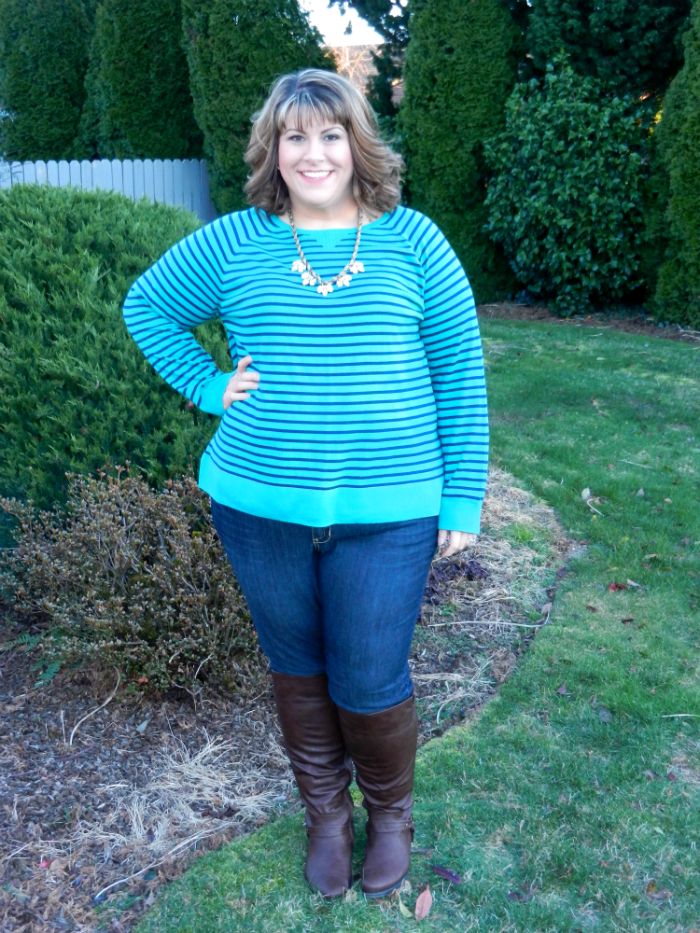 Striped Crew Neck Sweater - A.n.a. Woman via JCPenney's (On clearance for $15 online:
4x/5x
and
1x/2x/3x
)
Denim Jeggings - Torrid (
Similar
)
Talia Stretch Boot - Avenue (
Similar
and
here
)
Twisted Stone Necklaces in gold and silver
- Lane Bryant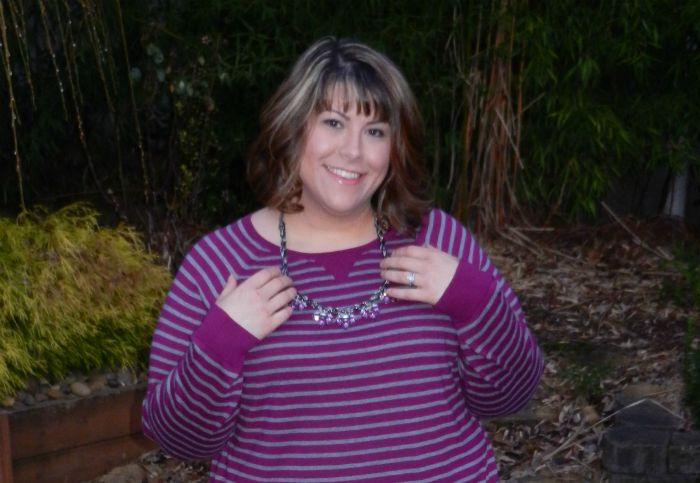 Have you been shopping at JCPenney recently? Do you have a favorite brand there?
Let me know in the comments!