Ipsy is a monthly box subscription service ($10 a month) that sends you about five samples and/or full-size products that could be makeup, skin care, hair care, or nail care in a cute little bag that fits the theme of the month. Based on your answers to a short Beauty Quiz, you are sent the best products for you geared towards your skin tone, hair color, eye color, and other beauty concerns. You earn points by reviewing the products and those points can be redeemed for selected items.
December's theme was "
Thinking of You
".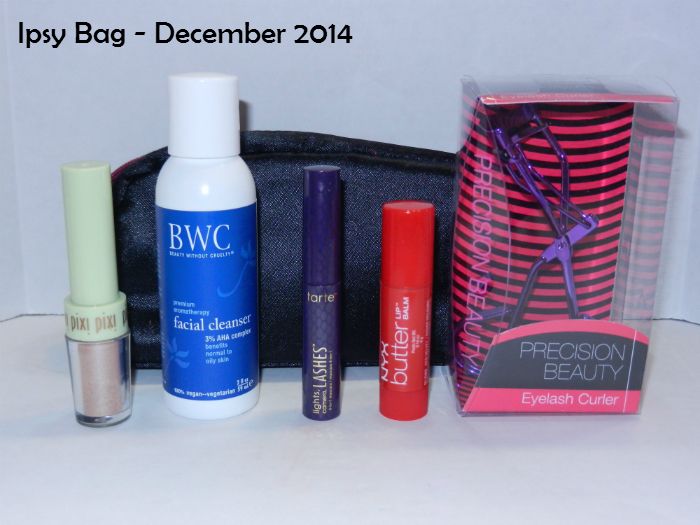 In an effort to keep you abreast of the various products and to catch up with everything I have intended to get done, today's post is a twofer Ipsy bag review. First up is December's bag, followed by January's. Enjoy!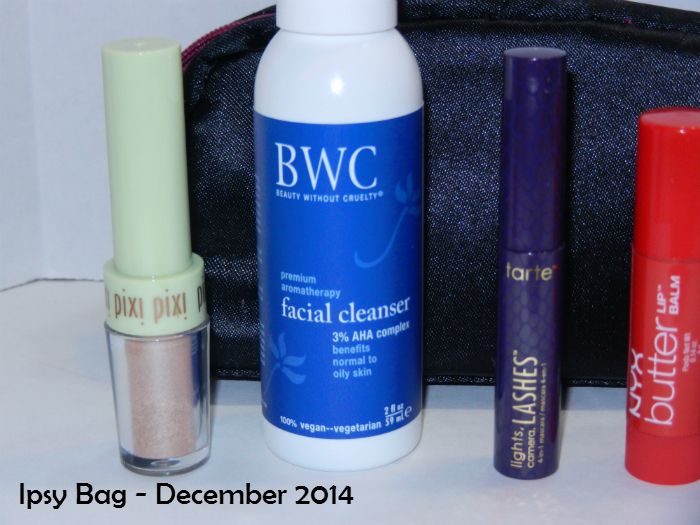 Beauty Without Cruelty A.H.A 3% Facial Cleanser
- I never know what to expect with cleanser. I've been using this one in the shower and actually really like it. It makes my skin feel clean and smooth. It has a light scent, nothing overpowering, and hasn't caused any breakouts or issues. It is paraben free, pH Balanced, and 100% vegan-vegetarian. And, as the name of the brand insinuates, it is not tested on animals.
It is $11.95 for an 8.5 oz bottle.
Swissco Electroplated Eyelash Curler
- I haven't used this product yet because my current eyelash curler is still doing just fine. This one looks exactly like the Revlon one I use, minus the rubber lining of the handles on mine.
It retails for $5.
Tarte Deluxe Lights, Camera, Lashes 4-in-1 Mascara
- I actually own this mascara already because it came in a Tarte Value set I bought a year or so ago. I don't use it because I am extremely picky about mascara. This one was recommended to me because my cousin used it. However, it isn't a tubing mascara so it can still give you raccoon eyes. I only use tubing mascara because everything else ends up bleeding and smudging.
A .24 fl oz tube retails for $20.
Pixi by Petra Fairy Dust in Brightening Bare
- I am a sucker for neutral, shimmery eye products, so I fully expected to like this. However, it is exactly the color of my skin and doesn't show up on me at all. If you like to look completely natural or are a makeup beginner, I think this would be great. It adds a little shimmer and brightening/highlighting affect without being very noticeable. If you want something similar, I would recommend the
Cailyn Mineral Eye Polish
. My friend received the color "Orchid" in her Ipsy bag, which is a warmer golden-toned mineral eyeshadow that goes on much smoother.
The Pixi product is $10 for 0.02 oz and the Cailyn product is $15 for 0.09 oz.
NYX Cosmetics Butter Lip Balm in Red Velvet
- I typically love all the NYX products I have tried. They are a great inexpensive brand of makeup. I use the
Matte Finish Setting Spray
,
Soft Matte Lip Creams
, and
Butter Glosses
regularly. These butter lip balms were new to me, but I quite like them. They feel comparable to the Fresh Sugar Lip colors in that they are hydrating, but a little thicker. They seem more pigmented than the Fresh products as well. I think they would be a great alternative if you love the Fresh Sugar lip tints but can't afford their price tag. I received Red Velvet, which is an orangey-red on me. My friend received Ladyfingers, which is described as a mauve but looks more fuchsia pink. Both are very pretty colors that leave a great color on the lips with no fuss.
These come in 8 different colors and retail for $4.
January's theme was "
Fresh Start
".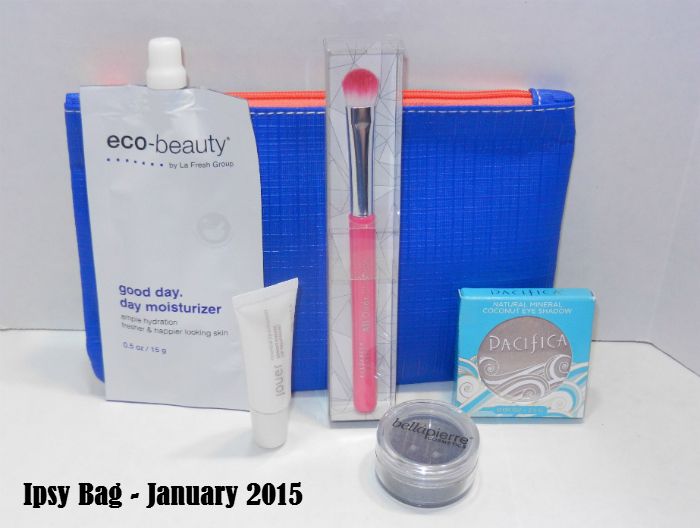 Elizabeth Mott All Over Shadow Brush
- This is a full but softer bristled brush for applying shadow. I find it to be a bit large for my lid for more precise applications, but I think that if you are doing (as the name implies) a color all over your lid then this should work fine.
It is $9.99
.
Jouer Essential Lip Enhancer
- I've been using this for a few years now because I received a sample in one of my early Birchboxes. It is a glossy, non-sticky lip treatment that conditions and nourishes with Vitamin E, Jojoba Seed Oil, and Shea Butter. It feels very smooth and silky on the lips, while also offering the added benefits of decreasing fine lines and increasing the appearance of fuller lips. I love slathering it on after I exfoliate.
This product is .33 fl oz and retails for $16.
PS - Tinted ones are $18.
La Fresh Eco-Beauty Be Good. Good Day. Day Moisturizer
- Obviously, I find it hard to completely review a skincare product that I haven't been using for at least a month. But I can tell you this is a creamy moisturizer with a lighter cream to gel-like feel to it. It doesn't feel heavy on, but it feels hydrating and smooth. It contains collagen-producing peptides; hyaluronic acid; cucumber; aloe; vitamins B, C, and E; and anti-aging botanicals. As it says it is best for sensitive, dry, and combination skin, I felt it was a bit much for my mostly-very-oily skin. I wore it overnight and was very greasy when I woke up.
A 1.7oz container retails for $40 or you can buy a sample pack for $13.99 for 0.5oz.
BellaPierre Shimmer Powder in Whesek
- I never heard of this brand before using this product, which is a finely milled mineral eyeshadow. They claim to use no additional filler for 100% hypoallergenic products suitable for all skin types. This color looks like a very dark grey in the container (and looks grey brown in the website photo), but actually applies as a blue-toned silver with a bit of a lilac shift. It is a very pretty color, but a bit too cool-toned for me and what I like to wear. It is very pigmented, a little goes a long way. Overall, it seems like a quality mineral eyeshadow to me.
This product is $14.99 for a 2.35g sifter jar of product.
Compared to BareMinerals $14 for a .57g jar, this is quite more bang for your buck.
Pacifica Natural Mineral Coconut Eye Shadow in Ethereal
- This is the second Pacifica eye shadow I have received in an Ipsy bag and I have the same opinion on it - I don't like it. The formula is barely pigmented and way too chalky-looking for my liking. If you want something that is a similar color and actually looks nice and has a great texture, I would go with Mary Lou-Manizer from TheBalm
($24 for 0.3oz
). These Pacifica eyeshadows are only available in palettes, which range in price from
$14 to $32
.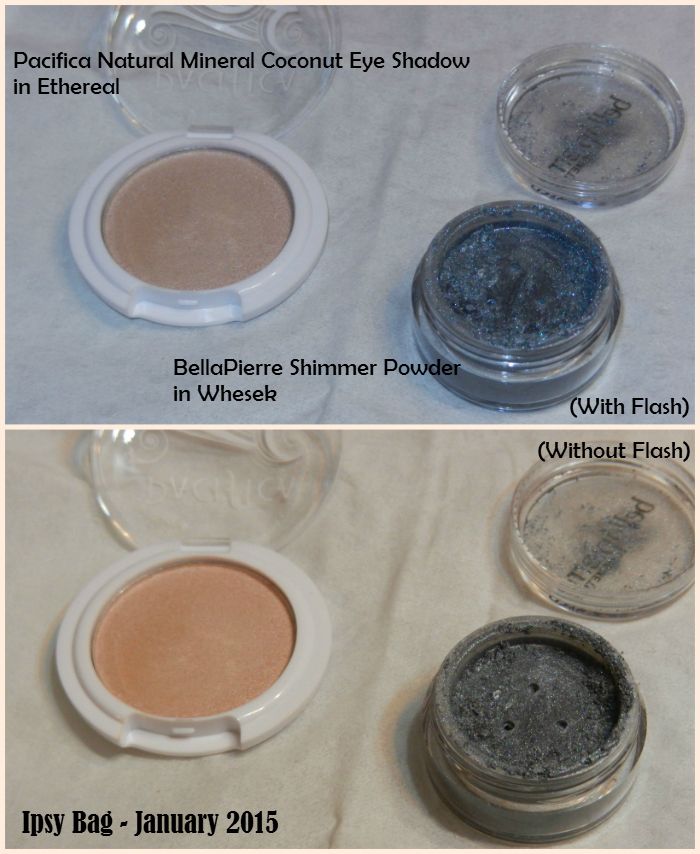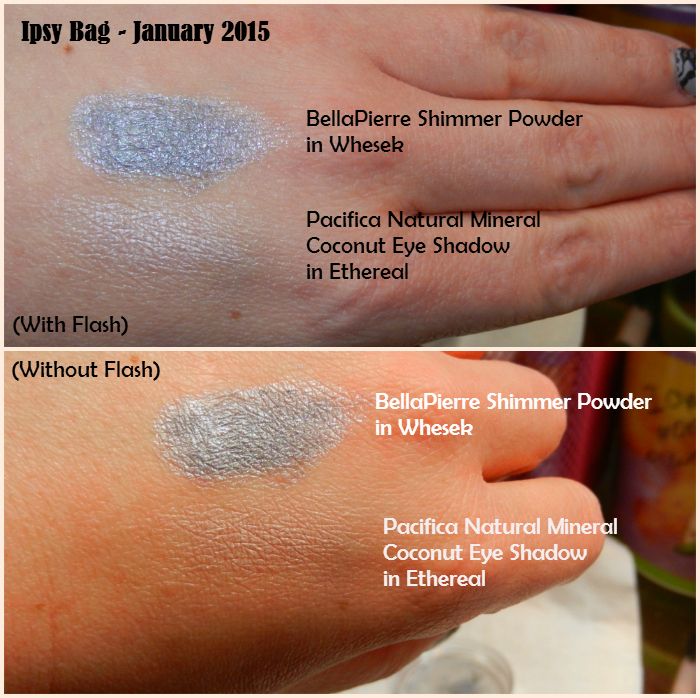 Have you used any of these products? What items did you get in your most recent Ipsy bags? Do you have any favorites or least favorites?