Ah, Valentine's Day! I really didn't become a fan of the day until I met Sean in 2005. Since then, I enjoy going overboard with romantic gestures and gifts. For our first Valentine's Day together, I made him a booklet called "100 Reasons Why I Love You". And it actually contained 100 reasons. I often kick myself for starting out our gifts together on such a high note because it has been very hard to beat that from year to year.
I know a lot of guys aren't the best gift givers, but Sean has always been pretty good at giving me lovely, thoughtful things for Valentine's Day. I've surprised him with flowers and chocolate covered strawberries delivered to his work, but I lean more towards homemade tokens of love. Framed photos, unique cards, handmade booklets, and today's special craft tutorial are just some of the things I have gifted to him through the years. We typically stay home, make broth or cheese fondue (and sometimes dessert fondue), drink wine, and just spend time together.
If you are looking for a fun and easily personalized gift for Valentine's Day, I present you with the idea of a coupon book. Last year, I saw a Groupon for one you could personalize with stick figure clip art and a selection of mundane tasks or generalized concepts. It was black and white and just looked too stark and plain.
Etsy
also has some options to choose from if you feel like you have no creative bone in your body.
If you want to go the completely personalized route or try your hand at getting creative, I'm about to teach you how to make one yourself. This isn't a hard project, but it does involve a lot of cutting. The end result is really great though and my husband absolutely LOVED his gift! He did actually end up hoarding a majority of the coupons for December, to use during his birthday month. If you need to make rules or stipulations, you may want to put them in the booklet. lol
What You Will Need:
Your Valentine "coupons" printed on photo paper or cardstock (See below for info)
Scissors and/or paper trimmer
Hole punch
Assorted complimentary scrapbook paper of your choice. I used 6 double-sided 12x12 pieces of scrapbook paper for an assortment of patterns.
About 5 pieces of heavier cardstock in a complimentary color
Embellishments for decoration: Stickers, rhinestones, flowers, vellum quotes, glitter paint, ribbon, washi tape, metal shapes, etc. (Whatever floats your boat!)
Any additional decorative paper
Any photos you want to use to decorate with
Adhesive one-inch tall lettering (I used a black foam 3-D lettering.)
Album Ring
Adhesive, such as Glue Dots (I use Elmer's Glue Dots and Recollections Double-Sided Mounting Tape). Just make sure they aren't the re-positionable kind.
Stickles or other glitter paint or glitter and glue
Decorative scissors
Small paint brush
How To: Make Your "Coupons"
Before you get into all the fun, creative stuff, you have to make your coupons! Below, you will find a basic coupon jpg file that I made, one with lipstick and one without. I have also included the lipstick file in case you want to use it differently. Download these files and open them in Paint.Net,
Pixlr
, or whatever you use for editing photos.
For each coupon you want to include in your booklet (
I made 10
coupons
), you will make a separate coupon file and add your wording. I used a font called "Written On His Hands", which you can download for FREE
here
. Save the files on your computer.
To print: highlight all the coupon files, right click, and choose "Print". In the window that pops up, uncheck the bottom box that says "Fit picture to frame" and choose the 4x6, 2 to a page option. It should look something like this: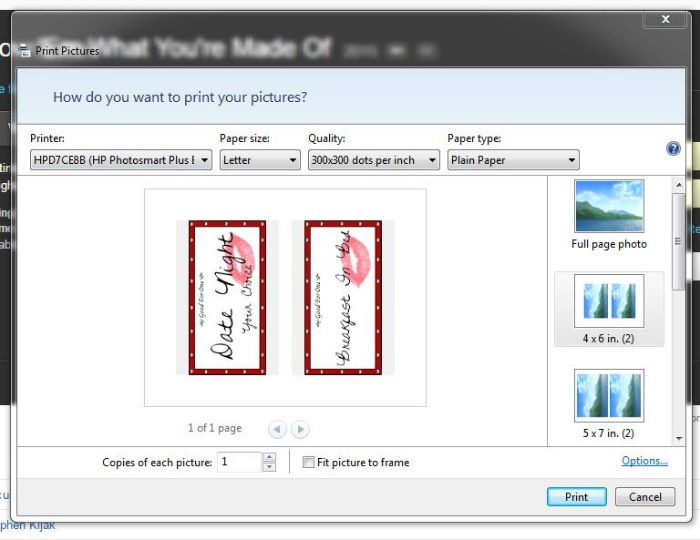 Make sure you have your proper paper in the printer (
I used a matte photo paper
) and click print. Now, cut them out!
Need ideas for what to write on the coupons? I used: Home-Cooked Meal of Your Choice, Back Massage, Breakfast In Bed, Star Trek Movie Marathon, Date Night, Leg Massage and Foot Rub, Wild Card, and a few naughty ones. Be creative and think of fun options that are really personalized to whomever you are gifting. Think about fun things for the two of you to do together or small gestures that mean a lot. It's a gift that keeps on giving the whole year, so you have plenty of options.
On To The Fun Stuff!
Lay out all your decorative papers and embellishments. This helps give a good overview of what you have to work with. Start with your patterned scrapbook paper. The patterned paper measures about 7 1/4 inches by 4 1/8 inches. Cut the rectangles slightly bigger with a paper trimmer so you have room to cut the edges with decorative scissors. Once all the decorative paper is cut (enough pieces for your coupons), decide in what order you want the decorative pages and in what order you want the coupons to appear. I started with simple coupons and ended them with a bang! lol Affix your coupons to the center of the decorative paper with glue dots or mounting squares. Mounting squares seem to be a big stronger and better suited for this task, but glue dots work good too. You just may need to use more glue dots than squares.
Take your heavier cardstock and cut it into rectangles that measure roughly 7 3/4 inches by 4 3/4 inches. For a ten coupon book like mine, you will need eight of these card stock pages. Again, lay them out so you can visualize your book and begin assembling. Put three of these cardstock pages aside (for special pages) and affix your coupon papers to the center of the cardstock in the order you want them. All coupon pages are front and back, meaning a coupon page will go on each side of the cardstock.
Once these pages are done, punch holes in the top left corner of each page. Make sure to punch the holes in the same place so everything lines up smoothly.
How To: Make Special Pages

The Cover
For the cover, I cut a piece of patterned paper the same size as the cardstock and attached the paper to the cardstock page. A strip of striped paper, cut with decorative scissors, is affixed to the edge. Next, I cut a strip of the cardstock as tall as the lettering and affixed it to the page where I wanted my words to go. Punch your hole in the page so you have a guideline and won't decorate over it.
Next, I added a piece of sparkly ribbon in a complimentary color and applied the lettering. These foam letters have their own adhesive on the back. You will need to cut out each letter while it is attached to the plastic it comes on, so you can move the letters around and measure where they need to go. After your letters have been applied, take your glitter glue (
Stickles is my favorite because it is super sparkly, easy to apply, and dries flat
) and decorate your lettering. I squeezed out some Stickles on a piece of paper and applied it to my letters with a small paint brush. After that, you can decorate your page with more glitter glue and let it dry. Once dry, apply rhinestones, stickers, or whatever else you want to. You can check out all the extra photos to see what I did.
Inner Cover Page and Back Cover Page
Right inside the front of the booklet (and again in the back), I took the opportunity to add a few pictures and quotes about love. These are definitely pages you can do whatever your heart desires, but I will tell you a bit about what I did for each page. Each one was built from its own cardstock page base because I knew it was going to need time to dry.
For the inside cover page, I added some decorative metallic paper with glue dots and/or mounting squares. Then I cute a couple rectangles of patterned paper for decoration and mounted those. Whether you use vellum quotes from the craft store or print out your own at home, vellum can be tricky to adhere if you want it to look nice. I focused on attaching it with glue dots underneath the picture page area, then used Stickles to go around the edges and keep them in place. The big picture was cut with decorative scissors, with a line of glitter glue following that scalloped edge. Make sure you punch your hole in the correct side before decorating with more glitter glue. After the page dried, I also added a few rhinestones.
For the back cover, I put down a patterned piece of paper the same size as the cardstock page. Punch your hole before you get started with picture placement and decoration. I secured the pictures on the page, outlined them with glitter glue, and used glitter glue to affix the vellum to the page. I also added a heart of glitter glue in the upper right corner and fanned out the glitter towards the inside of the heart. (
See below for a larger photo
.)
Don't forget to decorate your actual pages! For my Star Trek Movie Marathon coupon, I used some glitter paint to make the black border look a bit more like space. lol I also added stickers, and rhinestones to all the other pages. Just make it look pretty and not all plain.
The Finished Product
Once your pages are dry, adhere the cover and inside cover to one another with mounting squares. Decorate the very back with your name and the year or a little message of love. Put all the pages together and slip the album ring through the holes. Now prepare to wow the recipient with all your hard work!
Want a few more ideas for gifts? Frame a photo or photos or make a collage with scrapbooking elements. Make a booklet of all the reasons you love your significant other. Buy a pre-made heart-shaped chipboard booklet at the craft store and decorate it with paper, pictures, and quotes of love.
I leave you with a little collage of Sean and I from all our Valentine's Days together: