If you don't know about Birchbox, it is a monthly subscription service. For $10 a month, you get a box of 4 to 5 high-end skincare, makeup, and/or hair care products to sample. Sometimes there are also "lifestyle samples", like an organic granola bar, tea, etc. Some products are even full-size!
It is a really fun thing to get in the mail! I have been subscribed since 2011. Plus, I am a product junkie and love being able to try all these different products. Check out the website for more information!
December's theme was:
Decked Out.
I've been trying to use my monthly subscription samples as soon as I can. I do not like writing a review post when I haven't used a product at least a few times. Some month's posts may be later or earlier depending on that issue. All of these products are available through Birchbox and other retail sites as well. I pay for my own subscription and always have. If you want to sign up using
my link
, I receive some points for referring you! Let's get on with the reviews!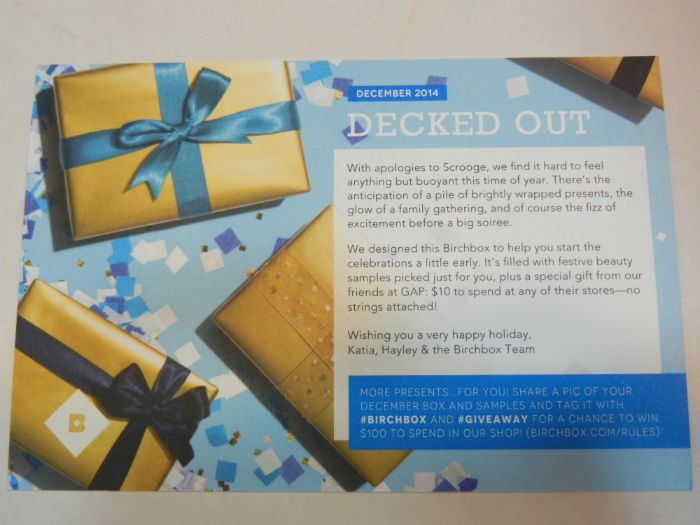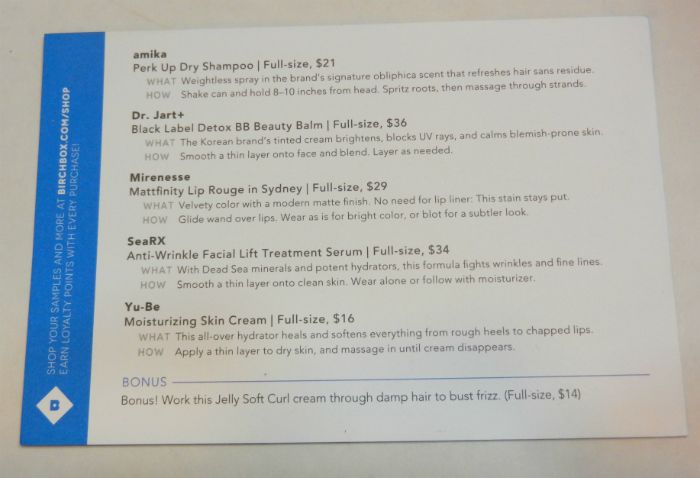 This month's box was a gorgeous blue one with sparkly accents all over. It makes a great little holder for various odds and ends after I'm done organzing my products. I am really loving all the pretty boxes lately!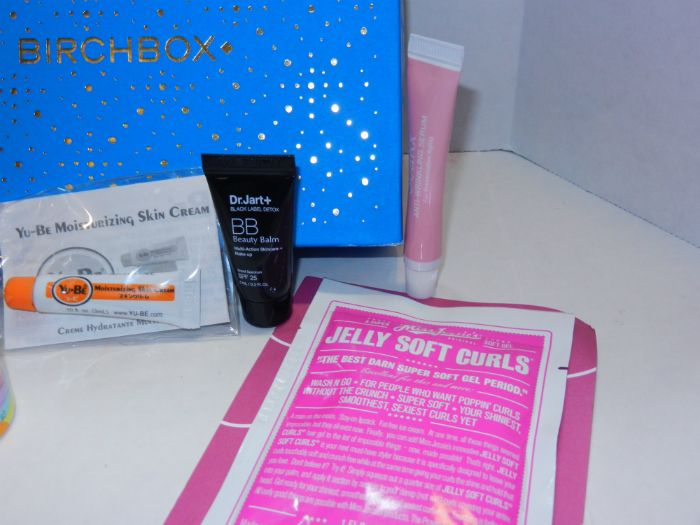 SeaRX Anti-Wrinkle Facial Lift Treatment Serum
- This light gel formula serum hydrates while fighting fine lines and wrinkles. It feels really good on and makes my skin feel soft and smooth. While it is hard to judge the ability of a skincare item like this based on a small sample, the way it feels is great and I would like to buy a full size. Full size is $34.
Dr. Jart+ Black Label Detox BB Beauty Balm
- I am really loving Dr. Jart+ BB creams. They have a light coverage, feel good on, and do great things for your skin (like brighten, block UV rays, and calm blemish prone skin). It never feels oily on me and can be mixed with other beauty balms and foundations for more coverage. The Black Label and Premium are my favorites thus far. Full size is $36.
Yu-Be Moisturizing Skin Cream
- This moisturizer definitely works! I had a dry patch on my elbow and applied this a couple times a day. Within a few days, the patch was good as new. This is a thicker cream-like moisturizer that goes on smoothly and isn't greasy. The scent is a very light Vaseline smell, but it isn't really noticeable. If you have trouble with dry skin and need something that really helps, this is a great product. Full size is $16.
Miss Jessie's Jelly Soft Curls
- For me, Jelly Soft Curls works the same as Pillow Soft Curls, which I own and use from time to time. While I still recommend DevaCurl to all my curly girls, Miss Jessie's can be a less expensive option. The formula is a bit more heavy in more of a cream consistency, but it feels very hydrating and non-oily and doesn't weigh my hair down much. While the scent is a pleasant fresh and clean smell, it can be a bit overpowering to people who are sensitive to smells. Full size is $14. (Can also be found at drug stores and Target.)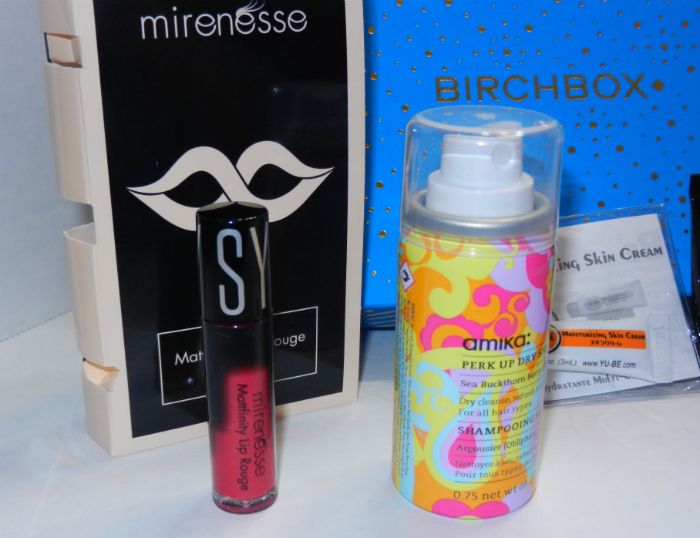 Amika Perk Up Dry Shampoo
- This Amika dry shampoo has a fresh, clean scent and doesn't seem to leave any white residue in my hair at all - my favorite thing about it. I feel like it did its job well, but I don't know that it necessarily out-performs other dry shampoos I have tried. Full size is $21.
Mirenesse Mattfinity Lip Rouge in Sydney
- I am new to Mirenesse and was really excited about this product. The color is a gorgeous deep fuchsia. It is extremely pigmented and goes on smoothly with a more matte finish. It seemed to take a while to set, though I think I put on a thicker coat than needed. After I blotted, there was still some stickiness and transfer, which I didn't have the first few times I used it. Less is more. A thinner coat is best for long-wear results. It also felt a bit more drying than a similar product from January's box that I am trying along side it. Full size is $29.
Overall, this was a really great box. Four out of five products were new to me. At least three out of five give great results. The BB cream and Yu-Be moisturizer are probably my favorites for more regular use. I love the color of the Mirenesse lip stain, but I need to play around with application a bit more. I hate when lip stains transfer color like a lipstick.
What products were in your December Birchbox? What were your favorites?
Let me know in the comments!