I love doing dressing room posts for y'all because it really gives me a chance to try on a ton of things in stores I may or may not shop at regularly. We all have different bodies, but seeing clothing on an actual body (
and maybe mine is similar to yours
) certainly helps me think about how those clothes would look on me. I hope these kinds of posts help you too!
When I do these posts, I usually pick up things that appeal to me and my life, things I want to buy. For this Penneys post, I chose more office appropriate items and tried a variety of fabrics and styles. There were some hits and misses for me, as with most any time you go try things on. For reference, I am 5'9" and typically wear a size 24. In fact, everything I tried on was a 24 or 3X except for the first sweater. My measurements are 52/50/59.
All items are from the Plus department at JCPenney, as of three weeks ago. While most items at my store only went up to a 3X or 24, there are extended sizes up to a 30 online. If those are available in the items I am talking about today, I have made a note of it.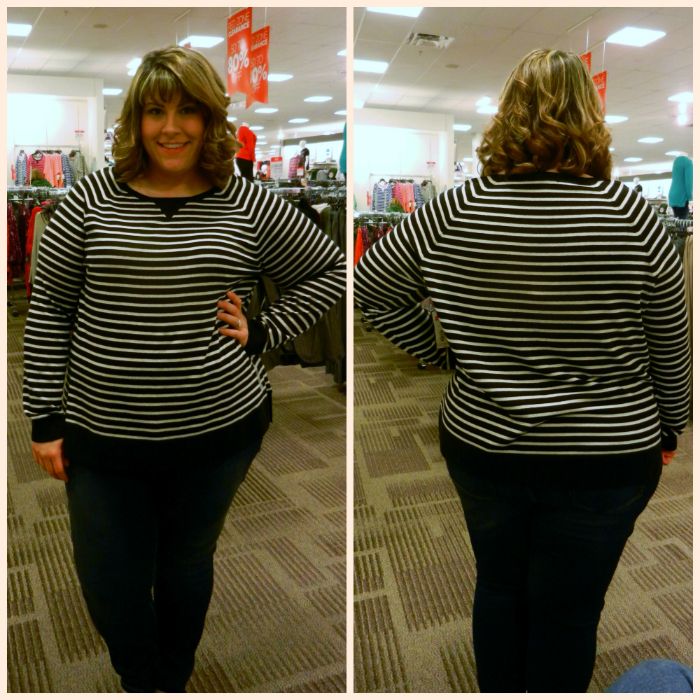 a.n.a Long-Sleeve Crewneck Sweater
- If you are a regular reader of the blog, you've seen the
purple and turquoise versions
of this sweater already. When I went back to try things on for this post, I found the black and white version in a 2X. It fit really well still, so I snatched it up. The tan one is a 3X and the same size as my other two, but it seemed a lot bigger than the others. Again, I really think the 3X would work for anyone wearing a 26/28 and that is why I encourage you to try things on! (
Regular $40, on sale now for $14.99. On clearance at my local store for $12.99. Also available in Extended sizes 4X and 5X.
)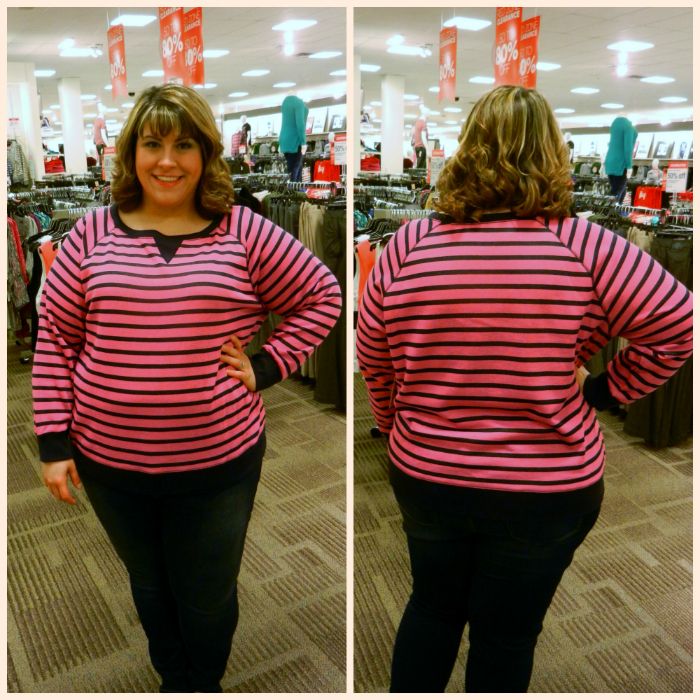 Made For Life Long-Sleeve Striped Sweatshirt -
I loved the navy and pink color combo and bright, cheerfulness of this sweatshirt. It is made of a thinner material than your average sweatshirt, so it didn't seem too warm. There were at least five other color combos in bright, fun colors. It fit comfortably and would be great for working out, lounging, running errands, or whatever you like. (
Regular $40, on sale now for $19.99
)
a.n.a Long-Sleeve Mandarin Collar Chiffon Popover Top
- I grabbed this top because I adore the color combination! It has red, navy blue, dark blue, purple, white, and turquoise. The top is made of a more chiffon-like polyester with a nice drape to it; it
is
see-through and needs a cami underneath. What I didn't like was that the kaleidoscope pattern is not centered and the roll-tab sleeves don't stay rolled because it is made of this lighter, silkier material. (
Regular $44, on sale now for $21.99
)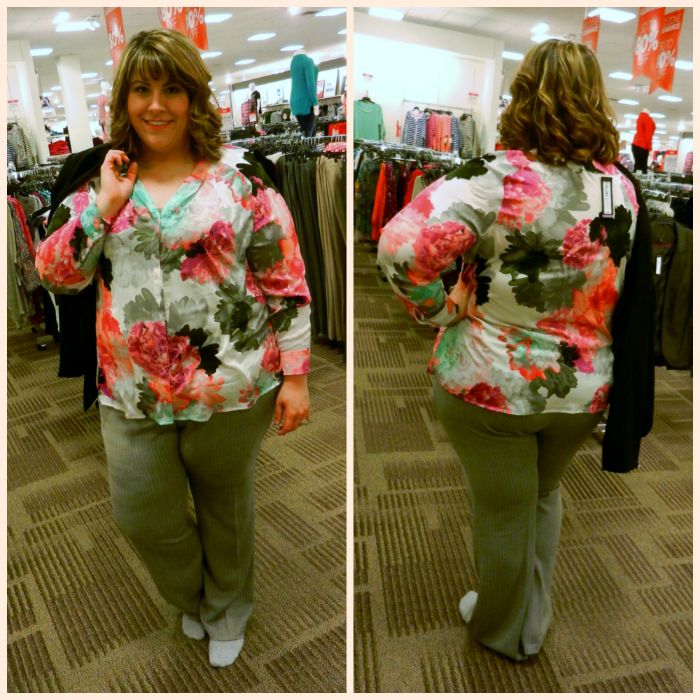 Worthington Long-Sleeve V-Neck Print Blouse
- Large patterns can be kind of hit or miss on me. I love all the colors in this top, but I'm not really crazy about the pattern. It is definitely a silkier polyester, work-appropriate top. The fit wasn't too bad, but the upper arms were a little tighter than I would like. I do have very big upper arms though. (
Regular $40, on sale now for $23.99. Available up to size 5X.
)
Worthington Modern Trouser Pants in Herringbone
- I paired the top with these herringbone trouser pants. The material is comfortable, but they did not fit me well at all. The upper half of the pants were just too tight on my butt and thighs. My husband thought my butt looked great in them, but that is just not how they are supposed to fit! lol Trouser pants usually work well for pear shapes like me, but these weren't proportioned right. If you carry your weight more evenly, I would give these a try. (
Regular $44, on clearance for $24.99. Also available in petites and Extended sizes to 30W
.)
Worthington Flyaway Jacket
- I really liked this jacket. The fit was great and it offered a very polished look for wearing with just about anything. I like the larger lapels, but it is a "flyaway" jacket so there are no closures. I thought the zippers on the sleeve were a fun touch. It would be a great basic blazer. (
Regular $72, on sale now for $42.99
)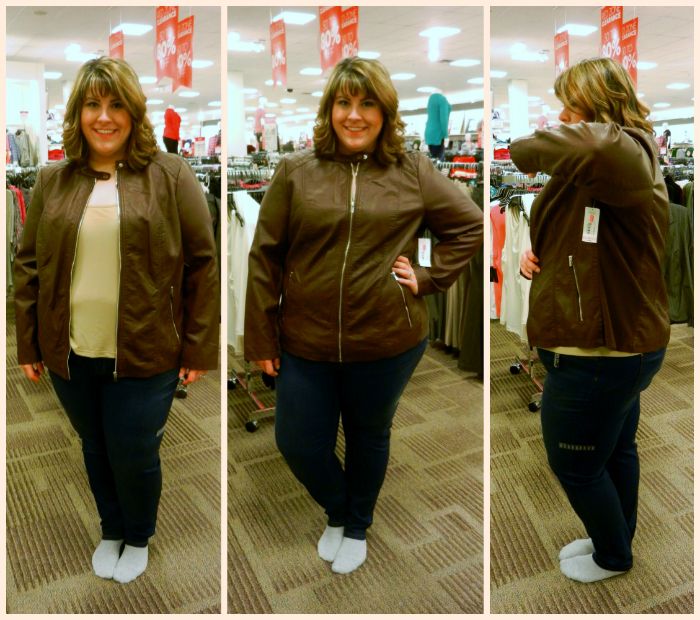 a.n.a Faux-Leather Scuba Jacket
- If you follow me on Instagram, you've seen this jacket on me before. I just had to try it on again. I really love the style and the color. The length is a little longer than most faux-leather jackets, with side knit panels that really help fit your curves and give a shape that isn't too boxy. I really wanted to buy this jacket, but I felt like the sleeves were a little too long and the bust was a bit big on me. I'm not well-endowed at all, so the bust is usually a huge issue in any jacket for me. As I mentioned before, the side knit panels provide I better fit. However, I was kind of worried about them stretching out at some point. Had the bust and sleeve length not been an issue, I probably would have bought it. (
Regular $150, on clearance for $59.99. Also available in black, red, and a light beige.
)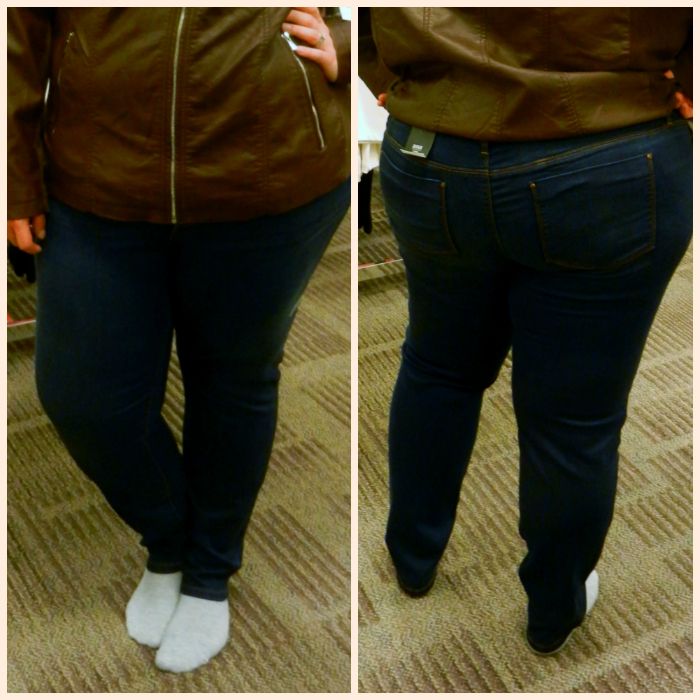 a.n.a Denim Jeggings
- These dark wash jeggings really fit like comfortable skinny jeans. They are a great, true dark wash without any crazy whiskering. They actually fit very similarly to my Maurices jeggings I wore that day. The denim felt very much the same, but the Penneys jeggings are about $10 more. These jeggings are something else I would definitely buy, particularly because they are a no frills dark wash. (
Regular $48, on sale for $27.99. Available in Extended sizes to 30W and petites.
)
a.n.a Faux-Leather Moto Jacket
- This was another one of my favorites. Shorter than the brown jacket, but it had a great fit. As you can see, this one doesn't have the knit side panels, so the fit is a little more boxy. It also had smaller shoulder pads in it, which I would have totally taken out. I felt like a sassy bad-ass in it though, so I just might buy it anyway! (
Regular $75, on sale right now for $44.99
)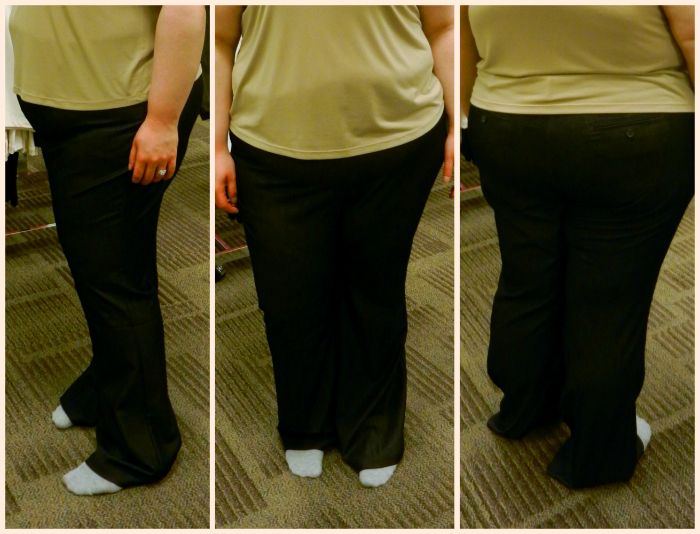 Worthington Modern Trouser Pants in Dark Denim
- I love denim trouser pants because I like the way the larger legs balance my hips. It is very hard to find trouser pants that aren't too long. These were no exception. I would need to wear at least 5-inch heels to have these fall as they are intended at their current length. Certainly you could get them tailored if length is your only issue. These were also a much tighter fit in the butt and thighs than they should be. (
Regular $44, on sale now for $29.99. Available in Extended sizes to 30W.
)
a.n.a Satin Bomber Jacket
- Okay, I totally bought this jacket! This look was the most fun to me out of everything I tried on; and it was all so comfortable! I like the bomber jacket style, but felt all the cute floral ones I have seen lately just wouldn't go with a lot of things I own. This black one will go with just about anything. The fit was great and the satiny material is shimmery, but not too crazy. It is washable, which is also something I have been paying a lot of attention to in pieces I buy. (
Regular $84, on sale for $41.99
)
a.n.a Knit Jogger Pants
-These jogger pants are super comfortable and really cute in person. They seemed loose in the right places and fit really well. The pockets are zippered, with a drawstring waistband. They were so cute, but I wish they were a little darker. The joggers with the bomber was a fun look! Also, the material wasn't super thin so it laid well, but it wasn't thick enough to be too warm. (
Regular $42, on sale now for $24.99
)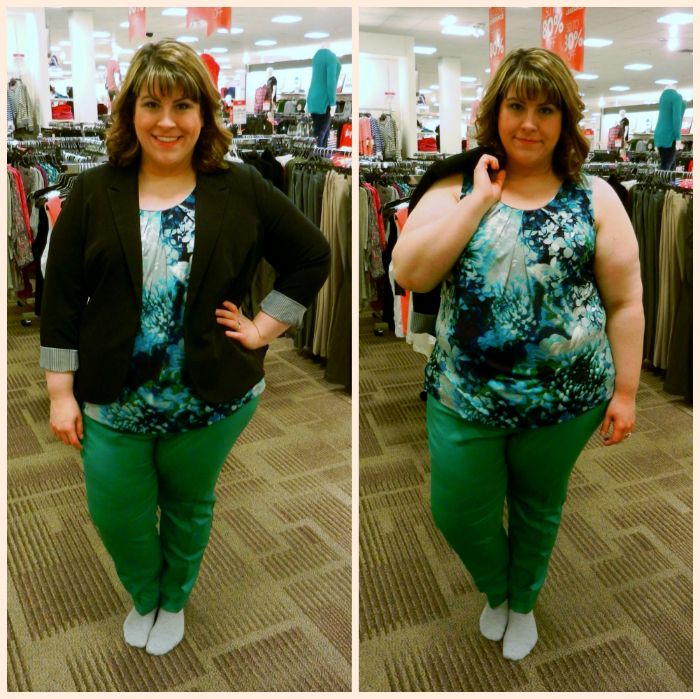 Worthington Sleeveless Metal-Trim Pleat-Neck Top
- I loved the greens and blues in this top, but wasn't thrilled with the fit. Had it been more A-line and a v-neck, I think it would have worked out well. It just wasn't my cup of tea. (
Regular $36, on sale for $19.99
.
Available in Extended size 4X and 5X
.)
Worthington Wide-Waistband Slim Pants
- I really wanted to like these and I wanted them to fit like straight leg jeans. However, they were really tight in the butt and thighs and looser in the calves. It just didn't look right on me. I've also been having that issue with pants where there is a bagginess in the crotch or right at the top of the thighs. That's never been a big issue before, but now it is. (
Regular $44, on sale right now for $24.99
)
Rolled-Sleeve Blazer
- This jacket was so cute when I was just posing in it, but the above picture shows you I could only move my arms in that far because the upper arm portion of the jacket was too tight. That was really my only issue with this blazer. Otherwise it was a great length and super cute. I loved the striped lining at the rolled sleeves too. (
Could not find this jacket online and I forgot to write down all the prices in person. A lot of blazers are on sale right now, so check out your local store!
)
Don't forget that JCPenney has great sales and usually offers 20-25% off coupon codes for in-store or online use. If all else fails, sign up for
Ebates
as well for a percentage back. I've been using Ebates since 2011 and have gotten over $300 back from purchases. It really is a helpful tool in saving money. They partner with a ton of different sites, including Old Navy, Lane Bryant, Torrid, ASOS, Avenue, etc. and provide coupon codes as well.
Do you have any favorites from the items I tried on? Have you made a trip to Penneys recently?