I've been doing really well in sticking to my monthly shopping budget. I over-analyze anything I want to buy and try to make sure it fills some void in my wardrobe. While this vest fits into that category, Sean and I both knew I needed to get this tee no matter what.
In today's post, I review this graphic tee from
Torrid
and vest from Target, both newly acquired items that are still available online.

- For reference, I am 5'9", wear a size 22/24, with measurements 52/49/58. -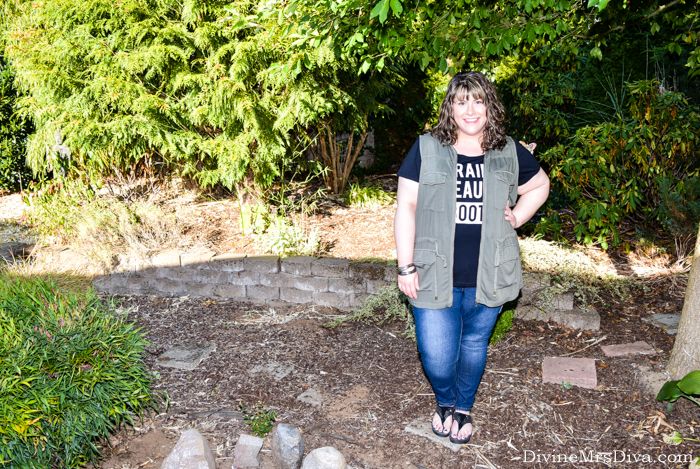 The
Ava and Viv Utility Vest
was an item I just happened upon in checking out new arrivals at Target. I don't get out to physically shop in stores much lately, plus my local Target doesn't carry much of anything in the plus size section. If I do find something I like in the store, it is usually sold out of my size.
The website, however, has loads of cute items with most sizes available. I was really surprised at how much I loved
my Old Navy Fleece vest
last year, so I thought another vest would be a great addition to my existing wardrobe. I have a few jackets in this olive utility style, but I am not always cold enough to wear them. The vest is actually made of a lightweight fabric that isn't too heavy or hot, so I think it will be great for multiple seasons. The material is soft and moves very well. It is something that needs light ironing, or you can toss it in the dryer to steam out the wrinkles.
I ordered this vest in a 3X, which I find fits pretty true to size. I might have been able to order a 2X, but I am not sure if the fit would be exactly to my liking. The 3X is great and I like the way it looks, but it isn't quite perfection. The drawstring waist sits right at my natural waist, so I wish it was about two inches higher. Under the arms is a little bit roomy, but this is an issue I run into with a lot of tops. When zipped, I have plenty room in the hips and the drawstring waist scrunches nicely.
Overall, I love the ease of wear and comfortable fabric. I can't wait to style this for fall with boots and cute scarves and jewel-toned t-shirts.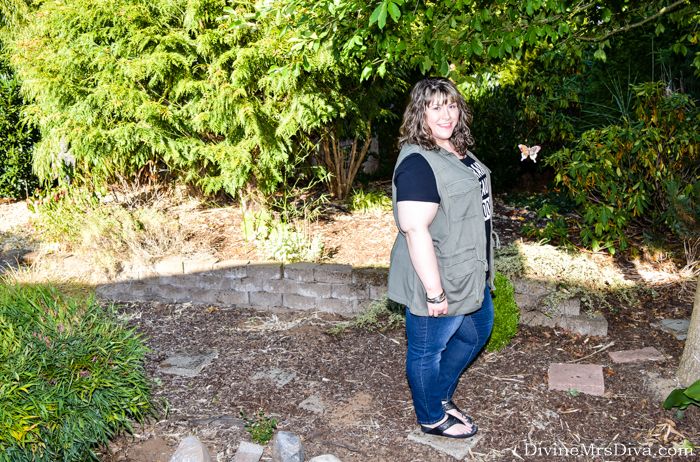 The
Brains Beauty Booty Tee
from Torrid is still available in sizes 3 through 6. I am wearing a 3 and find it fits true to size. If you need more room in the tummy and hips, you may want to order a size up. I do wish it was just a little more loose in that area on me, but I know the 4 might be a bit too baggy in the bust. The soft knit fabric feels thicker and more sturdy than some of my older Torrid tees. I also appreciate the wider scoop neckline.
Plus, it makes me smile.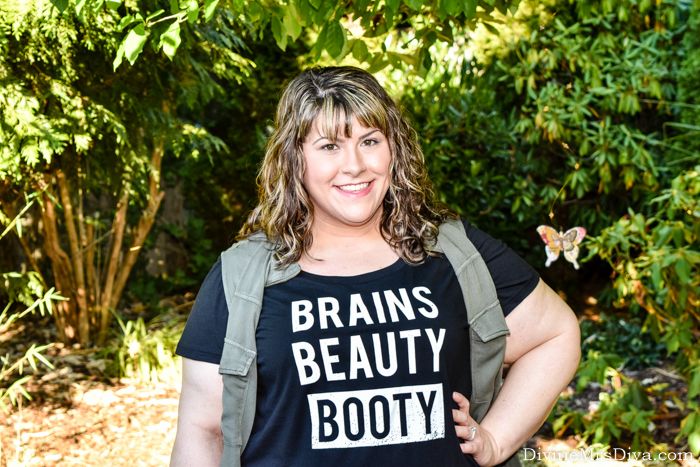 Brains Beauty Booty Tee
- Torrid
Ava and Viv Utility Vest
- Target
Skinny Jeans - Lane Bryant Outlet
Black Flare Sandals
- FitFlops
Silver Bangle Bracelets - Lane Bryant
Instead of asking you about fashion, I want to know what three words you would use to describe yourself. Mine would be creative, caring, and passionate. Your turn!