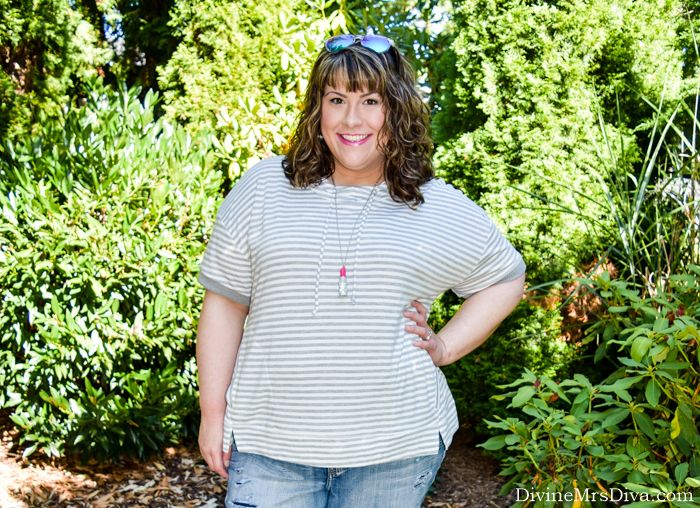 As you know, I am a casual girl at heart. While I greatly enjoy getting dolled up no matter the occasion, I greatly prefer being more dressed down and comfortable in jeans and a cute top. I do my best to sprinkle in fun colors, sparkles, and girly elements to the look no matter what though. The weather and my state-of-mind as of late have kept me in very simple, comfortable pieces without much fuss.
In today's post I'm sharing a look I wore this weekend for running errands. We had so much to do that day, but we ended up being so tired that we only ran half our errands and popped over to the mom-in-law's house for dinner. I really loved this look for its simplicity and comfort. I felt very cute and got lots of compliments from strangers as I did my shopping.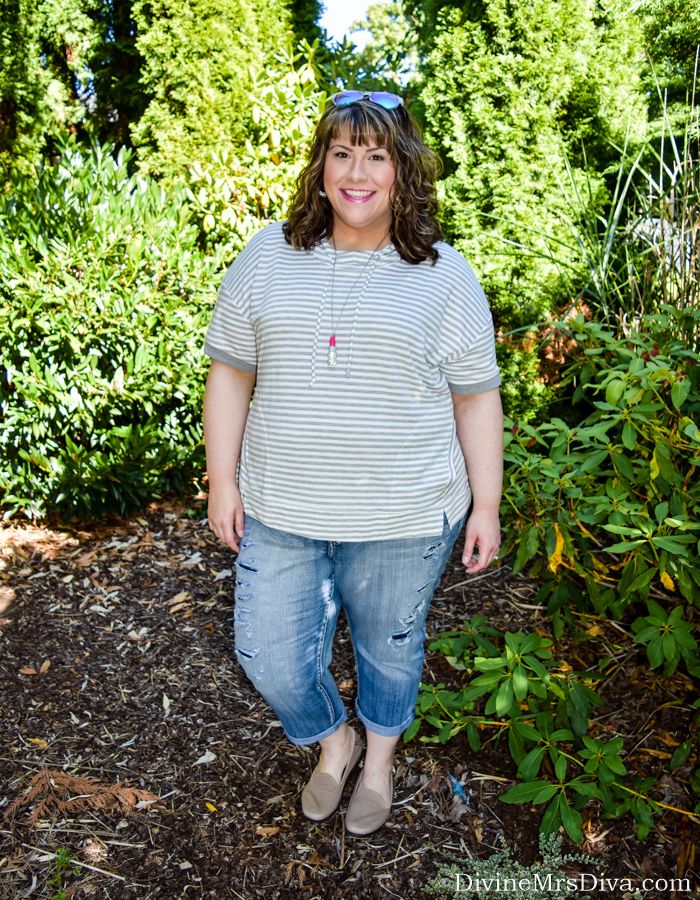 I have featured the Destructed Weekend Capri on the blog
here
and
here
. They have been my go-to this summer. I'm glad I decided to try them on. Initially, I was worried the lighter wash, fading, and deconstructed elements would widen my figure, but they don't do that at all. Plus, I love that the shredded areas are backed with a dark denim to ensure my toes don't get caught in them when I pull them on. I don't always want to show thigh skin, so I like that these have that coverage. You can read more details in my previous posts. While these are no longer available on the Lane Bryant website, I am wearing a 24 and find they fit true to size. These capris also don't tend to stretch out as much as my similar Torrid style does.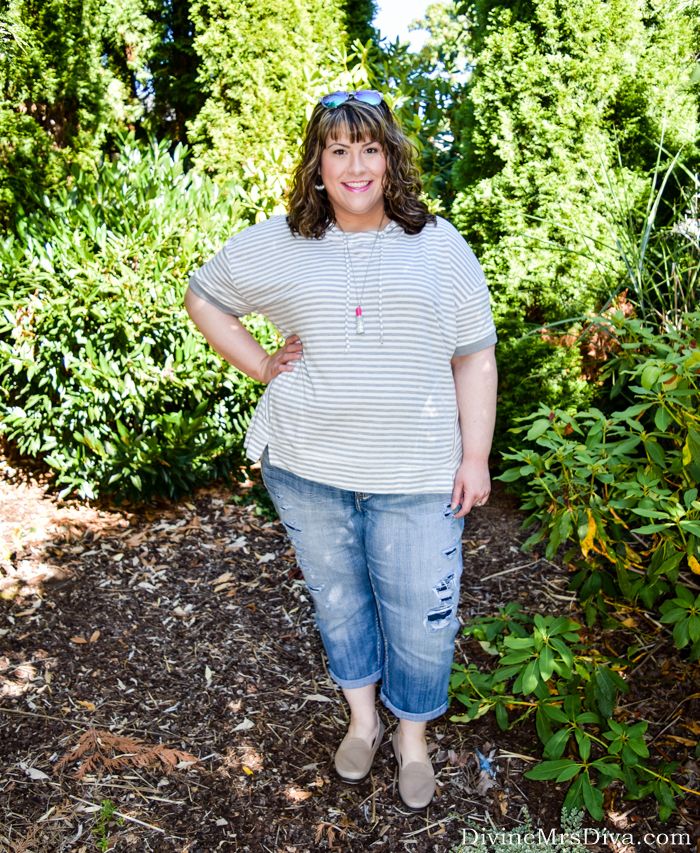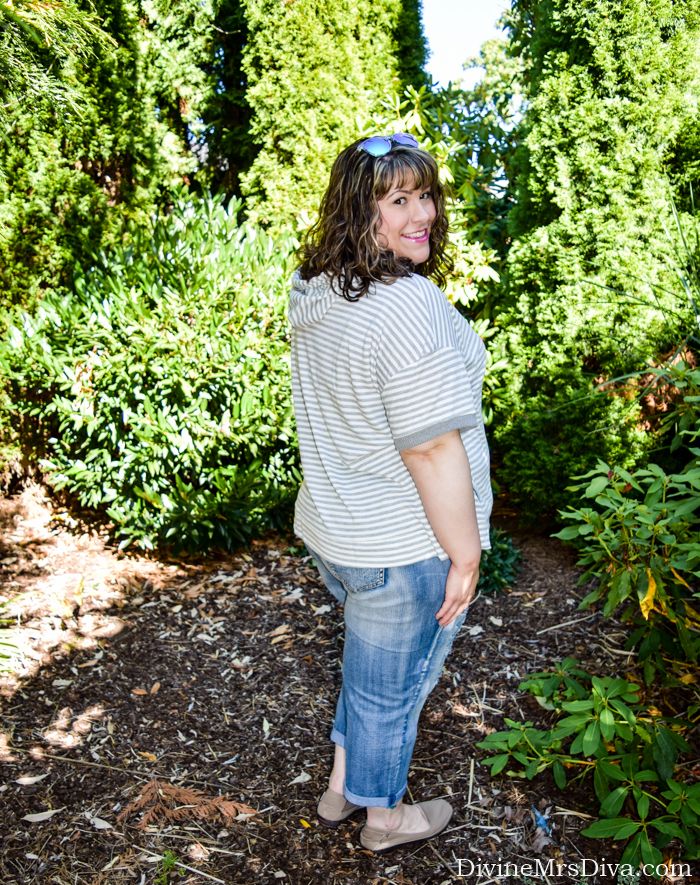 When this
Short-Sleeve Hoodie
showed up on the LB website (
which I totally stalk on a daily basis
), I knew I had to have it. My hoodie-loving heart has tried to quit hoodies, but I keep coming back. I initially ordered this top in a 22/24, but was disappointed in the fit. It was shorter than I would prefer and, while not snug, was just a bit more fitted in the tummy region than I liked. I returned the 22/24 and bought the 26/28, which fit perfectly. It was the right length and fit for what I pictured in my head. It isn't baggy, but loose enough that it is comfortable and easy-going. Definitely size up if you carry more weight in your tummy and hips.
The fabric is a very soft, thinner, sweater-like material (French terry), if that makes sense. It isn't hot or stifling, but stretchy and comfortable and breathable. This top is part of the LIVI Active line. The hood has drawstrings and a slightly higher neckline. Ribbed trim on the sleeves and front/side pockets are also great little details. I would totally buy this top in more colors!
My limited accessories include super comfy Crocs Stretch Sole Skimmers, a rhinestone lipstick necklace, and fun sunglasses. The skimmers are one of three Stretch Sole pairs I own. I find them to be very comfortable for long walking days and perfect for travel. They are very lightweight and easy to slip on and off. The lipstick necklace always gets compliments when I am out and about. I love that it usually matches the shade of lipstick I am wearing on any given day and can add a pop of color to any outfit. The Knockaround brand of sunglasses was totally new to me. They came in a limited edition summer box I purchased from
Birchbox
. I love the clear frames and blue and green ombre lenses. The sunglasses themselves are very lightweight and easy to wear. You can also customize your own pair on the
Knockaround website
. I am leaning towards a silver glitter pair. Surprise, surprise! hahaha
Destructed Weekend Capri - Lane Bryant (
similar
,
similar
,
similar
)
Short-Sleeve Hoodie
- Lane Bryant
Lipstick Necklace - Torrid (
similar
)
Stretch Sole Skimmer
- Crocs (Also on
Amazon
)
Knockaround Mai Tai Sunglasses
- Birchbox
Is there a certain style of clothing you can't seem to quit? Do you have any fun plans for this last month of summer?