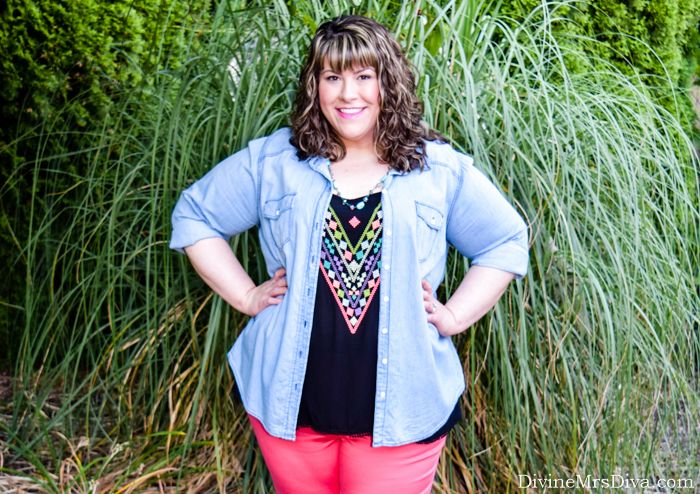 I've been on the lookout for coral jeans for quite a while. Torrid had some this spring/summer, but they were the ankle jean style. A few years ago, I had zero luck with the ankle jeans fitting over my calves. I just never had time to go to my local Torrid store to try them on and get a take on the current fit. A couple weeks ago, I saw that Maurices had a pair of coral jeggings on clearance, so I went ahead and snatched them up.
In today's post, I am reviewing the jeggings and showing you a couple of looks to help you transition from summer to fall.

I have a pair of regular denim jeggings from Maurices that I bought a couple years ago. They fit pretty well and go with oversized tops and boots perfectly. The length is really great too because they don't bag at the ankle. My only complaint is that the waist is a bit loose while the rest of the jeans are very fitted. When buying the coral jeggings, I went with a size 24 since my regular jeggings fit so well at that size. As with the other pair, the waistband is loose. This is a common problem for me, so it wasn't a deal breaker. I think my Catherines jeans, with the hidden elastic inside the band, are the only jeans that really fit my waist well.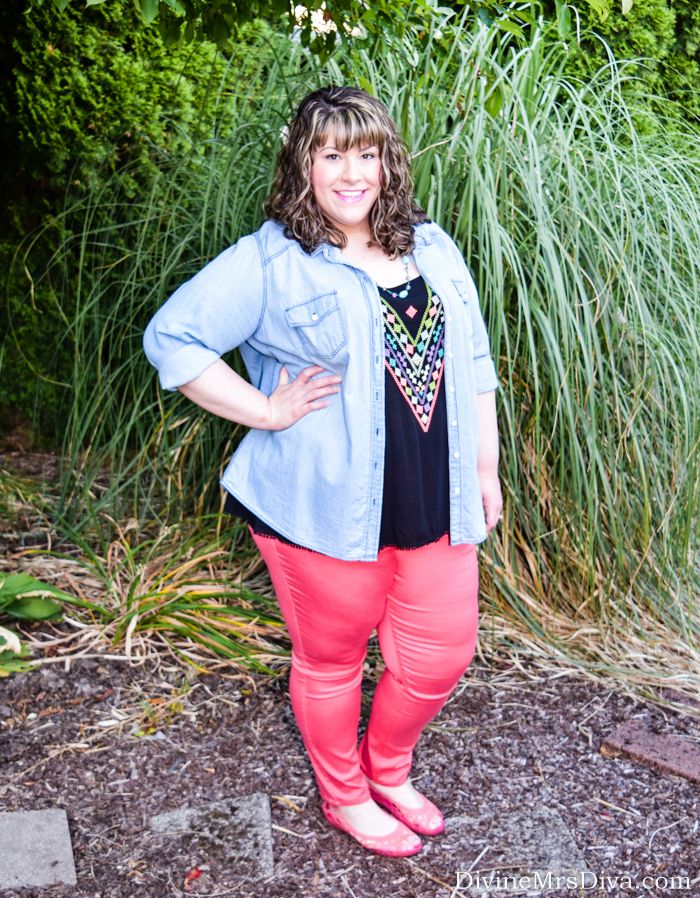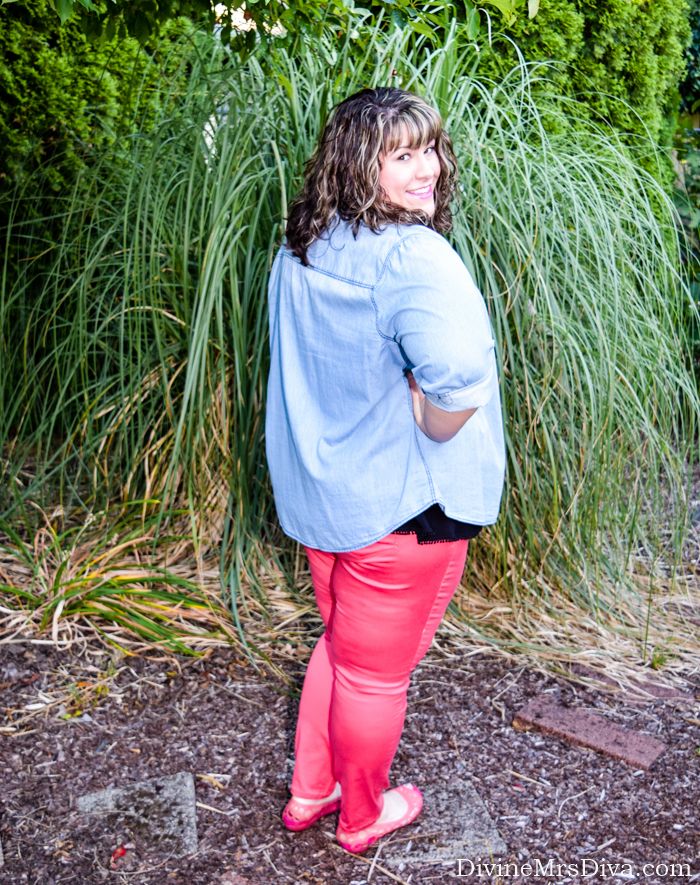 The jegging length is great and the fit is overall how they should be. They are extremely fitted, but typically stretch out a little. This was my first time wearing them around, so they are still quite tight. In person, they don't seem to show lumps and bumps too bad, nor do they emphasize my cellulite. I think in some photos, I can see lumps and bumps more due to shadows and flash and the extra time I have to scrutinize. Because they are so fitted, I will be wearing them with more tunic-style tops to cover my panty line and upper thigh area - mainly because that is just an area of my body I am more self-conscious about.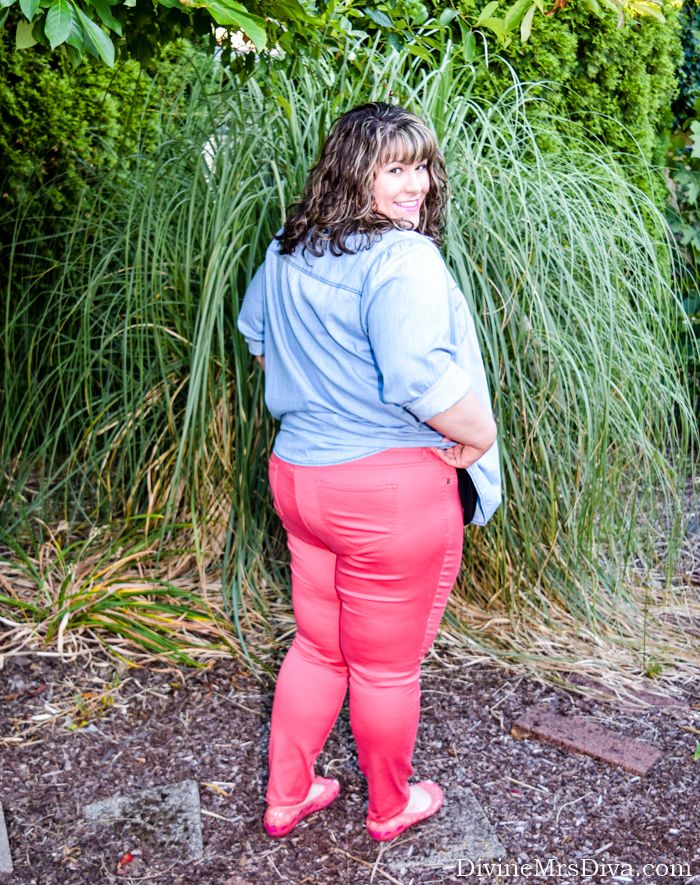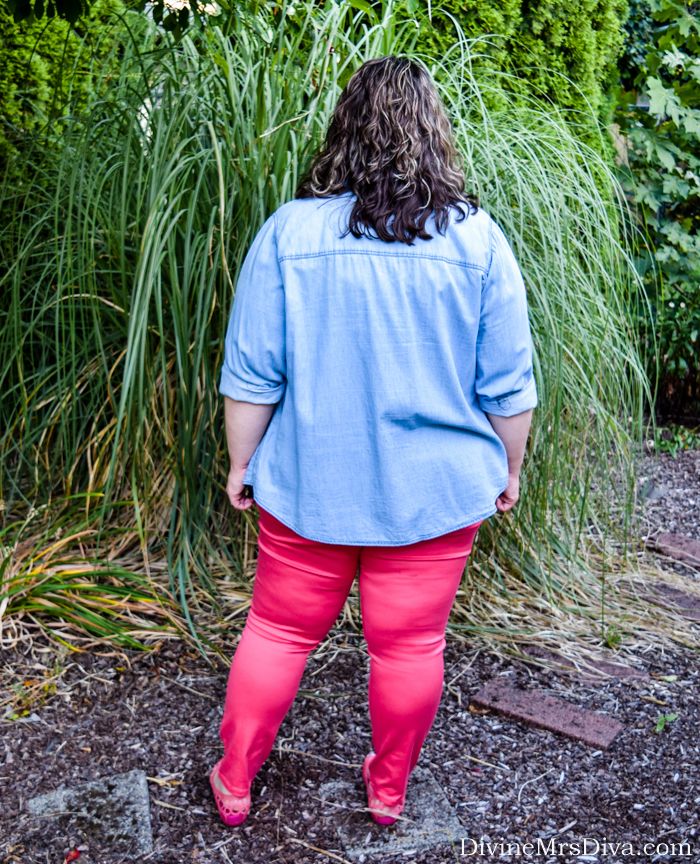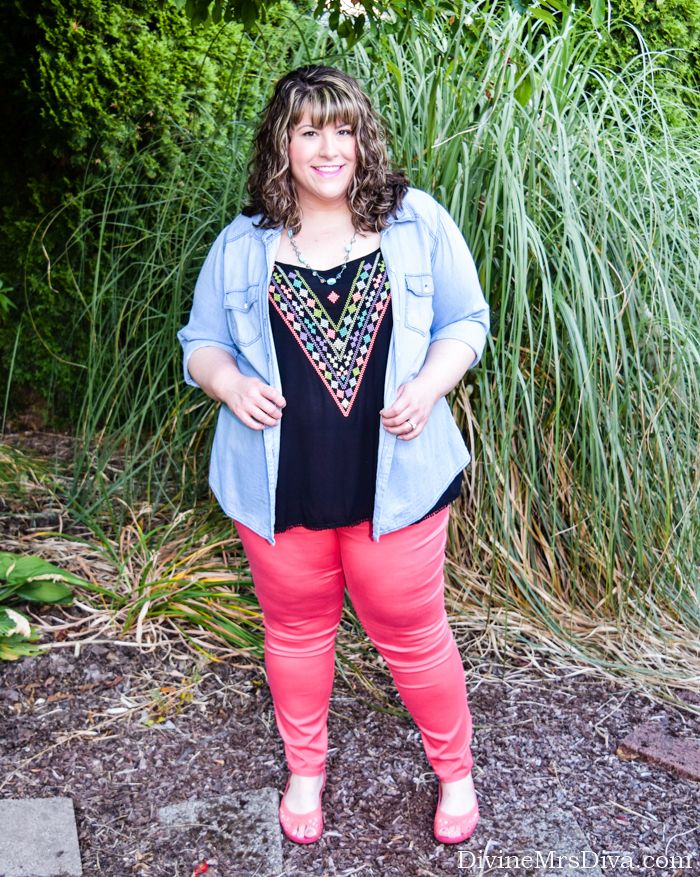 Still, they are soft, super stretchy, and comfortable to wear. I feel like I have a ton of things that will pair well with them no matter the weather, so I am glad I was able to purchase them. I've been thinking about the dark green pair and dreaming up lots of fall looks as well.
On a whim, I threw on some other pieces to give you an idea of a fall look. I exchanged the light wash denim shirt for my grey one and replaced the open-toe flats with boots. I think the olive pairs nicely with the coral color, so my anorak jacket was the perfect outerwear option. This look still needs a statement necklace or scarf for me to call it a complete look, but you get the idea. :-)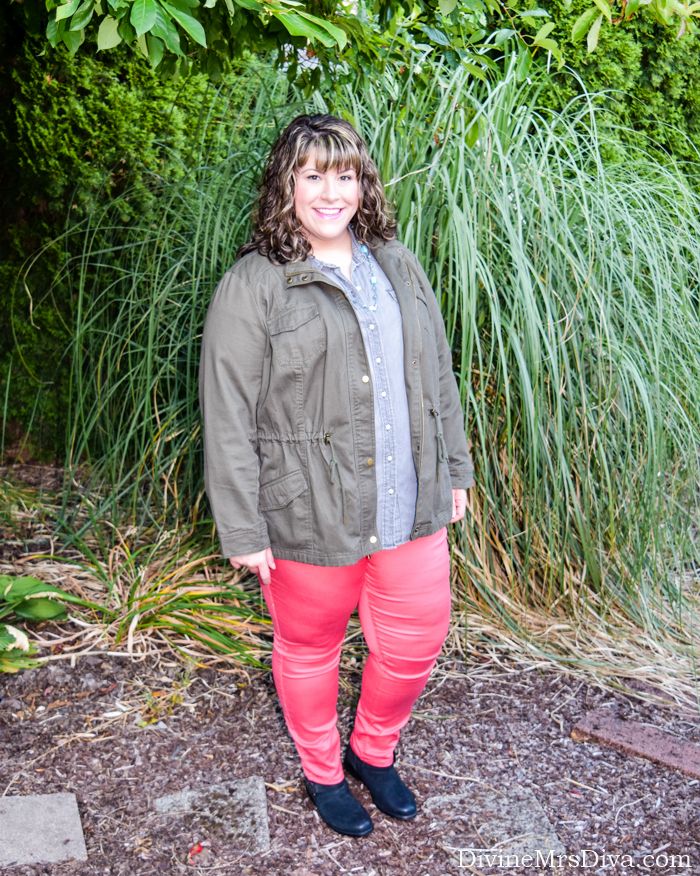 DenimFlex Jegging in Coral - Maurices (
dark green
,
wine
,
mauve
,
red
)
Ava & Viv Anorak Jacket
- Target (
similar
,
similar
,
similar
)
Light Wash Denim Shirt
- Torrid (
grey
,
dark wash
)
Embroidered Tank - Torrid
Turquoise Necklace - World Market
Adrina Flats
- Crocs
Clarks Plaza Float Boot
- Amazon
I've worn the light wash denim shirt, tank, and boots previously on the blog. You can check out these looks via the links below:
Have you found some great colored jeans? Is there a color you can't seem to find anywhere? Do you have an item you have been on the lookout for?