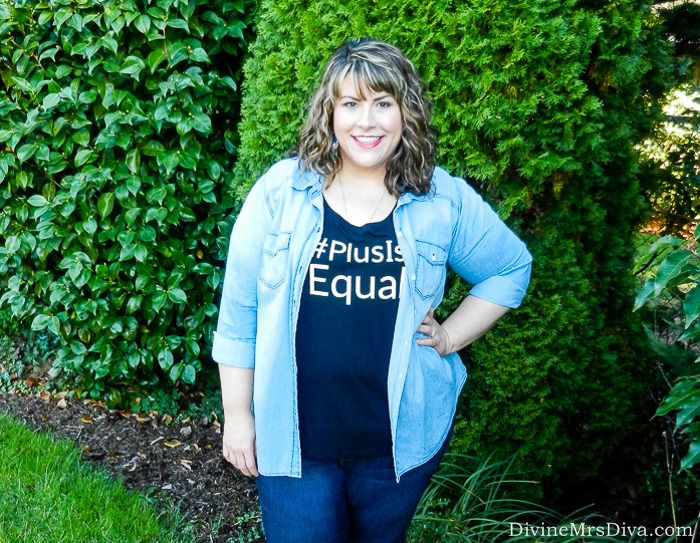 Before we get into today's outfit post, I just wanted to take a moment to say hello. I feel like I need to make a little apology for not being as present on the blog lately. I've just felt really unmotivated or, more accurately, unfocused. Some of it is probably from playing the comparison game in my head, maybe it's the weather, or it could just be a feeling of insecurity or that I just have a billion things to do lately and I feel overwhelmed....I'm not sure the exact reason. The lingerie post took me a total of twenty-five hours to complete, so it left me feeling a little burnt out. Anyway, sorry for the lack of posts. I have a ton to share with you if I can just get my s#!t together!
Today's outfit is some old and new together that I wore for running errands around town recently. I felt laid back, comfortable, and cute, so let's get into it.


- Lane Bryant gifted me the tee in this post. All opinions on the item are 100% my own. -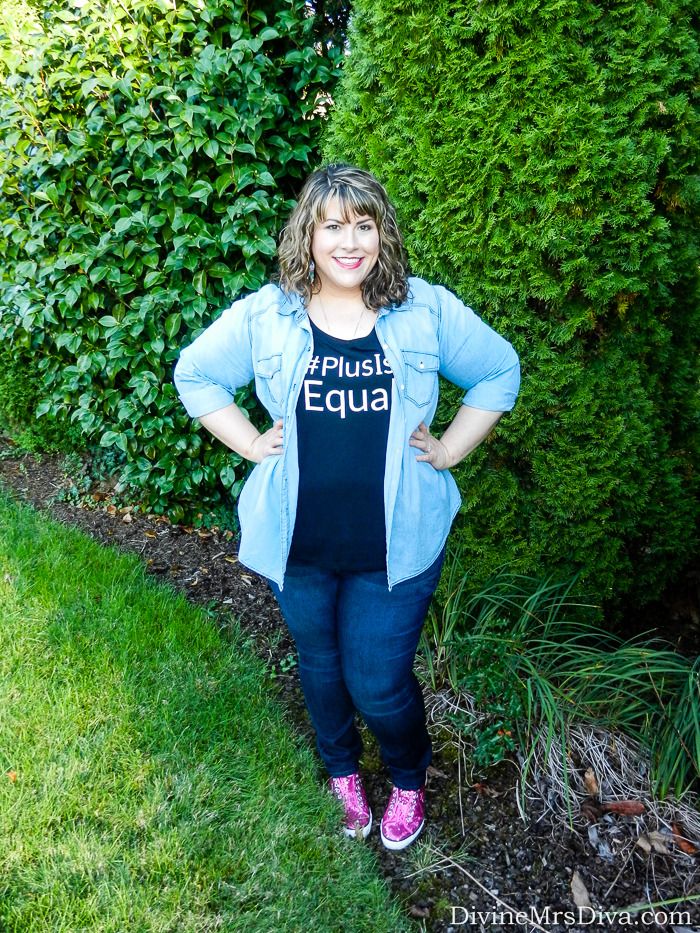 I was really thrilled when Lane Bryant sent me this
Plus Is Equal tee
. It was nice to be thought of and always fun to receive surprise gifts in the mail. There has been a lot of varying opinions on the campaign itself. I understand what both sides are saying, but I am happy to spread the message of body positivity by being a fat woman who declares that plus size bodies are just as awesome as any other sized body. I look forward to seeing more women with bodies like mine in media and applaud the companies who show off their clothes on larger bodies. Getting the conversation started is important because it promotes the idea that we don't have to hide our bodies. Imagine that!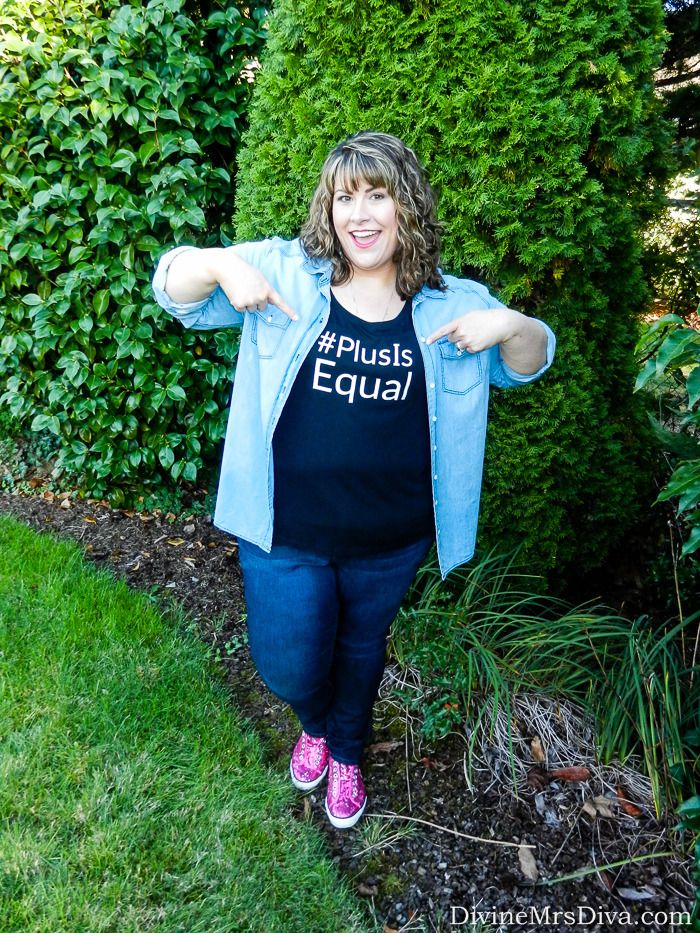 The tee itself is super soft, stretchy, and kind of silky feeling, with a wider neckline. It is so comfortable to wear! I am sporting a 22/24. It fits great in the bust, but is a little more fitted in the middle. I think I will wear a cami underneath next time, which is something I typically do with tees anyway. The sleeves are short, but the length of the tee overall was great for me. The t-shirts are available online and in store along with the #I'm No Angel tees, capris, and panties.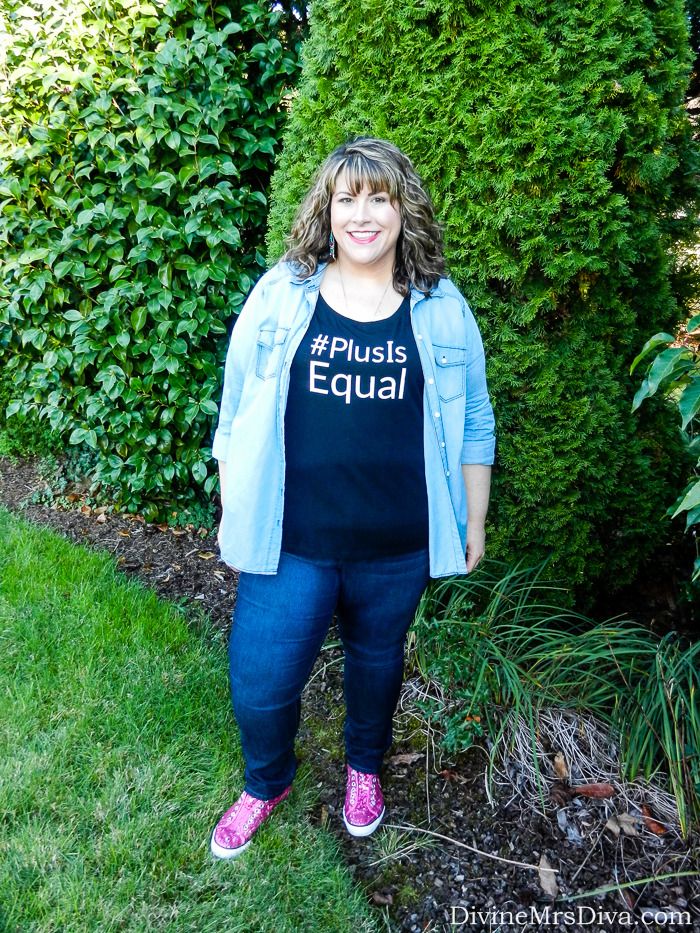 For my easy day of running around town, I added my light wash denim shirt from Torrid. This is the first time I am featuring this piece on the blog, but I have been wearing it a lot lately as the weather cools down. It goes with everything and travels well. I definitely got some great use out of it on my road trip, so you will be seeing more of it on the blog in the coming weeks. I'm wearing it in a size 3 and it buttons down just fine. The upper arms of the shirt are big enough for me; and it is a lighter weight denim so it isn't too stiff or too hot. I'm not usually a fan of denim on denim, but the light wash shirt contrasts against the dark wash of my jeans in a pleasing way. Skinnies and sequin Converse complete the look. I also added some colorful earrings I bought at Crater Lake, Oregon on my road trip.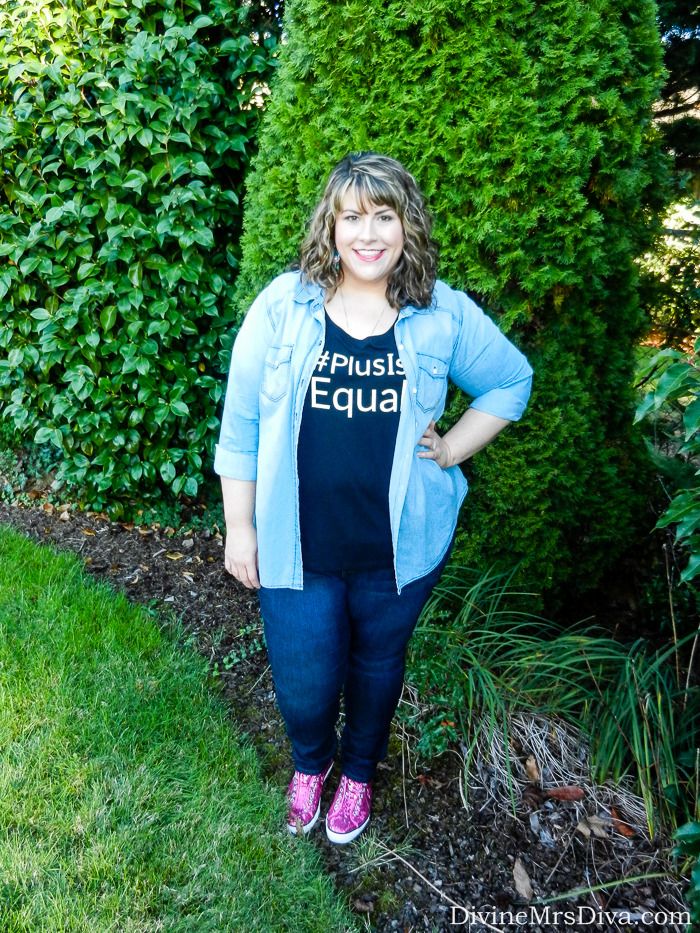 #Plus Is Equal Tee
- c/o Lane Bryant
Light Wash Denim Shirt
- Torrid
Virtual Stretch Legging Jean (Dark Wash)
- Avenue (available up to
size 32
)
Sequin Converse - Target (
similar
)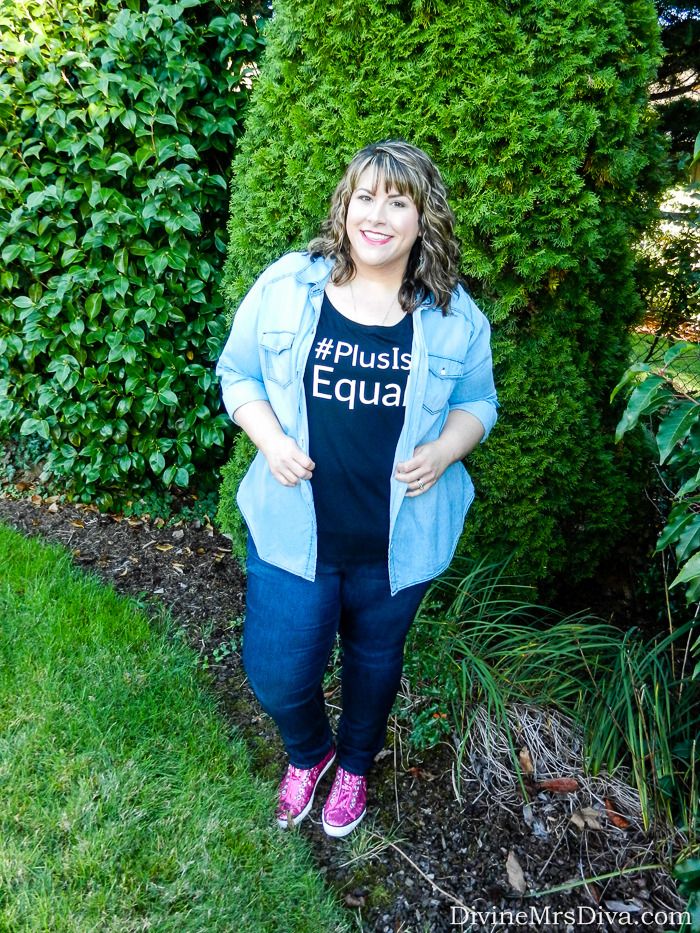 Are you cool with denim on denim looks? Do you have thoughts to share on the #Plus Is Equal campaign? What do you wear to run errands?