I've been a long-time subscriber to Birchbox. Last year, they started introducing smaller house brands like LOC and Arrow. If
Arrow
is Mary Ann,
LOC
is definitely Ginger. (
If you are too young to get that reference, please google Gilligan's Island.
)
LOC stands for Love of Color and offers curated collections of vibrant, on-trend hues each season. The paraben-free and cruelty-free formulas available right now are shadow sticks, matte lipstick, and ultra-gloss lip pencils. Each product comes in an easy to carry size with an affordable price point. I've become a huge fan of the brand and wanted to take a moment to talk about the products and show you swatches.
FYI - You don't have to be a Birchbox subscriber to buy from the shop. You can make purchases and earn Rewards Points from those purchases. If you want to sign up for a monthly Birchbox, you can use my referral code, if you like.
Currently, there are
two seasons of collections available from LOC
. They come in a variety of sets, including their own sharpener. The prices range from $8 to $12 for individual products, but also come in sets of shadow sticks, lip pencils, varieties of the two, or ultimate collections with each item.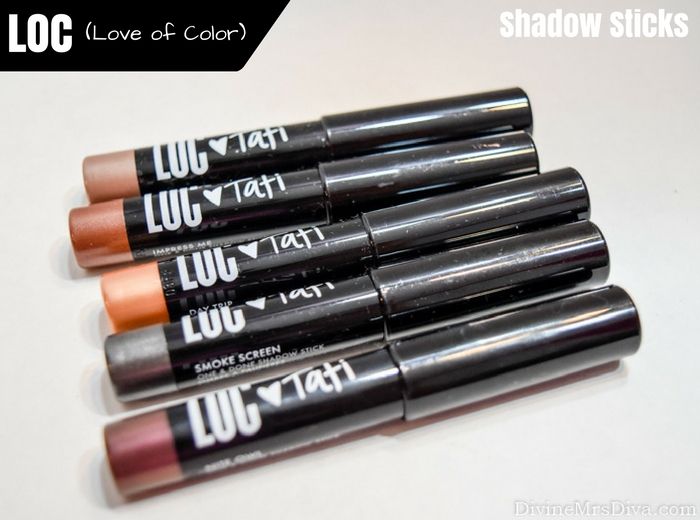 The first collection came out last fall as a collaboration with YouTube beauty star Tati Westbrook. Her collection features five eyeshadow sticks and three matte lipsticks. I ended up buying the entire collection, plus doubles of all the shadow sticks. The newest Dream Team Collection features three shadow sticks and five ultra-gloss lip pencils, a new formula! While I do have doubles of the shadow sticks, I only have one gloss pencil at this time.
All product formulas are incredibly long-wearing. The
One & Done Shadow Sticks
are great swipe-on-and-go products with wonderful pigmentation and a smooth consistency. They all have beautiful satin-like shimmer that looks gorgeous all day long. They set fast! If you want to blend them out, you must do one eye at a time and work quickly. But they are blendable, easy to work with, and stay put. I have had no creasing, traveling, smudging, or transferring when wearing these. I find they are great for travel because they are small and lightweight. I tested them during my road trip and Thanksgiving trip to Savannah last year. My eye routine was much faster using these, plus they stay put and look awesome all day long.
The
Vibrant Matte Lipsticks
are also extremely pigmented and very long-wearing. They act as more of a lip stain for me, but don't feel overly drying. The
Ultra-Gloss Lip Pencil
goes on just as smooth, but with a glossy finish. I found the glossy look faded after a while, but I was still left with a stain of color that looked great. I would highly recommend any of these products as wonderful additions to your makeup collection.
To Summarize:
Have you tried the LOC brand? Do you have a favorite long-wearing or travel perfect product you want to recommend?