Hello, everyone! I hope you all had a wonderful weekend. I cannot believe it is June already! Sean and I just celebrated our 8th wedding anniversary on May 31st. As we love to do, we went back to the location of our nuptials,
McMenamins Edgefield
. Edgefield is a fun place with a wonderful restaurant, pub, bars, winery, golf course, distillery, hotel, concert lawn, gardens, glass-blower and potter, spa and salon, etc. There is always something to do. It has become quite a popular destination for folks.
I wanted to wear something festive and special for the evening. What says special more than a poofy tulle skirt? Kiyonna sent me the
Twirling In Tulle skirt
in their latest color, Melon Marvel. In today's post, I am reviewing this skirt and loading you up with photos of my colorful, celebratory outfit. I loved this look and how the photos turned out, I just couldn't narrow it down any more. Enjoy!


- I am a member of the Kiyonna Blogger Brigade. They gifted me the skirt in this post. All opinions are 100% my own. -
When I opened up the package to get a first peek at this skirt, I literally gasped. The color is so pretty and totally me! Both the lining and tulle are a gorgeous shade of pinked coral, with the tulle seeming to have a bit of shimmer to it. A couple of years ago, I
reviewed the black Twirling In Tulle skirt
when this style was newly introduced. Having that experience with the skirt and knowing that I wear skirts a bit higher than my natural waist, I sized down to a 2X. The waist was just as snug as I wanted it to be, but I still had plenty of room for my hips in the full A-line cut. If you wear your skirts high like I do and this area of your body is a bit smaller than your natural waist and hips, you can size down. If you are more apple shaped, you may want to stick to your regular size. (For reference, my measurements are 52/49/58.)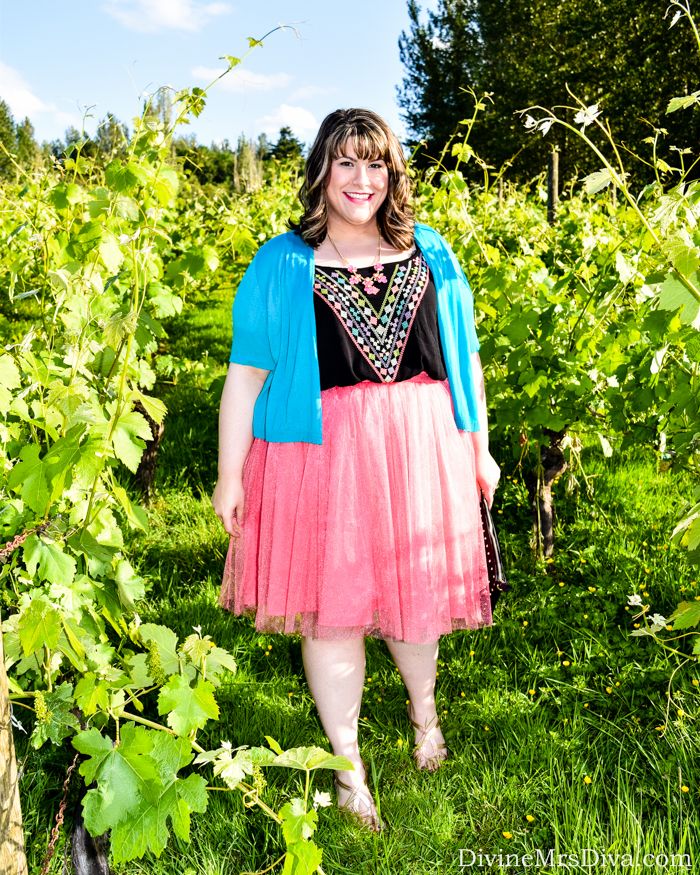 The lining is made of a stretchy poly/spandex, so the waistband does have give. I personally prefer it tight enough that it stays put, so I don't have to wear a belt all the time. The stretch and fabric are soft and comfortable, so no scratching or digging into your skin occurs. The waistband itself is a wide, ruched one that I scrunched down a bit. With the waist being a bit more snug in the smaller size, I did not have to fiddle with it or re-scrunch it at all. It stayed exactly where I wanted it and how I wanted it. At this higher placement, the hem stopped right above my knee on my 5'9" frame, with the tulle about an inch or so longer than the hem. Compared to the black version of the skirt that I own, the tulle on this skirt is a bit more stiff like a regular tulle (versus the more soft mesh of the black skirt). I like this because it stays more poofy and fluffed up. This tulle is by no means scratchy at all though. I really, really love this skirt so much and cannot wait to wear it again.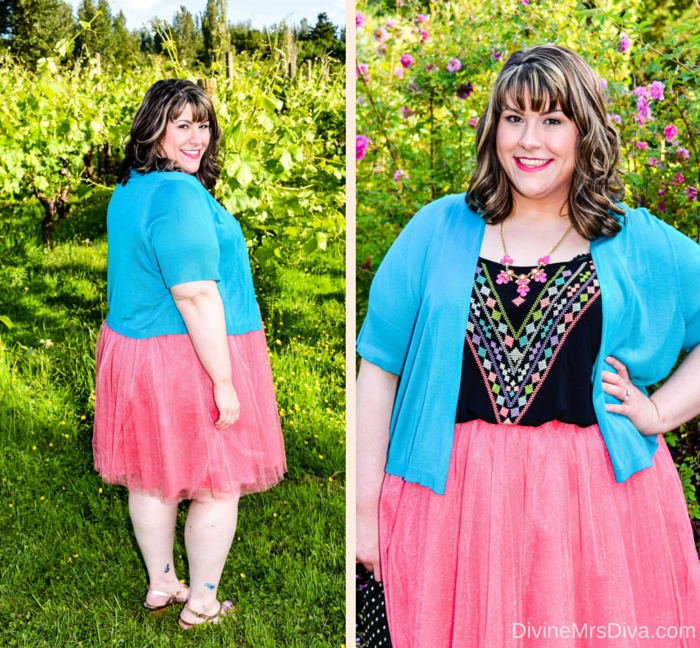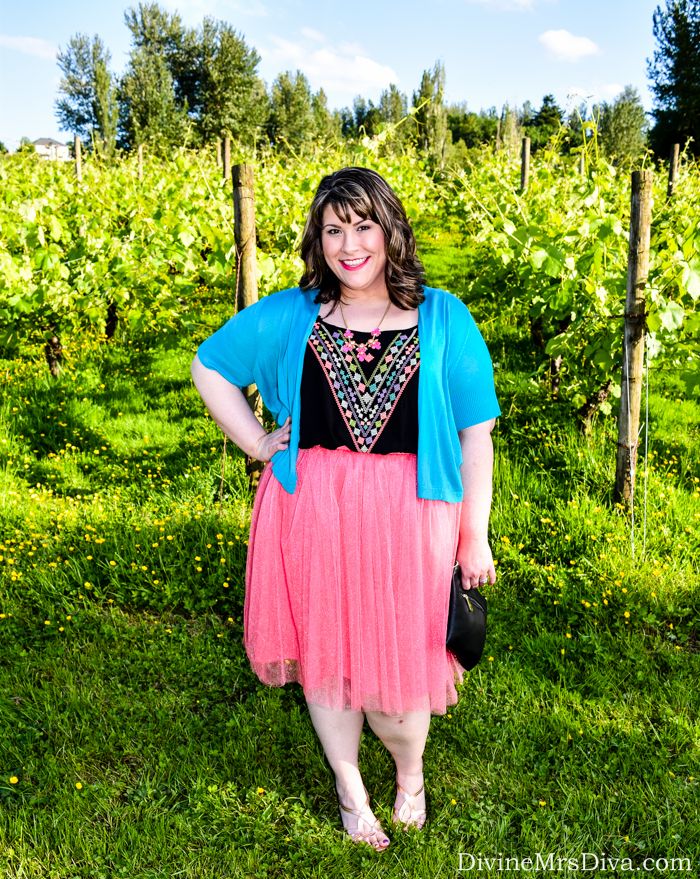 When I was debating on how to style this skirt, I immediately thought of my new embroidered Torrid tank. The pinky coral color in the tank perfectly matched the skirt. Since the shirt is tunic length, it provided me enough material to tuck it in and blouse it out over the waistband. I think this created a lovely proportion and let more of the embroidery show. Y'all know how much I love a colorful outfit, so I just went for it! The necklace is a sparkly pink and orange, so it doesn't distract too much from the skirt and top. The turquoise shrug brings out more color in the top, but also just looks so pretty next to the coral. I was so happy when I put this all together. Rose gold shoes add some shimmer without competing with the look; and a black clutch ties back in to the top. Of course, this also seemed a perfect occasion to wear my latest Colourpop lipstick in
Brooklyn
from the Ultra Satin Lips collection.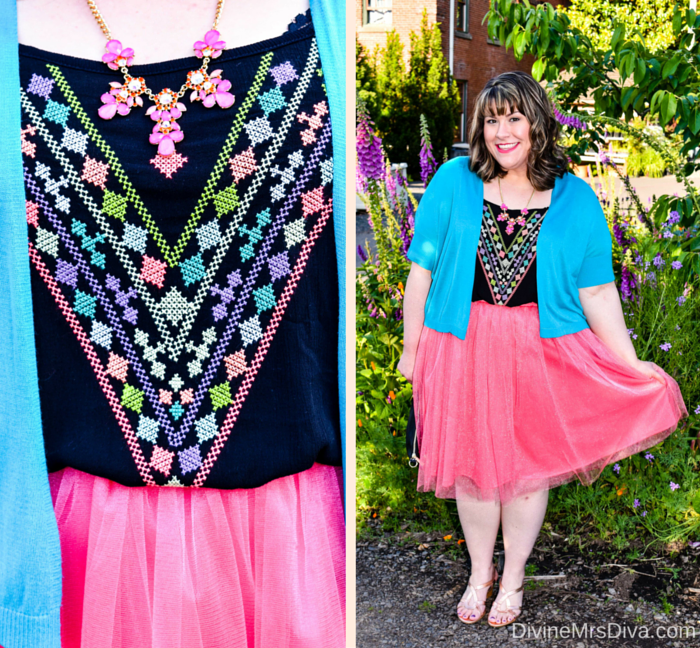 After walking around the grounds of Edgefield to take photos (
in which I accidentally stepped into a big divot in the grass that I could not see, causing my heel to turn all the way on the side. I thought I broke my ankle, you guys! I started crying and I thought the pictures would be ruined, but I kept on posing. #BloggerProblems lol
), we moved on to the Black Rabbit Restaurant for our delicious dinner. I tried the jerk spice slow cooked wild boar with plantain polenta griddle cakes, wild arugula, and grilled pineapple compote. Sean had the pan seared halibut with broccolini, radish, turnips, bacon, and lobster lemongrass sauce. It was all so delightful and full of flavor. For dessert, I chose the pineapple macadamia tart, while Sean opted for the chocolate peanut butter tart. We finished our cappuccinos before heading out to stroll through the gardens.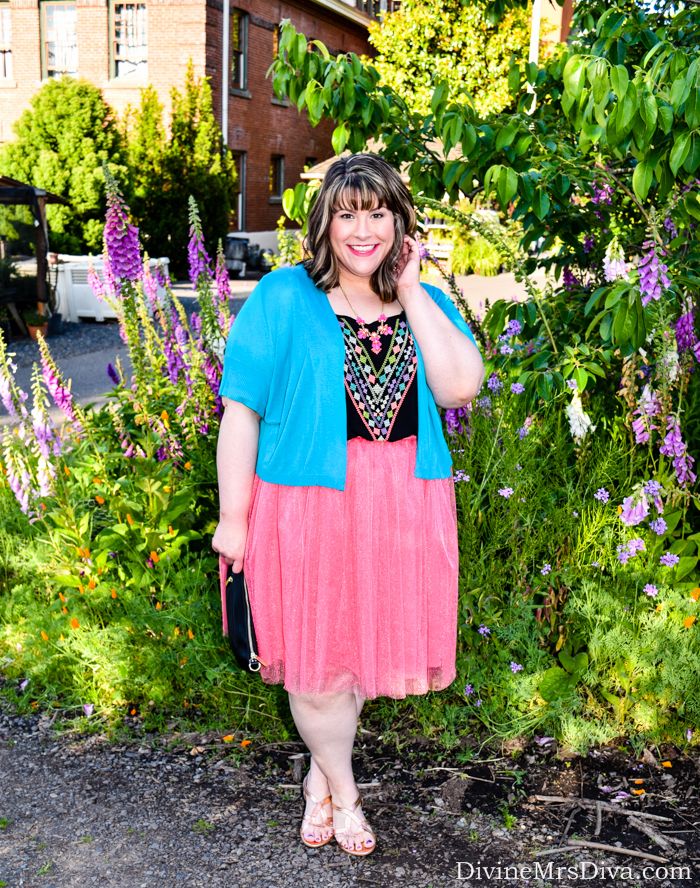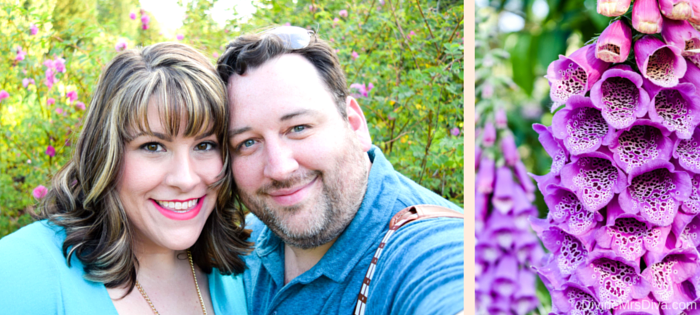 Sean kissed me in the flower garden on our third date. Now we get to see how all the plants and trees have grown up in the time we have been together. Sean proposed in the vegetable garden on a moonlit night while we sat on a bench talking (
after an equally delicious dinner at the Black Rabbit
). It is so special to me that we can go to this one place and reminisce about the very beginnings of our relationship before we ever said 'I love you', all the way to our wedding and subsequent anniversaries. I am so thrilled that we get to start another year of wedded bliss, because I am so proud of our marriage and so grateful for this wonderful person I get to share my life with.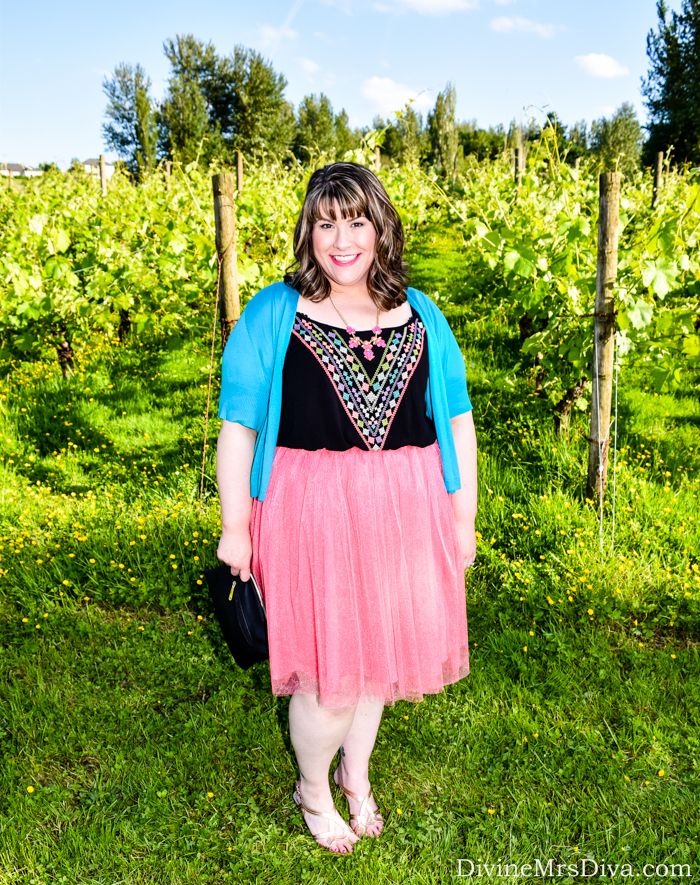 Twirling in Tulle Skirt
in Melon Marvel - c/o Kiyonna
Embroidered Gauze Cami Top - Torrid (
similar,
similar
,
similar
)
Harborside Shrug - Catherines (
similar
,
similar
,
similar
)
Pink and Orange Statement Necklace - Dressbarn (
similar
,
similar
,
similar
)
Sofft Paharita Open Toe Wedge Sandals - Amazon (other colors
here
and
here
)
Olivia Crossbody Bag
- Charming Charlie
How would you style this coral tulle skirt? What is the perfect tulle skirt color for you? Do you have a special place in the history of your relationship that you go visit?