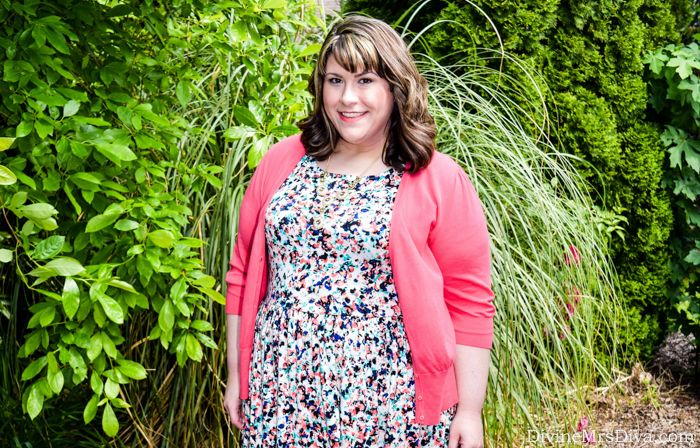 A couple weeks ago I posted about
my impromptu fitting room trips
to Lane Bryant and Kohl's. I bought a couple dresses at Kohl's in the same high-low style, just in two different patterns. The following weekend, my wonderful mom-in-law took Sean and I out to dinner for an early anniversary celebration, so I donned the coral dotted dress. These dresses are still on sale, so today's post is a review of my new dress and sandals with better photos of the style. Enjoy!

This dress
is so incredibly comfortable! Yes, it is super cute and fits great, but the comfort level is such a big cherry on the cute dress sundae! The fabric is a stretchy knit of rayon and spandex. It drapes beautifully and moves with your body in such an elegant way. This stretchy knit is also one of the reasons it is comfortable and great for a summer dress. The material isn't too thick nor too thin and isn't heavy. It is just easy to wear, but with the added bonus that it is doing all the work for you by being super cute. (And I also didn't need to iron it!) Can you tell I love this dress?
I would normally wear a 3X at Kohl's, but a lot of their pieces run larger for me. I am wearing this dress in a 2X. It is a little more fitted across my back, but otherwise provides a great fit - fitted where it needs to be and enough room for my hips in the skirted portion. I love that it fits my bust so well. Having larger hips and a smaller bust, I find it hard sometimes to fit both without having a bagginess around the boobs or armpits. The hem in front stops around the top of my knee. I am 5'9" for reference.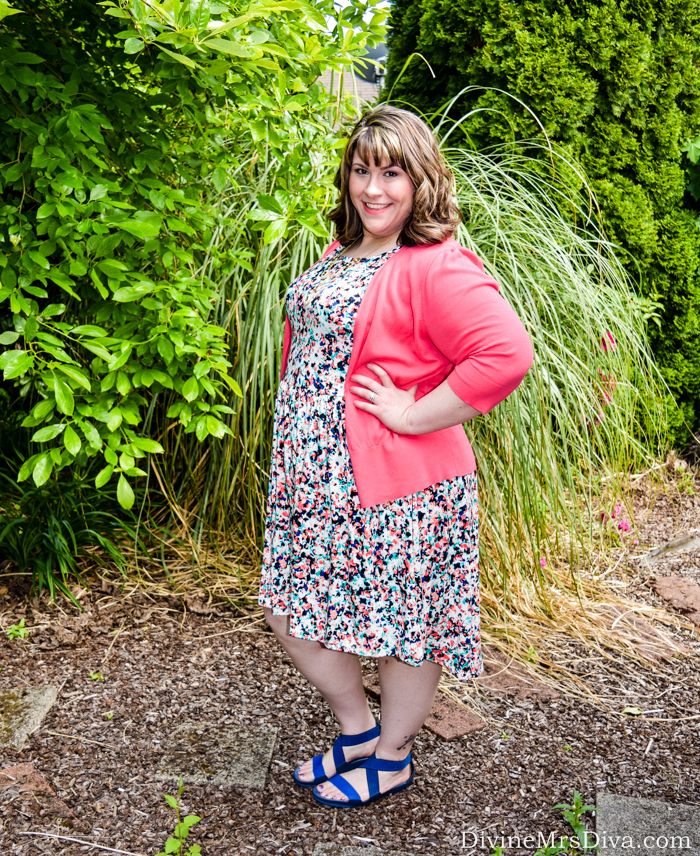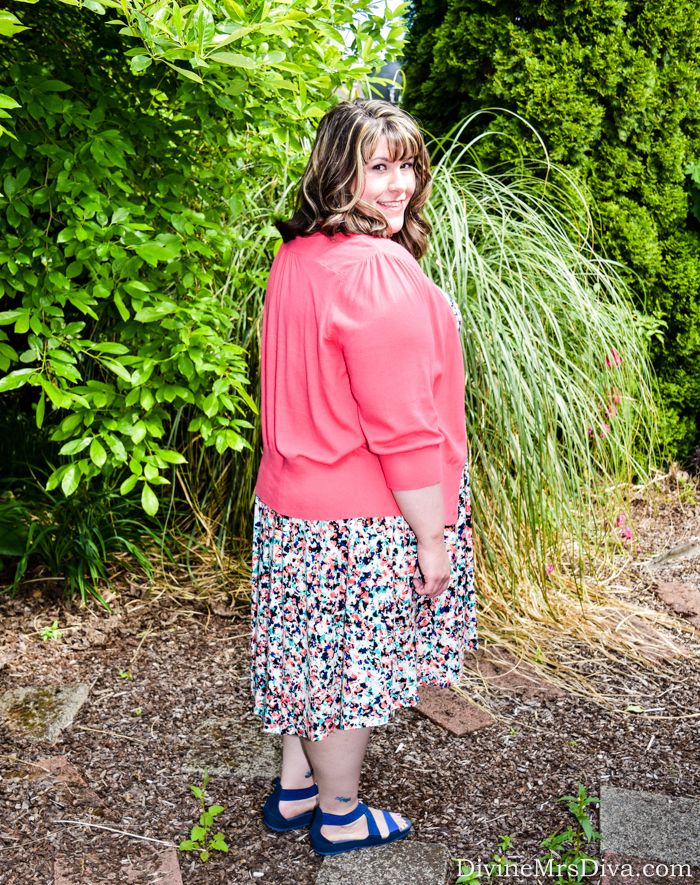 In my fitting room post, I talked about how I loved that this is a more gradual high-low hem, as opposed to ones that deeply dip down in the back. The back hem hits around mid-calf or right above for me. It flows and swings so beautifully when you walk. We ran to the grocery store after dinner and I got several compliments from other shoppers about how lovely my dress was. One lady actually commented on how it moved and flowed. I feel like most people don't hand out compliments very much these days, so when someone gives a compliment it is much appreciated.
If that wasn't enough, this dress also has pockets and does not need a slip underneath. The gorgeous turquoise, royal blue, black, dark coral, and light coral colors also lend to its versatility. There are a number of colors you can use in accessorizing, which is a fun way to change up the look of a garment as you wear it more and more. I have shrugs, cardigans, jewelry, and shoes in all of these colors, so I know I can wear it with multiple things in my closet. This dress also comes in a white/black/blue abstract plaid and a black and white grid pattern. Kohl's also has a regular length fit and flare dress in similar patterns
here
.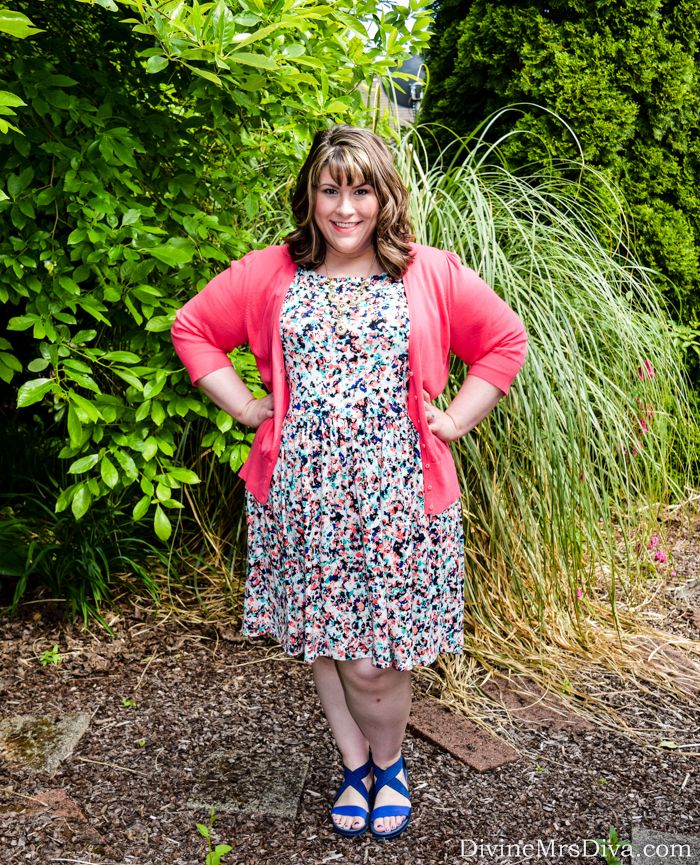 Keeping that in mind, I played up the coral with the cardigan and donned my new Crocs sandals in royal blue. A quick review of
the sandals
: They are extremely comfy and stay in place on my feet. The straps are elasticized and strong, but don't cut into my feet. The elastic feels soft on the skin, not scratchy or blister inducing. The width is perfect for me. My feet aren't quite as wide as they used to be, but are normally too wide for regular width shoes. These are regular width and fit great. I loved them so much that I bought the brown pair as well. I feel like they are stylish enough to go with so many outfits, but they provide the comfort you need for standing or walking a lot and will be great for travel.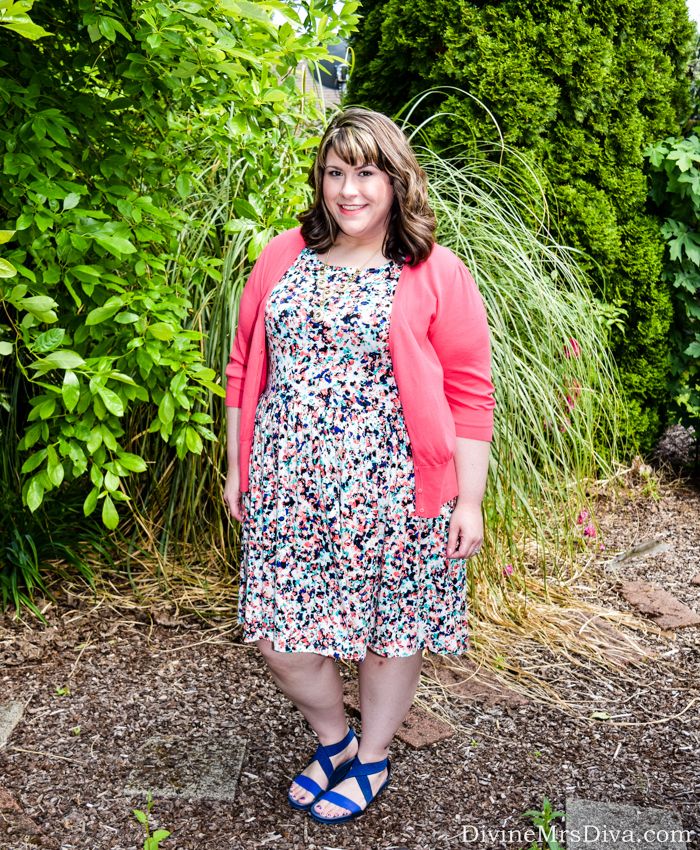 Apt. 9 Printed High-Low Hem Dress
- Kohl's (On sale right now for $36)
Coral Cardigan - Lane Bryant (circa 2006?) (
similar
,
similar
)
Crocs Anna Ankle Strap Gladiator Sandal
- Amazon (On sale right now for $30)
Monet Brown and Clear Y-Necklace
- JCPenney
What do you look for in a summer dress? What colors do you tend to wear the most or gravitate to on a regular basis?