Recently, I
posted a survey
for y'all to fill out about what you like to see here on Discourse of a Divine Diva. It helps give me some focus and know what you most look forward to. Thank you to everyone who took the time to fill it out. While my focus has always been plus-sized fashion, I do want to continue adding my other hobbies and interests into the mix.
Overwhelmingly, you all love fitting room posts! I love doing them for you, but I have just not had any time to actually get to a store lately. I do a majority of my shopping online, so there has been little opportunity or time to get to a store and try things on. I will be doing a fitting room post of sorts very soon to show you my purchases. This will help show you fit and items I love, while also providing that info to you in a timely manner since I don't always get outfits on the blog right away.
Over Mother's Day weekend and my birthday, I ended up going shopping with my mother-in-law. I wasn't prepared for a full fitting room session, but I did get pictures of the things I tried on. I thought this would be a great opportunity to share the photos and first impressions with you. Read on for my impromptu Lane Bryant and Kohl's shopping trips.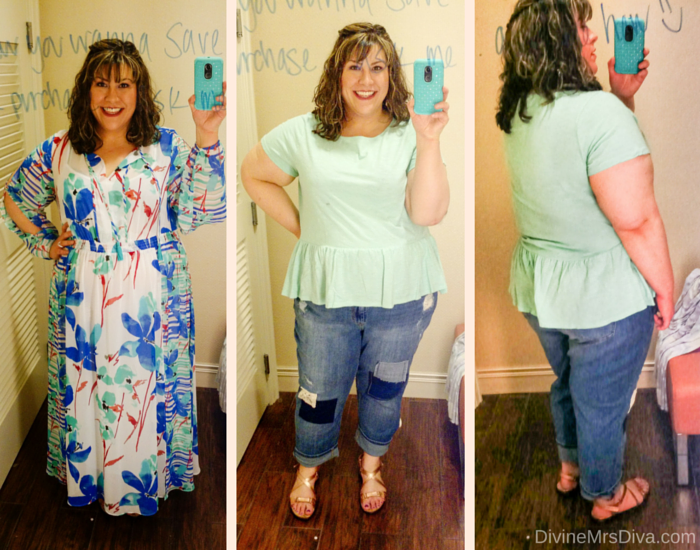 Boho Floral Maxi Dress (Size 22/24)
-
This dress is absolutely gorgeous in person. The colors are vibrant and the floral and striped prints are really great together. I love the placement of the prints as well as the split sleeves and side slits on the dress. It felt very sexy and playful. The dress flowed well, though it is a chiffon with no stretch. The smocked waist sat at a good place on me. The neckline wasn't as open as it looks online, but my actual issue with the dress is that it is totally see-through. Whenever I wear a skirt or dress, I wear some kind of undergarment shorts to keep the chafing at bay. I had on some leopard print ones this particular day and you could see them perfectly underneath the lining of the dress. At $90, this dress is a bit too expensive for me to use as a fancy swimsuit cover-up either, so it was definitely a no for me.
Knit Peplum Tee (Size 22/24)
-
I cannot find this top online. There were several colors in store, so I chose this pale mint color to try on. I love peplums, but find it hard to acquire one that has the right length and proportion for my body. The sleeves of this top were too short and too fitted for my liking, though they weren't tight at all. I wasn't feeling the high scoop neckline (I prefer v-necks) and the length of the front of the tee was too short for my liking as well. It has a slight high-low hem, so I much preferred the length of the tee in the back and wish it had been that length all the way around. However, the peplum would have needed to start just slightly higher as well. It was a soft tee, but it just wasn't for me.
Patchwork & Crochet Denim Weekend Capri (Size 24)
-
I didn't actually pick these capris. I was wearing a dress this day and forgot to grab some kind of bottoms to try on shirts with. Sean grabbed these for me while I was in the dressing room. First of all, I think I could have sized down. They are the "weekend capri" style (I own the
Destructed Weekend Capri
), but these seem to run a little larger. Also, I was not a fan of the patches and such. I didn't like their placement on me at all, nor do I like the look of them. I called them scarecrow jeans, which made my husband and one of the employees laugh and nod knowingly. Verdict: Not for me, but would probably look better with proper fit.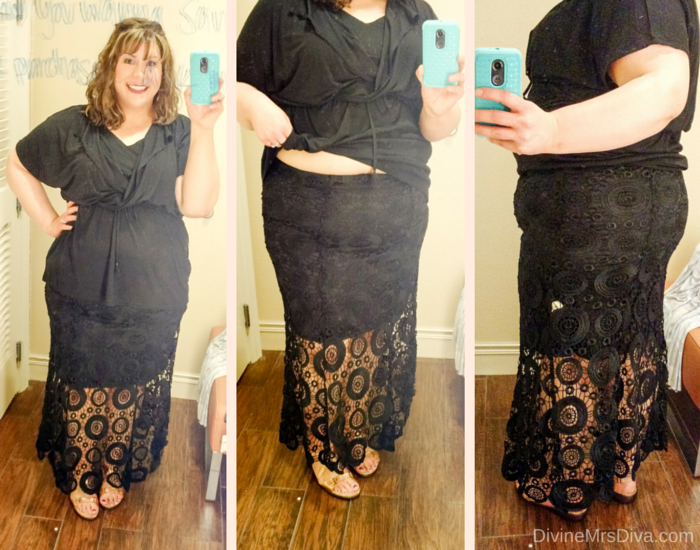 Flutter-Sleeve Knit Top (Size 22/24)
-
I grabbed this top because I was really curious about how the layered look at the top would look on my body. I liked that it had a little tie, but didn't know how it would fit. I wouldn't call it flutter-sleeved either. It is more dolman-sleeved, but doesn't have a super big area under the armpits like a lot of dolman-sleeved items. Still, it doesn't have flutter sleeves. I really, really liked the top but wished it came in other colors. I liked the black, but Finn sheds like nobody's business and his white hair would show up really good on this black top. They only had black in store, so I decided to check online. They only have it in a dark teal online. I did buy that one, but I do wish they would carry it in other colors. The fit was really great. I like the layered look at the top and the bloused affect it creates. The waist is elasticized, so it stayed in place well for me. The tasseled tie belt is long and adds a little extra detail. The material is a soft knit, so it is easy to care for and can pack easily for travel.
Crochet Maxi Skirt (Size 24)
-
I have never tried on or owned a maxi skirt with the shorter skirt underneath. It has been a popular style for a while now, but most of the underskirts have looked way too short for my preference. This one seemed longer, and was a great length, so I tried it on. I do like the idea of it. It seems sexy with a unique crocheted pattern overlay. The length was pretty great too. However, my regular size 24 was definitely much too tight . They didn't have any bigger sizes in store for me to try either. But now I will be more willing to try this kind of style when I see it, just in case.
Slub Tank (Size 22/24)
-
These tanks are knit, not too thick, and cut at a more A-line angle that provides more room for my tummy and hips. The length was pretty great too. They only had purple, yellow, and pink in store. The pink, of course, was my favorite but they didn't have my size. (Nor do they have it online.) The bright, almost neon purple was my second favorite. I tried it on because I hadn't seen this style online before. I need some more knit tanks that are easy and breezy though. This one fit really well, which made me even more bummed the pink wasn't in my size. You best believe I am stalking the website just in case. I did buy the purple one though.
Essential Ribbed Tank (Size 22/24)
-
This basic ribbed tank looked more A-line cut on the hanger. I loved the color so, out of frustration of the other pink tank not being in my size, I snatched this one up to try on. It is a normal ribbed tank with a closer fit. This material seems softer than my old school LB ribbed tanks from a decade ago. The straps are not quite as wide as the old tanks either. I think, overall, the fit is much better than the old ones as well. My old ones are a tad longer, but more fitted on my tummy. When I need to replace my old ribbed tanks, these are a great option.
Sequin Double-Scoop Tank (Size 22/24)
-
By now you should know that I love sequins - day or night, holidays or not. I will wear sequins any time. So when I saw this tank online, I wanted it. Trying it on was a great opportunity to make sure it fit well. The linen/poly material is lighter than your typical cotton tank. Still, you couldn't really see my dark bra through it. It felt breathable and cool. The length was perfect. The sequins go from a dark teal to a turquoise to silver and make me think of mermaid fins! I love the pink and silver one too, but it is on a white tank. I get so scared of wearing white because I don't want to get it dirty. Plus, the pink to silver would look better on the same grey material, in my opinion. I did buy this grey tank. I washed it before I wore it, putting it in a laundry washing bag (
the mesh kind
) to keep the sequins in tact. I hung it to dry. Rarely, do I put any of my clothes in the dryer. It washed really well. All sequins were present and accounted for and looked just fine.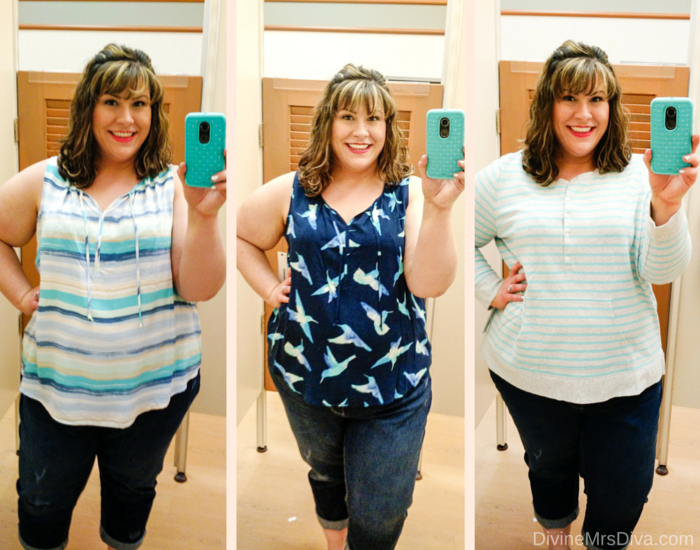 Sonoma Goods For Life Peasant Tank
-
Bold Stripe (3X)
-
There is a stripe with pink version online, so not this exact color combo. I liked the combo and thought it would be a cute tank for summer and vacations. It is a light rayon fabric. My trip to Hawaii is a ways away still, but I am already thinking of outfits and what to pack. I want to keep with the same color palette this time and see if that helps my over-packing. Anyway, this color combo fits the bill. I tried the 3X in this top because the hummingbird one wasn't available in the 3X. The length is great, along with the looser fit. But the arm holes were a bit bigger compared to the smaller size. That's really my only complaint. I could layer a cami underneath, but I'd probably be wearing a shrug or something too. I just decided I loved the hummingbird print more.
Hummingbird Blue (2X)
-
This was my favorite print of the two, but I wished the 2X was a bit longer. This was the only one of this print left in the store, so I didn't buy it. I liked the fit of the 3X better because it was a little longer and a bit looser and breezier. I am still trying to decide whether I want to order it from the website yet.
Sonoma Goods For Life French Terry Sweatshirt (3X)
-
I happened upon this sweatshirt on the clearance rack. I wanted a light sweatshirt for wearing with shorts on cooler summer nights. Immediately, I thought it would be cute with shorts for the beach. This turquoise and grey combo is still keeping with my future-Hawaii wardrobe. The 3X fit really well. It wasn't too baggy in the bust, was a good length, and loose enough in the hips without being too big. It has a kangaroo pocket in the front that blends in well with the stripes print. It is on sale online for $17.60. It was $13 at my local store, so I snatched it up!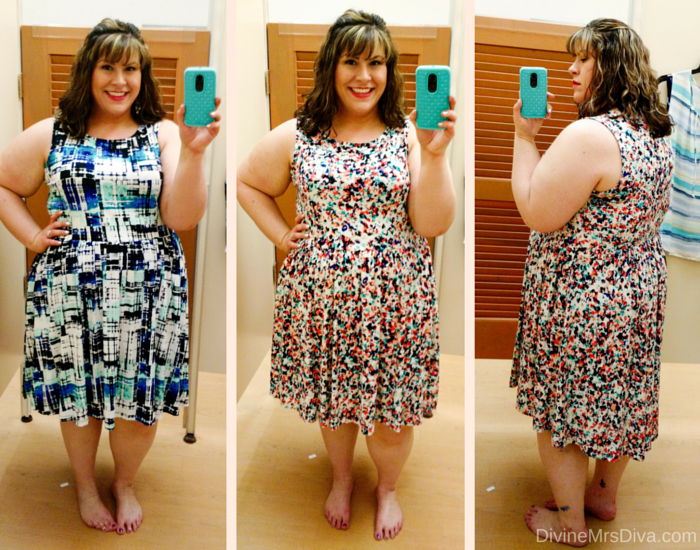 Apt. 9 Printed High-Low Hem Dress (2X)
-
Both of the prints of these dresses captured me from the hanger. Upon further inspection, I thought the fit and flare style would look good on me. I usually gravitate towards these types of fitted bust and full skirt styles. They are made of a stretchy knit material, so I figured I could size down. My
JLo maxi dress from Kohl's
was a size smaller than I normally wear, so for materials like this I feel pretty comfortable sizing down at Kohl's. Even though the neckline is pretty high and totally not V-neck, I really loved both of these dresses. They fit really well, though would qualify as being a bit fitted across the back. I will wear a shrug with them anyway, so that wasn't too big of an issue for me. The black, blue, and turquoise one was keeping with my vacation color scheme and seemed a little dressier. The dotted print seems more girly and casual. Sometimes when I try on clothes they can evoke a character for me. That usually makes me really happy. I was a total theater geek in school.
Anyway, the knit material is soft and comfortable, easy to care for, and will travel well. It is also opaque, so you don't need a slip. The high-low hem is more subtle than most, which I really loved about it. It looks more pronounced in the photo, but compared to a lot of high-low skirts and dresses it is much more gradual. Also, they have pockets! I decided I was going to buy the dotted one because they are on sale right now for $36. And my mother-in-law bought the black and blue one for me because it was my birthday.
So those are my quick stops in fitting rooms as of late. I usually find that I have to sift through things at my local Kohl's. It isn't a larger store, so the plus size section is pretty small. Still, I typically find a few gems when I am there. They always have some kind of sale going on as well and usually have lots more stock online. Lane Bryant also tends to have some kind of sale going, though stock varies. And if you are an avid online shopper like me, using
Ebates
when you make a purchase saves you a percentage back and offers various coupon codes.
Do you have luck at Kohl's? What do you think about the new styles from Lane Bryant? Have you tried on clothing lately? If so, what were your favorite styles?