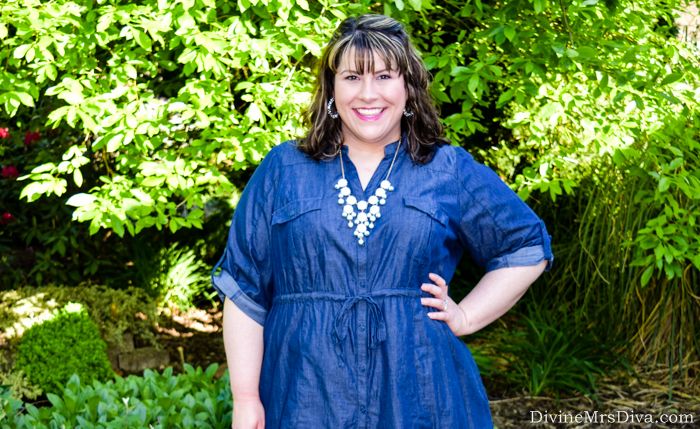 Hello again, my lovelies! What have you all been up to? I've been trying to be productive both at home and on the blog. Some days are more productive than others. I'm on book three of the
Outlander
series,
Voyager
. I listen to the audiobook while I work, which helps me get through them faster. Therefore, I am way behind in all my podcast listening and television shows and all that. haha What are you reading, watching, listening to lately?
I put a lot of pressure on myself to write lots of information for you in each blog post. Sometimes that pressure prevents me from even getting a post out because I keep thinking it isn't good enough. "Comparison is the thief of joy", I suppose. So sometimes I will do more quickie posts like this with pieces I've already talked about extensively on the blog. Today's look is definitely a go-to in the spring and summer when I just don't want to think too much about my outfit. I can throw on this combo to run errands or head to Bunco or maybe game night. It looks cute, but it isn't fussy. Take a look....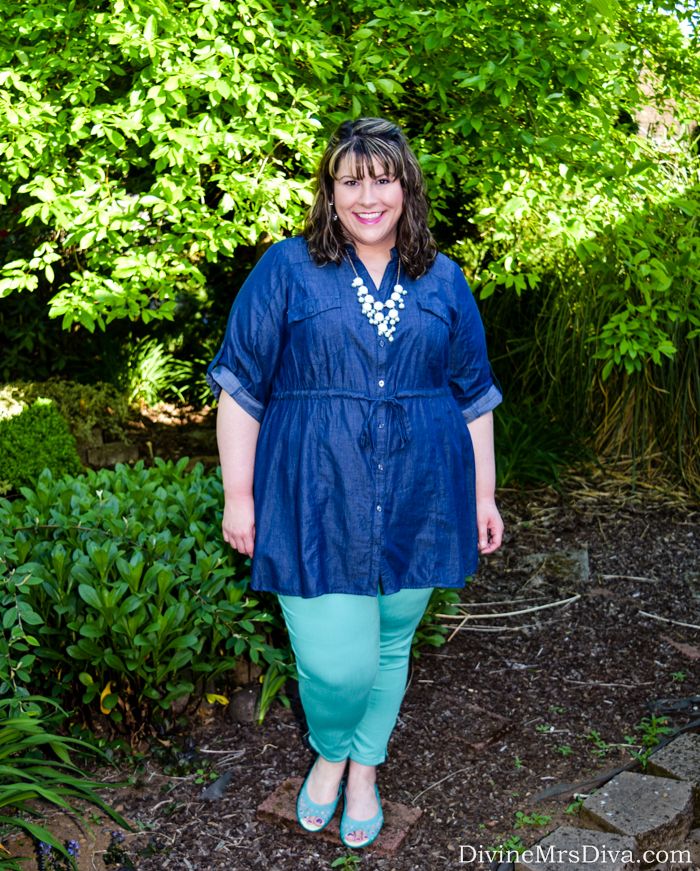 Colored denim is back this season, but it is hard for me to find ones that fit really well. I bought these mint jeggings on clearance at Lane Bryant right before radiation treatment a couple years ago. They aren't a perfect fit, but they suffice. They were only $13. It wasn't like I was going to leave them at the store. I find that as long as I am wearing more of a tunic style top that covers the top part of my thighs, I am fine with how they look. The denim is really stretchy, so it is a bit thinner than a normal denim material. This makes lumps and bumps a bit more obvious, which then makes me a bit more self-conscious.
Another issue is my calves tend to be too large for most ankle style jeans. It really bums me out when I want some of the cute colors and prints from Torrid. Now, I haven't been in to try them on again since I have lost weight and a couple inches in my calves. They just might work now. Torrid has some gorgeous bright denim colors that I
want
NEED! I know some of you may be intimidated about wearing colored denim, but you don't have to be. If you are worried about all the attention being on your butt and/or thighs and you don't want that, I find that tunic tops are a great pairing. The tighter pants are balanced with a looser top that provides a bit more coverage.
As this is a great spring and summer go-to outfit for me, I keep the accessories pretty simple and easy. I own two of these chevron bubble necklaces in mint and peach, so I can exchange one for the other and it still goes well with the outfit. Often I wear my turquoise flats, but I do have a coral version and a pink version that can be interchangeable as well. It's quick to throw on and go. Considering how I overthink most everything, it is nice to have some no-brainers lying around. lol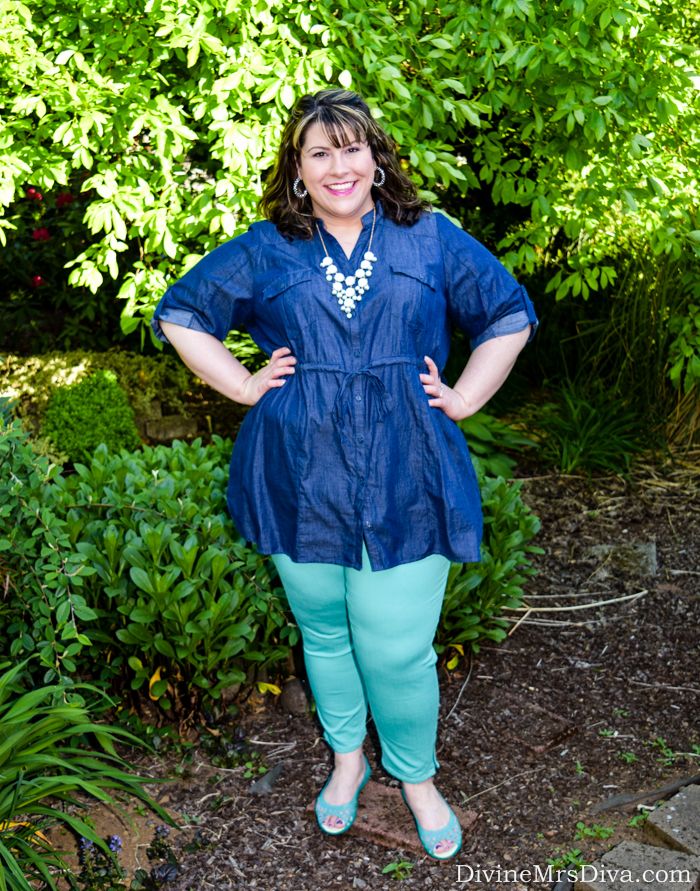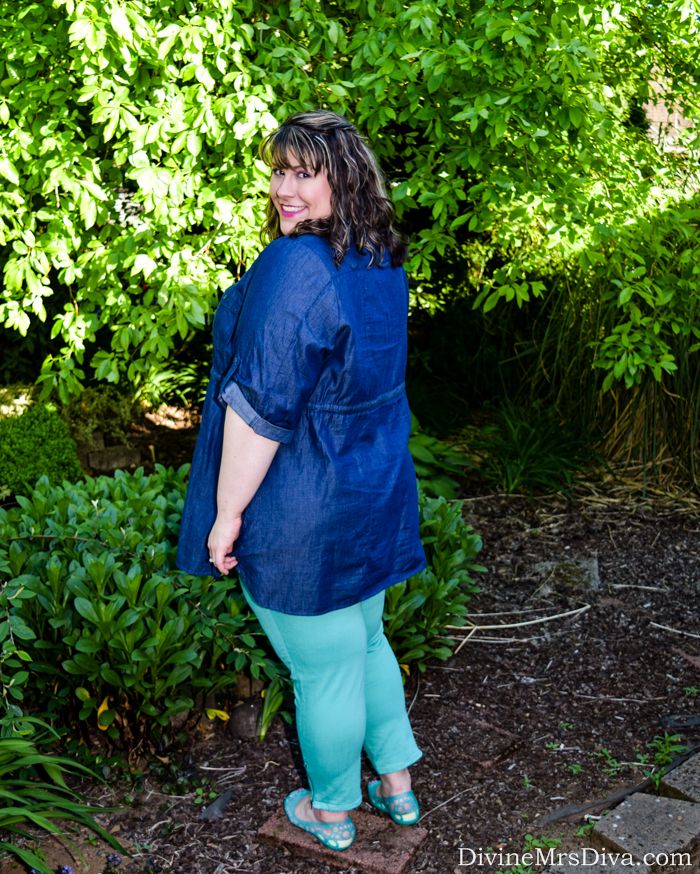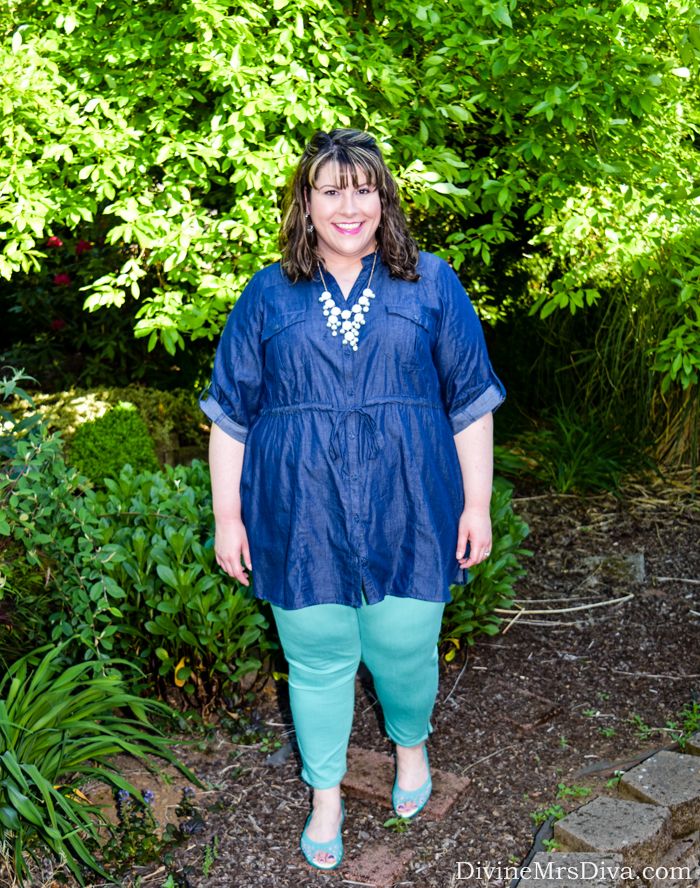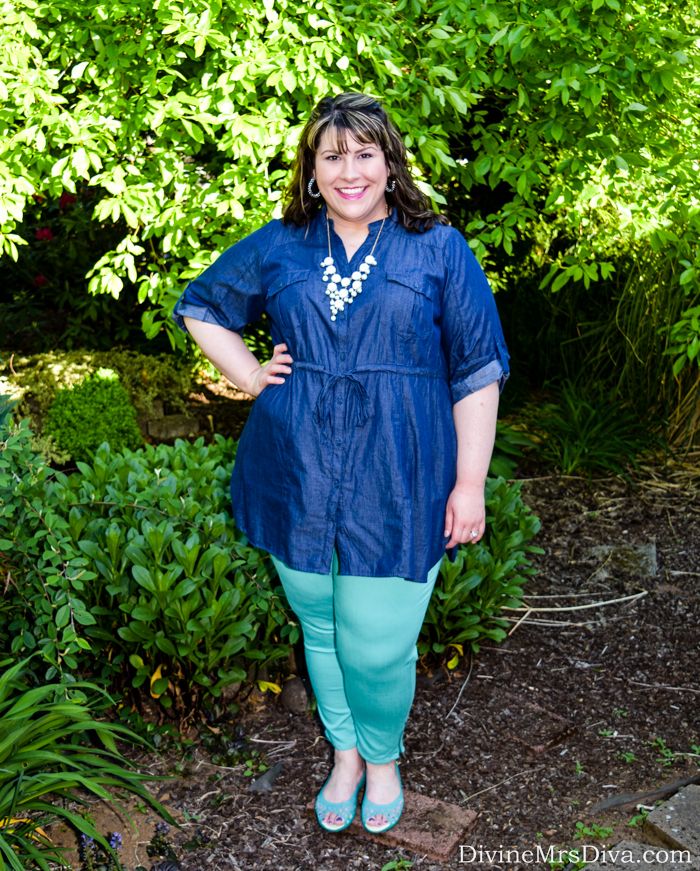 Chambray Tunic - Lane Bryant
Mint Ankle Jeans - Lane Bryant
Chevron Bubble Necklace -
GroopDealz
Adrina Flats
- Crocs via Amazon.com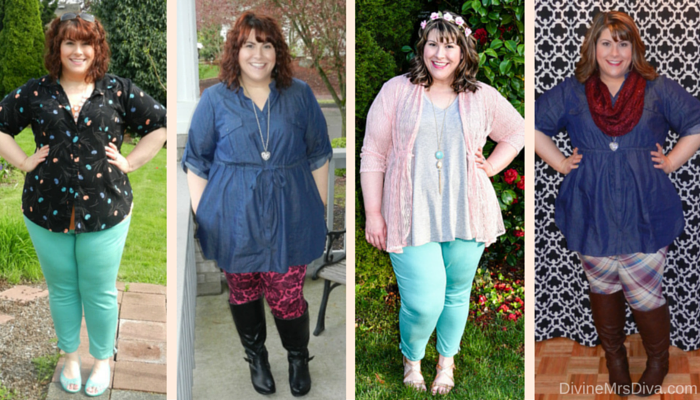 Shop colored denim and chambray: (You may have to pause your adblock to see)

Are you feeling the colored denim? Have you found a favorite pair or brand?