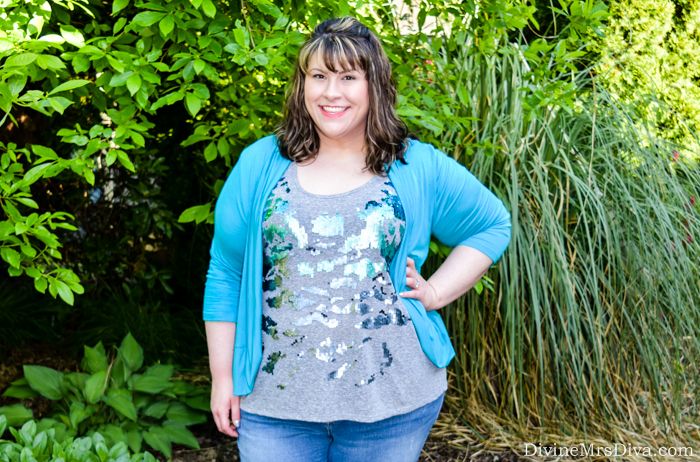 The weekend before my birthday, I took a little impromptu trip to Lane Bryant with my mother-in-law and husband. I tried on various pieces you can see in
my latest fitting room post
. My favorite piece I tried on was, of course, this sequin tank. With the warm weather we had around my birthday, I decided to keep it casual but sparkly while out and about. My mom-in-law took me out for a birthday lunch, followed by shopping. Then we met up with my husband for dinner. In today's post, I review this tank and add some more info to my previous thoughts of it.

I bought the
Sequin Double-Scoop Tank
in a 22/24. This is my usual size at Lane Bryant. The cut of this tank is a bit more a-line, so I have ample room in the tummy region and it doesn't cling. I
love
this more full cut! The material is a smooth-feeling linen/poly blend. It is a lighter, thinner material than the regular knit tanks, so it feels a lot cooler for summer. That said, it is still well-made and is not see-through. The length was perfect for me! I'm 5'9". I also loved that the neckline was open but not too low. I know I have mentioned my issues with armholes being way too big, but these are not. You will not be showing off the sides of your bra if you go sleeveless.
I have washed this top since I bought it, placing it in a
mesh laundry bag
before putting it into the washing machine. I hung it up to dry and did not put it in the dryer. All the sequins stayed in tact. I didn't have any issues with sequins coming undone, though occasionally you do have to turn the sequins at the top of each section back down. You can see that I forgot to do that before taking photos, as some sequins are sticking up instead of laying down. And I love the color of the sequins and the ombre color graduation. In the photos, the sequins are reflecting some of the green from my yard. The top sequins are a dark teal, moving to turquoise and a gunmetal silver. The website photo on the Lane Bryant website is an accurate representation of the color. I normally don't wear white (
because I am terrified of staining it
), but I really think I am gonna get the white version of the tank too. You can never have too many sequins, I say!
LB is having a 40% off sale for Memorial Day weekend, starting today!
Take 40% OFF Sitewide with code: SUMMER16LB (5/26 @12am PDT - 6/1 @12am PDT) excludes panties and Style fix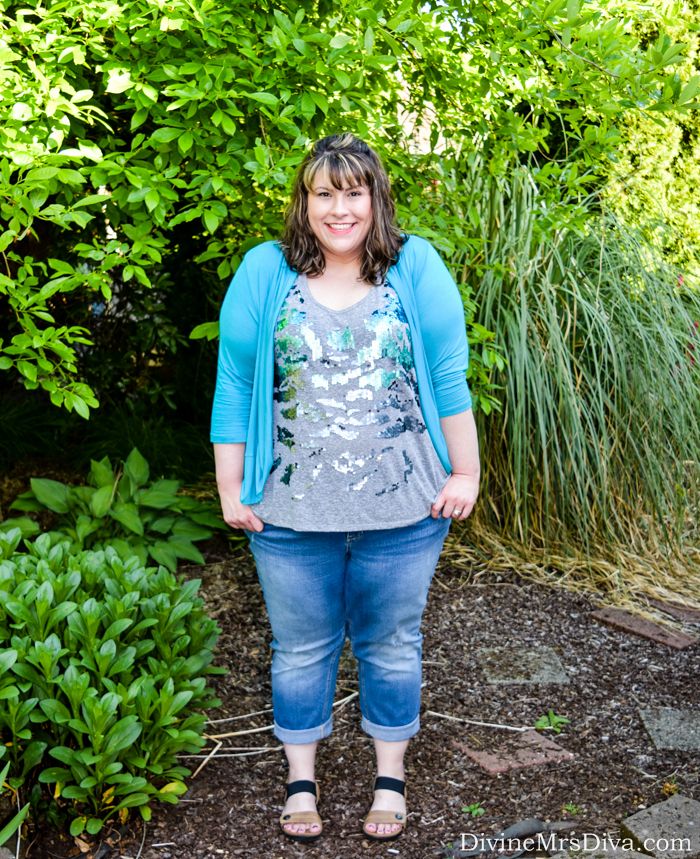 I feel comfortable with my upper arms off and on lately, but wanted to pair this turquoise
Amber Shrug
from SWAK Designs with the tank. It matched the sequins perfectly! I have a handful of these shrugs in multiple colors. They are versatile and made of a lightweight knit so they aren't too warm. If you like more arm coverage, these are a great wardrobe staple.
My Catherines Girlfriend Jeans and new sandals completed the look. The jeans just fit so great and are one of my favorite pairs in my closet. They keep their shape really well, but once they stretch a bit they still don't look too baggy. I love the way they fit my thighs. With the hidden elastic waist band, the jeans also stay up well and do not stretch out at the waist. They were my absolute favorite pair of jeans for travel and road-tripping also.
My
new sandals
are a surprise find at DSW. I was checking out the clearance and came across these in my size. Usually when I see size 11 shoes at a place like DSW, the shoes are not my style or are not comfortable or practical. So color me excited when I found these from a new-to-me brand, Cobb Hill by New Balance. They boast "stylish looks and the trusted comfort and fit of New Balance." These sandals are a regular width, though they do also carry wide widths, and they fit me perfectly! The front ankle strap is elastic, with a Velcro closure on the strap across the toes. I lucked out finding them, so I had to snatch them up. They are super comfortable and a great casual sandal for walking around. Since I have been trying to invest in more comfortable (
but cute
) shoes, these make a welcome addition to my shoe wardrobe. You can see more styles at
Zappos
and
6pm
. DSW's website
has a selection of sizes and colors
on their website and are still on clearance!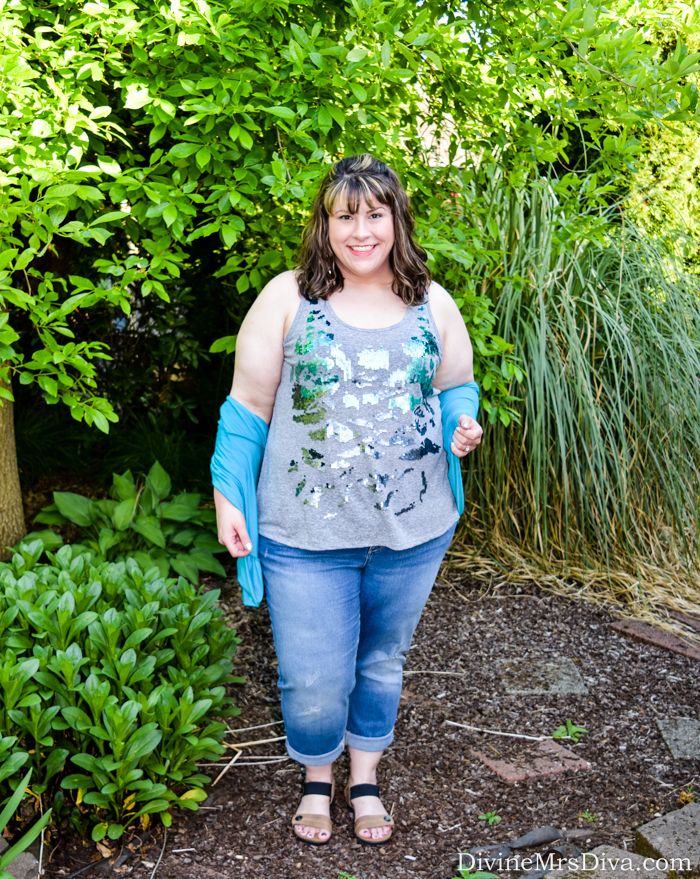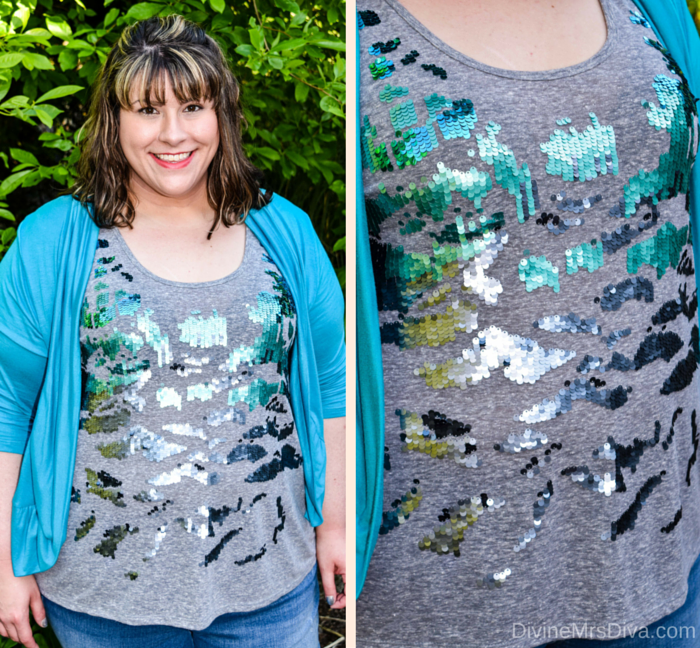 Sequin Double-Scoop Tank
- Lane Bryant
Amber Shrug
- SWAK Designs
Girlfriend Jeans - Catherines (
Distressed Lace
,
Dark Wash
)
REVsun Sandal
- Cobb Hill by New Balance (Also on
Amazon
)
Have you guys tried this Cobb Hill brand before? Do you love daytime sequins? Do you still feel compelled to don some arm coverage or do you let your arms be free? I'd love to hear your thoughts.