Yay! It's my birthday!! Also, happy birthday to my lovely friend Kelly as well! My mother-in-law is taking me out to lunch today to celebrate, followed by a low key weekend home with Sean. We shall be chillin' and playing Uncharted 4 (
it is finally out!
), though he is taking me out for dinner on Saturday.
Just this past weekend, we went out to Mother's Day brunch to celebrate Sean's mom. I wore this bright and sassy Kiyonna wrap dress for the occasion. In today's post, I review the dress with notes on sizing and fit. Read on for all the details....


- Kiyonna gifted me the dress in this post. All opinions are 100% my own. -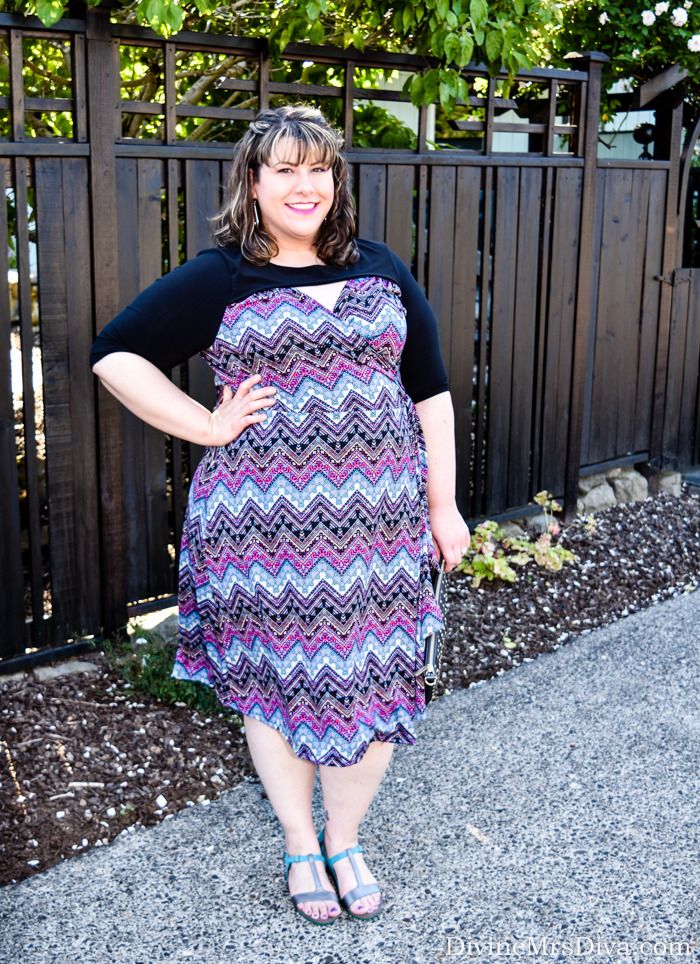 The
Winsome Wrap Dress
is a classic wrap dress with an interesting neckline and three-quarter sleeves. The key hole neckline is sexy and fun spin on the usual v-neck of a typical wrap dress. The black part of the neckline pulls over your head, while the rest is put on in basic wrap dress fashion. The wrap style helps in personalizing fit to accommodate your curves, no matter your size. I have to say, the first item I tried through Gwynnie Bee about five years ago was a Kiyonna wrap dress and I didn't think it fit me right. I thought maybe wrap dresses just weren't for my body shape because of my small bust and big hips. It was only in the last year that I decided to try wrap dresses again, but I have had amazing results. I love them all and find them to be excellent no-fuss options for any occasion. There is a reason why the wrap dress is such a classic.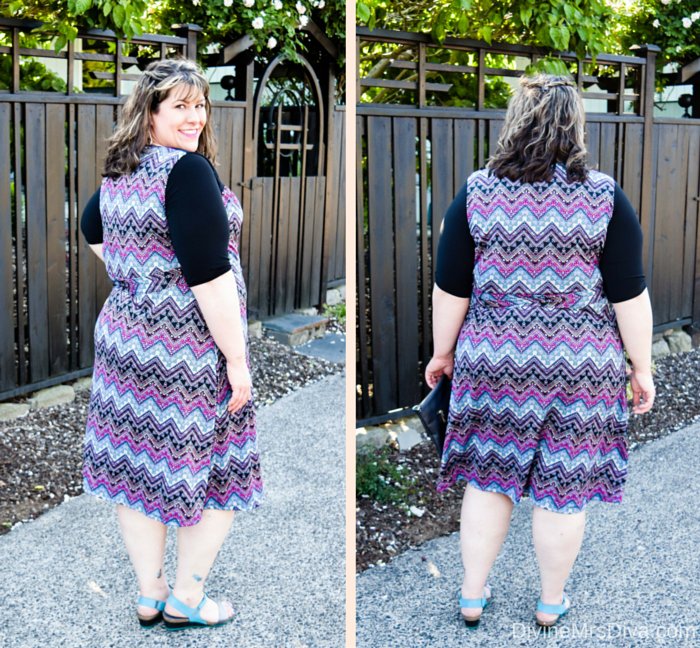 The polyester/spandex material is stretchy and smooth, fitting comfortably over my larger upper arms. I am wearing the dress in a 3X, which translates to my usual size of 22/24. The ties are easy to tie and they stay closed without worry of things magically coming undone. I found the A-line cut to be a little less full than some of the other similar wrap dresses. It was just a little more fitted over my booty region, but still skimmed over my hips. If your hips are a lot larger than your bust, you may want to size up. The hem stopped just below my knees on my 5'9" frame. I quite love the chevron pattern with its mix of black, purple, lavender, fuchsia, mint, and peach. There may even be a hint of red in there. It is quite a vibrant and beautiful print. I didn't need to wear shapewear with this dress, though I am wearing a cami and undershorts that don't suck me in but do smooth me out just a tad.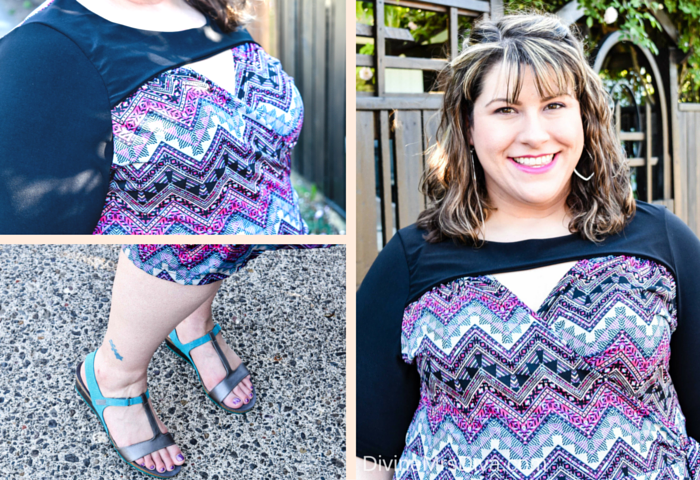 Because the print does a majority of the work for me, I kept the accessories pretty simple. My diamond-shaped sparkly earrings mimic the chevron, while my grey clutch adds more sparkle in a neutral way. I couldn't help but add my new Naot sandals because 1) I hadn't worn them yet, and 2) the turquoise matched the dress! These sandals are a bit tight across the foot, but are otherwise comfortable. If you have wide feet at all, I would definitely recommend trying on some styles from the brand before you purchase. The sandals were gifted to me from the brand when I promoted their Dress For Success event recently.
Winsome Wrap Dress
- c/o Kiyonna
Unicorn Sandals
- c/o Naot Footwear
Diamond-Shaped Drop Earrings - One Wink via DSW (
similar
,
similar
)
Olivia Crossbody
- Charming Charlie
Outtakes from dealing with the wind!
Are you a fan of the wrap dress? Is there a style you disliked before that you now love?