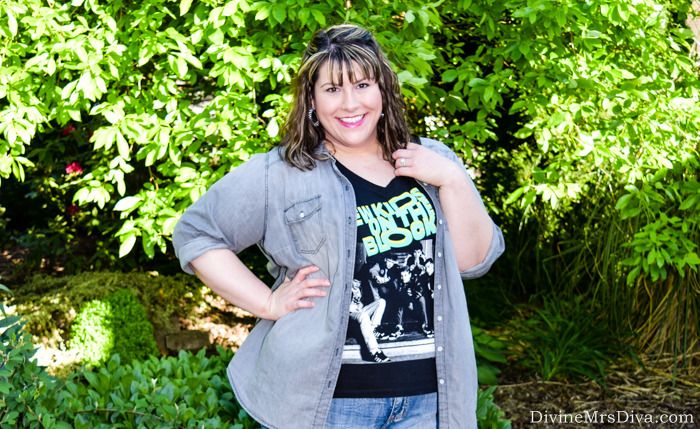 The title of today's post has a double meaning. Not only does it reference the New Kids shirt in my outfit today, but I've also been going through my tough emotional time leading up to my birthday. The emotions don't have to do with getting older, but more about the kinds of losses I've endured this time of year.
I think I'll talk about the outfit first and then leave myself room to ramble at the bottom of the post. So let's get to it.

All the pieces in today's outfit have been featured on the blog before, so I guess this is a remix of sorts. I like showing you combinations like this because I am a normal person who doesn't wear something new every day. We all have those favorite pieces in our wardrobes that we reach for automatically, so one day I just put all those things together. haha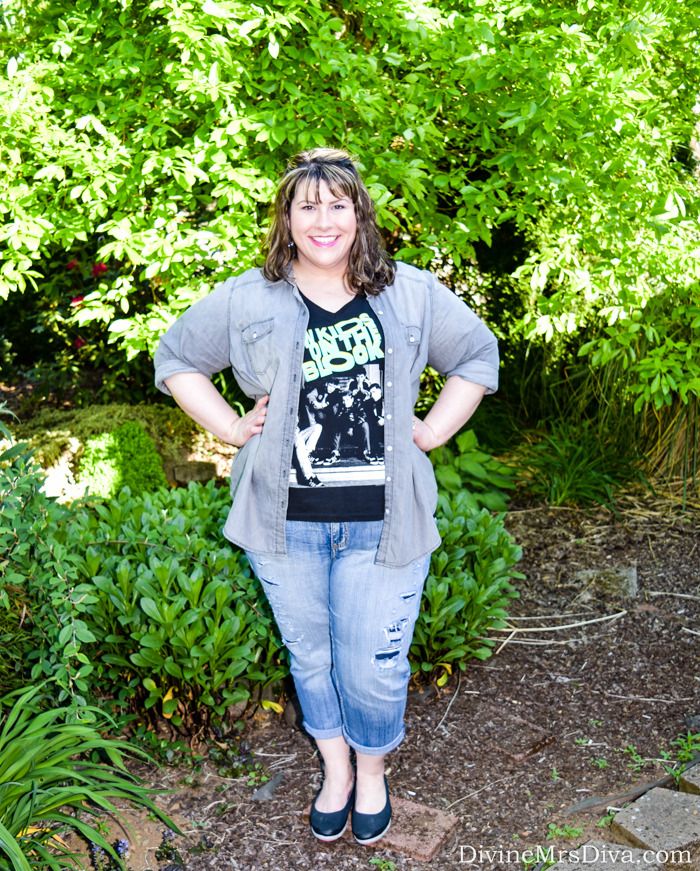 It was a slightly chillier day recently where I needed to run errands all day and then go to Bunco in the evening. Comfort and cuteness, as always, were key. And when I am feeling down, I love to wear my New Kids tee because the NKOTB has been a tried and true way to lift my spirits since I was 8-years-old. Whenever I have been sad, the New Kids have been there for me. They give me strength, even just in t-shirt form. I guess, for me, it is almost like plate armour in that way.
When I wear my New Kids tee, I either get smiles and comments from people who love, loved, or know someone who loved New Kids. Or I get frowns and looks of disgust, which make me laugh. Since the beginning of my New Kids love, I have gotten so much hate for it from every possible source. In a lot of ways, my love for the New Kids taught me to have a thicker skin, stick up for what I love and believe in, and to have an appreciation for people who are different than me. But I digress....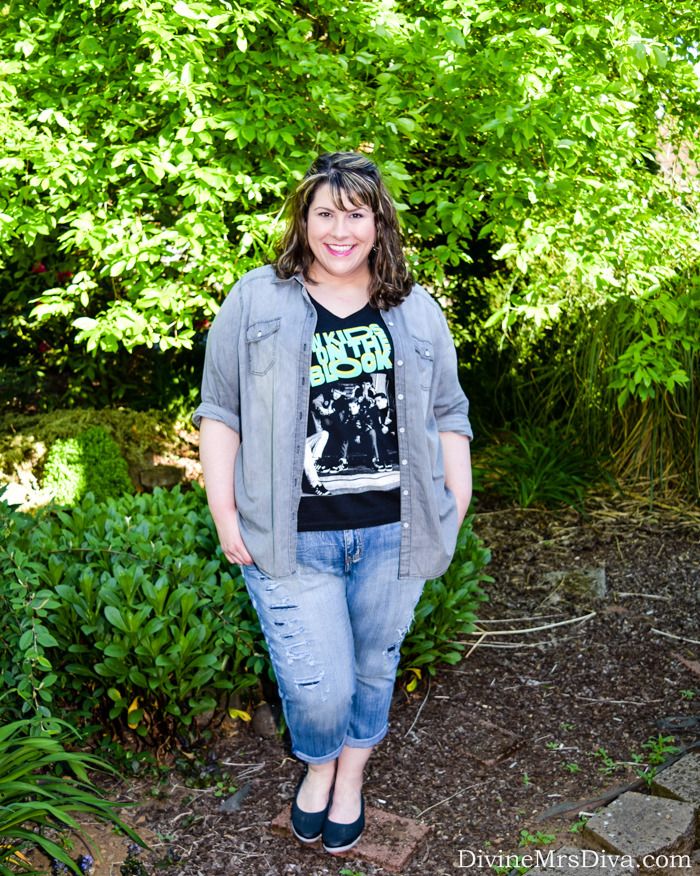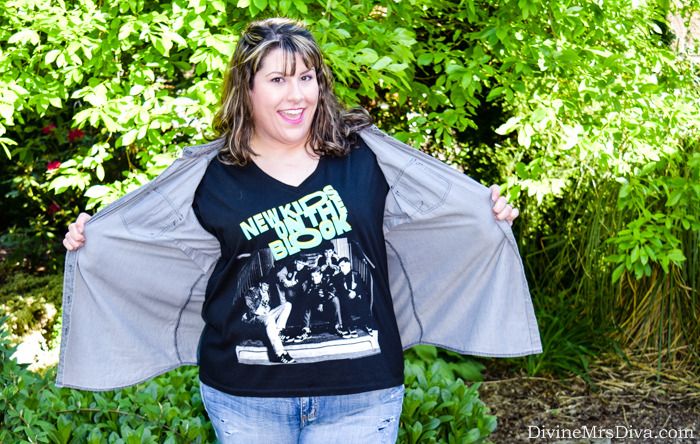 The NKOTB shirt is from Torrid from a handful of years ago. Sometimes they throw one out there and I have to snatch it up immediately! When it is really hot out, I like to
pair the tee with my striped maxi skirt from Kiyonna
, but this time I paired the tee with my distressed weekend capri from Lane Bryant. These denim capris are becoming a fast favorite. Paired with the New Kids tee, it felt very 80s, also reminding me of
Donnie's ripped jeans
from back in the day. By the way, these capris were recently restocked in store and online. You can read my review of the Destructed Weekend Capri
here
.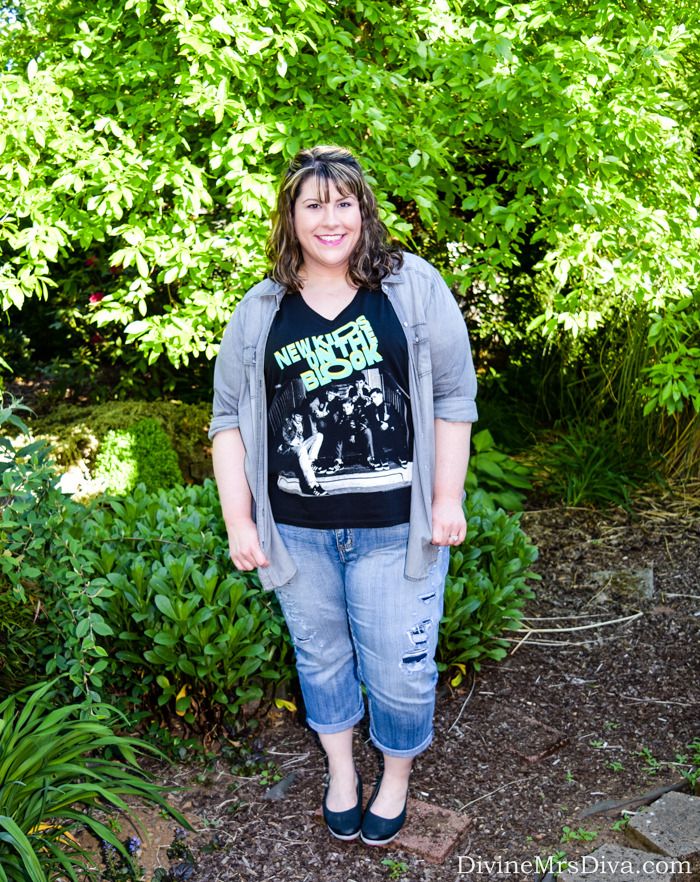 It wasn't cool enough for a jacket and I didn't want to wear a cardigan or shrug. I love wearing these denim shirts (
I have them in three washes
) as over-pieces. They are lightweight but provide coverage, whether you want to cover your arms aesthetically or it is sort of chilly out. They were my go-to on our road trip. I mostly wore them with capris and tanks and tees and jeans, but they look great with skirts or tied at the waist over a dress as well. You can see it in previous posts
here
and
here
, and with a skirt
here
.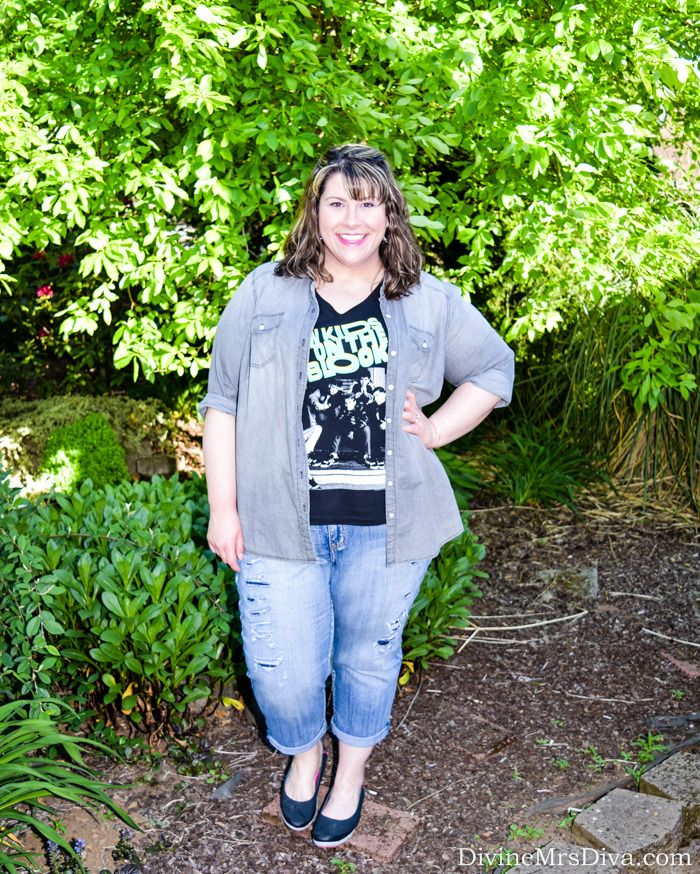 The flats have been discussed on the blog as well. I own this black pair, a turquoise pair, and the tan loafer version. They are comfortable and lightweight. I find them perfect for traveling as you can slip them on and off; and they don't add a lot of weight to your suitcase. I wear my typical size 11 in these, with width and length fitting me very well. You can see outfit photos with the black pair
here
and
here
, and the turquoise pair
here
.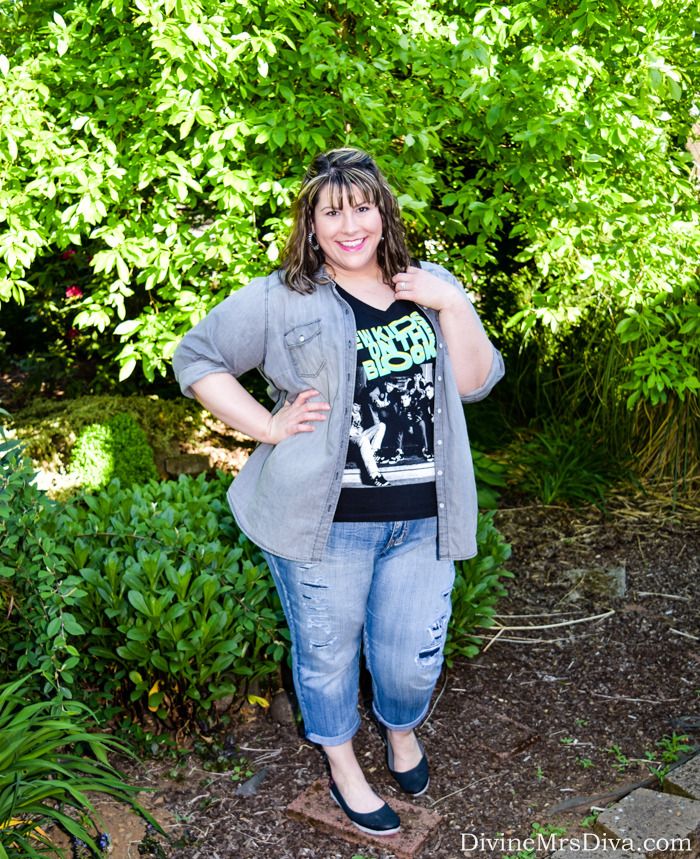 Destructed Weekend Capri
- Lane Bryant
NKOTB Tee - Torrid
Grey Denim Shirt
- Torrid
Black Stretch Sole Flat
- Crocs
Do you have a piece of clothing you wear for strength or to lift your spirits?
Now for ramblings about life:
I can feel the sadness oozing in about mid-April, though I try to fight it off to the best of my ability. This year I was so overwhelmed with
all the endo appointments and thyroid check-up stuff
that I was sufficiently distracted a little longer than usual. And then it hit me like a freight train.
It takes all my energy to smile and interact with people for obligatory gatherings and such. I have to go on this autopilot mode of smiling and nodding and joking around about things that don't matter because talking about things that do matter just makes me cry. I had a baby shower and a game night and Bunco and meeting with a cousin to catch up during this time of not really even wanting to get out of bed. It is always exhausting pretending to be fine, but I do it because that is what people expect. And really, who wants to hear me weep for the mother I wish I could have or the father I lost when I was seventeen or that sense of not belonging I feel all the time because of how these relationships affected me? I think most people expect I have had enough time to get my shit together on these issues. When these feelings and thoughts are unresolved and there is no way of resolving them - when there is no closure - it is hard to just "get over them".
And of course that depression and sadness doesn't just go away. I know it is with me all the time, it is just more pronounced this time of year. Mother's Day upsets me because I don't have a mother. She's still alive, she just turned out to be a bad mom more focused on herself and her needs than those of someone else. It was five years ago now when she told me she didn't want to be my mom anymore. (
I've written about my issues with her before
.) So while I am happy for people who have great relationships with their mothers, it makes me feel very isolated when all I see is happy posts about people and their moms online. It just brings up those profound senses of loss and hurt and betrayal and rejection that bubble up this time of year. I suck it up because my mother-in-law is a wonderful lady and she has always been a great mother to my husband. But that is still not the same as having your own mom love you. Mother's Day is a big marquee of loss to me, so I try to avoid it when I can.
The 10th is the day my dad died. It happened 18 years ago and I think I have a much better handle on it than I used to, but I still remember the day I found out he died and the events in the aftermath of that. I still feel the hurt deep in my soul because so much is just forever unresolved and unknown. None of his side of the family talk to me anymore. My stepmom is a horrible woman and the whole reason I moved away from him in the first place. He never stood up for me. He never had my back in those awful times. I came close to killing myself, so I knew I needed to get out of that environment. I could go on and on about the events that caused a rift between me and my dad, but as an adult he should have handled it all differently. That's the thing with parents. They are flawed people and most of them shouldn't even have kids. Both of my parents were/are very selfish people only truly concerned with their feelings and not the feelings or mental and emotional well-being of their children.
And wedged between those two days, this year anyway, is the day I lost my dog Beau. We got him when I was 10 and he passed away when I was 22. He was a HUGE part of my life and a constant companion to me during really dark times during my childhood. He kept me sane and calmed me more times than I can count. And I miss him all the time.
So there's all this loss and death and depression and feelings of dread around this time of year. This year, add some insensitive comments from friends to the list and Finn hurting his foot yesterday (he seems to be back to normal today, but I really thought he was messed up for life), and I am just bursting with emotions. This year's birthday week is a bit more low key, which I am hoping will help me push through and latch on to the positive for celebrating the great life I have now. In some ways, these lows mark the ending of this latest year of my life and I start anew on my birthday with gratitude and celebration of all I have, all I have accomplished, and all I have made it through.
Thanks for listening.