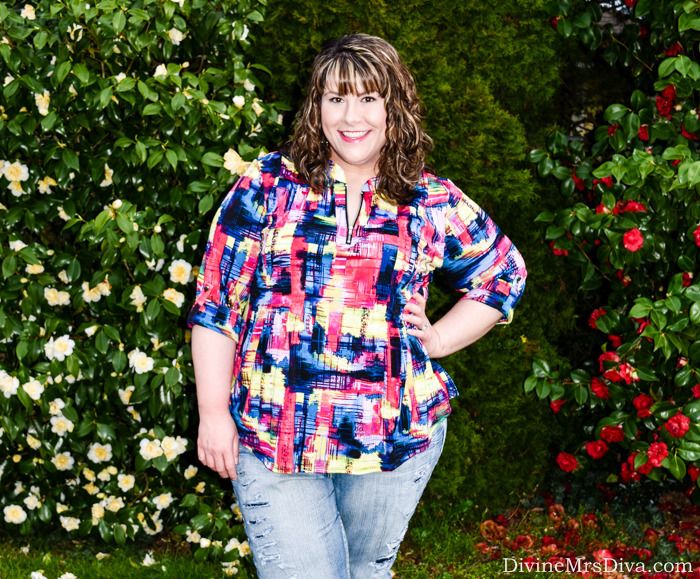 Spring style is everywhere now and I, for one, am looking forward to the days when I can wear my new purchases. It is still very chilly and rainy here, hence few outfit posts lately. I haven't left the house much either because we have had tons of house chores that need to be done. Bunco was last Saturday, so I wanted to get some new outfit photos while the weather was decent. Of course, in the middle of shooting it began to rain.
Today's outfit is brand new and still in stores, a mix of trying something new and sticking to what I love. Read on for my review of both this top and denim capri.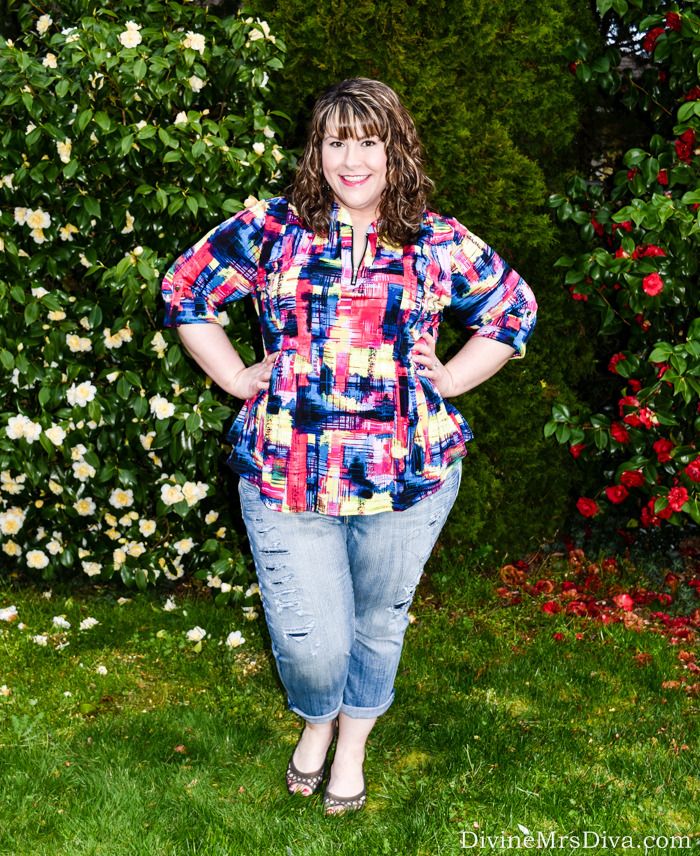 Before we get started, I would like to point out that yes, there is a big black thread stuck to my thigh in most of these photos. I didn't see it until it started raining, so I couldn't redo all my poses. Also, it would have taken too long to attempt to Photoshop it out of the photos. And I don't like Photoshopping my photos anyway.
First, let's talk about this colorful top from Avenue. The
Abstract Multi Shirt
is my favorite shirt style from Avenue. I own two other tops in this same silhouette because they fit my curves so well! (You can see the black and white one on the blog
here
.) Plus, they always come in vibrant patterns. Since my closest Avenue store left a few years ago, I don't shop there as often as I used to. The nearest store is still far enough out that is pretty impossible for me to get over there. As my body has changed so has my size, so I also feel like I need to try things on to get a better idea about the styles I am unfamiliar with. My feet aren't even wide enough for the shoes anymore, which is a bummer because they have cute shoes.
This style of top I know though. I was drawn to the pretty blues, purples, pinks, and yellows of this brushstroke abstract pattern, so I snatched it up! I am wearing a 22/24 and find it fits true to size. The style features a Mandarin collar with a zip closure at the neckline. Some of the similar styles have buttons instead of the zipper, but I prefer the zipper so I can make it a bit more V-neck. The top fits my bust perfectly, so the zipper also allows for me to show a little more skin if I am feeling so inclined. The three-quarter sleeves have a cuff and button tab, while the body of the shirt features pleats at the front sides and a rounded hemline. I love the way the shirt is more fitted at the bust and then skims over my tummy. As a big girl with a smaller bust, I feel that it better balances my proportions.
The material is a polyester/spandex blend. It is a little thicker than knit, but still stretchy and comfortable to wear. The top retails for $45, but I bought mine using a coupon code. Code
AV161621
takes 40% off your purchase right now!
On to the
Destructed Weekend Capri
from Lane Bryant! I had been eyeing this style online for a few weeks before I made it in-store to use some of my Rewards Bucks. I was bummed when I couldn't find them in the store at all. I have a similar pair of destructed capris from Torrid that I bought a year or two ago, but they are big on me now and stretch a bit on top of that so I need something new. I have a few pairs of dark wash capris with no destruction, so I wanted something a little more trendy like this. I combed through the store again and found this one pair - in my size!
Initially, I wasn't sure about it. I generally don't like lighter washes, nor do I like a lot of whiskering and bleached out bits. I feel like all those things draw more attention to the biggest part of me - my hips and thighs - and make things look bigger than they are. Not that there is anything wrong with "looking bigger", just so we are clear. I don't think you have to wear things that make you look smaller or thinner in order to look good. But we all have our insecurities or things we don't want to draw attention to; and we all have different ideas about what is aesthetically pleasing. Proportions and illusions of the eye really have a lot to do with the placement of things like the whiskering and worn parts and rips. So just try them on if they interest you and go from there.
I am wearing a 24 in these capris and love the fit. They are stretchy and comfortable without being too tight. They do stretch out a little bit with wear to a more "girlfriend jean" silhouette. I almost think I could have gone down a size, but they may have been too tight in the tummy. I had Sean take a few photos of me wearing these while I was in the fitting room, which allowed me to get a better look at how they fit and what I looked like in them. I think taking photos during your dressing room try-ons can be a great tool in helping you assess the fit and look of items. Especially if you come upon something you really like but are on the fence about, take a photo and think about it. Keep in mind, dressing room lighting can be less than stellar so don't be too hard on yourself. I happen to love the bright Lane Bryant dressing room lighting though.
Also worth noting, the destructed areas have a dark wash denim backing so you don't have to show skin! I love this because I don't have to stress about whether I shaved my legs or not in order to wear pieces with rips. This also means my toes don't get dangerously stuck in the rips as I put them on. I have almost fallen flat on my face while putting on my Torrid pair because the rips are all open. The cuffs at the bottom can be unrolled or rolled up more to your liking as well.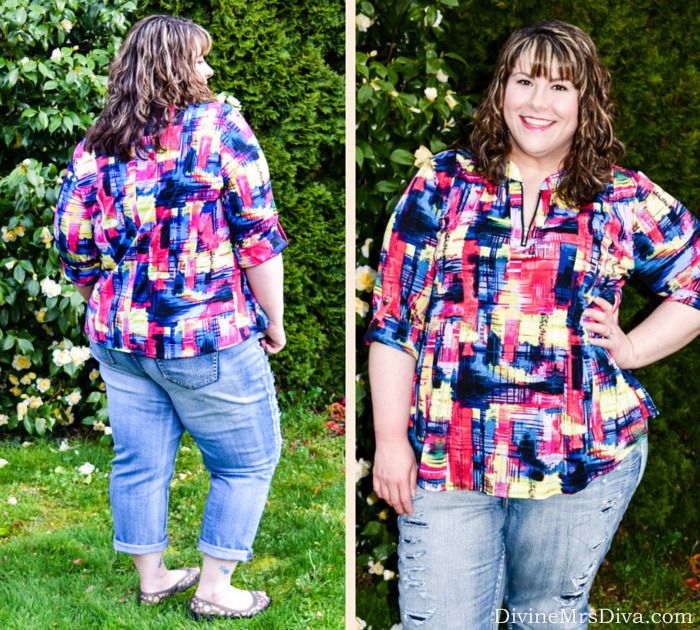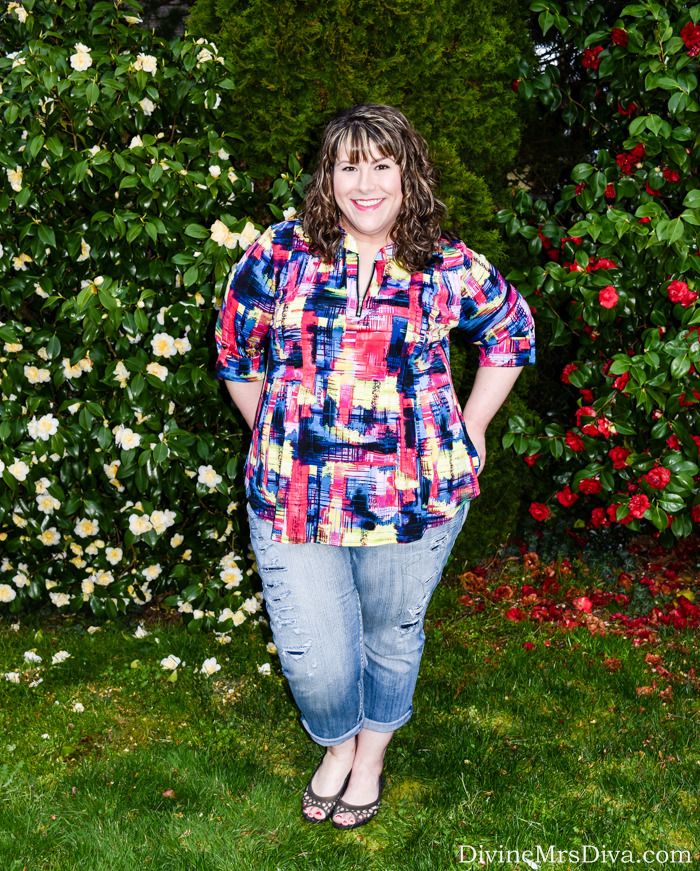 Current Avenue Tops in the same style: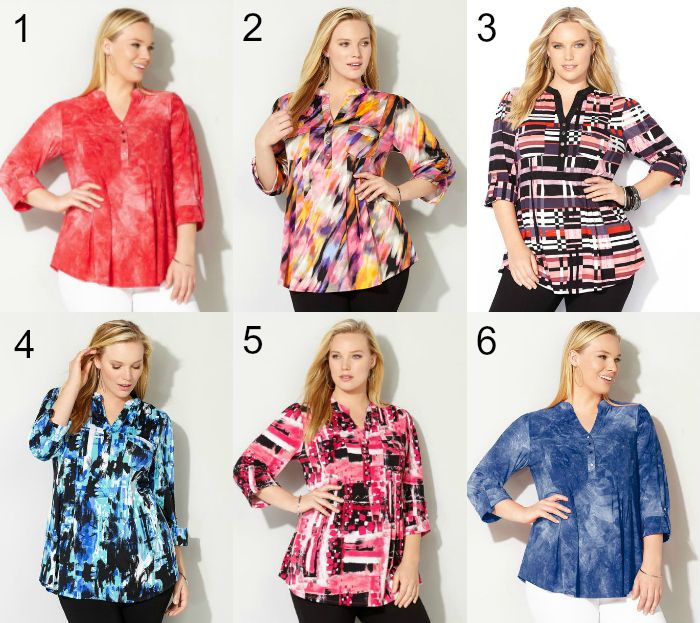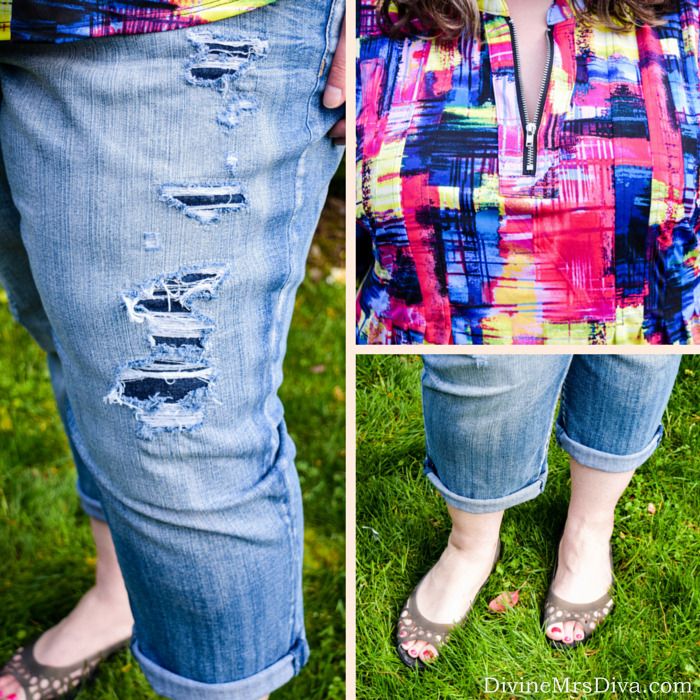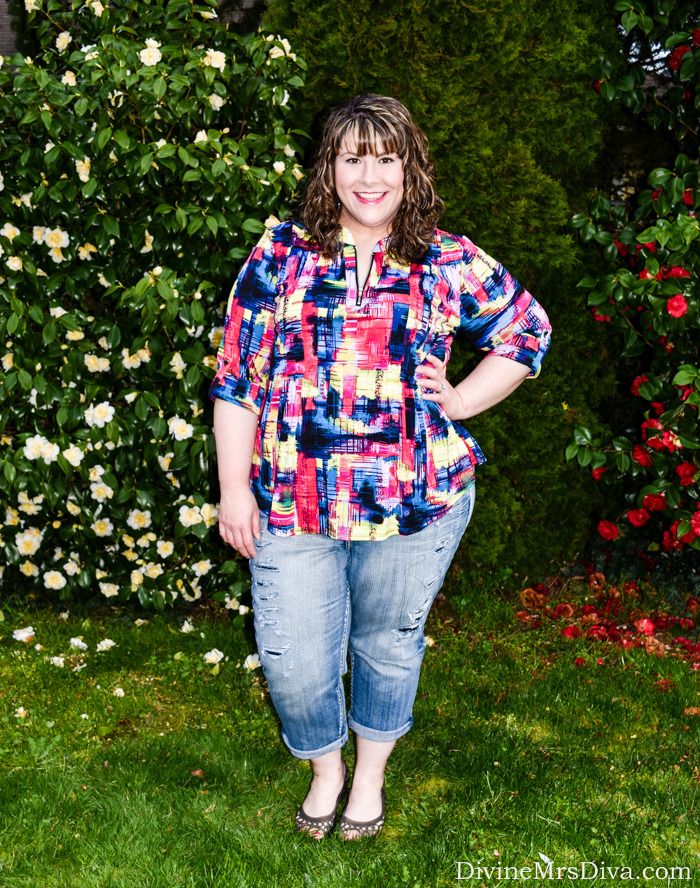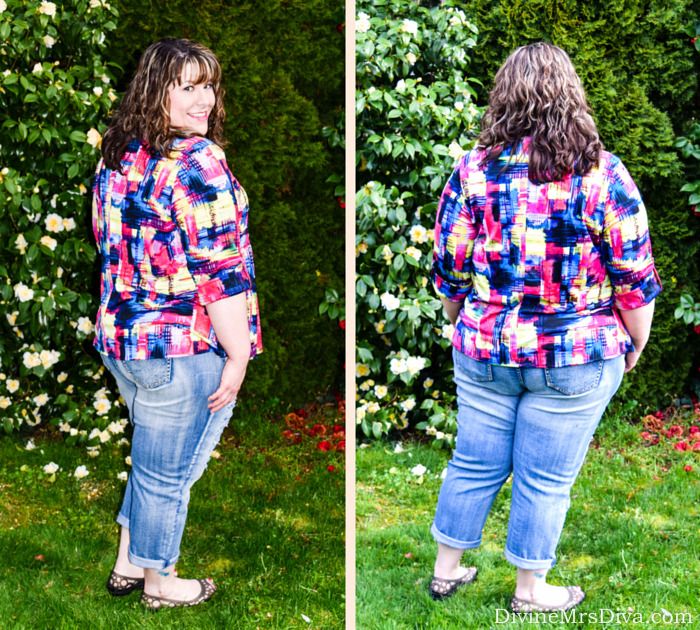 As I said, I wore this outfit to Bunco where I kept the styling very simple. I wore some
big rhinestone earrings
I picked up from DSW recently, along with my jelly-like shoes in the form of the Adrina Flats by Crocs. I own these shoes in black, brown, pink, turquoise, and coral. They are some of my favorite spring and summer shoes for cuteness and comfort!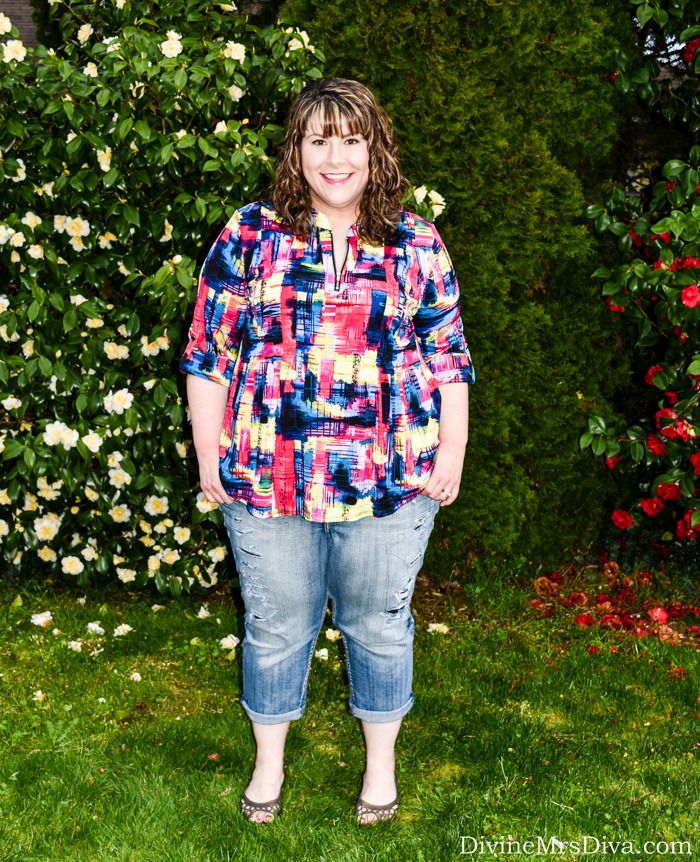 Abstract Multi Shirt
- Avenue
Destructed Weekend Capri
- Lane Bryant
Adrina Flats in Black
- Crocs (also available
here
)
And because Sean looked so freaking adorable and handsome that day, I have to show him off!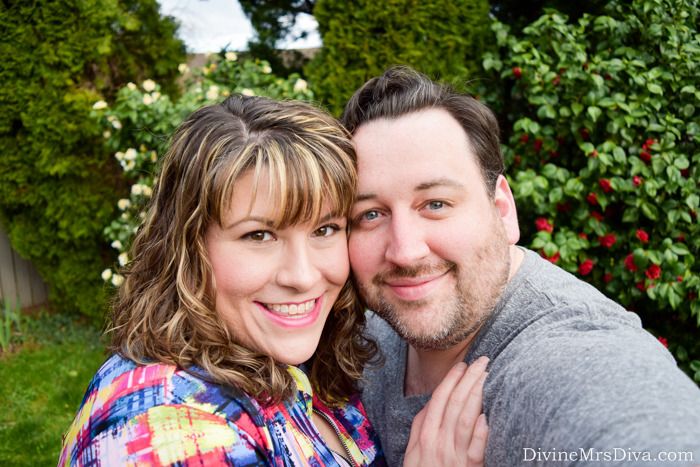 Do you often shop at Avenue? Do you have a favorite style of top you tend to buy multiples of? What are your thoughts on destructed denim and lighter washes of denim?