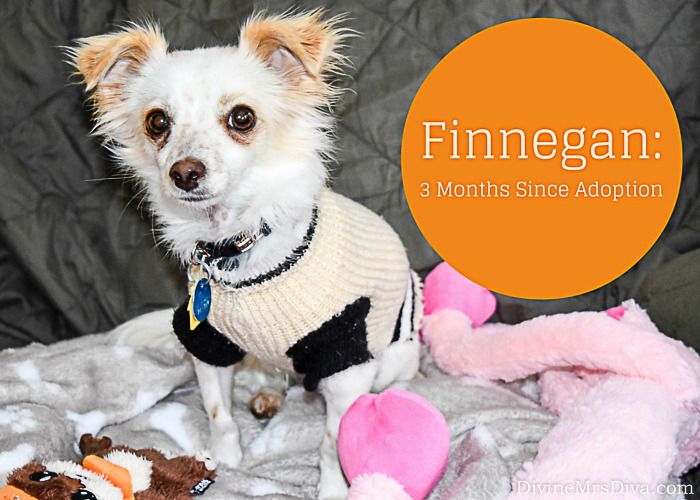 Just shy of three months ago, Sean and I found Finnegan at our local shelter and took him home with us. It seemed like it happened suddenly, as we only intended to take a look and ask what the adoption process was like. I was super emotional and wary of it all in the first place. Even though it had been a year since we lost our last of three fur angels, it somehow still felt too soon for another one. Miss P was fourteen when she died in December of 2012. Rusty passed away in April of 2014 at the age of seventeen. Kiki, Rusty's 13-year-old son, was the last to leave us in December of 2014. I desperately miss my precious kids.
I knew my three amigos their whole lives. Honestly, there hasn't been many times in my life when we didn't have a dog, or at least a pet of some kind. While being doggy-free did give Sean and I a lot more freedom in our day to day lives, and was frankly a respite from taking care of sick and elderly dogs who needed constant help and medication (
Rusty was deaf and blind the last handful of years of his life
), we missed having a furkid to hang out with. The house was so quiet and felt more empty. Mourning the loss of my kids was (
and still is
) a painful process, so it was with enormous trepidation that I walked into the shelter that day.
But then
we found Finn
. He reminded us so much of Kiki from the moment we met him that we couldn't possibly say no to taking him home with us. Our adoption paperwork says that the first three days, three weeks, and three months are the stages of settling-in for new family members, so I thought this would be a good time to update you about how Finn is fitting in. Read on for lots of Finn pictures as well as a little bit about his personality and favorite things.
Kiki, Miss P, and Rusty - My Precious Angels
Finnegan Markus is a one-year-old, roughly 7-pound Chihuahua/Pomeranian mix, according to the shelter. Personally, I think he is a mix of Chihuahua and Papillon. He was extremely shy and scared when we met him and took him home, though you could tell he was very loving. As soon as Sean put his hands in the kennel at the shelter, Finn came over to be petted. When Sean stood up, Finn would go to the back of the kennel and sit, shaking and looking very scared. He's still very skittish about movements and noises. He won't just come over for us to pick him up. Any movement from something he has knocked over or otherwise, makes him run away scared. Based on his actions, we often think there was a mean man in his former life who treated him poorly. He was more scared of Sean than me, especially when Sean was wearing a white t-shirt.
While his phobia of loud noises, movements, sneezes, etc. still remains, he also seems to bounce back from those frights much faster than he used to. Hopefully, that will continue to get better as time goes on.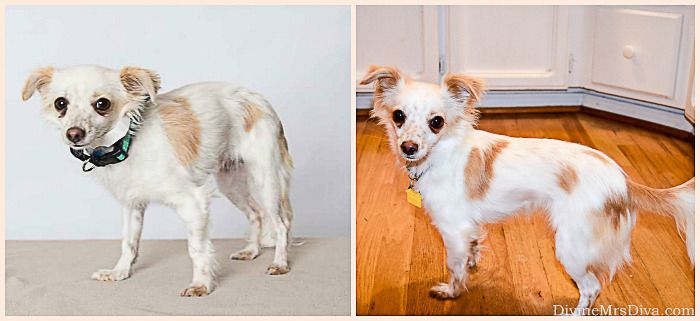 Finn from the online shelter photo; Finn today!
Our Oldies were never much into toys. You could occasionally get Miss P to play tug-of-war in her younger days, or Kiki might chase a treat or a ball in his youth. Mostly they were snugglers and sleepers. Having had an adorable Beagle named Barney who passed away when Sean was 10 and fathering my furkids, Sean hasn't been around a dog that loves to play in quite some time. We forgot how entertaining and enjoyable it is to play tug-of-war, fetch, chase, and all those other fun things. Our front room is the only room in the house with actual carpeting, so we love to go lay on the floor and throw the ball while Finn zooms around the room. He's incredibly playful and lively!
Having little in the way of toys, I bought him a Barkbox for a couple of months when he first moved in. He's quite the chewer, his sharp teeth ripping through pretty much anything, so his toys have gone fast. He ripped up and/or pulled the stuffing out of his octopus, his
pizza
, his
hippie van
, his
hippie friend
, and his piggy that Grandma gave him for Christmas. I tried sewing the pizza back together, but he quickly took it apart and took more stuffing out. Thankfully he doesn't eat the stuffing, but still....
His
piggy
is a 20-inch long stuffed toy with soft fur and squeakers in the feet and head. Finn loves to squeak it and bite it and whip it around violently. He carries it everywhere with him, from room to room most days. Just last week, I finally had to cut off one arm and a foot, sewing up the leg hole. Piggy's tail is hanging on precariously. Amazon does
carry these long toys
, so I bought him a green frog for St. Patrick's Day. The
Liberty Ball
from Barkbox and
Ewok
from PetCo have held up really well though. I also bought him a really tough canvas bunny rabbit last week that seems sturdy enough to handle his sharp teeth and persistent chewing.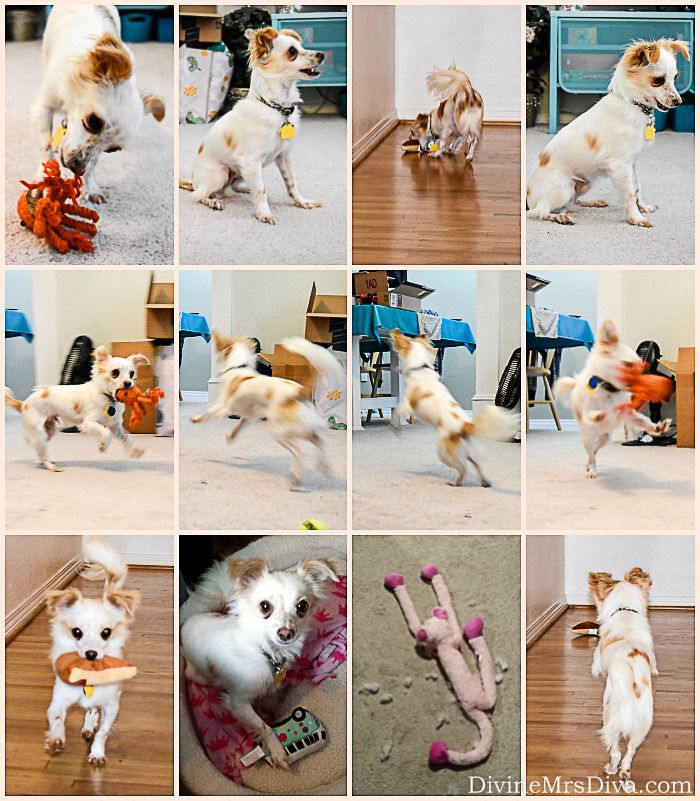 Like all of our chihuahuas, Finn LOVES cheese and peanut butter. We have given him some peanut butter with his oral flea med and he goes nuts for it. He also loves carrots in any form. Of course, he wants all people food, but I am trying to get him out of the habit of begging while we are eating, though I do cave and give him a little nibble once in a while. He's really good about eating his own food though and loves the duck and sweet potato wet food we found at our local natural pet store. He was a bit on the thin side when we brought him home, but he is a little less than a pound heavier and looks a lot more healthy now.
He does get a treat when he goes out to potty. We are trying to get him to dance, walk, and spin like Kiki would do. He's a fast learner! Finn loves to dance around while Sean is cooking dinner. His balance is so good, with his back legs being very strong and sturdy. We just have to work with him a bit more.
As I mentioned earlier, he is such a love! Finn loves to snuggle and cuddle. He loves chest rubs from me and neck scratches from Sean the best. Like Miss P he loves laying on my legs, especially if there is a blanket on top to make a hammock. Cuddling with his toys is also very common. We have a dog bed in pretty much every room, but he can't wait until after breakfast for me to sit down at my desk to work. He leans on his bed for me to pet his head and then curls up in a ball and sleeps while I work at the computer. Finn also sleeps in the bed with us at night and will tunnel down to my feet, curl up in a ball, and sleep there most of the night. He occasionally comes out, shakes, gets on top of the comforter and falls over on his side to cool down. But he always goes right back under the covers when he's ready.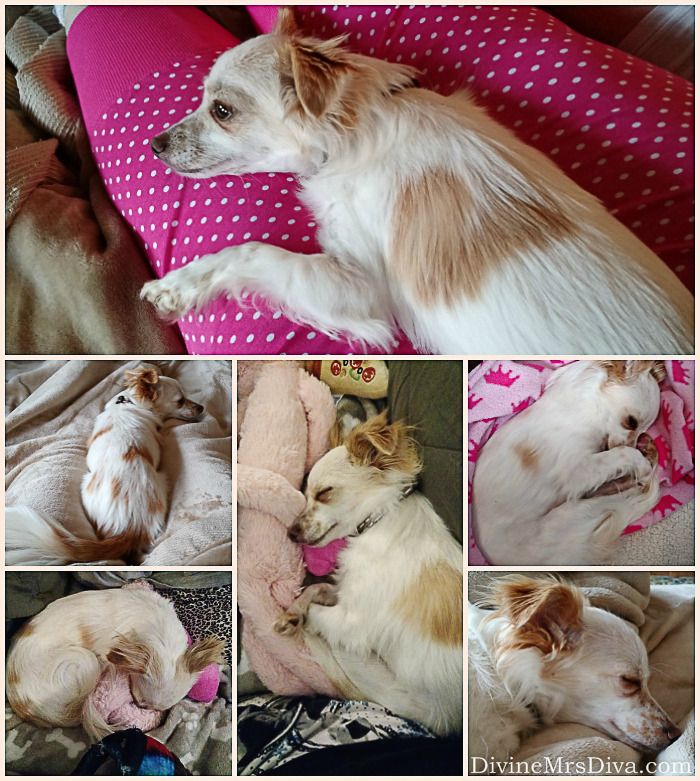 He's much more comfortable with Sean now than he was at the beginning. Sean is warm and gives good neck rubs, so I think that is what reeled him in. When Sean would come home for lunch, Finn used to get scared and hide in the office while I went to say hello. But now, he jumps up as soon as he hears the door and runs to greet Sean, his tail wagging and his whole body doing a little happy dance as he prances and waves his paws in delight.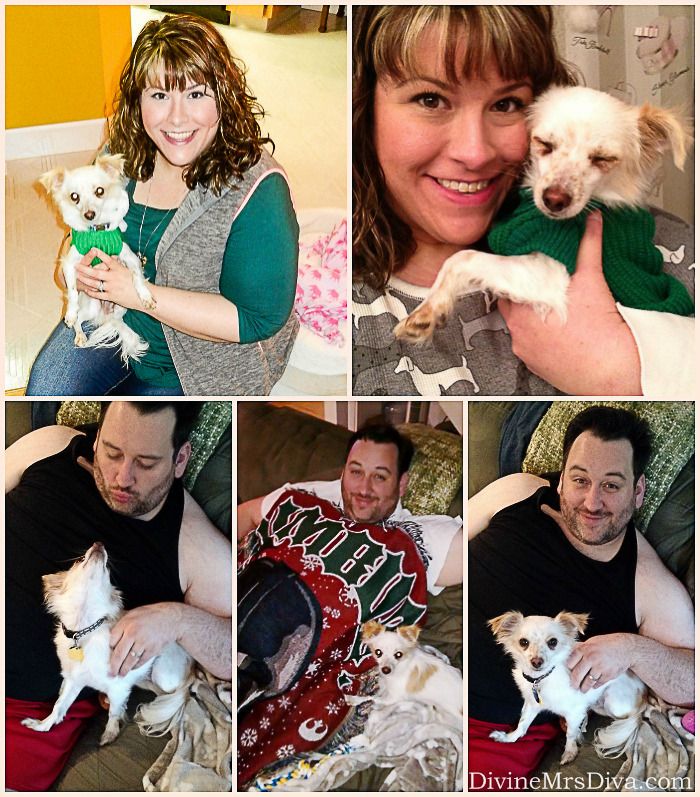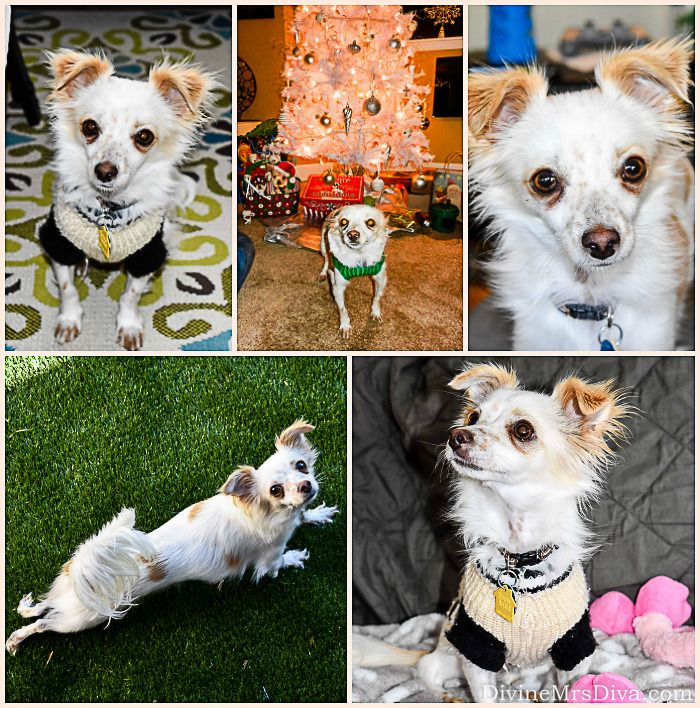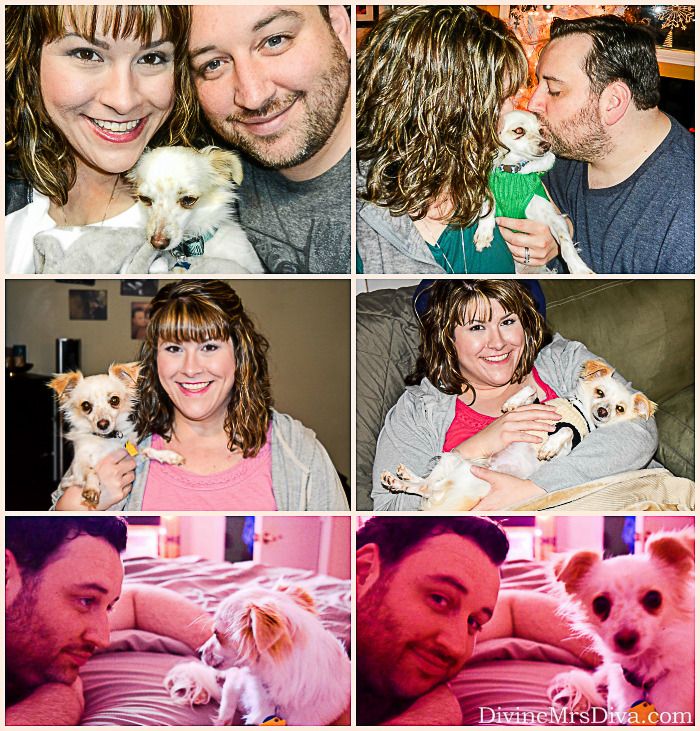 We definitely want to get Finn in a behavior class to learn some commands. We never had many issues with the Oldies. They were well-behaved and would come when you called them, but Finn doesn't know about any of that. We've been able to teach him to potty outside so far, but he does hate the rain and will sometimes refuse. I've managed to get him to go on a potty pad in the house when that happens. He's not prone to accidents in the house, but it does happen on occasion.
Overall, he is such a great boy and, considering the possibilities of what he has gone through, very well-behaved and well-adjusted. He's such a mild-mannered, lovey little man and we adore him!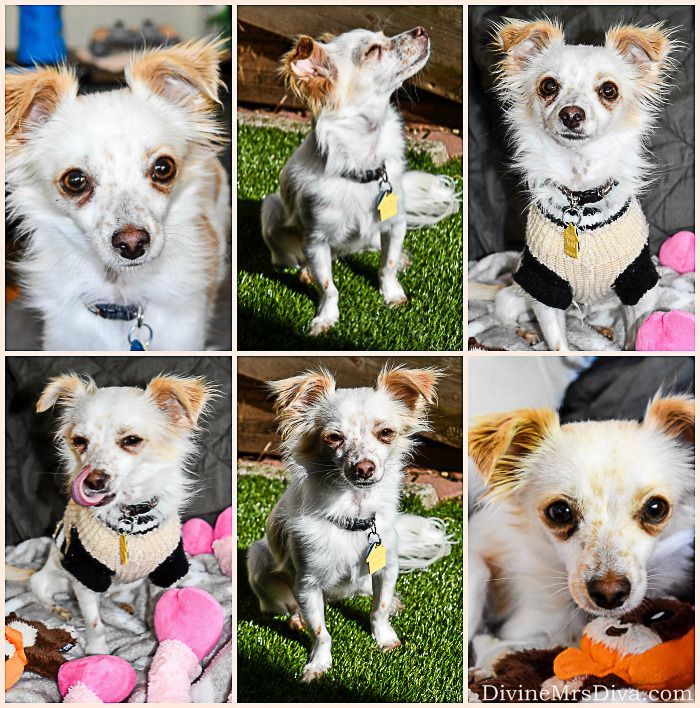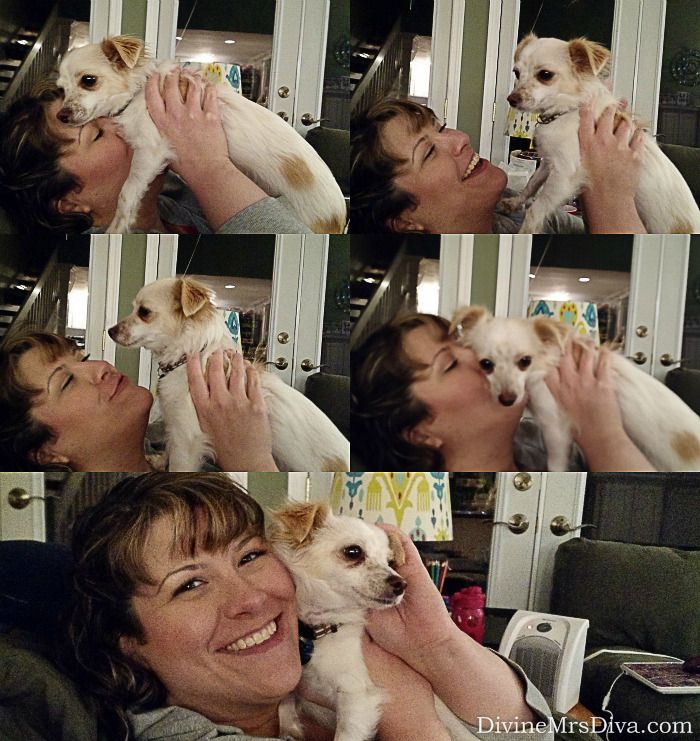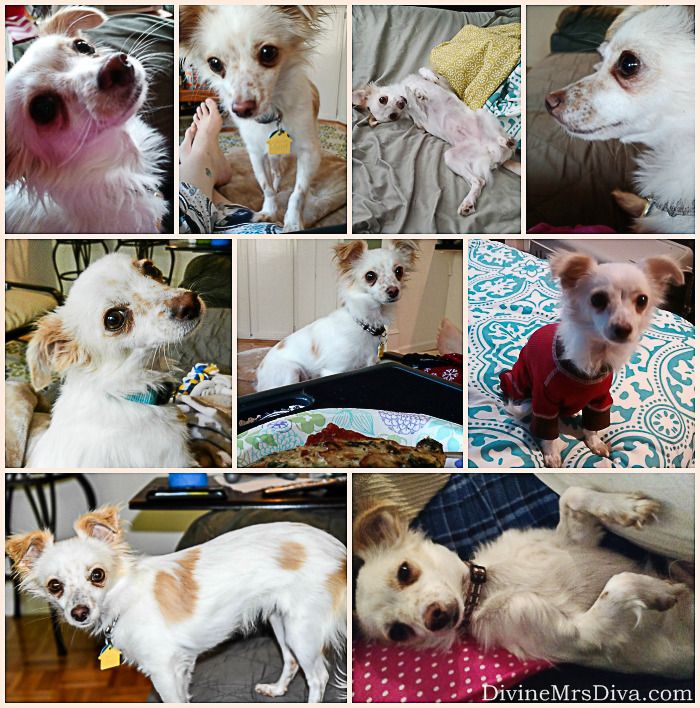 I'm glad we finally went looking for a doggins and so happy we found Finn. He fits into our family rather nicely.
Have you adopted a pet? Do you find the "Rule of 3s" to be accurate? Do you have any recommendations for tasty treats or fun toys? Let me know!