Ah, the best laid plans....
So much for being a productive blogger this week. Hopefully, you are all having festive fun with friends, family, and loved ones! I just wanted to post a note thanking you all for reading the blog, commenting, chatting, and just generally being a supportive bunch of online friends. This year has been an exciting one for Discourse of a Divine Diva, so I am looking forward to what the new year brings.
This year, we decided to do something different for
our Christmas cards
. Instead of dressing up in something silly, we opted for a custom drawn greeting card by
Len Peralta
. He's a great artist that has also done a drawing of our dog Rusty and a headshot drawing of me that I've used as an online avatar. We love his work and his love of geek culture.
We asked him to draw myself and Sean in our Han Solo and Chewbacca costumes, except Sean wanted to be full Wookie. So without further ado, I present you with our 2015 holiday card art: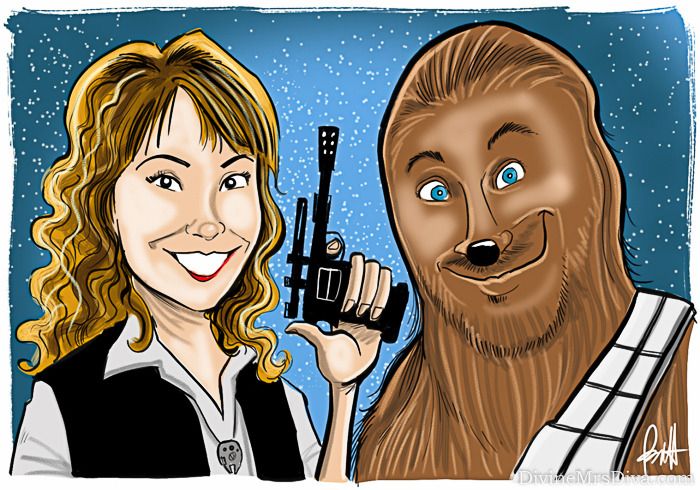 I've also been busy because we got a new dog! After a year of being dogless, we finally felt it was the right time to go look at the humane society and bring a baby home as a family gift to ourselves. It was emotional and overwhelming the first time on Saturday. We were pretty upset, so we left.
We went back on Sunday, but I sat in the car for twenty minutes crying because I was overwhelmed again, missing our old furkids, and didn't know if we were ready for another one yet. I was a mess. But I sucked it up and went inside. When we saw him, he was cowering in the back of his kennel like the day before, but looked like he really wanted to come say hi to us. We stood there talking to him and saying hello, then Sean bent down and put his fingers up to the kennel door. He immediately came over to be petted. We met him and held him and knew we had to have him. How can you resist that sweet face?!? Meet Finnegan, the newest member of our family!
He's a 1-year-old Pomeranian Chihuahua mix with a really mellow and sweet personality. He reminds me a lot of
my Kiki
. He's young and needs to learn some things, but these first three days with him have been pretty good.
What are you doing for the holidays? Did you get any major gifts yet? What are you most looking forward to this Christmas? I wish you all a spectacular holiday and happy new year!!!
PS - If you are alone this holiday or have a shitty family you can't be around to save your sanity, know you are not alone and that you are loved.