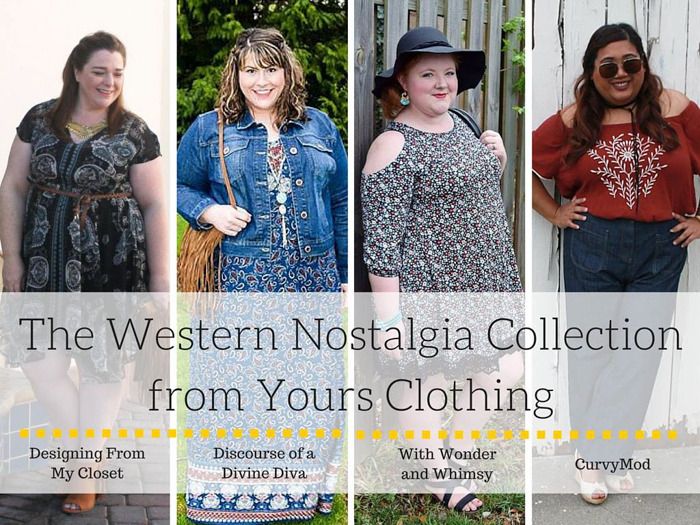 Today's post is another collaboration with my blogging homies. We're again working with
Yours Clothing
to bring you another current trend. Yours has recently introduced their Western Nostalgia Collection featuring bandana inspired prints, earthy tones, denim, and fringe with touches of feminine details like off-the-shoulder silhouettes, lace and crochet trim, and bell sleeves. Each of us put together looks featuring items exclusively from the new collection. Make sure to visit Janeane of
Designing From my Closet
, Liz of
With Wonder and Whimsy
, and Nina of
CurvyMod
to see details from their specific ensembles.
Keep reading for my review and details of my western inspired maxi dress, denim jacket, and accessories.


- Yours Clothing gifted me the outfit in this post. All opinions are 100% my own. -
I chose the
Paisley V-Neck Maxi Dress
for its warm blue and orange color palette, great neckline, and the funtile-esque print at the bust. This dress did not disappoint. It also has little sequin and bead embellishments on the bust and neckline, which is the kind of detail that makes an outfit more "me". I'm wearing this dress in a UK 24 and find it fits true to size. As I stated
in a previous Yours Clothing post
, I recommend going by the UK size chart for a more accurate fit. The fabric of this dress is more like a cotton woven fabric, so it has no stretch. However, there is an elasticized panel at the upper back to ensure a better fit. I am normally not a fan of these elastic panels because they tend to accentuate back fat, but I do not feel that this one does. It is wide but maybe not quite as low as similar panels. The dress is lightweight and easy to wear; It is a pull-on style with adjustable straps. Initially, I thought I might need to wear a slip underneath the dress because it isn't lined, but it turned out to be a non-issue. At 5'9" the hemline ends right above my feet, so it is a rather long dress.
The fabric does need to be ironed, but it did not seem to get wrinkled too easily. Certainly, sitting down caused some wrinkles where the tops of my thighs meet my body, but they didn't seem too noticeable. I hate ironing and I hate getting wrinkled, so that is always something I pay attention to. This is absolutely a great dress for spring and summer. It would make a great beach dress because it is cute, can be thrown on, and is lightweight and breathable. The embellishments at the bust are pretty but subtle, so if you aren't too big on embellishments I don't think it is too flashy.
My mom was always scared of paisley patterns, so I don't own any paisley. I adore the larger pattern and burnt orange borders. It is such a great color combo that is different from everything else in my closet. It's warm and western, but still feels feminine and interesting.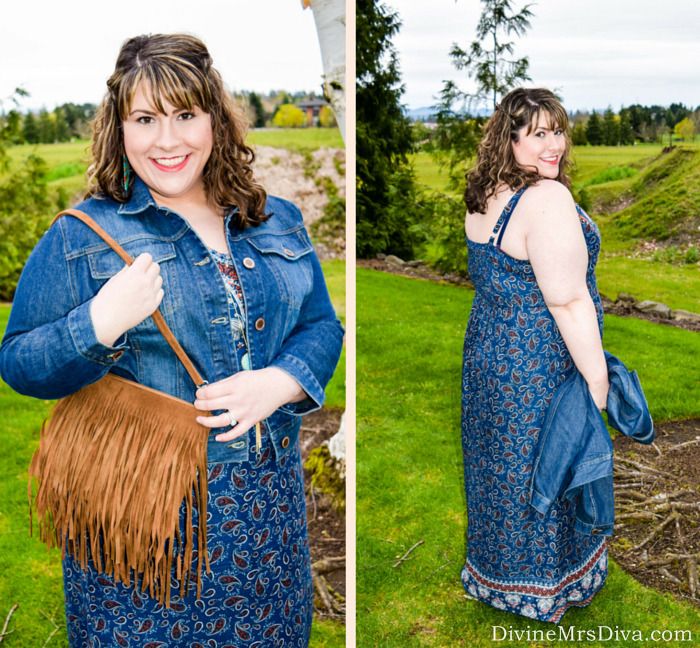 I am starting to embrace my larger upper arms little by little, but I still wanted a cute over-piece for coverage. A
Dark Wash Denim Jacket
never goes out of style and is a totally versatile wardrobe staple. This jacket is made from a soft, non-stretchy denim that is sturdy but comfortable to wear. I also chose a UK 24 for this piece and find the fit spot on. As a small-busted woman, I have some room in the upper portion of the jacket. While it isn't a cropped length, it does come a little bit shorter than my previously owned denim jackets. I love this because I think a slightly shorter style looks better with dresses. This jacket is really well-made, not overly heavy, and just all around great. I'm always impressed with my Yours Clothing finds.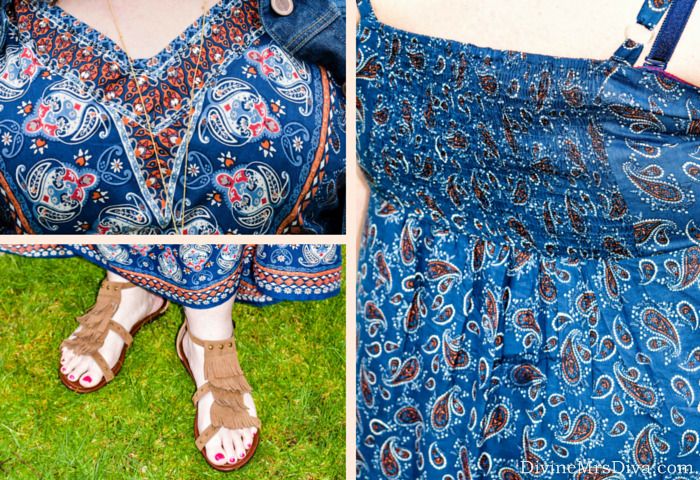 For accessories, I chose this
long gold-tone tassel necklace
with stone details. It is super long and really pretty up close with little rounded bead-looking details along the chain for interest. I like the touch of turquoise it brings to the western-inspired look. Sticking with the western vibe, Yours also sent me this
brown sueded fringe purse
. It is definitely on trend and really cute. While it is a smaller purse, it still has ample room for necessities, with an inner zip pocket. The detachable strap can be really long for a crossbody style or even shorter than how I am wearing it here. And because the strap is easily taken off, you can also use it as a clutch.
I lucked out having purchased these fringe sandals from Lane Bryant years ago. They tie in the fringe and add another earthy-toned element to the look. And even though my hair is covering them, I was happy to finally wear some turquoise and orange feather shaped earrings I bought at a local craft fair last year. They were perfect for this ensemble!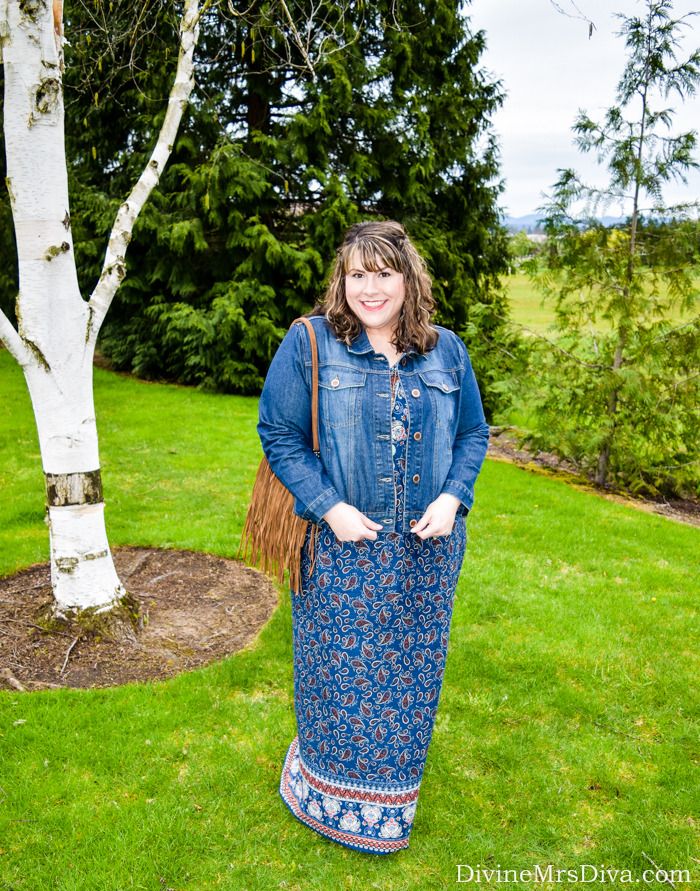 And just in case you need some more visual inspiration, I paired this dress with a tan shrug and denim vest that I already own to show you how these pieces look together. I really love it in all its forms. Yours has a
dark wash denim vest
included in the Western Nostalgia Collection that would look so cute with this dress as well.
In keeping with the laid-back vibe of the look, I also tried to do a little something different with my hair. Thankfully, my haircut is this weekend because my bangs are too long and everything keeps getting in my eyes. hahaha I pulled back my normal sections and braided them before clipping them with small claw clips. I need to keep reminding myself to utilize braids more because I always like the end result.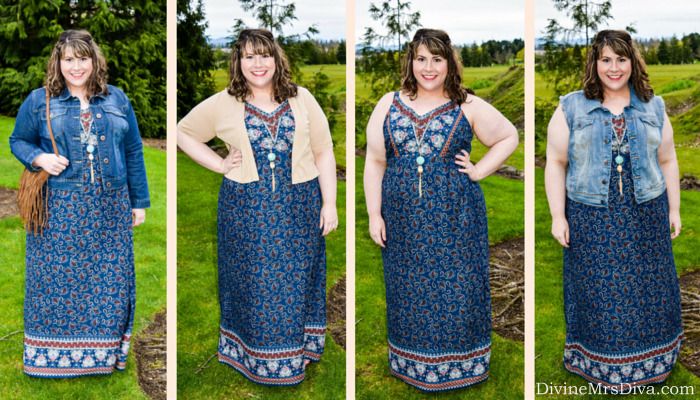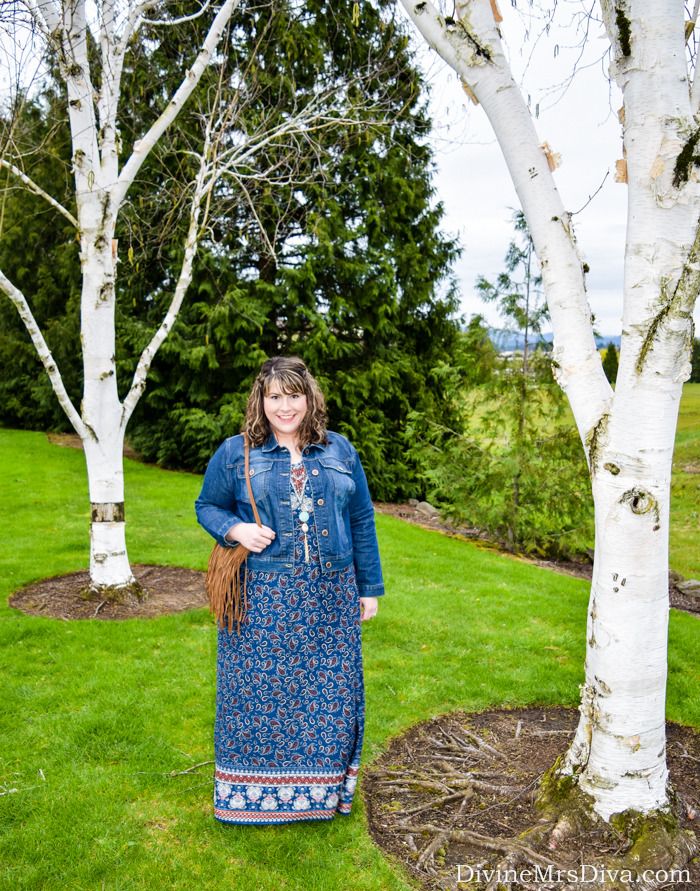 Blue and Orange Paisley Border Print V-Neck Maxi Dress
- c/o Yours Clothing
Indigo Denim Western Jacket with Long Sleeves
- c/o Yours Clothing
Gold Long Chain Necklace with Stone and Tassel Pendant
- c/o Yours Clothing
Tan Suedette Tassel Bag with Detachable Straps
- c/o Yours Clothing
Fringe Sandals - Lane Bryant (circa 2007?)
Lipstick - Revlon Rum Raisin with MAC's So Chaud over the top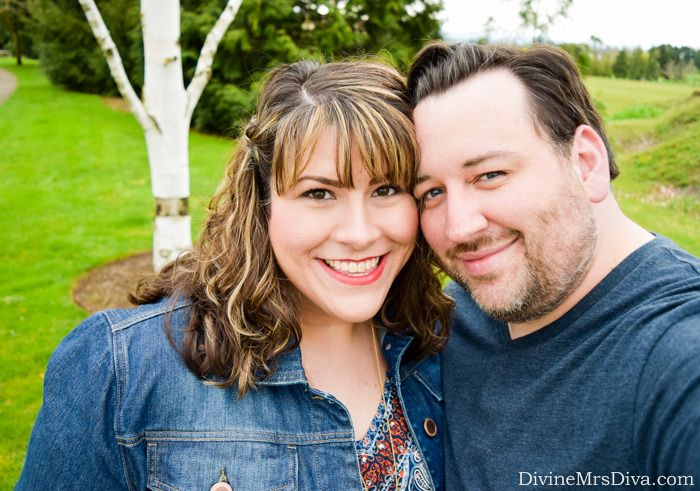 Make sure to visit the other ladies and see their outfits:
Have you become a fan of Yours Clothing yet? Do you have a favorite look from today's collaboration or did something else from the collection catch your eye? I'd love to know your thoughts!