In the blogging world, one seems to be expected to present flashy, fancy, designer duds in outfits on a regular basis. I've been having issues of insecurity lately because that just isn't me. I like to be fashionable in a more practical way (
though I do love to get dressed up on occasion
). I've never been of the mindset that jeans and a t-shirt can't be cute and stylish, but it seems a lot of people still think that way. Lately, I've gotten some snarky comments to the affect of "Oh, I can't believe you are showing such a casual outfit. But you actually look cute." I think there is room for everyone of all styles in the blogging world. Part of the fun of following blogs is finding inspiration in people/outfits that you relate to and ones that inspire you to think outside your box or try something totally new to you. A lot of times I feel like the plus blogging community is really cliquey; and I feel there is really no need for all that. There is enough negativity in the world already, we really don't need to continue to foster that everywhere else. I do my best to make my little part of the internet a positive one, not just for my sanity, but in hopes that it brightens the day of someone else as well.
Most of the people I know are casual dressers. They don't tend to be as fashion-focused as I am, but they often complain of feeling stuck in a rut with their clothing. I always tell them, 'Jeans and a t-shirt doesn't have to be sloppy or boring'. I'm telling you this mostly as a stream-of-consciousness ramble, but also because I am trying to embrace my casual aesthetic as truly "blog worthy" instead of feeling like I'm not good enough. February was a weird month of constantly over-analyzing and feeling lacking in some way or another. I'm determined that March won't be the same.
This is the first time I am wearing this tee and denim shirt on the blog, though they have been in my life for a little while. Read on for my reviews and style tips on how I amp up a casual look.

In
my most recent post
, I talked a little about how I am trying to make smarter purchases and update my wardrobe to replace things that no longer fit properly. Part of that process has been in updating my t-shirt options. I used to have a vast array of three-quarter length sleeve and short sleeve tees, mostly in solid colors, to choose from. They are good for layering, for travel, for throwing on during a hot summer day, or to run errands. They can be worn with jeans, shorts, tucked into a skirt, etc. Tees are versatile wardrobe workhorses in my world.
I have quite a few graphic tees from Torrid that fit my tummy better these days, but I desperately need to make time to hem them about six inches. Then
Lane Bryant
starting putting out a variety of these fun graphic tees with all-over patterns. I ordered one online (in a 22/24) and it fit so well, I ended up buying quite a few more. They skim my tummy really well, are soft and stretchy, and have a great v-neck. I've noticed so many tees having crew and scoop necks lately, but my preference is definitely v-neck. While the sleeves are a little shorter than I would like, they fit my arms comfortably. Another great feature these tees have in common is that there is always an element of the print that has some metallic finish or glitter to it. I like to add sparkle to everything, so this is very important to my "I Love Shiny Things" heart. Plus, I love the emerald hue of this diamonds tee!
So far, I own versions of this tee in patterns such as diamonds (
pictured
),
champagne flutes
, nail polish,
birds
, eyelashes, and high heels.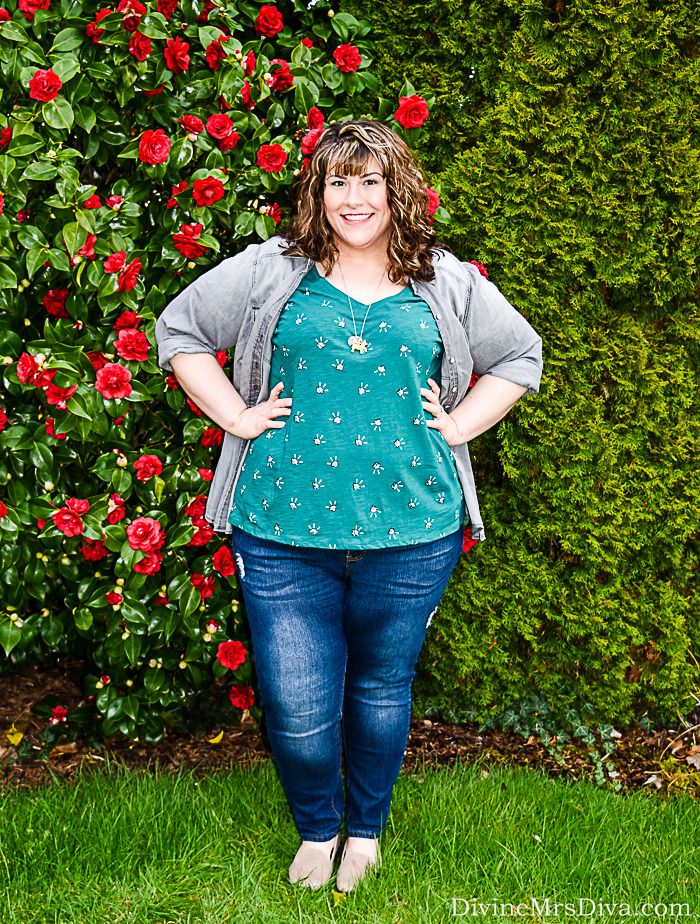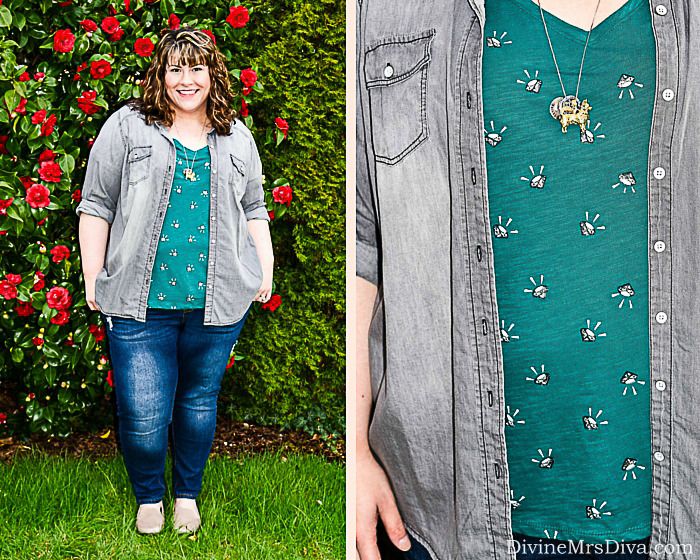 I've gotten a lot of use out of the denim shirts from
Torrid
. I bought the
Light Wash version
before my road trip in September and took it with me on the trip. Since I am still editing those photos in little moments of downtime, I haven't been able to convey how much I love them yet. When I returned from my trip, I also bought the grey and dark wash versions of this top (
featured on the blog here
). I love them as a simple over-piece to a tee or tank for some arm coverage. These button-down shirts are light and cool so they don't feel as warm as a sweater, cardigan, or even shrug on those super warm days. The material doesn't stretch, so I was worried about the upper arms fitting me well. Happily, this is not an issue. I bought all three shirts in a size 3 and find they all fit well. They were great for taking on my fall trips as they are light and go with a variety of things. The material does wrinkle, so ironing is a must if they are smashed in a suitcase. However, at home I steam them,hang them up, and they are fine for multiple wears.
In styling a casual look, it is the accessories that take it to the next level. The shoes especially can change the look entirely. Had I worn my normal sneakers with this outfit, it would be very sporty and totally dressed down, more so than it already is. Wearing some sort of loafer, ballet flat, or sandal can really change the whole feel of a super casual ensemble. These
Crocs skimmers
are comfortable to wear for running around and super easy to throw on when you don't want to overthink things. These are my third pair of the "stretch sole" Crocs and I really love them. Likewise, adding a cute jacket, a scarf, and fun jewelry can also take your outfit up a notch. You can look like you put some thought into your look without having to spend
too
much time thinking it over. If you are looking to update your casual wardrobe for spring, these are some key pieces you can seek out that will give you a little more polish.
Diamond Graphic Tee - Lane Bryant (
Available Graphic Tees
)
Grey Denim Shirt
- Torrid (Also in:
Light Wash
,
Light Wash Star Print
)
Distressed Genius Fit Skinny Jeans - Lane Bryant (
Dark Wash
)
Stretch Sole Skimmer
- Crocs via Amazon (also available on
6pm.com
)
Are casual outfits more your style compared to dressier looks? How do you take your casual ensemble up a notch?
A round-up of graphic tees currently available from Lane Bryant:
(Pause your AdBlock if you can't see them below)