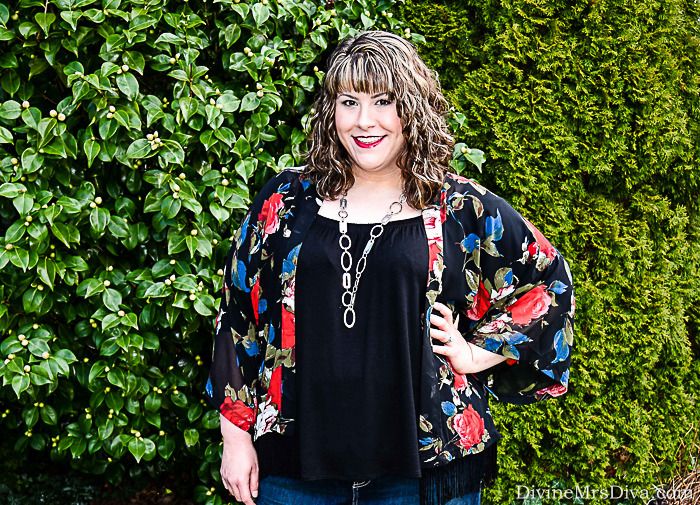 I've been trying to be more mindful when I shop lately, thinking on things I need to add to my wardrobe, things I need to replace, specific reasons for purchasing an item. As a shopaholic and clothes horse, I tend to snatch up things I love without thinking of how they fit into my wardrobe and my life, especially if they are on sale. And really, as a blogger, sometimes I think I need some article of clothing to try to be cool or trendy or to be seen as relevant. I don't always think about how it fits into my life and I really don't want to be someone I'm not.
I've been implementing list-making to keep focused on items I need when shopping. This also helps me stay focused when my favorite stores have big sales or flash sales as well. This plan has helped me curb my spending a bit, because I certainly see ALL THE THINGS I want on a daily basis. One of the items on my list was a flowing black top. Sean and I are planning on taking a trip to Hawaii at the end of the year, so easy beach fashion has been on my mind a lot. Plus, as my body continues to change a little, more and more of my wardrobe is becoming too large. Some things I desperately want to take in, hem, or take to a tailor (
if I can find one
). Some things I am just going to have to part with or move them to the "hanging out at home" section of my closet. So when I saw this flowing, black, knit top online at
Torrid
, I went ahead and bought it. In today's post I review this top and a denim pencil skirt I bought to replace my old one.

Let's start with this
Smocked Cold Shoulder Top
from Torrid. I have been searching for a three-quarter sleeve top in this silhouette for quite some time. While I have seen plenty versions that look similar, they are usually made of a sheer or non-stretch fabric that kept me from making a purchase. The rayon/spandex material of this top is a super soft, stretchy, jersey knit that is comfortable and lightweight. The neckline and band of the sleeves are elasticized but not too tight, while the body of the top is sort of a swing style with extra room that skims my body. I am wearing a size 3, my normal size at Torrid, and feel it is true to size. The straps are adjustable, made of the same knit material as the rest of the top. The only thing I was disappointed in is the way the straps are done. I love that they are adjustable, but one seems to be at more of an angle than the other, or it is farther over for some reason. One strap stays lined up with my bra, the other does not. It wasn't a big enough deal for me to return the top, even if it looks a little off. I wanted this top for breezy summer outfits, beach vacations, and non-fussy looks. And I think it fits within all of that very well.
Also new to my wardrobe is this
Denim Pencil Skirt
from Lane Bryant. I bought it to replace my Old Navy denim skirt I've had for years. I wore that skirt so much and loved it, but it hasn't fit me well for a couple of years now. The LB skirt contains the Tighter Tummy Technology panel that helps to minimize that lower tummy roll. I don't necessarily like it in jeans because it makes them thick and heavy. This panel also usually requires a two-button waist band, which can sometimes dig into my upper tummy roll. In this denim skirt, those things don't seem to be issues. The denim is soft and stretchy and very comfy. I am wearing this skirt in a 24 and think it is a great length and fit. I do wish it was slightly more fitted towards the knee, but it is a minimal complaint.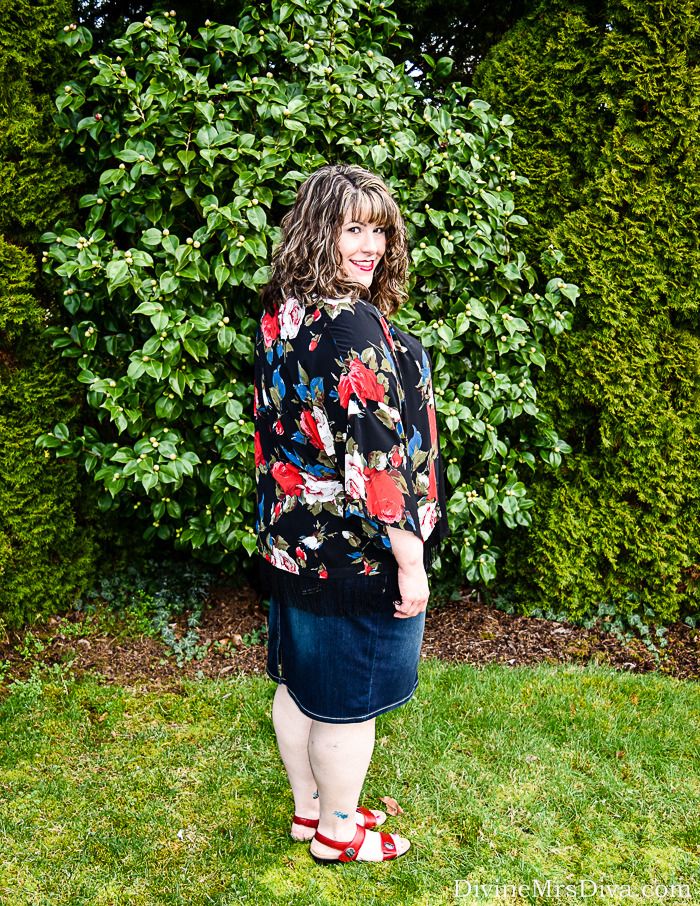 I wanted to style these two together for this post, which also gave me the opportunity to wear my rosy kimono yet again. I haven't worn it much lately and wanted to bring it back out in preparation for spring. (See it previously on the blog
here
.) A simple silver necklace and red sandals finish the look. I can't wait for more pretty weather days so I can wear all of these pieces more often.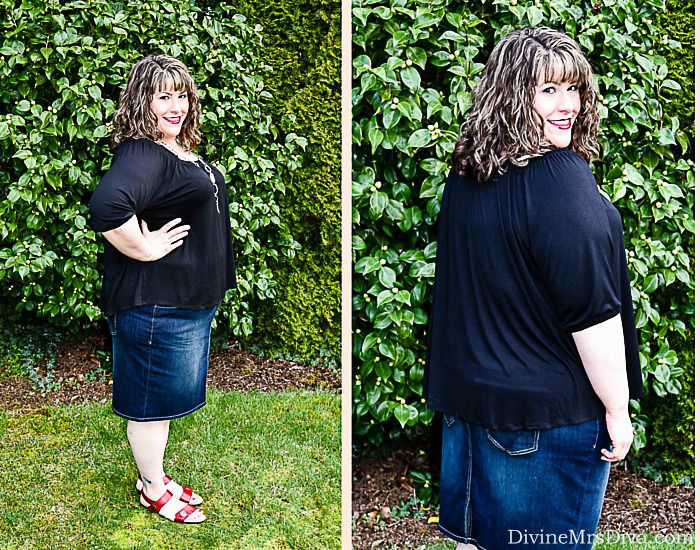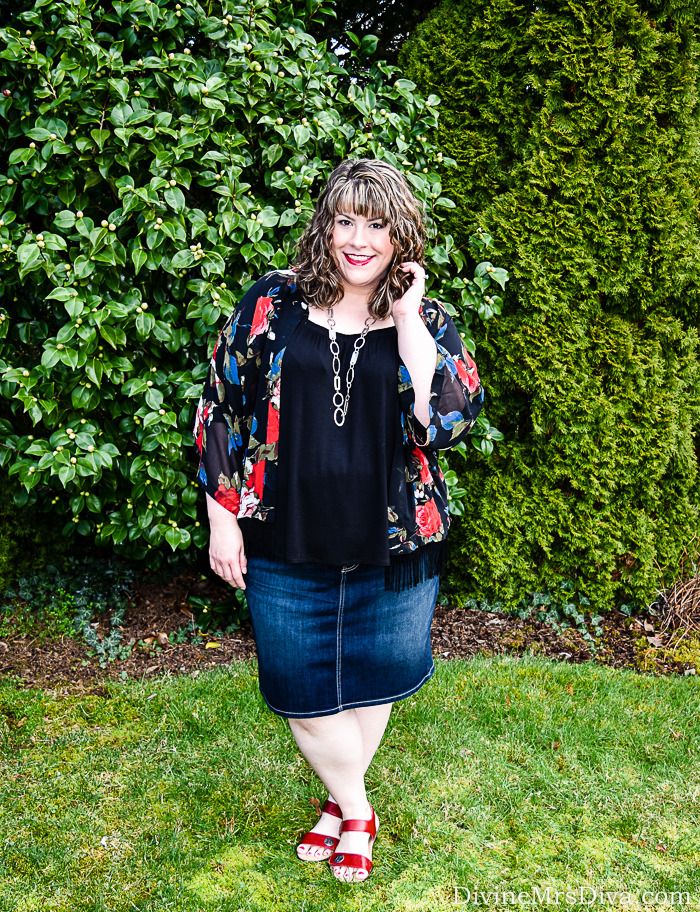 Smocked Cold Shoulder Top
- Torrid
Denim Pencil Skirt with TTT
- Lane Bryant
Rose Print Tassel Kimono - New Look Inspire via Asos
Annika Sandal
in Cayenne - c/o Propet USA
Chain Necklace - a gift from my sister, from
Maurices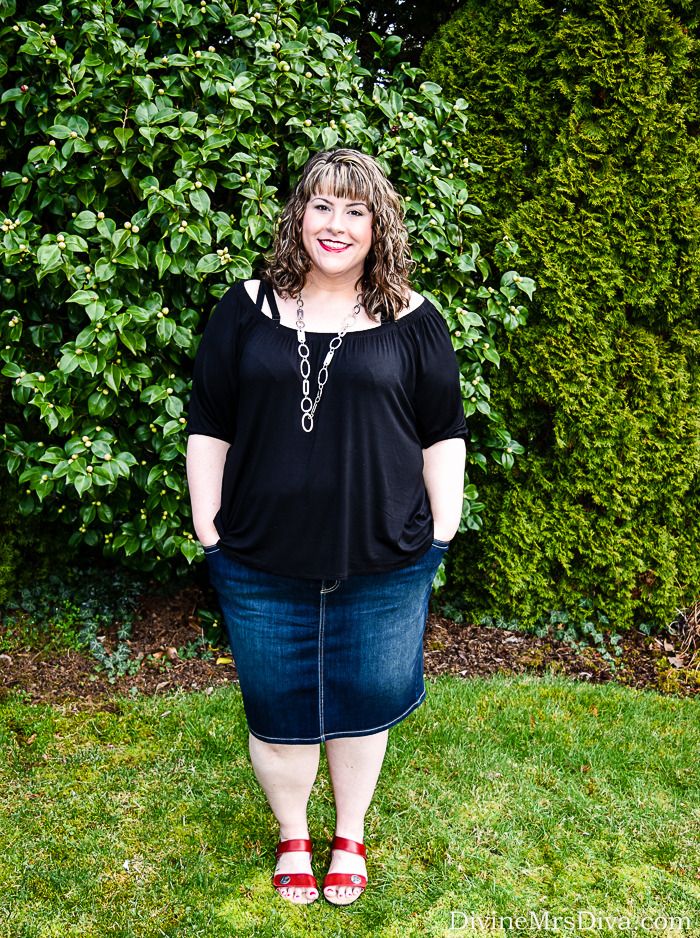 Are there certain clothing items on your shopping list lately? Do you have a plan or thought process when shopping for clothing that helps you stay on budget?