I don't like to mention too many negatives here on the blog because I like to keep it a light, fun place to talk about fashion and other things that make me happy. There is so much negative in the world, and even in our own lives and online, that adding to it is not something I want to do. We all have to vent on occasion, but I typically reserve that for pestering my friends. haha
I digress. While I've mentioned in the past that I don't shop at Old Navy and have been boycotting them for myself for quite some time (years, actually), I've made a few purchases recently that have made me a little less wary of buying from them. In today's post, I am going to talk about some of my recent purchases, including this vest, and review pieces from this look. It is a delightfully casual collection of comfortable separates that I wore on a rare sunny day to walk Finn for the first time. (
To my surprise, he did really well on a leash!
)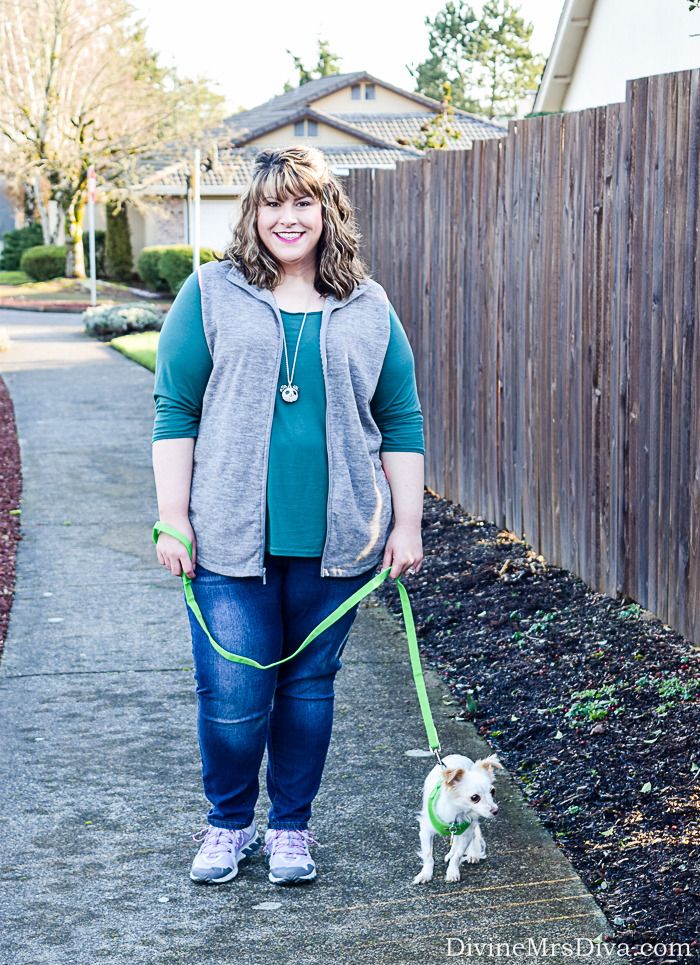 As a plus size woman I have no choice but to purchase online at Old Navy, which does piss me off since they used to have plus sizes in store. I still find their sizing to be inconsistent at best, possibly the biggest peeve I have overall. Another issue that made me boycott them was their return policy. My husband likes the Old Navy big and tall jersey polos, only available online, and I would buy them for him when they went on sale. If something for plus-sized men didn't work out, you could return it to the store even if it was only sold online. For plus-sized women however, you could only return by mail. Given their inconsistent sizing issues, this method of returns was too inconvenient for me.
Sometime last year I believe, they changed the return policy to fix this issue. It seems that now you can return an item to the store unless it is marked as "Mail only" on the website/your invoice when you order. I took a quick look on the website and didn't immediately find anything marked "Mail only", so maybe those things are few. In the past six months I have made a few purchases of mostly clearance items to test the sizing waters. I bought terry-fleece shorts for around the house that are pretty large but comfortable, a couple pairs of compression capris and some compression shorts that all fit well, a scoop neck tee that is somewhat fitted, and a graphic tee and two tanks that are definitely oversized. All of these items I purchased in a 3X.
Another one of those 3X items was this Performance Fleece Zip Vest. I was strictly anti-vest for a while because I thought they would look awful on me. I thought they would make me look too boxy and further widen my already wide shoulders. I've actually come to love the vests I own now and look forward to wearing them. So when I saw this vest on sale for $10 (
it has since sold out of course, sorry y'all
), I figured I would go ahead and give it a try. I thought, at the very least, I can wear it around the house and for working out outside when needed. I am happy to report that I quite like this vest.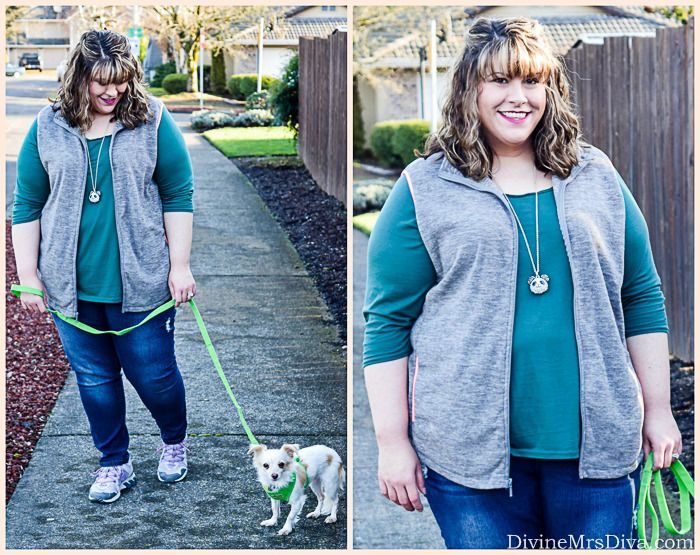 I initially wore it over to my mom-in-law's house for Christmas. We just had a quiet and cozy gathering of the four of us, so I wanted to be casual and comfortable and not worried about getting Finn hair all over my clothes. My mom-in-law's house is usually way too hot for me, so I wanted layers that I could shed indoors but something to keep me protected from the chilly late December temperatures.
The fabric of this vest is your typical Old Navy fleece. It is soft and warm, but not too thick. Neon pinky-peach piping accents the pockets and sleeves. The length is longer than I expected and seemed extremely long at first, but I think it hits me at a good place. I have room to zip it up, but think it looks better on my body unzipped. My only complaints are that they don't have more colors and the large pocket flaps on the inside are not tacked to the body of the vest at all. They hang out a little and are easily seen while wearing the vest, making it look a bit sloppy. Before I wore it out on this particular day, I used
Hollywood Tape
to secure the pocket flaps to the body of the vest on the inside. It looks much better now. I am sure I could sew it down with a little bit of thread and a needle or some kind of iron-on fusing tape.
I specifically bought the vest in grey, instead of black, to complement some of my more recent solid tee purchases. I happened upon the
Pocket Tee from Lane Bryant
during an online sale and bought a 22/24 in this pretty dark green shade. Honestly, I didn't expect the tee to fit me well around the tummy area. I often have the issue of t-shirts not fitting well overall because my bust is small and my tummy rolls are large. This tee, however, surprised me with a good fit. I've since gone back and ordered the bright violet and red tees as well. Most of my other solid t-shirts, both short and three-quarter sleeve, have become too big for me over the last couple of years; and I don't always have the skills or desire to take them in and/or hem them as needed, hence acquiring more.
The knit material of the tee is soft and stretchy, not too thick but not too thin. It seems to keep its shape well also. There is a small pocket on one side of the bust area, but it isn't bulky or weird. While the sleeves are hemmed as usual, the neckline has an unfinished hem look. This feature doesn't appear raggedy and isn't really noticeable unless you get up close.
I've had these jeans for over a year now, so I won't go into too much detail. They are my favorite go-to skinny jeans these days. While I wish the fading wasn't so bright, I appreciate the subtle deconstruction in the stretchy material. They are a size 22 Genius Fit skinny I found at the Lane Bryant Outlet. While they did have a similar pair online for a bit, I haven't seen the exact pair again. I do tend to like the outlet jeans better because they seem to have better lengths for me and fit better overall.
Also in this look: A sparkly rhinestone panda head necklace because...why not? I have realized I love rhinestone animal head necklaces, recently purchasing this panda, a gold cheetah head necklace, a sparkly teddy bear necklace, and a gold koala head necklace to add to my collection. They remind me of Betsey Johnson and add a quirkiness that is me to my outfits. The Reeboks were picked up on our fall road trip at an outlet store in Lincoln City, Oregon. I love my Reebok Trainettes, but the closer outlet is no longer. We were inspired to start some hiking excursions after walking through the Redwoods, so I was excited to find these light purple and grey hiking shoes. They are super comfortable for walking a lot in any locale and are more comfy than my other walking/running pair of Reeboks.
3/4 Sleeve Pocket Tee
- Lane Bryant (also
here
;
short sleeve version
)
Performance Fleece Zip Vest - Old Navy (
similar
,
similar
,
similar
)
Skinny Jeans - Lane Bryant Outlet (
similar
,
similar
,
similar
)
Reebok DMX Ride Trail Grip 4.0
- Reebok Outlet
Panda Head Necklace - Torrid (
similar
)
Do you shop at Old Navy? I'd love to know your opinion of sizing and if you have utilized the improved return policy. Do you have some favorite Old Navy pieces you can't live without?