I'm always excited to review pieces from
Kiyonna
for you. The sizing is consistent and the pieces are always well made and beautiful. They offer so many feminine silhouettes in sizes 10 to 32! Every piece makes me feel put together and lovely. Even the more casual pieces offer an effortless style that makes it easy to throw them on and go. Kiyonna continues to provide great fitting, quality pieces that make looking good a painless affair.
Today's look is no exception. I wasn't sure what to expect from this
Flirty Flounce Wrap Dress
; I just knew those colors had me drooling! Read on for my review.


- As a member of the Kiyonna Blogger Brigade, I was gifted the dress in this post. Opinions are 100% my own. -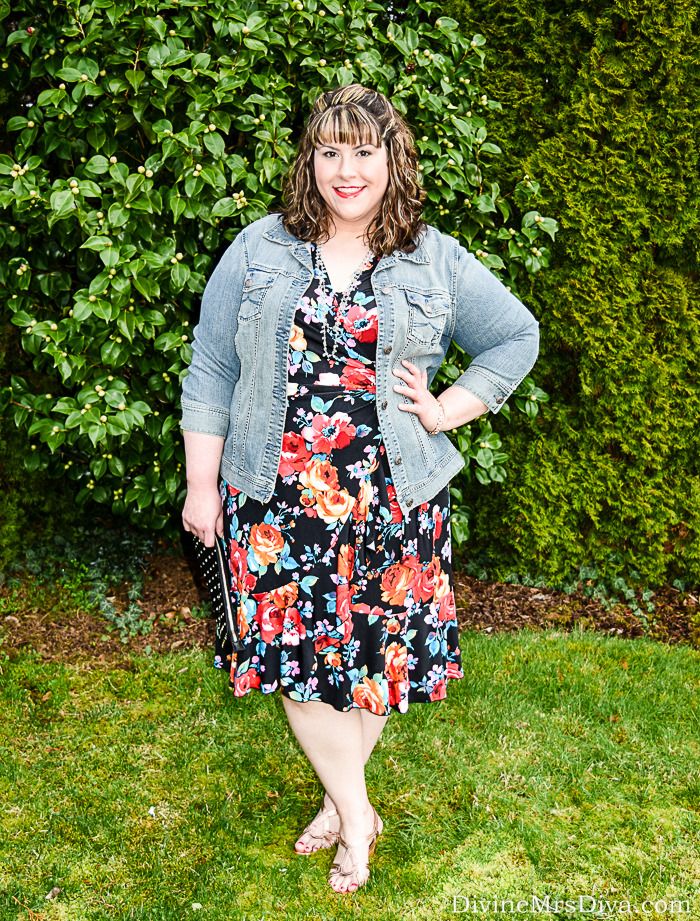 As I said, I was first drawn to the
Flirty Flounce Wrap Dress
by the gloriously vibrant colors of the Midnight Floral pattern. Red, coral, lavender, orange, teal and turquoise dance across a black background. I've always loved this ruffled hem wrap silhouette on other people. I just wasn't sure I could pull it off. After my great experience with the
chevron All Work and Play Wrap Dress
(
also from Kiyonna
), I have vowed to branch out of my comfort zone more often to try pieces I am unsure about. In doing this, I am rarely met with disappointment. And even if you decide a piece doesn't work for you, you are still rich with the new knowledge of what you love and don't love on your body. Win win!
In this case, I was met with ecstatic results because I LOVE this dress! The colors are indeed bright and beautiful in person. And while the poly/spandex material is smooth and stretchy and comfortable to wear, it also doesn't look cheap. (
I know we have discussed versions of this fabric on the blog before.
) It looks fantastic! The three-quarter sleeves were not too tight at all. Little gathers adorn the shoulder of the dress, providing a little feminine detail. The bust was adjustable and easy to work with for me. The ties were easy to maneuver and tie tight, so I never felt self-conscious about anything falling open. I also particularly loved the way the dress caressed my curves down to the ruffled hem. And that ruffle!! I loved how it kicked up a little as I walked. It made me feel so girly and sexy. I just wanted to dance around in it all night!
I am wearing this dress in a 3X. This is the size I typically wear in Kiyonna items, which equates to a size 22/24. I am 5'9" and my measurements are 52/49/58. I am wearing
this shapewear item
underneath. It isn't like Spanx where it sucks me in and makes me smaller though. This piece of shapewear is in a larger size, so it is comfortable and only smooths me out a bit. My thighs and tummy are just a little less lumpy in what my husband refers to as my "wrestling suit". hahaha
I tried to take photos from every angle to give you as much insight into the fit as possible. I was truly so surprised and excited by how well this dress fit and how it made me feel while wearing it. If you have been on the fence about this style, I highly recommend giving it a try. And if hiding your tummy rolls is an issue for you like it is for me, a great print like this does wonders to camouflage those bits versus a solid color.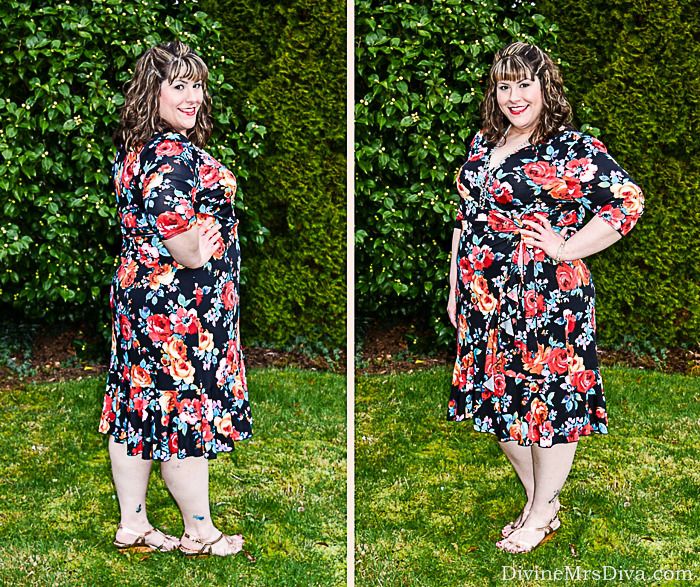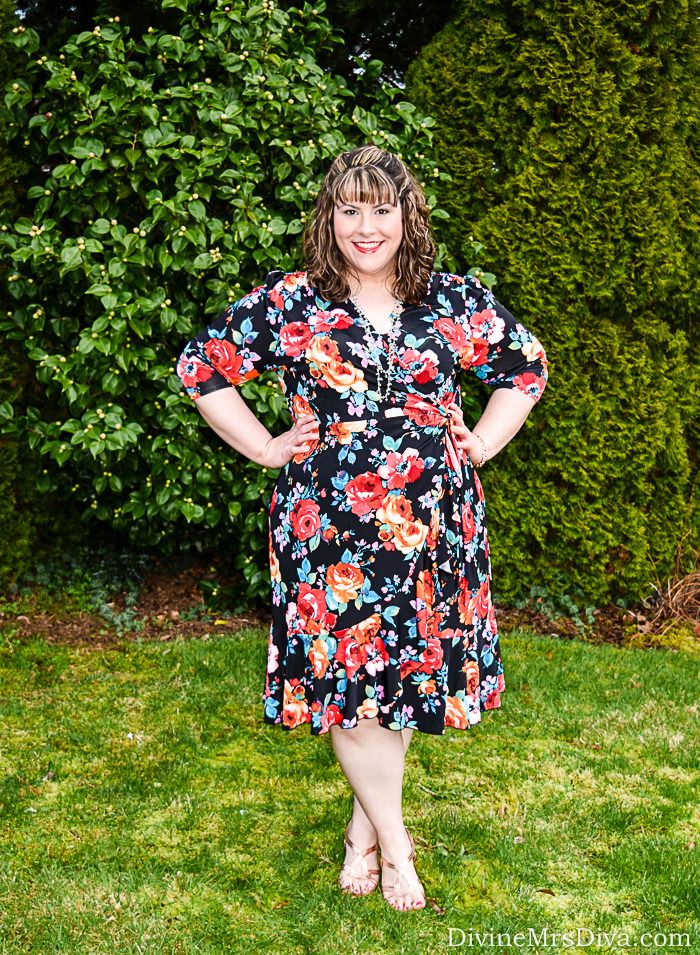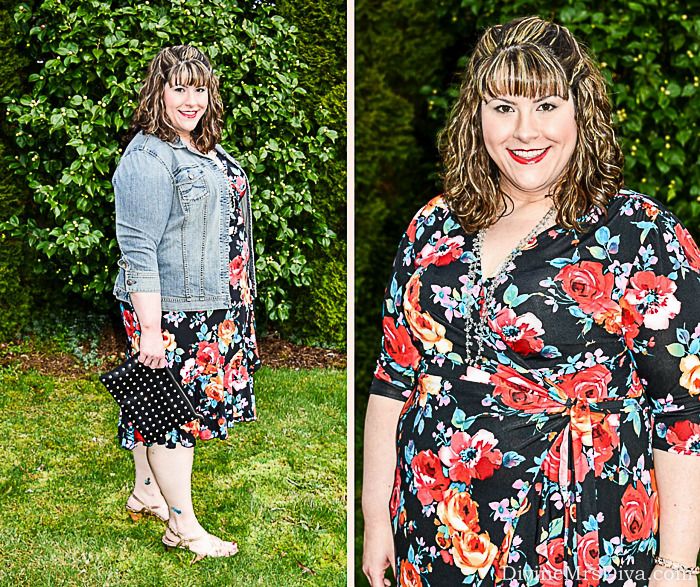 I wore this dress out to a comedy club date night to see comedian Maria Bamford. Thankfully, we had a great weather day, so I donned my new rose gold wedges that are so comfy. I didn't want to look
too
fancy for the comedy club, throwing on my light wash denim jacket for warmth. I really love the shiny accessories with the denim, the combination of a girly dress with a denim jacket. I genuinely felt like a sexy supermodel in this dress. When we arrived at the club and walked into the packed lobby where people were waiting, I noticed everyone else was in grey, black, dark blue, brick red, and muted colors. And here I was in this bright, floral frock! People did stop and stare at me when I entered the room. Any other day it might have made me a bit self-conscious, but I felt so amazing. I stood up tall, smiled at everyone, held Sean's hand, and told myself I was just going to pretend I was a celebrity for the night. haha I stood out from the crowd in the best way possible!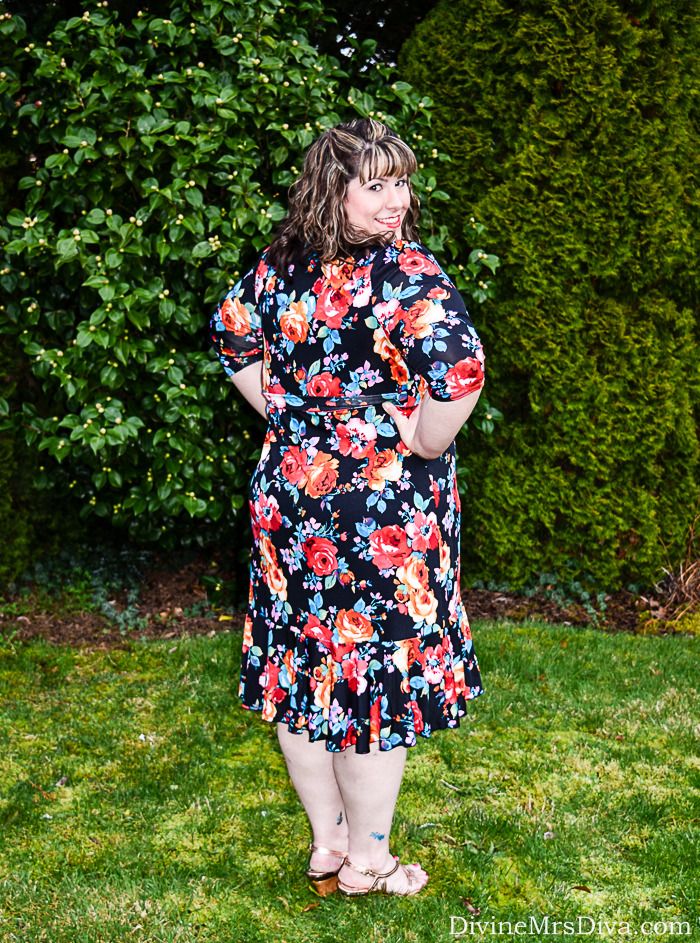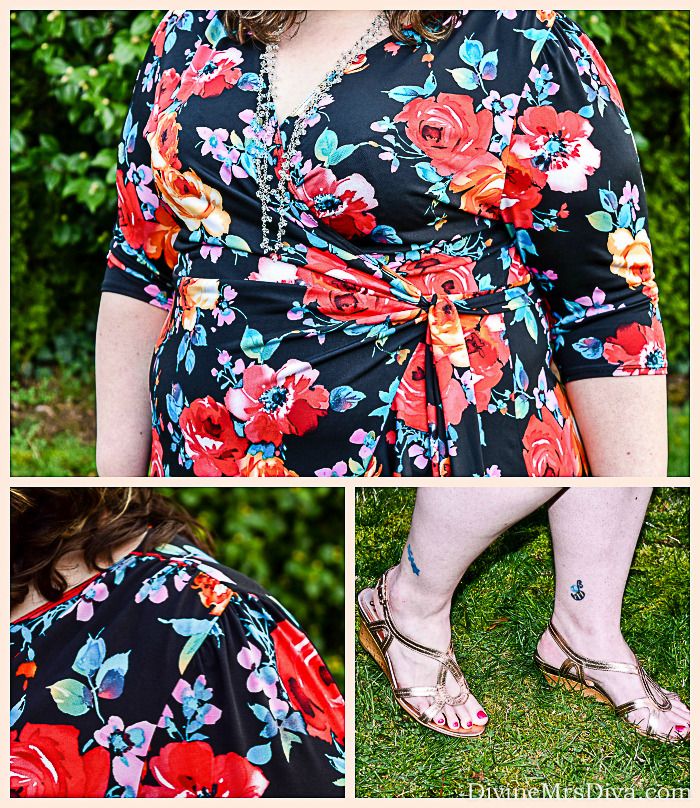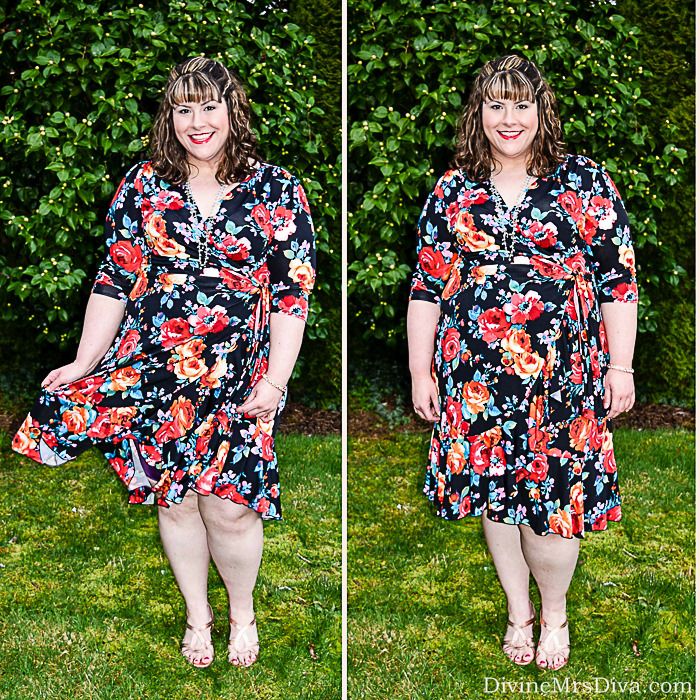 Flirty Flounce Wrap Dress
- c/o
Kiyonna
(Use code FRESH2016 to get 20% off your order of $150 or more!)
Paharita Open Toe Wedge Sandal
- Sofft via Amazon
Clear Beaded Necklace - Avenue
Putting on the Glitz Rose Gold Bracelet
- In Pink
Denim Jacket - Old Navy circa 2003 (
similar
,
similar
,
similar
)
Lipstick -
MAC "So Chaud"
with
NYX Butter Gloss in "Apple Strudel"
on top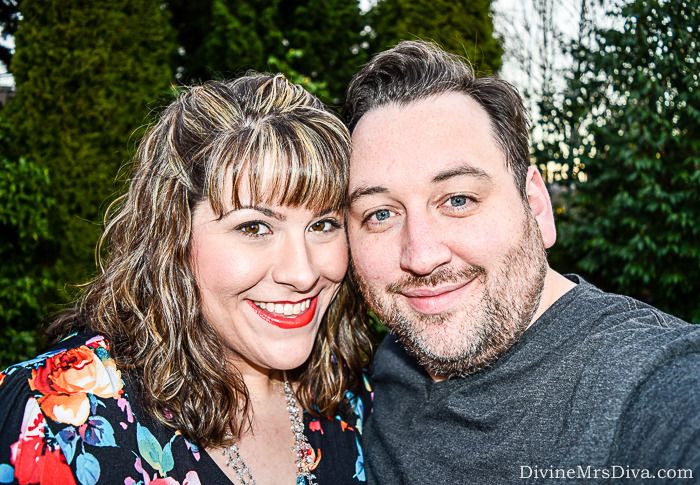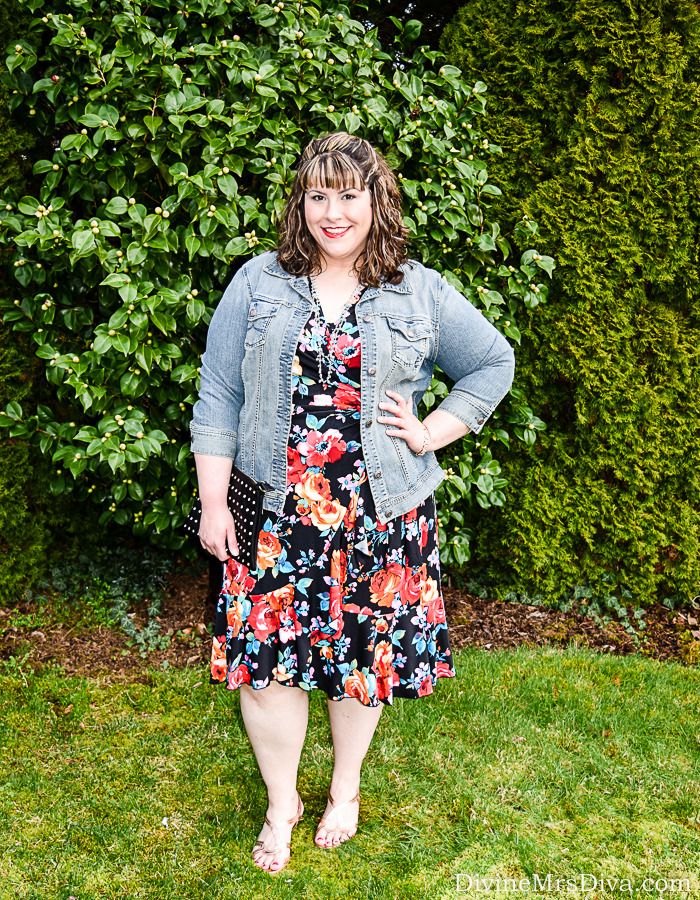 When was the last time you felt amazing in an outfit? What were you wearing? Are you into all over floral patterns like this one? What Kiyonna New Arrivals have you excited?