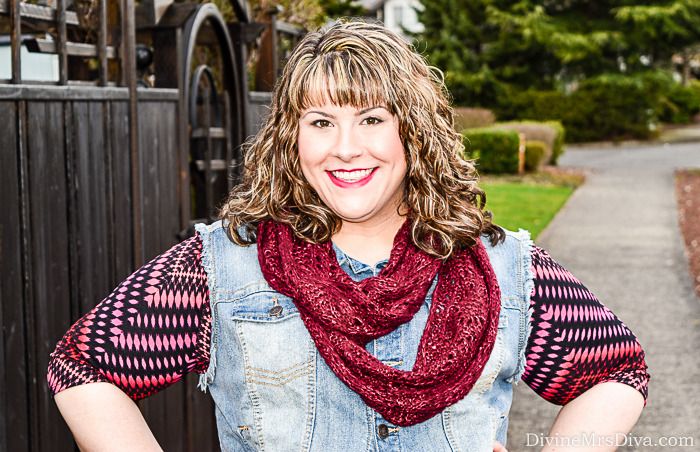 Hello, dahlings!!
I hope you all had a lovely weekend. Mine was filled with errands, Bunco, a little boy's surprise birthday party (he found out he gets to go to Disneyland!), and a lovely Valentine's evening at home with Sean. We cooked up a surf and turf dinner, opened presents, lit candles, and drank some tasty wine.
In the week leading up to Valentine's Day, we had various errands to run. I tried to make the most of the rain-free days by dressing up in my red and pink best and taking as many outfit photos as I could in the much better weather. This year I am trying to challenge myself to restyle existing pieces in my closet more often. I always enjoy seeing how other bloggers wear the same item in a different way, but I know I don't often showcase that here. Today's outfit features pieces I talked about over the summer styled in a more winter-friendly way.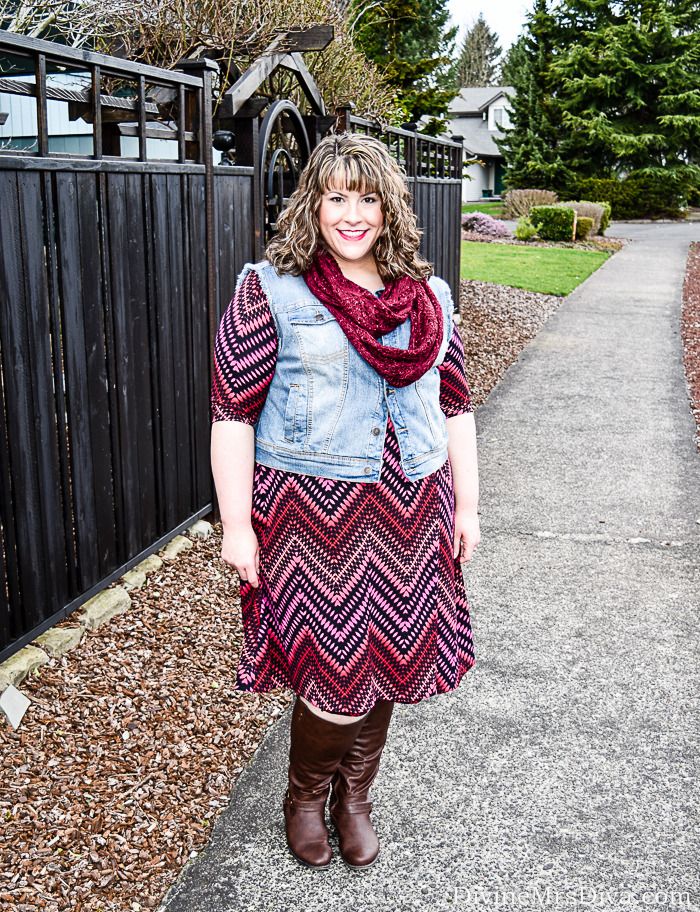 The All Work and Play Wrap Dress from Kiyonna is one of my favorite wrap dresses. I had such a hard time finding one I really loved until last summer when this one came out. Not only do I love the bright chevron pattern, but the dress is cut in such a way that it does not require me to wear shapewear at all. While it is a great dress on its own, I've been meaning to layer it for cooler weather.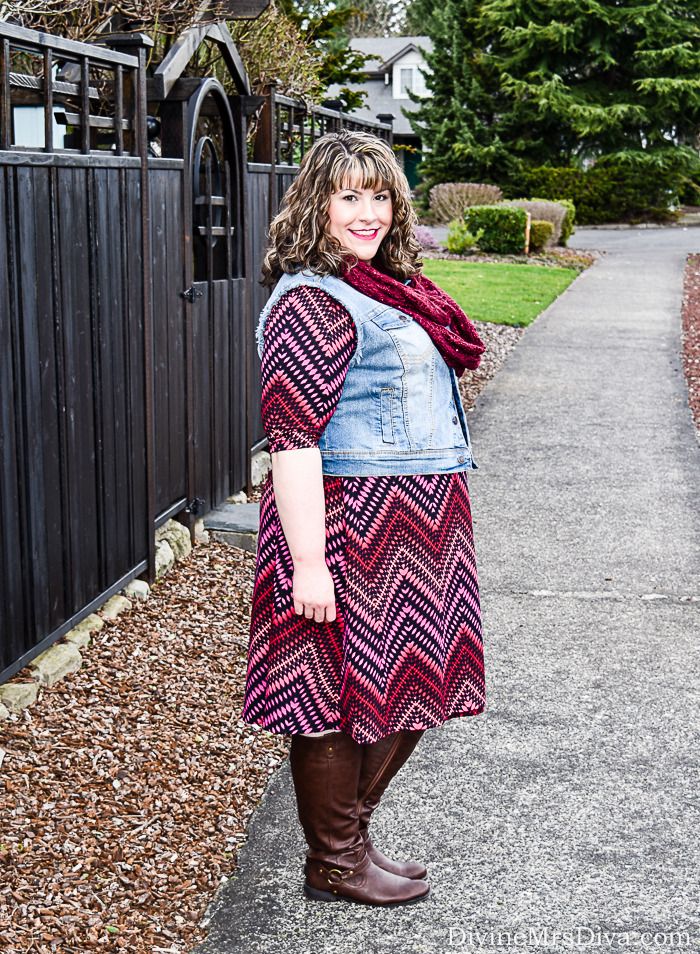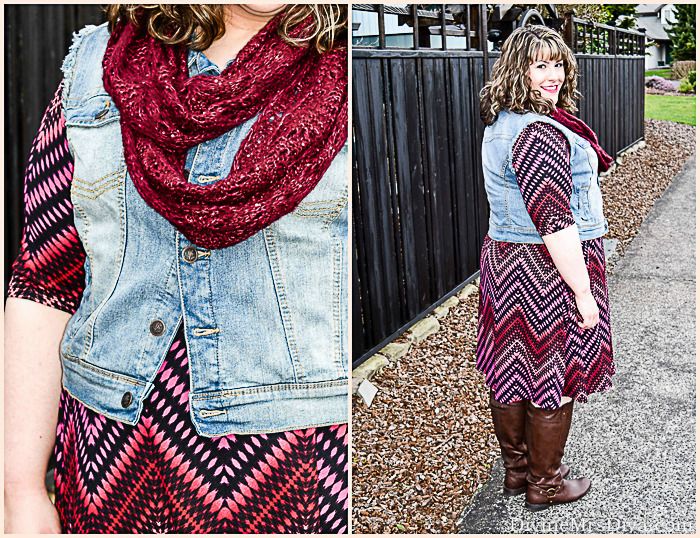 Over the summer I wore this dress to a luncheon, so I dressed it up with a rhinestone necklace and wedge sandals. For this look, I wanted to dress it down a bit to better reflect my usual aesthetic and allow for some fun layering. I've been wearing this denim vest more frequently and opted to add it for a bit of warmth. I'm always surprised at how cozy vests can be. I admit I wasn't much of a vest girl until last year (
aside from my floral vest phase circa 1990
). Buttoning the vest in the middle also cinched in my waist, a feature from the dress that can be lost with layering. The sequin infinity scarf added sparkle and tied in the colors of the dress, while my brown boots kept my legs warm. I really love how it all came together!
You can read my review on this dress
here
. While I have worn this vest
on the blog before
, I never went into too much detail. It is made of a soft, stretchy denim and is really comfortable to wear. I found it at Macy's during an awesome sale last summer. Macy's does have a slightly darker wash of this vest available now (linked below) and are worth stalking for sale prices. I bought it in a 3X and find it fits true to size. While it can sometimes look a bit boxy depending on what I wear it with, I find the stretchy material and more fitted cut actually soften the look. I'm really happy I bought it and look forward to styling it with more pieces.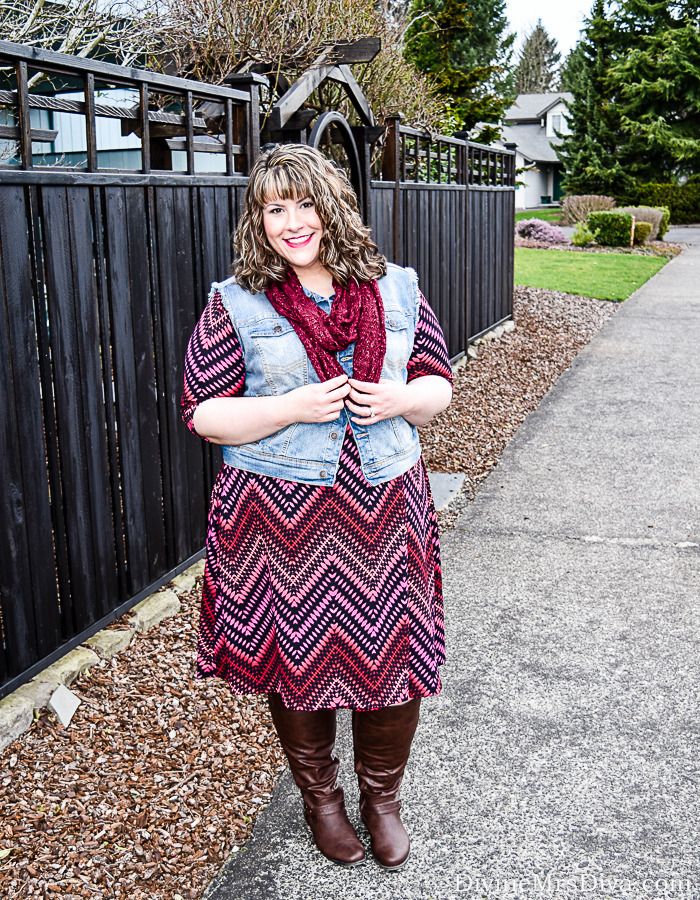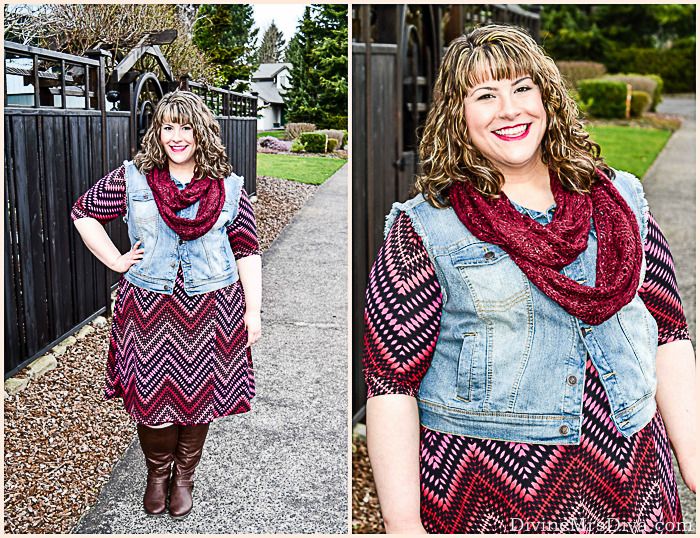 All Work and Play Wrap Dress - c/o
Kiyonna
(Size 5X
available here
)
Cutoff Denim Vest
- American Rag (
similar
,
similar
)
Sequin Infinity Scarf - Wal-Mart (
similar
,
similar
,
similar
)
Talia Stretch Riding Boot - Avenue (
similar
,
similar
)
Do you enjoy seeing the same pieces styled in different ways? Do you have a style of clothing you didn't think you would like but that you have come to love? Chat with me in the comments!