Welcome to a new week! I hope you are all doing wonderful. Today I discuss this lovely
All Work and Play Wrap Dress
from
Kiyonna
. Wrap dresses have been a source of frustration for me in the recent past. Being smaller in the bust but having big hips, I often found them extremely difficult to proportion on my body in a way that suited me. An empire waist tends to skim my tummy better, but other wrap dresses I have tried have been closer to my natural waist. Last Christmas, I
dressed up for the holiday
in the
Velvet Luxe Wrap Dress
(
also from Kiyonna
) and it was perfection! So I decided it was finally time to try a more everyday wrap look.


- Kiyonna gifted me the dress in this post. Opinions are 100% my own. -
When Kiyonna sent this dress to me, I tried it on immediately! The gorgeous and vibrant, pink-hued ombre chevron print make this classic silhouette very playful. I am wearing a 3X, which I found to be a wonderful fit, stopping right below my knee (
I'm 5'9".
). The sleeves were just a little tight, but the poly/spandex material is very stretchy and comfortable. I never felt restricted in it. The fabric is light and has a little bit of a texture to it.
The long end of the wrap belt passes through a slit in the side and ties around. The stretchiness of the material offers personalization of the fit and ties really tight to stay in place. I didn't have any bothersome slipping around of the belt or loosening of the knot. What I also love about this particular style is that it features a sewn-in piece of material that acts as a faux belt in the front. This really helps define the waist and maintain a cohesive look all around. I also think this feature is really what makes it work for my body shape.
While there was a bit of room in the bust (
I am a B cup, so I usually have room in clothing up there haha
), it was not baggy at all. Because of my small bust, I did have the issue of the neckline moving too low at times, so I pinned it in place. You could also wear a cami underneath or one of
those lace bib things
that hook to your bra.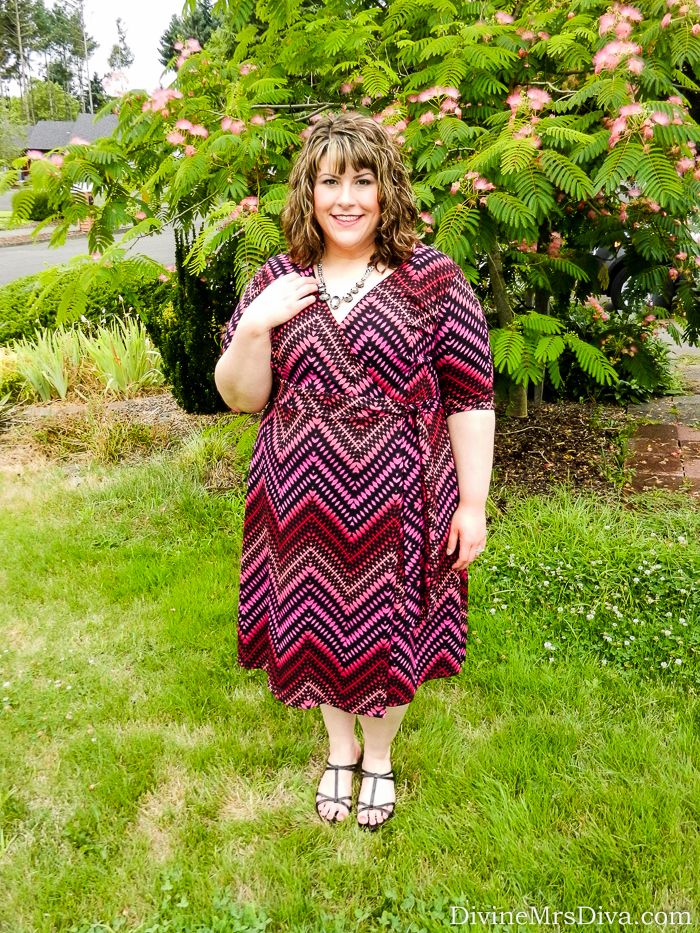 While it is certainly appropriate for work, I wore it for play. A family friend has a summer party at her lovely home for my cousins, aunts, and I
(my mother-in-law has been coming now too
). We chat, drink tea, eat yummy food, and this year watched hummingbirds zip around her background. Thankfully, the weather has turned a little cooler and it actually rained this weekend, which made perfect weather for sitting outside and enjoying the fresh air.
PS - The short necklace I am sporting in these photos, actually annoyed me by constantly moving around. So I replaced it with a peach rhinestone necklace I bought at an antique store. I actually really like this necklace with the dress better because it brings out those lighter peachy-pink colors in the ombre.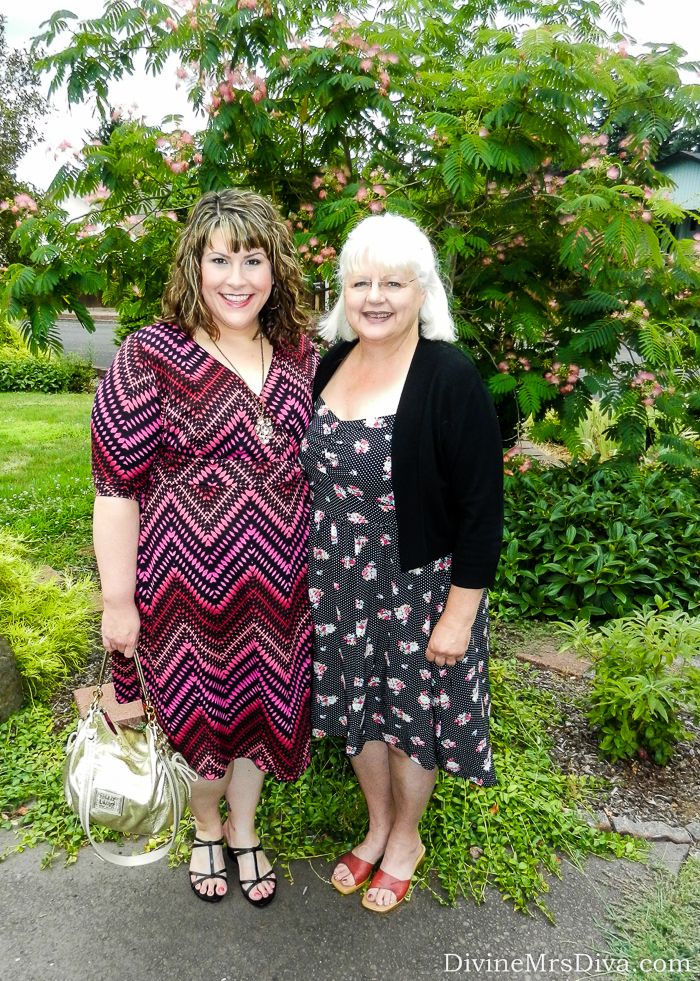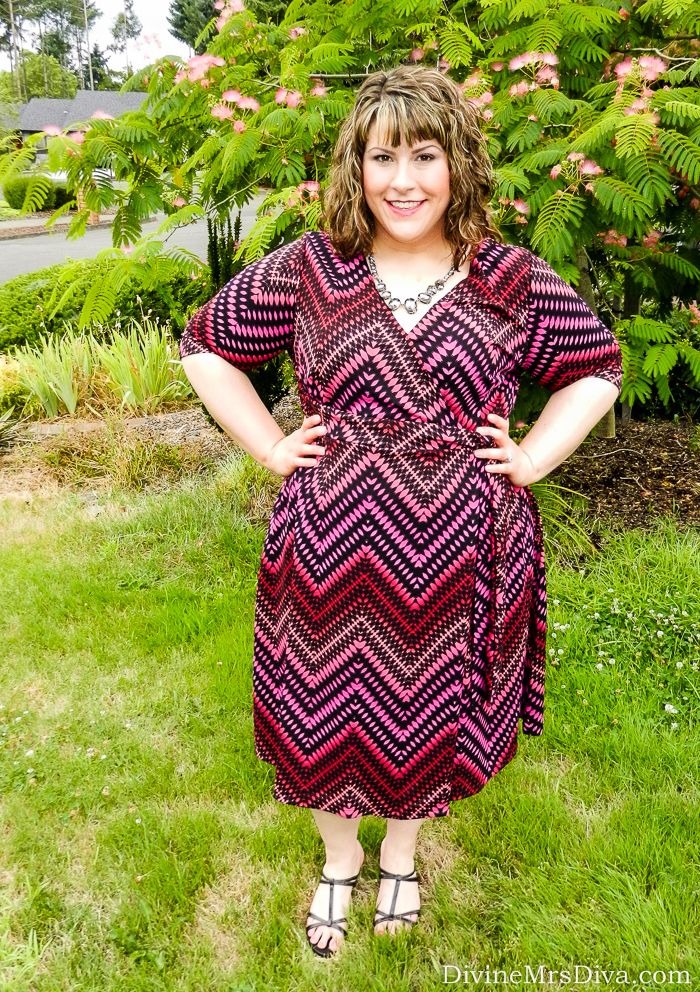 All Work and Play Wrap Dress
- c/o Kiyonna
Strappy Black Wedges - Payless (circa 2009) (
similar
,
similar
,
similar
)
Graduated Stone Necklace - Vera Wang via Kohl's
Have you experienced the wrap dress yet or found the perfect one for you? Do you have a yearly tradition of bonding with the women in your family? I'd love to hear your thoughts!
Disclosure: I am a member of the Kiyonna Blogger Brigade and they provided me with the dress in this post. All opinions on the item are my own.
This post contains affiliate links.