At the end of April, Sean and I went up to Seattle for a short, overnight trip. I previously showed you
our trip to the zoo on Day 1
. Finally, I was able to gather photos to document the rest of the trip. On the second day, we made our way to the Pacific Science Center to see the Pompeii Exhibit and Tropical Butterfly House. Then we walked over to the EMP Museum to see the Star Wars Exhibit. As usual, I took a ton of photos and want to be able to share as many as I can with all of you. For this reason, Day 2 will be in separate posts through next week.
For today, let's check out the Pompeii Exhibit....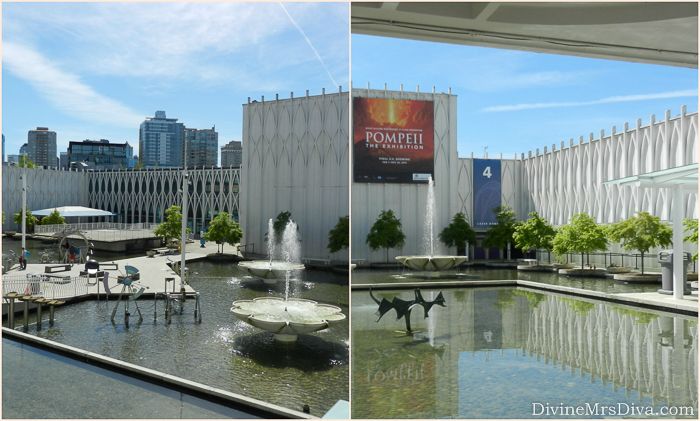 I love going to the
Pacific Science Center
because I love the architecture. It began as the United States Science Pavilion during the 1962 Seattle World's Fair, and was declared a City of Seattle Landmark in 2010. You can tell it is a very old building both inside and out, but I just love it. This was only our second time visiting though. Previously, we visited Seattle last June for four days to celebrate our anniversary and do lots of fun, touristy things we had yet to do. The Pacific Science Center had a Spy exhibit going at the time, so we spent a couple hours learning about mostly American and Russian spies and seeing early gadgets used for secret transmissions. It was a lot of fun! I still have a majority of that trip to post about as well (
wow, time flies!
), but I did do
a post on our Chihuly Garden and Glass Museum visit
.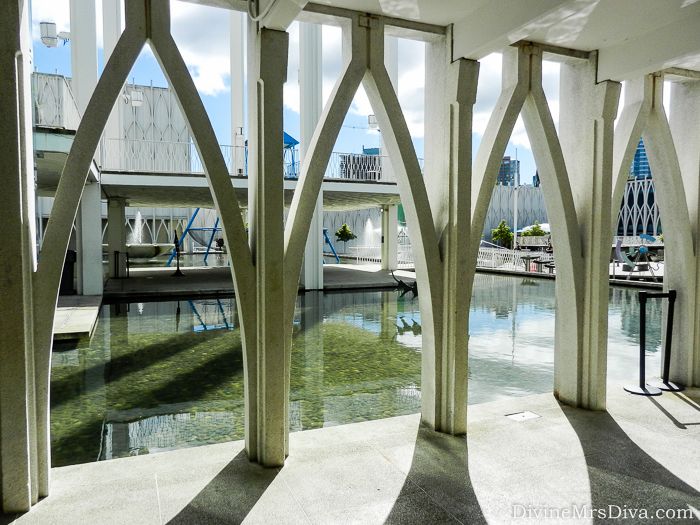 My casual tourist ensemble consisted of denim capris from Dressbarn, a Star Wars tee and short-sleeve hoodie from Torrid, and my trusty Reeboks. It isn't the most trendy of outfits, but it was comfortable and perfect for all the walking we had to do. It got really warm later in the day, so I rolled up my capris and nixed the hoodie.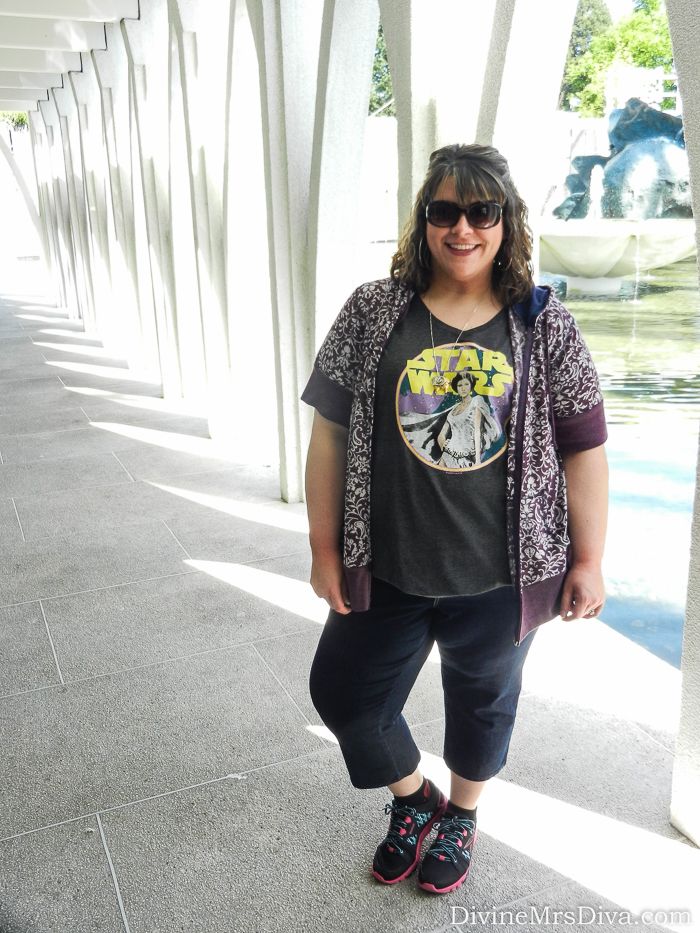 The exhibit itself was not as massive as the Titanic exhibit in Vegas (
which you can read about here
), but I found it very compelling. This traveling exhibit was done by the
same company
as the Titanic exhibit I visited, so when I saw it was in Seattle I just knew I had to go. There was a wide range of artifacts from different aspects of life in Pompeii. Sean and I visited on a Monday morning, hoping there would be fewer people. There were
tons
of old folks there though. A large group of forty people were let in every fifteen minutes, which made it overly crowded in a very short amount of time. I don't mind hanging back and waiting to see artifacts to be able to read information about them, but the old people were so slow. Just as I was able to get to an artifact, there was another massive group filing in. With that many people, I think it would have been wise to only let a large group in every thirty minutes instead. We were also on a schedule, so we didn't have all day to wait around.
And you'd think the elderly would have more manners than these young kids who aren't taught any these days, but there were some very, very rude people. This one lady kept moving herself right in front of me as I was trying to read plaques and take photos. She didn't even look at me or say excuse me. That is such a huge pet peeve of mine!!
Not all my photos turned out awesome due to not being able to use the flash, but they are mostly fine. This exhibit kind of set up how life was led on a daily basis in Pompeii before bringing up Mount Vesuvius. Towards the end of the exhibit, we had to wait in line for fifteen minutes to see a two-minute film with a timeline of eruption and destruction. From there, we were ushered into a larger room with casts of preserved people who perished in the eruption. It felt really disturbing and incredibly tragic (as it was). It was weird staring at these casts. I found it hard to move on from one to the other because I wanted to honor each person in my head. I have found myself very empathic at these exhibits. I get really emotional, cry, and find it hard to shake that tragic feeling later on.
Seeing this exhibit makes me want to go to Pompeii and see it in person. Just the idea that these relics are from 79 A.D at the latest (
Pompeii was founded in the seventh or sixth century BC
) is just mind-boggling to me. The way they built things, used cookware so much like what we use today, had intricately carved statues and jewelry....It is astounding and utterly fascinating. Below, I take you on a tour of the exhibit and have added captions for easier commentary.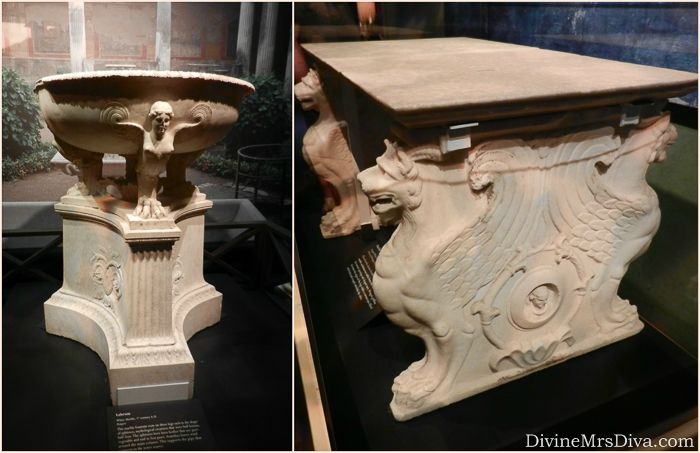 Marble Fountain and Table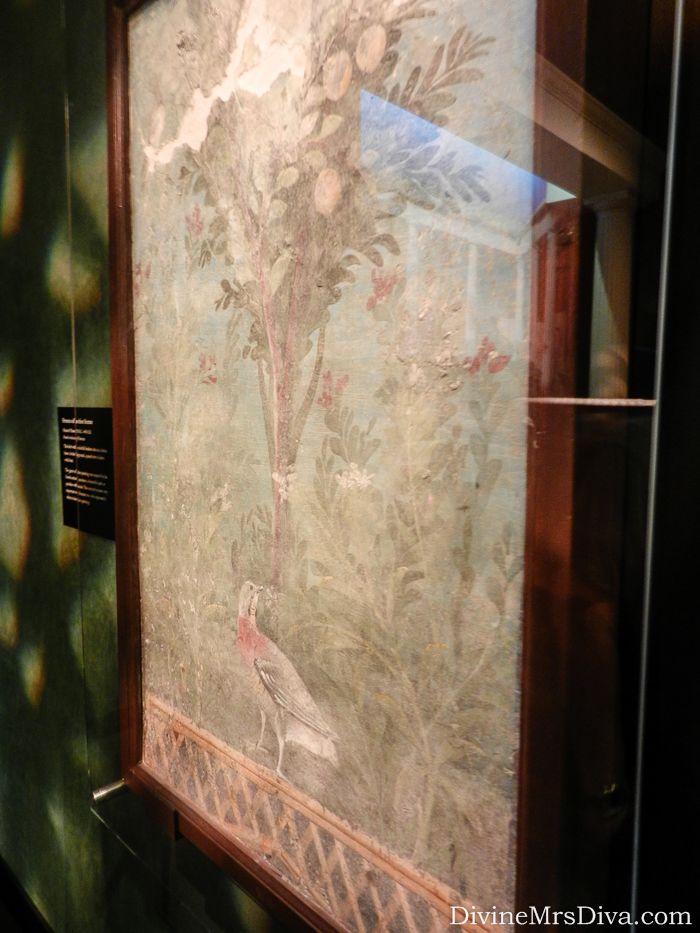 Fresco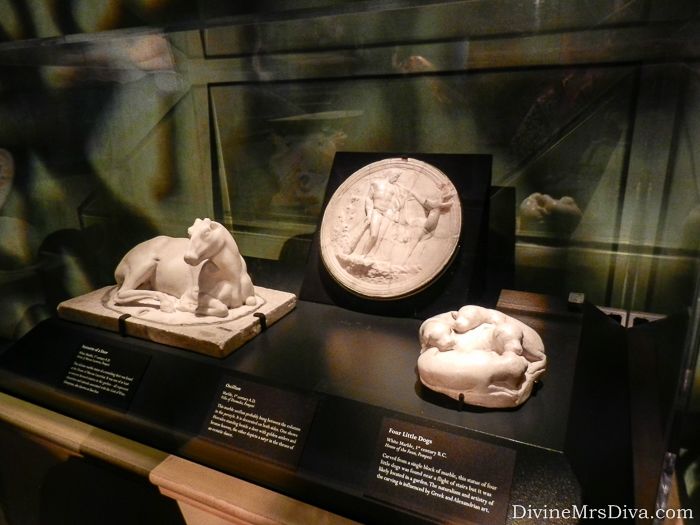 Statuettes of a cow, a man and deer, and four puppies - all carved out of single blocks of marble - likely from gardens and columns around Pompeii.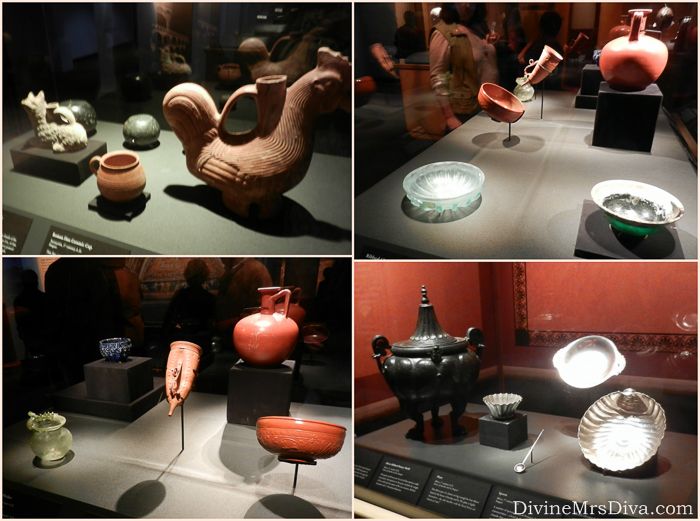 Clockwise from top left: Jugs and cups; Glass cups and carafes; Cups, plates, spoon, and pastry mold; Wine pitchers.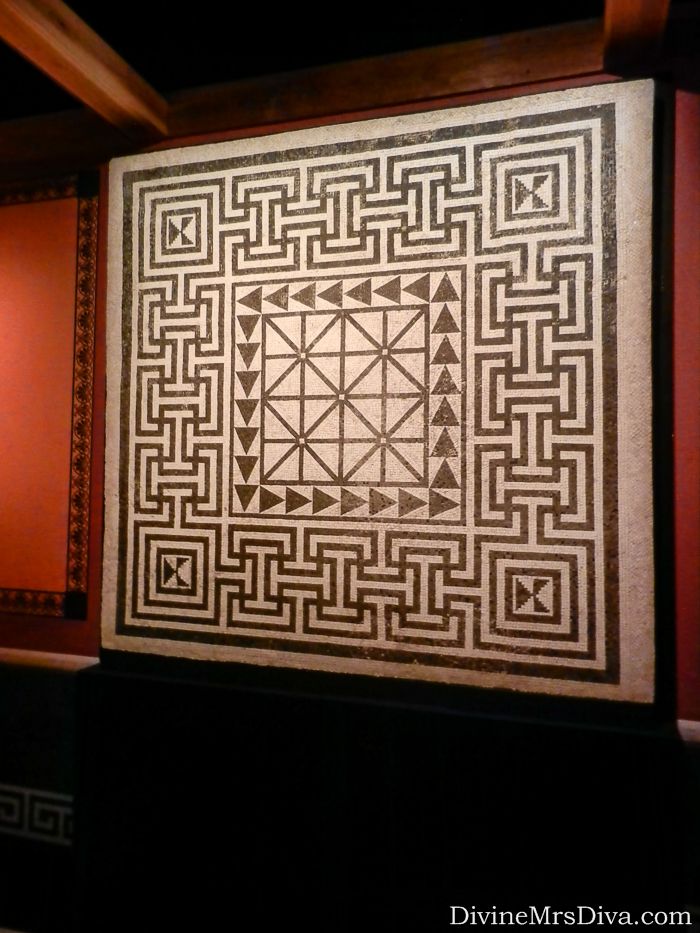 Part of a tile floor. It is made up of hundreds/thousands of tiny marble squares that looked perfectly cut.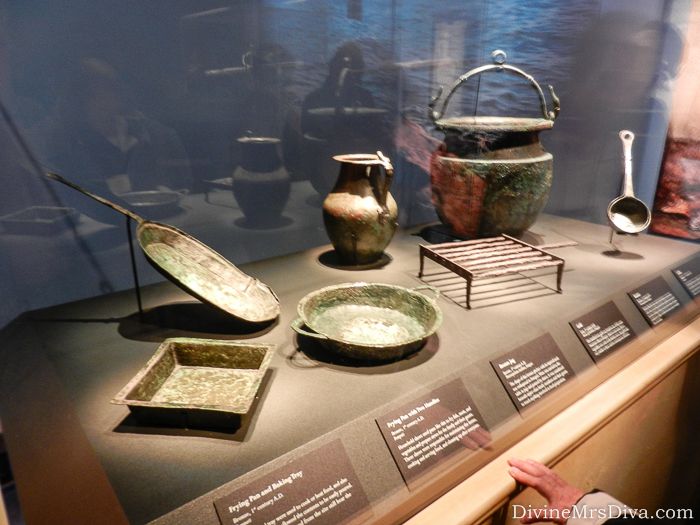 Cookware from Pompeii. Not much has changed.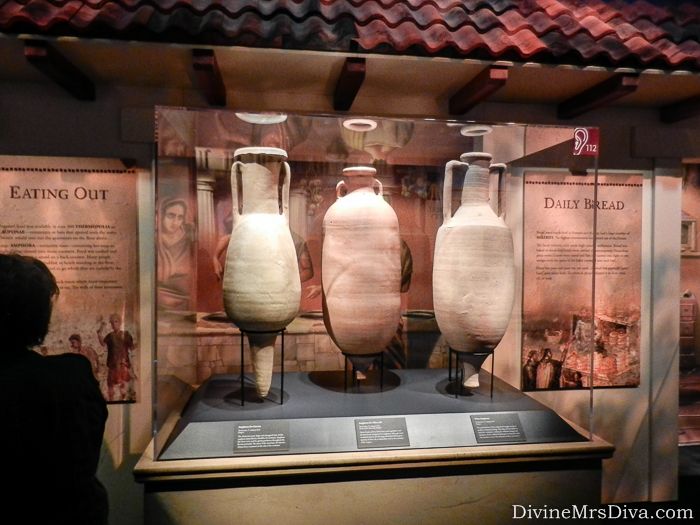 Olive Oil and Wine Amphorae
Decorative lamps
A necklace made of four strands of gold and shaped rings. I wish you all could see the detail.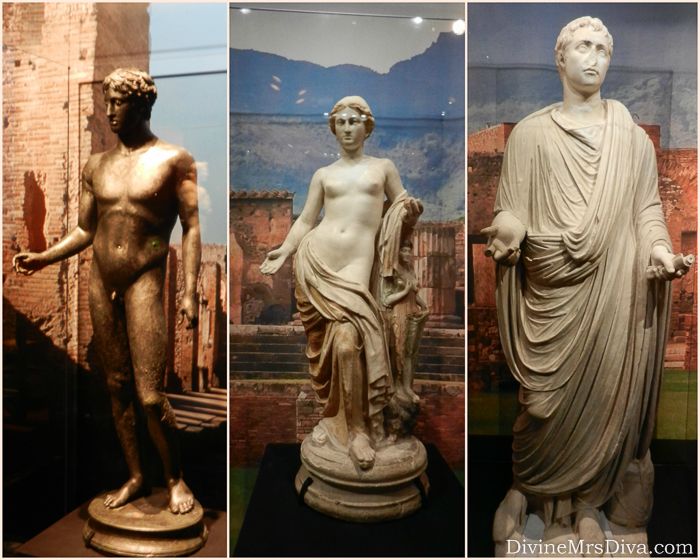 Armor
Armor and Clay figurines
Erotic Scene on painted plaster, likely from a brothel.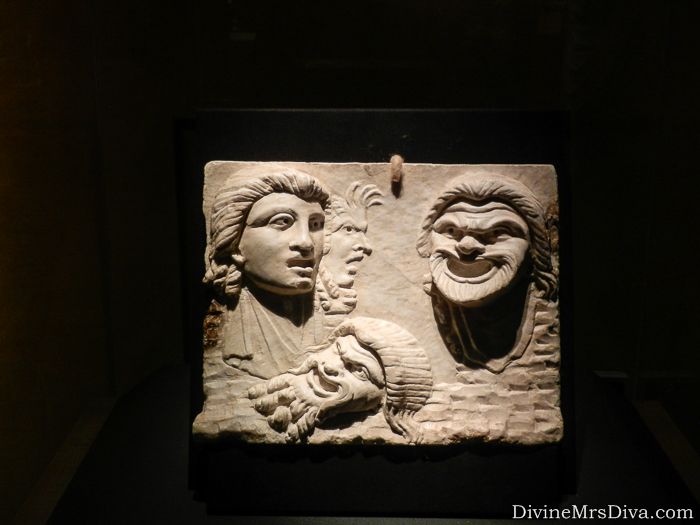 An art sculpture
A cast of the human remains from Pompeii


My friend Nigel has visited actual Pompeii and still owes me a slideshow. Have any of you been to Pompeii or attended an exhibit like this one? I'd love to hear your thoughts.